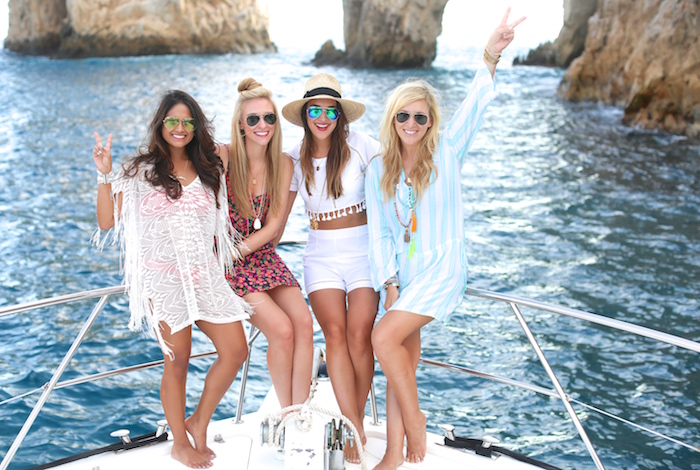 L to R: Jenn of Haute off the Rack | Krystal of A Pinch of Lovely | yours truly | Nikki of My Style Diaries
When we were in Mexico we teamed up with Blue Sky Cabo for the most incredible sunset boat ride to see The Arch.  While Christian grew up boating casually here and there with his family, I definitely didn't, so I still get so excited to see all the boats and yachts on the Newport Harbor when we paddleboard.  I couldn't stop thinking about him when we were cruisin' around, and now I can't wait to go back to take him on the same sunset cruise – maybe one of the most romantic experiences I've had with a crew of girlfriends!
That being said, if my guy couldn't be there, I can't think of a better group of friends to experience this with. I love this group of girls so much and am so thankful for the Internet being able to bring me together with a group of friends I would have never otherwise met. In fact, we are all currently in New York for Fashion Week together! Love 'em, and so very thankful for a group of ambitious women who continue to support each other and encourage each other.  That can sometimes be hard to find, so I most definitely don't take it for granted.
photos by Taylor Cole

on me: bikini top, bottom | crop top and short set c/o (somewhat see-through so I wore it over a swimsuit!) | hat – sold out, similar here | sunnies | necklace c/o | gold bangle 1, 2 c/o | beaded cuff c/0
A big thank you to Blue Sky Cabo for this amazing experience – I will definitely be back.
And to those of you fancy pants people who grew up sailing and boating – indulge me. I want to hear about your favorite experience! Thanks so much for reading – XO