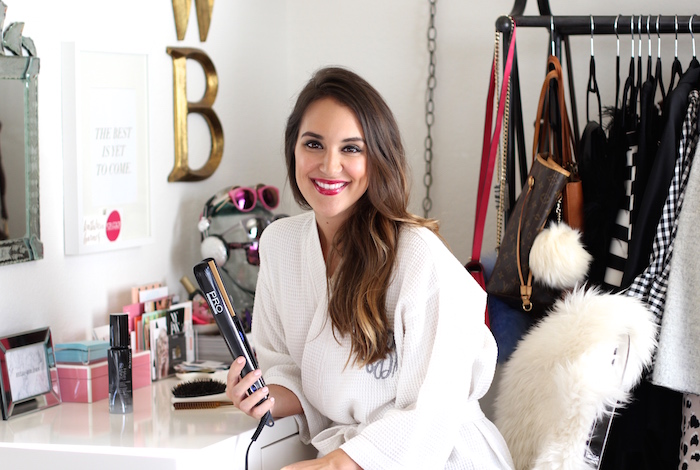 While I mostly share fashion, home and travel on this blog – I do love beauty and have shared a few beauty related posts with you guys in the past few years (you can click the beauty category under categories up at the top right of the site to see more)! I'm so excited to team up with Pro Beauty Tools to share some hair tutorials in the next few months, and today I'm kicking it off with a tutorial on how to achieve that messy bedhead that looks effortlessly styled just enough.
My hair is naturally very straight and fine.  I like to say I have the same hair as a six-year old girl – think about that silky, stringy hair (can't you see it?).  This has been both a good and bad thing for me, but when it comes to a quick hairstyle, it's usually something I'm thankful for.
But sometimes I need just a little oomph. I don't mind keeping my hair mostly straight but I want some texture that will make it appear fuller. Using my Pro Beauty Tools Ceramic Straightener, a brush, heat protectant spray and some texturizing hair spray, I achieved this look in just a few minutes.
First I brush my hair out and spray it with a heat protectant spray (I've used several different kinds and don't have a preference). Then I take my straightener (which heats up in only 30 seconds and gets as hot as 450 degrees) and clamp a section of hair about 4-5 inches from my scalp. I turn the straightener about 90 degrees away from my face and wrap the rest of my hair around the straightener, leaving 1-2 inches at the end.
After a few seconds, I slide the straightener down the section of hair, unclamping and clamping as necessary. Once I take the straightener off my hair I kind of scrunch the section with my hand and then move onto the next!
Once I've repeated this to my entire head, I spray a few spritzes of a texturizing spray and voila! I'm done.  I really like this look for everyday and even more so, I like the affordable price tag of this straightener.  Recommended by stylists, it straightens, reduces frizz and increases shine for better looking hair in minutes.  The less time I spend primping, the better!
Do you guys have any straightener tips? I'd love to hear! Thanks so much for reading, and let me know what you guys think about some more beauty posts! XO –