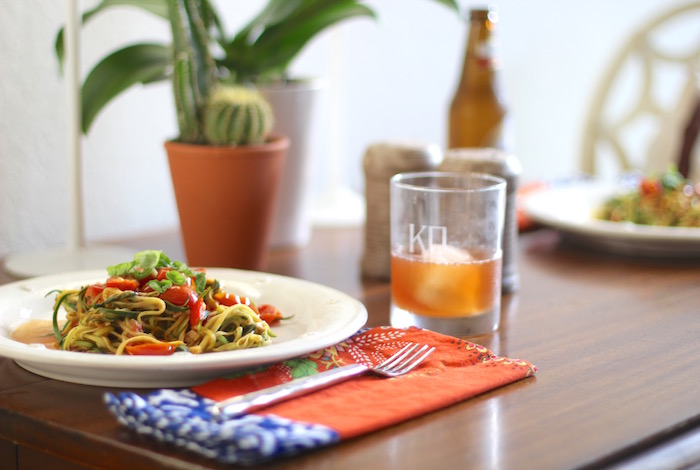 When I was younger, pasta was always my favorite dish.  I can remember asking my mom for pasta and she would cook a basic spaghetti noodle + garlic + olive oil + Parmesan combo that was and still is killer in it's simplicity and deliciousness.  SO, the craze of the zucchini noodle was not lost on me!
I bought a handheld spiralizer this summer and have loved making healthy, fresh and easy weeknight dinners, and this recipe is a vegetarian keeper.  I'm so grateful Christian loves garlic and tomatoes as much as I do (being part Lebanese, we didn't take garlic lightly), because I find a way to put the two in almost all of our dinners. Love it, can't live without it.
Do any of you have favorite zoodle recipes? My friend Nikki of My Style Diaries recommend I start following Inspiralized and I mean… the possibilities are endless.
If you're not a zucchini lover, I also made this vegetarian pasta Sunday night with linguine and It. Was. Phenom.  Seriously so good both hot and cold.  And don't forget there are still a few more days to enter to win one of two Rebecca Minkoff bags here AND the hair tools giveaway here! XO –