– a surprising flower color combination that I'm diggin' –
 – enjoying a slow morning of listening to podcasts and baking (cake stand available here) –
– this print that has brought the most peaceful, relaxing vibes to our living room –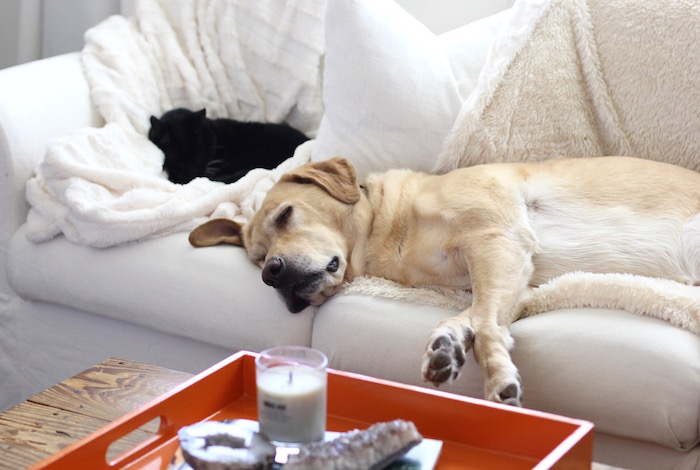 – seeing these two snuggle on the couch –
– packing for a mountain getaway –
I have to take a minute to thank you guys from the very bottom of my heart for the outpouring of love, support and kindness about last Friday's post.  The last few years I have been hesitant to get too personal on this blog, choosing to protect myself from possible criticism. At the same time, I write on CBL as I would talk to a friend, and I wanted to be open about this new season of life. Thank you for sharing your own struggles and experiences with me and for having open hearts.  Honestly I was blown away and moved to tears. Thank you, thank you, thank you – you guys have no idea how much you inspire me, and reading all of your comments was one of my favorite moments this blog has ever created.
Now that the gushy part is over with (whew!), let's move on, shall we? I had heard this song before but didn't really think twice about it. Somehow I ended up watching the video and now I am playing it constantly.  I am thisclose to taking a boombox out to the middle of the street and dancing. A confident self-love anthem? If I didn't love myself so much I would want to be Hailee Steinfeld (that was a joke… get it?).
I'm going to be sharing more soon, but this print from Minted has really transformed our living room. We chose it because we really wanted a piece to remind us of our time here in California, and it reminded us of the rocky coast on PCH in central coast (our favorite part of the state).  I love the relaxing ambiance it created.  I rearranged some throw pillows, and now we have a refreshed space that I am so excited to snuggle up in.  Minted has so many amazing prints from artists all over the world, I sorted through all of them to narrow down to 19 and then had to eliminate from there!
We are heading to the mountains with Bailey for an anniversary getaway.  It's supposed to get down to 19 degrees… so that's going to be new for us, but I am so excited to tuck away in one of our favorite weekend spots with a tall glass of pinot.  What are you guys doing this weekend? And who's got their holiday decorations up because I'm definitely ready to get started. Thanks so much for reading – XO –