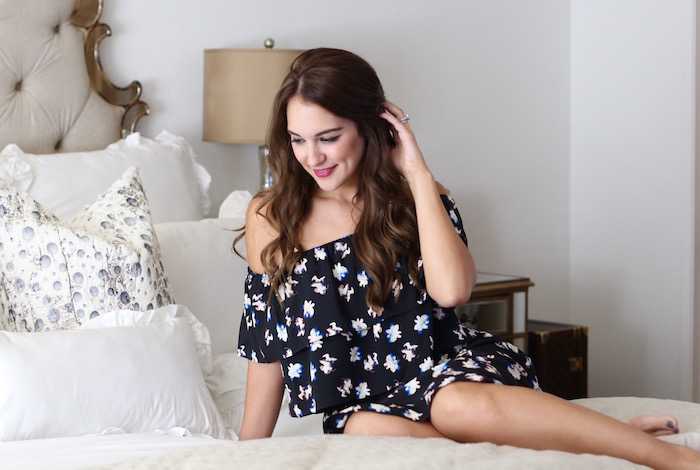 I love a clipless curling iron for creating soft, pretty waves that don't have any of those creases or kinks that curling irons with clips can leave.  You might think that using a clipless curling iron takes more time to use, but it might surprise you that it really doesn't once you've gotten the hang of it.  For first-time users I would recommend using the glove that comes with the iron to make sure you don't accidentally burn yourself. I want you guys to have beautiful curls burn-free!
At under $35, what's really unique about this Pro Beauty Tools 1" Professional X-Long Gold Curling Wand is that it is two inches longer than traditional wands – something I've never seen before.  This makes it even easier to achieve salon-quality hair and an affordable price! You can curl your hair from root to tip without overlapping hair on the barrel, so it is the ideal curling wand for girls with long hair!  Brilliant, right?  It also heats up to 430 degrees and has multiple heat settings to hold your curls extra-long.
Today I'm sharing my mane crush – Mila Kunis.  I used my curling wand to style glam curls like a pro and recreate her look, including an off-the-shoulder dress that felt so Mila.
First I brush my hair and spray it with heat protectant spray.  Once that has dried, I clip up the top half of my hair and lightly spray some hairspray on the bottom half of my hair before beginning to curl it.  I grab a section of hair and wrap it around the wand away from my face.  I usually hold the hair to the barrel for about 8 – 10 seconds.  Once I take away the wand I scrunch the section of hair in my hand to the root to trap some of the heat before moving onto another section.
After I've curled each section, I leave it be, don't brush through it just yet!  Before I take down the top portion of my hair, I clipped in two rows of Luxy Hair Extensions to give my hair some extra thickness. You can get $5 off of your order with the code LUXYKATHLEEN.
I continue the same steps on the top portion of my hair.  Once I've curled all of my hair and it has cooled, I run through the curls with my fingers, loosening them into more natural, voluminous curls.  I then tease the roots lightly before a finishing layer of hairspray. Voila!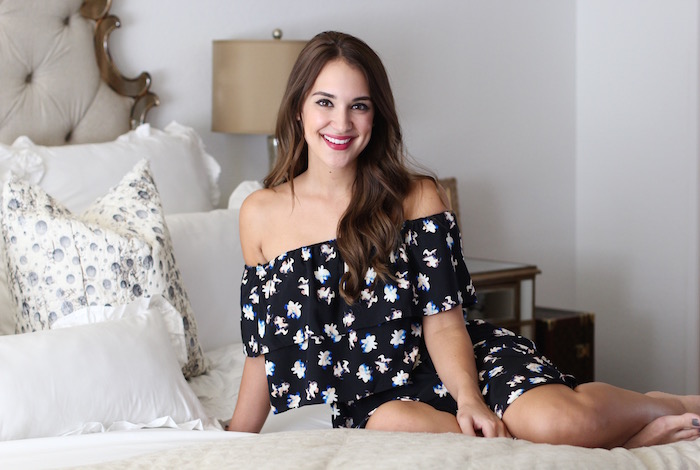 dress c/o, runs large, I sized down | spotted pillows c/o | bedding c/o
Today, Pro Beauty Tools and I have teamed up to give away both a 1" Professional X-Long Gold Curling Wand AND their AC Blow Dryer to one reader!  To enter, simply leave a comment answering what Pro Beauty product you want to try the most.  That's it! The winner will be selected and announced in this post on Monday, 11/23.
Thank you guys so much for reading and entering – XO –
* Update 11/23: Winner is…. Ann Langlois! Thank you SO MUCH to all of you who entered, I loved hearing about your own hair and how you like to style it. More fun giveaways to come!