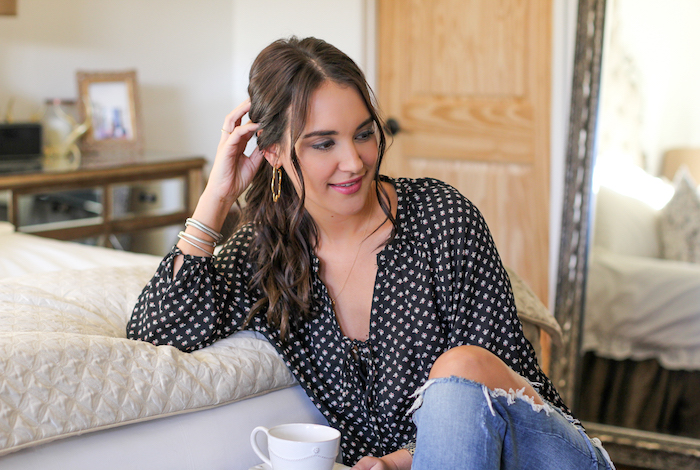 I know we all come up with New Year resolutions (exercise more, de-clutter the house, dine out less and eat in more are always at the top of my  list!), but this year, I've teamed up with Pro Beauty to share my beauty goals and I've already tried implementing them this month.
I used to wash my hair every day. For the past year, I've tried to find a dry shampoo that I really love (I've been using this one, but I'm still trying to find a good one for brunettes if you have any recommendations) because I want to wash my hair less and find new ways to wear it up.  Otherwise I touch it or play with it during the day, making it oily.  I have so many baby hairs that my top knots don't always look as polished as I'd like, so I want to find cute ways to pull it back without leaving braid indentions or creases.
Enter the perky ponytail!  I have really fine hair, so I sometimes use this little trick when I want a visually pleasing ponytail. My long hair (that has no body whatsoever – I have hair like a child I'm serious) tends to weigh it down, but I will separate the bottom half, securing it with a hair band.  Then I'll tease and fluff the top portion of my hair, loosely pulling it back over the existing ponytail and securing with a no-crease hair tie.
Leave a few pieces out, create loose waves with the Pro Beauty Tools 1 1/4″ Curling Iron, and you've got a sleek and sophisticated pony that will last all day.  Trying new 'do's like this help me wash my hair every 2-3 days, and it's a pattern I aim to continue throughout the year.
The 24K gold platted barrel of this iron provides advance heat technology that's ideal for all hair types. AND for you ladies looking to use less heat on your hair in the New Year, the direct heat of the gold barrel penetrates hair faster so you don't have to hold the iron in your hair as long, reducing the amount of time your hair is exposed to heat! My fine hair will be thanking me for sure.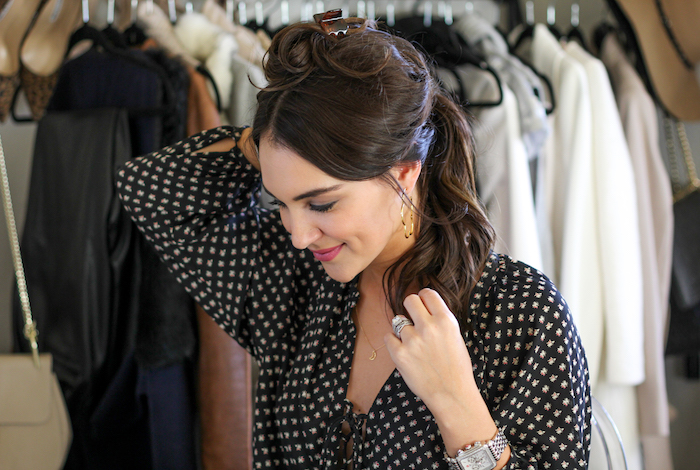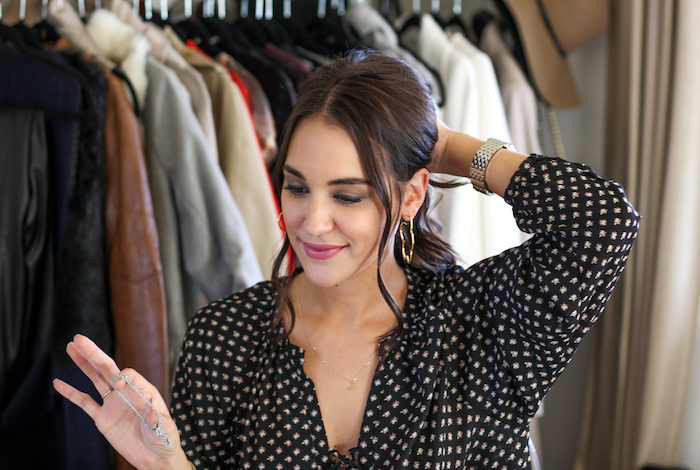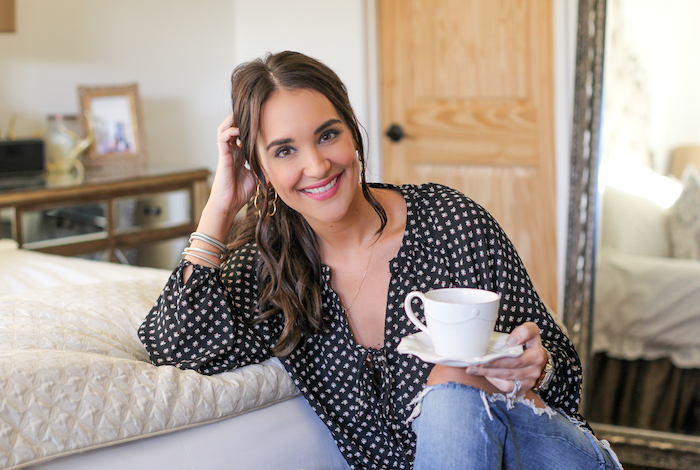 1 1/4″ gold curling iron and hair dryer c/o | top – sold out, love this one and this one | similar denim (30% off!) | cup and saucer | earrings c/o | cable bracelet 1, 2, 3, 4 | necklace c/o | watch c/o
Do you have any hair resolutions for 2016? And is this dark hair as jet black to you guys as it feels to me? Yowza! I recently had a stylist bring the color back to my roots and it's been so many years since my hair has been this dark I don't even know what to think!
Thanks so much for reading and sharing – XO –
Sponsored by Pro Beauty