Last summer we rearranged our den with an upgraded sofa (more about that here) and added the Ikea Ektorp chair and ottoman to our den.  Christian always starts out sitting on the sofa, following by halfway lying down, inevitably followed by fully lying down with limbs over my lap or something equally… frustrating.  After a while I knew I wanted to add something just as comfortable so that when the Sunday football + nap ensued, I had somewhere to sit and work or read.
This chair and ottoman is so comfortable and a great price, and we've had the white cotton Ektorp slipcover on it since we purchased it.  So when Comfort Works reached out about working together to design a custom slipcover for the set, it was music to my ears (check out all their Ektorp varieties)! Each slipcover is made to order, allowing so many unique, customized options.  They actually specialize in current and discontinued Ikea models, but also create slipcovers for any brand – if you send a picture, they'll work with you to figure out what will work best for your piece.
I wanted to have some pleats on the chair skirt, and I am still over-the-top in love with how it turned out! After receiving multiple swatches to choose from (I shared a sneak peek of this here), I chose Liege Biscuit and am beyond pleased. The fabric is nano-coated which means liquid and dirt run off the service because of the coating of the material (demo with red wine here). With two pets and lots of red wine in my life, it's a no-brainer.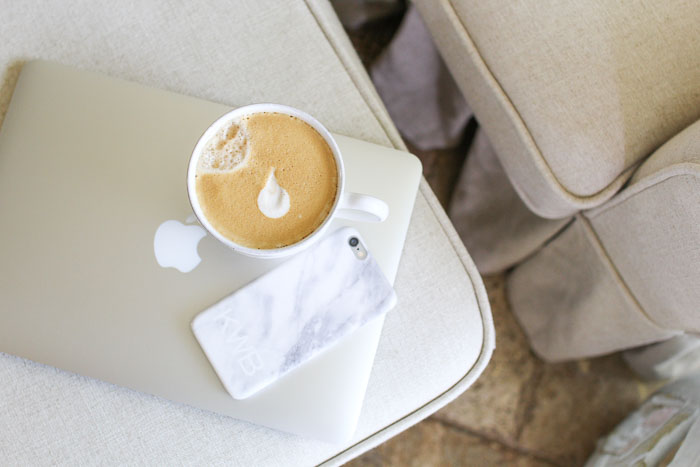 custom slipcover c/o Comfort Works | similar coffee table here and here | throw blanket c/o, love this one and this one | fur pillow via Etsy, love this one and this one | framed coastal print c/o |  sweater c/o | similar denim | similar side tables | similar garden stools here and here | similar rug | gold pineapple vase, also love this one | similar sequined pillows (on sale!), also love these | similar sofa
Thank you so much for reading! If any of you are looking to expand your Ikea sofas or chairs, Comfort Works can definitely fix you up and transform your piece.  I am still so in love with how ours turned out! XO –
brought to you by Comfort Works