A white shirt with blue jeans is one of my favorite looks on a guy. Christian knows this and will often pull this look out on date nights (so he does listen to my closet ramblings!).  Recently I wore the same and he told me that it was also one of his favorite looks on me… so we are truly becoming that couple who dresses the same. Seriously! This is proof… we will walk down the stairs sometimes and look at each other like, "someone has to change – not it!"
I purchased this look from the Nordstrom Anniversary Sale, and I am head over heels in love with this sweater. It's shorter in the front and long in the back (I always gravitate toward this style, this shirt is this way too), and the side lace-up detail adds just a touch of uniqueness that doesn't overcome the clean lines.
I think I need it in olive too. Because it's under $40 and so comfortable!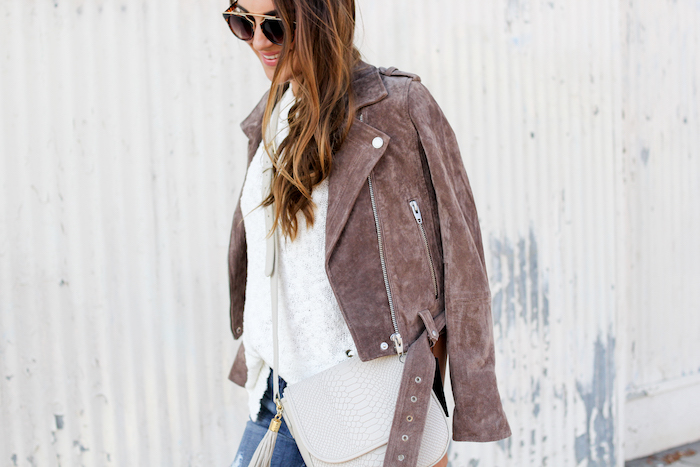 jacket (sold out – but check back on Friday, I bet it is restocked!), also love this one and this one | top, love the olive! | denim – runs true to size | bag c/o | heels | sunglasses (only $12!) | gold ring | earrings c/o
Don't forget to enter the Nordstrom Anniversary Sale giveaway! Thanks so much for reading – XO –