I have been using Mary Kay products for years (I love their skincare and fragrances – Cityscape is heaven), so I was honored when given the opportunity to talk about The Mary Kay Foundation and the products that help support putting an end to domestic violence.
This is such a beautiful time of year, and the holidays are a great reminder of how thankful we all are for our blessings. It's always wonderful to remember to pay it forward where you can, and it can be as small as one dollar. Every dollar counts!
This year, with the purchase of Mary Kay's Indulge Soothing Eye Gel, TimeWise Repair Volu-Firm Eye Renewal Cream or TimeWise Firming Eye Cream, a Limited-Edition Beauty That Counts Sleeping Eye Mask will be offered for $1. 100% of the purchase price of the eye mask will be directly donated to The Mary Kay Foundation.
SO with this in mind, Bailey and I are going to share our 6 tips for getting better sleep with the help of Mary Kay!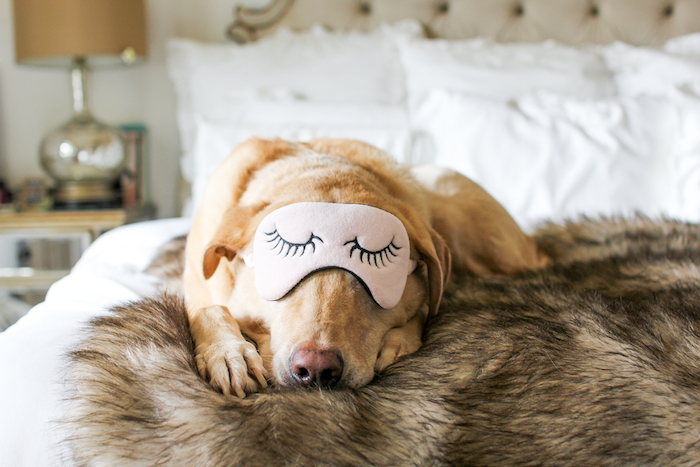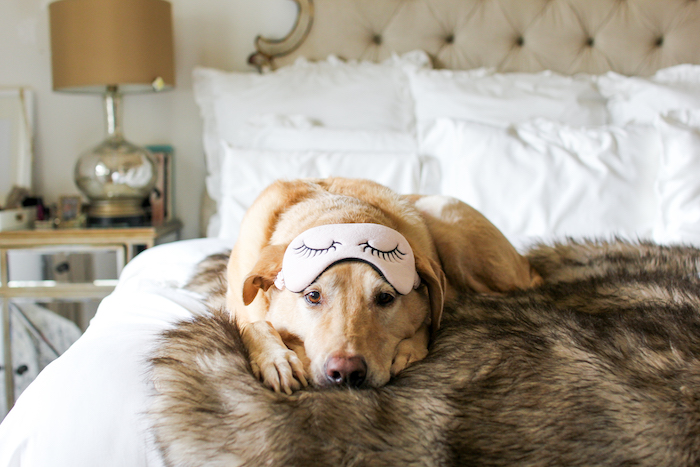 1.  Get comfortable.
I love a pretty pair of pajamas, and if they are a silk or satin pair, all the better. Another thing that Christian and I have both started doing in the past few months is switching to silk pillowcovers (we have already racked up three – we love them so much). It's better for your hair and skin, and this beautiful slip silk cover would be such a fabulous Christmas gift for a girlfriend, sister or mom.
2.  Pay attention to what you eat and drink close to bedtime.
Try not to go to bed too hungry or too full. Setting a time to stop eating at night (mine is usually around 8PM) can be helpful. Then I'll sip on tea or hot water with lemon.  This includes alcohol!! I admit I like a hot shower with a glass of wine and a podcast blaring, but I am trying to make those more of a weekend treat.
3.  Prep your skin.
Duh. Ever since high school I've been extremely diligent about washing my face before bedtime, and I like a thick overnight moisturizer, nourishing eye cream and rose lip balm.
4. Turn off electronics, pick up a book.
This is a hard one, but having a great book to read certainly helps. I started The Couple Next Door last week and it's so good! I need a little reading light for when Christian is still sleeping.
5.  Have an in-the-bed routine – mine includes lavender essential oil and a great hand lotion.
I've begun using lavender oil at night on my feet, wrists and neck, and then I'll put a heavy lotion on my hands and feet.  Now I associate the smell of lavender with bedtime. I love it!
6.  Exercise.
It's no secret that regular physical activity promotes better sleep – and Bailey would agree! Some say if you exercise too close to bedtime you might be too energized to sleep well, so listen to your body and what works best for you. I take two morning Pilates Plus classes a week and try to take Bailey on an evening walk whenever I can squeeze it in.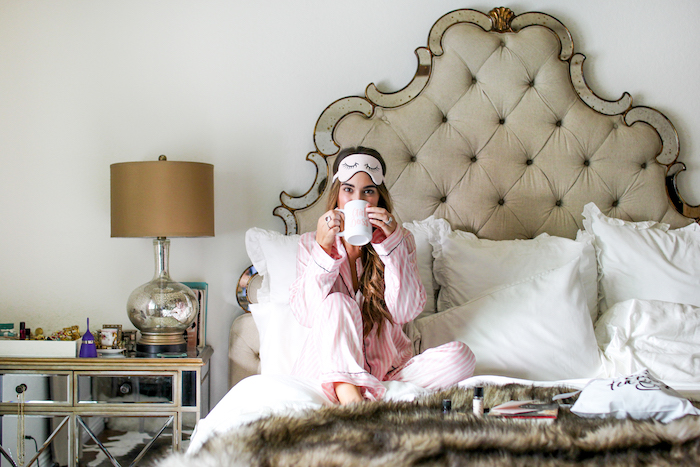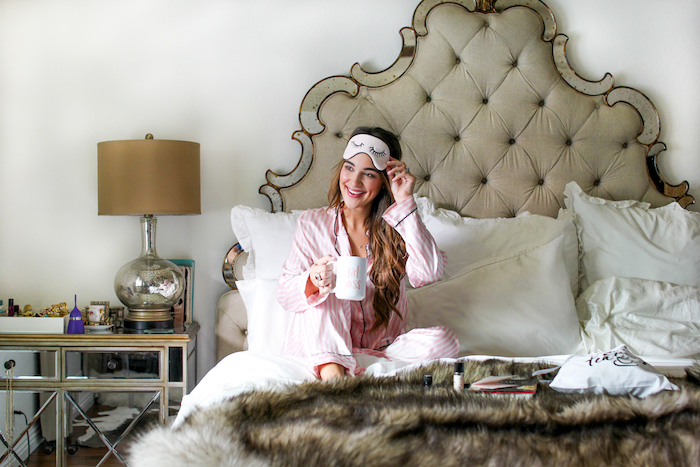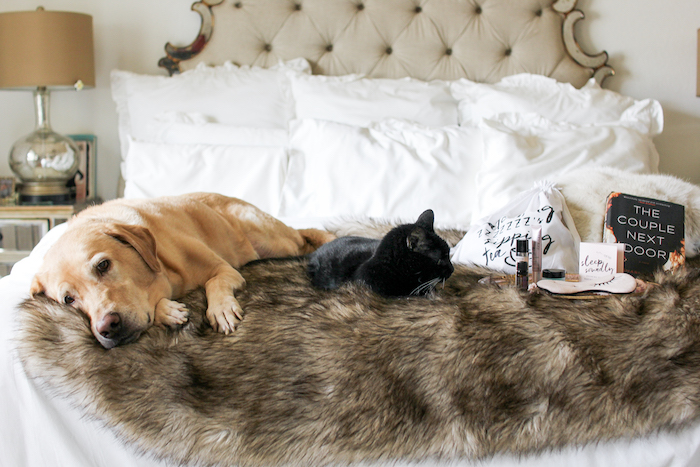 Do you have a nighttime routine that has helped shape your sleep patterns? And for the record, we don't sleep with pets in or on the bed… but Lula and Bailey were cute accessories and let's be honest – Bailey looks pretty great in the eye mask (and I think she knows it).
Thanks so much for reading! XO –
Brought to you by Mary Kay