It's time to get in the spirit because it's Christmas WEEK!!  I don't really go all out with holiday decorations in our home. We live in a small townhouse so there's only so much you can do without a mantle, notable front door or mailbox… buuutttt we still find ways to get festive.  Nothing is better than sipping coffee by the Christmas tree.  Got to have it!
I wanted to share some of my favorite things to do with my family over the holidays, no matter where we are.  Sometimes there can be some lulls in the day between the eating and lounging, so it's nice to have some activities up your sleeve in case everyone hits a wall.  We all have so many memories of how our families celebrated growing up, and now it's time to have some of our own!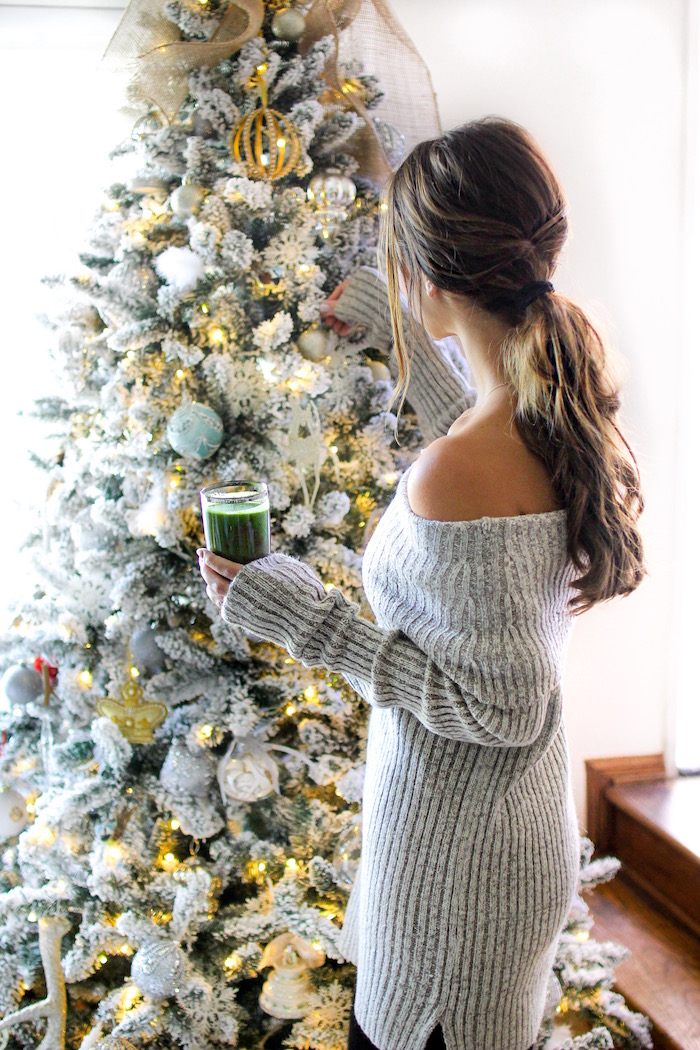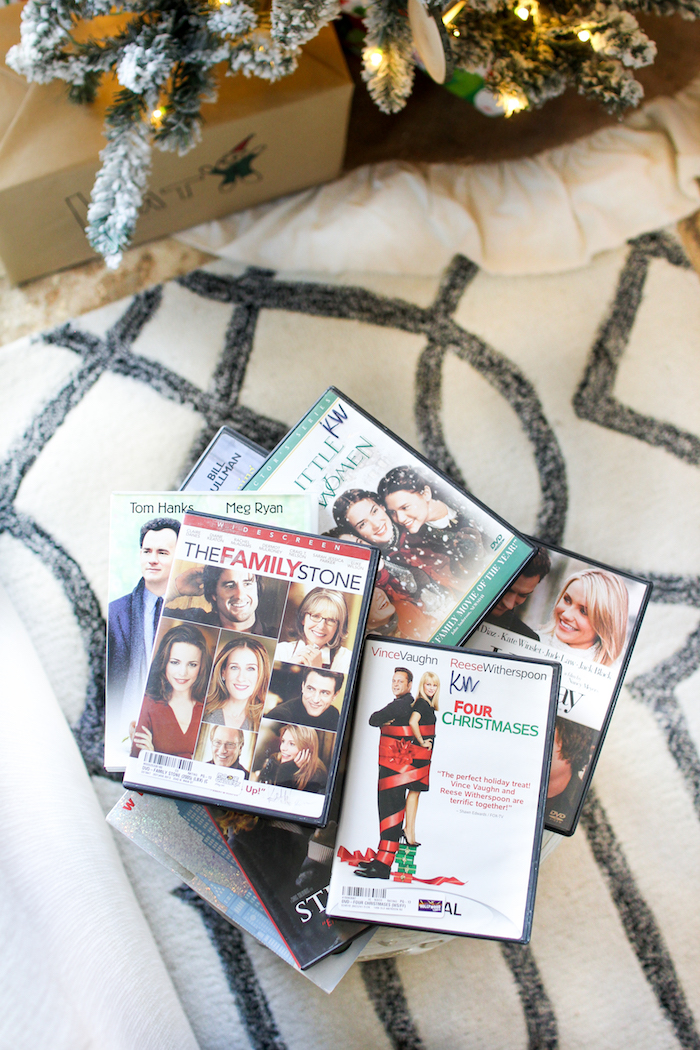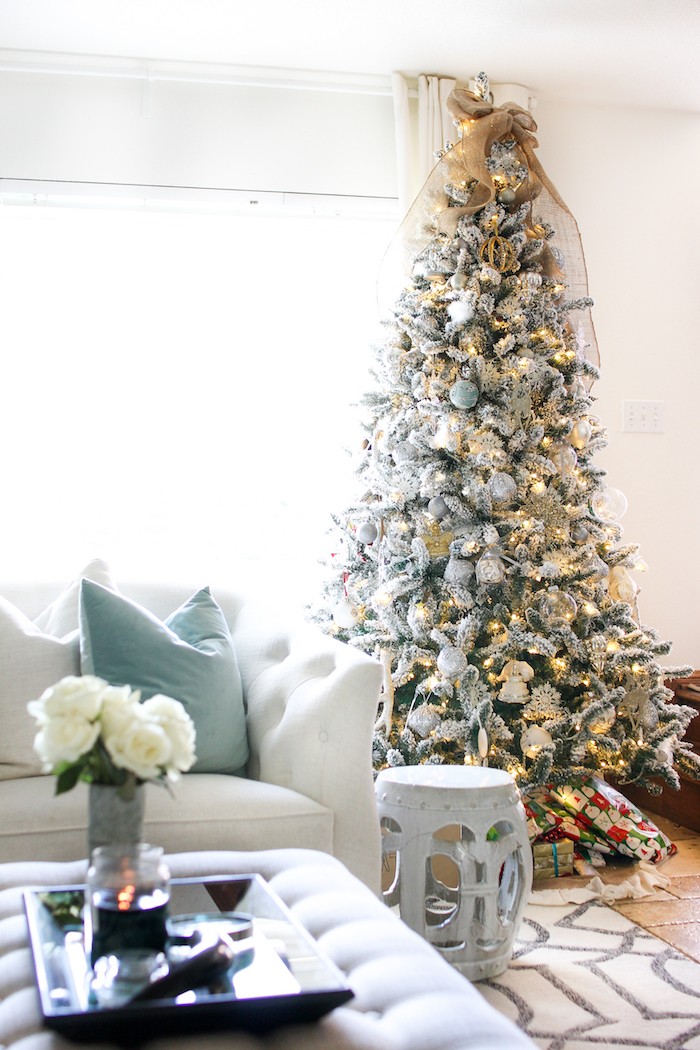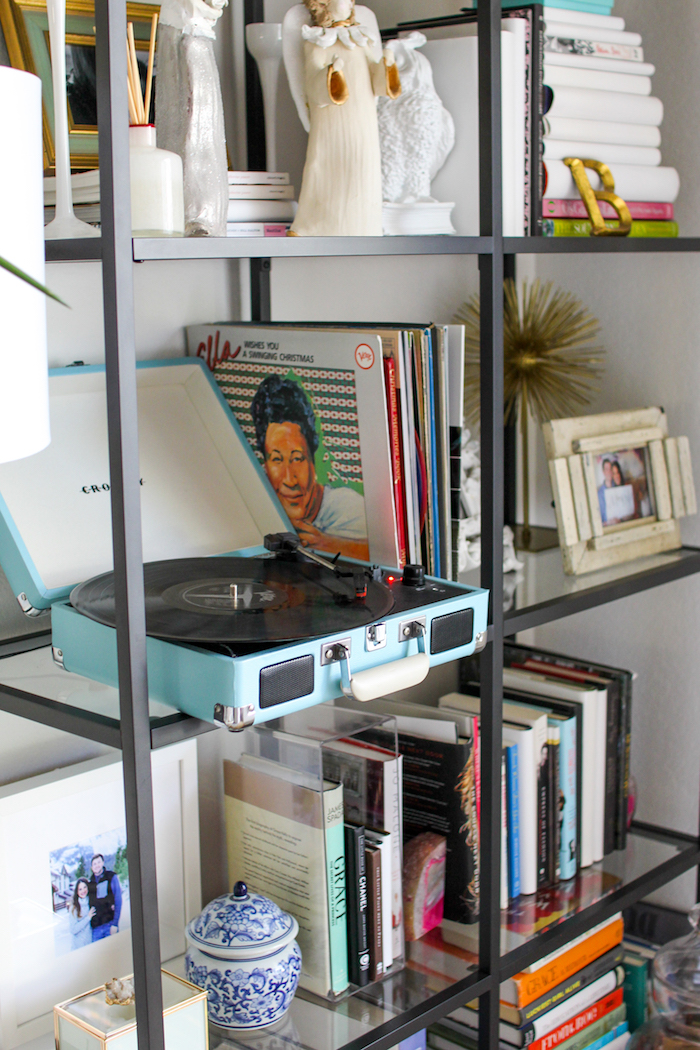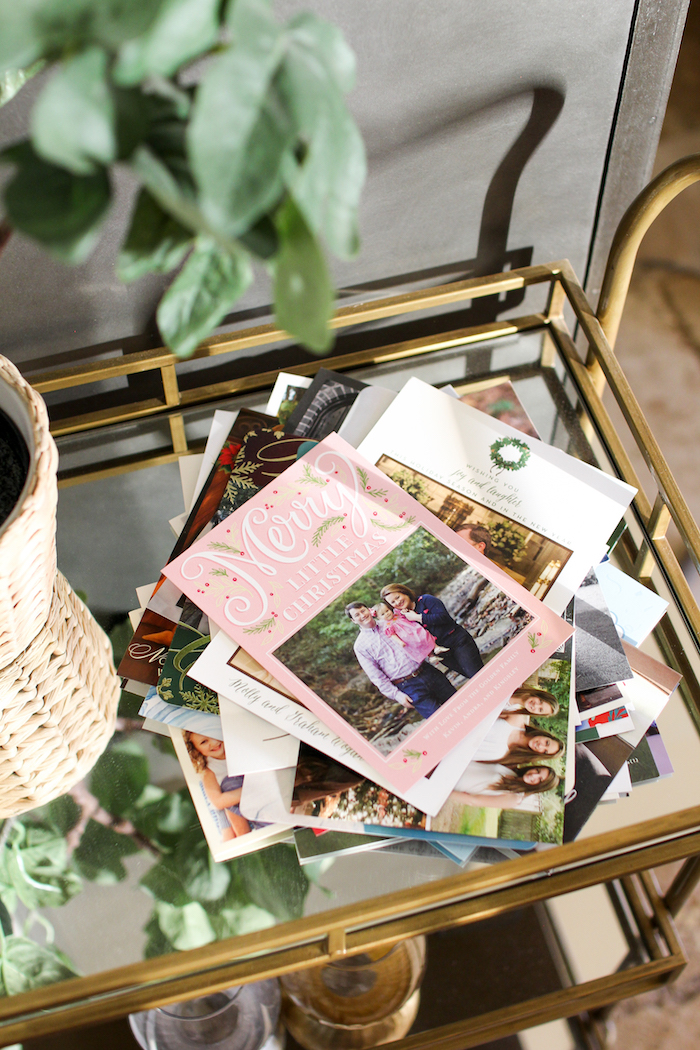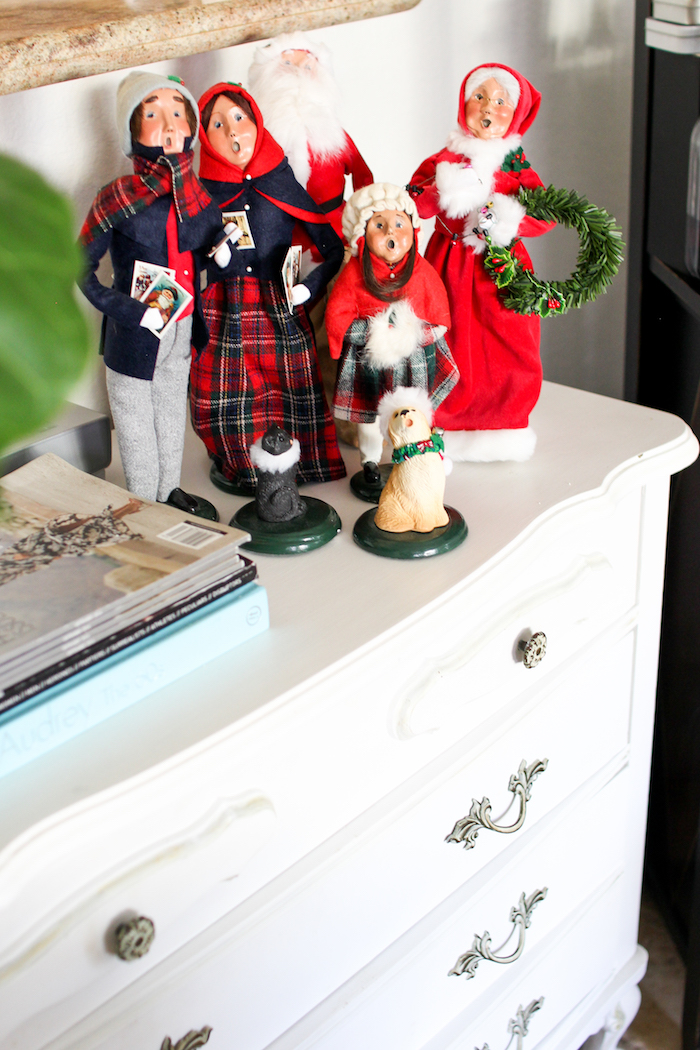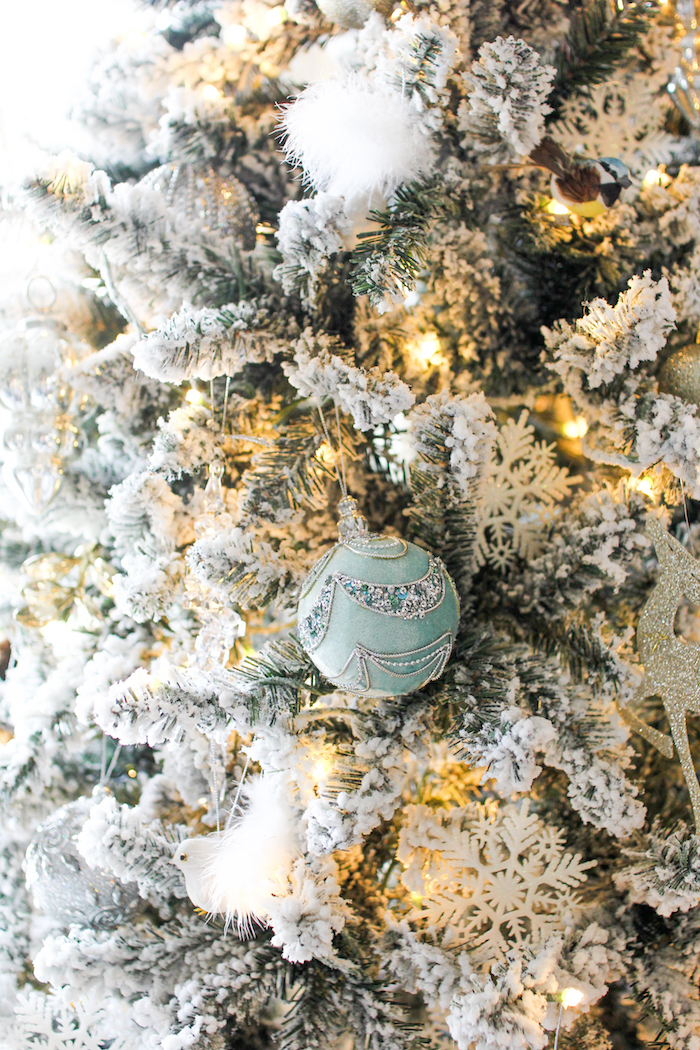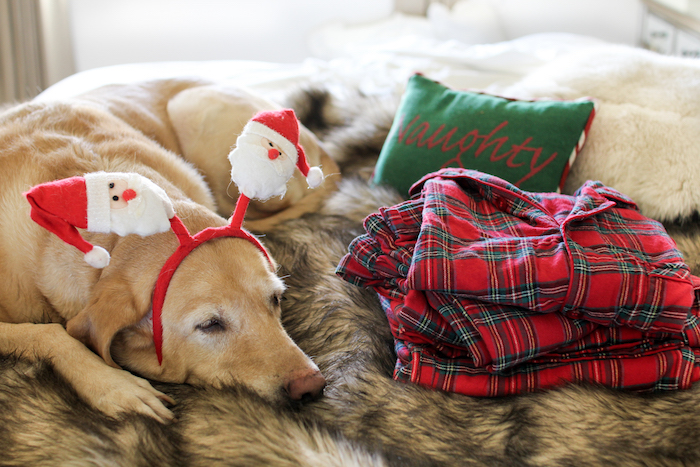 flocked Christmas tree via King of Christmas
1. Christmas Movies.  This is a no-brainer, and last year I put together my favorite movies here.  This year I want to see Office Christmas Party, and we just watched Miracle on 34th Street for the first time in almost 20 years
2. Hot Chocolate Contest.  Everyone things they have the "best" recipe, so I like to put it to a test.  Homemade marshmallows and all!  Right now this one is my favorite.
3. Play Some Records. I bought the She & Him Christmas record a few years ago, and this year I added Ella Fitzgerald. Nothing makes me happier than putting on a record and lighting a pine candle. So fun!
4. Matching Pajamas.  I fully recognize this can be kind of corny… but it's still really fun. I bought Christian and myself a new set this year and they're so soft – I can't wait to wear them!
5. Pull out the Board Games.  We are big fans of Life, Scrabble and Taboo.
6. Admire the new pins on the stockings. My dad's family grew up with this tradition, and we have all kept it going. You know those pins and medals you get growing up? The ones that end up in a drawer and eventually thrown away?  We put those on our Christmas stockings.  C and I pick up pins when we travel. After a few years, you have these adorned stockings full of memories from your entire life.
7. Go through Christmas cards. Growing up, we always passed around the stack of holiday cards to see who had gotten taller, married, had children, etc. My mom always has a fat stack of cards and it's so much fun to go through them.
8. Ride around to hunt down the best Christmas displays. I don't feel like I see as much out West, but it's no secret that the South loves some intense light displays. I admire the energy and spirit of anyone willing to go all out!
9. Christmas jog.  When I was a sophomore in college, I was in a short-lived jogging phase and went on run Christmas Eve before the church service. When I got back to the house, my brother-in-law (a former college basketball player) was like, "why didn't you tell me you were going? I would have gone with you!"  So he rounded up my dad and brother to go and told me if I was really in shape, I would go again. So I said I would… and then before we knew it, the entire family of six was on a run together.  Over the years we've called it the goof troop family run and it's expanded to 10+ (including pregnant ladies).  Christian and I even went on a jog together Christmas Day on the beach in Newport the first two years we lived here!  Then you feel like you really earned that big holiday meal!
10. Read the Christmas Story Together.  It's easy to get caught up in the presents and cookies, but I read the Christmas story every year. Usually I like to have a moment in private, reading the story of the birth of Jesus and thanking Him for all of the blessings of the year. I don't know how I would get through the ups and downs of life without knowing there is a Higher Being guiding us.
If you have any adult family traditions that make the holidays special to you, I'd love to hear. I'm always looking to try something new!
Also, I'm planning on doing a Snapchat (CBLied) Q&A this week, so feel free to email me any questions or leave them in the comments of this post! Thanks so much for reading, and Merry Merry Christmas to each and every one of you. XO –