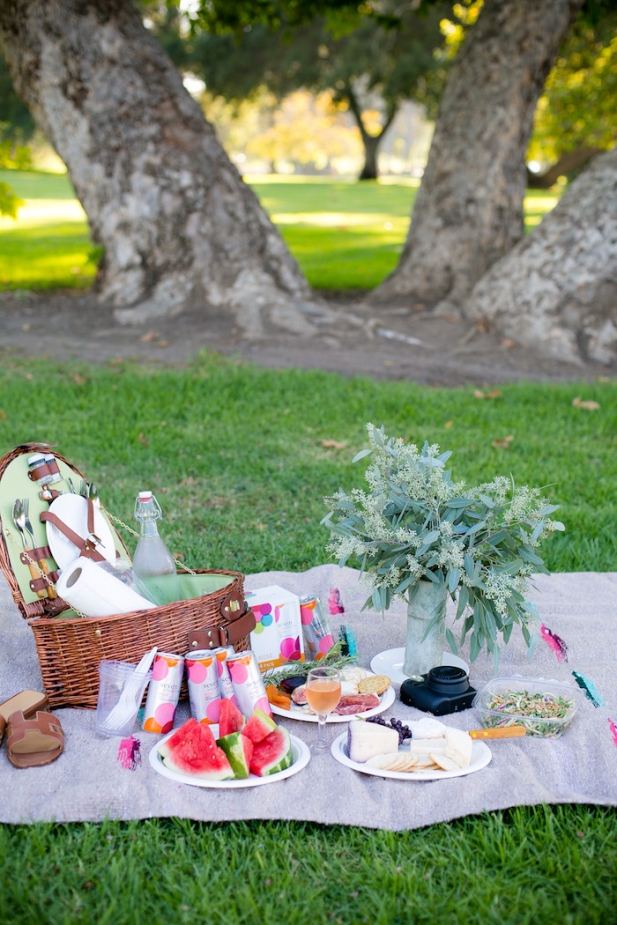 When the weather is nice, a picnic can be the perfect way to spend the afternoon. Get some fresh air, take the dog, some snacks and wine – what's better than that? After having quite a few weekend picnics, I'm sharing my 7 steps to planning the perfect picnic with Seven Daughters Wine.
I mean… a no brainer, but a soft blanket is the perfect place to park it and spread out the good stuff. Everyone needs a home base right?
I mean… maybe this should have been #1 BUT truth be told, any little basket will do. I got the one above as a wedding gift, and it makes me so happy to pull it out for a date for two.  This picnic was actually for myself and my parents (photos by Dad – he's the best), and it was still a great resource for the cheese knife, utensils, plates to keep things steady on the grass, etc.
If you're gathering all the good stuff for a picnic, there's nothing better than a great rosé. Rosé in a can!? Changing your life, my friends! Whether you're packing a picnic, heading to the beach for the day, off to the movies… a great wine-in-a-can is so easy. No wine opener, packing glasses, etc. If you're an adventurer and enjoy toasting outside of your house… trust me, it's the most convenient option ever!
AND I'm not typically a sparkling wine or rosé drinker, but when I can have just a taste without the pressure of opening an entire bottle? Perfection.
4.  Cheese, Crackers, Snacks…
I mean, you gotta have a little nosh. Cheese, crackers, watermelon, some salad, champagne grapes – these are a few of my favorite things.
5.  Water
It's nice to have some water after a can or two of rosé or to rinse your fingers if you've been eating watermelon or sugary fruit!
6.  Paper Plates, Plastic Utensils, Wet Wipes, Paper Towels
I find that these are some of the items that are often forgotten. Make sure you have enough disposable plates and utensils so everyone can fix themselves a little plate. Bonus points for wet wipes or a roll of paper towels!
7.  Trash Bag
So maybe this is a less pretty thing to mention but I'm telling you – it's the thing everyone always forgets! After the wine and nibbles — it's much less fun to go to the trash can when you can't consolidate everything in one bag. Save yourself the trouble!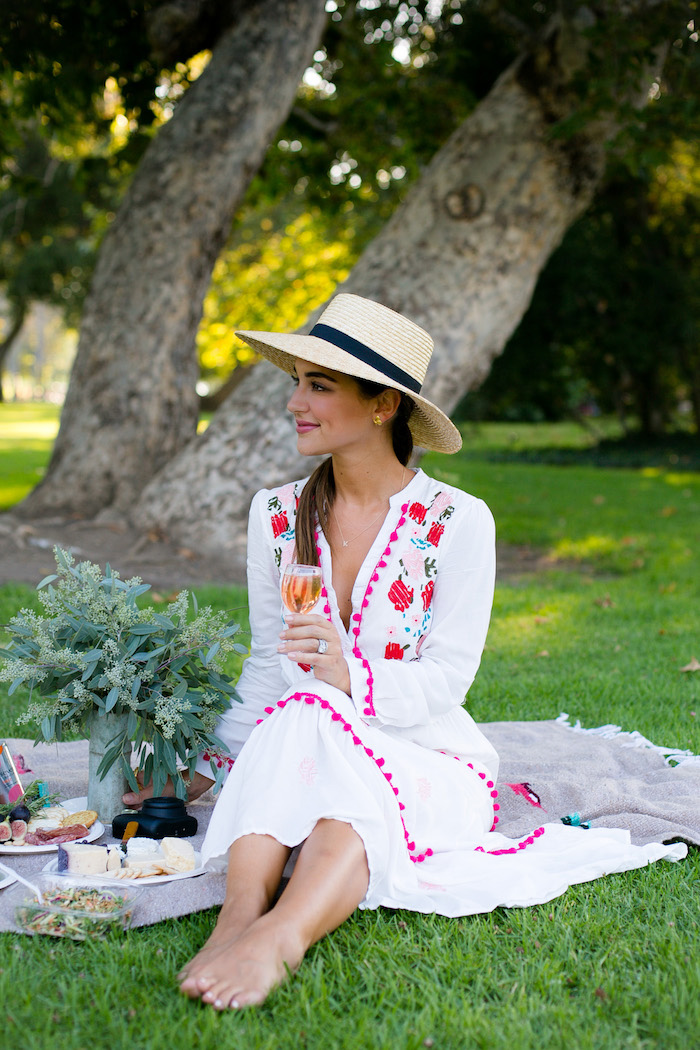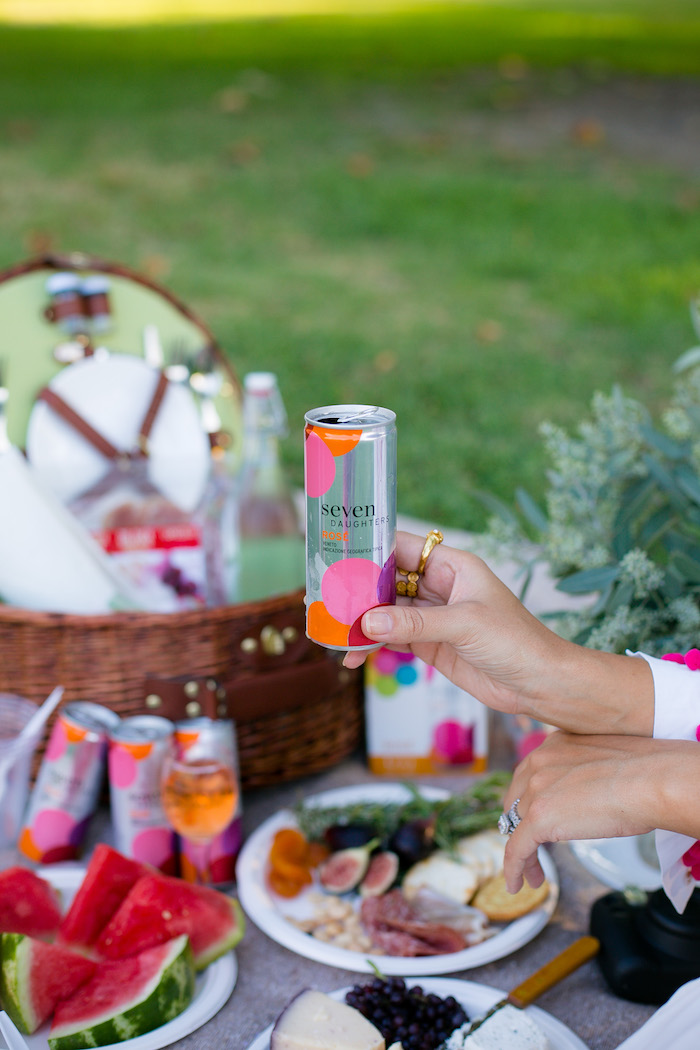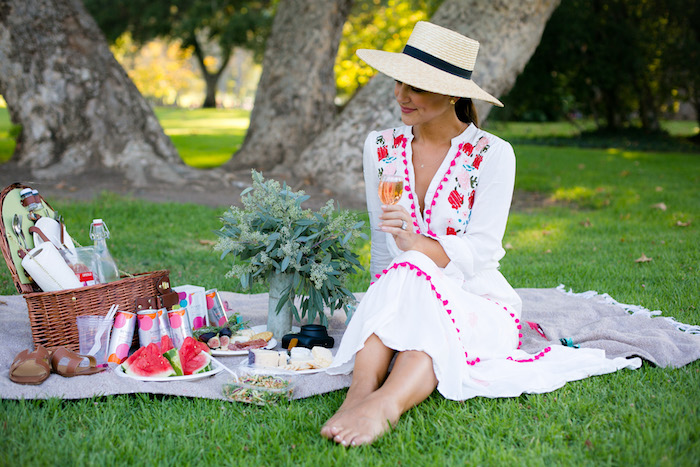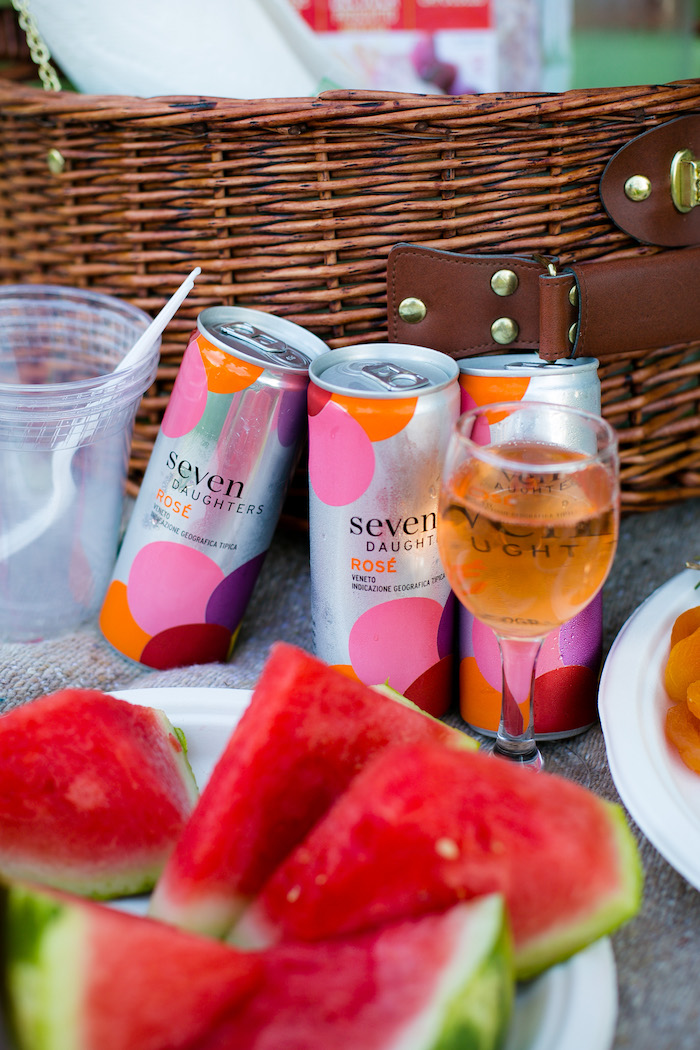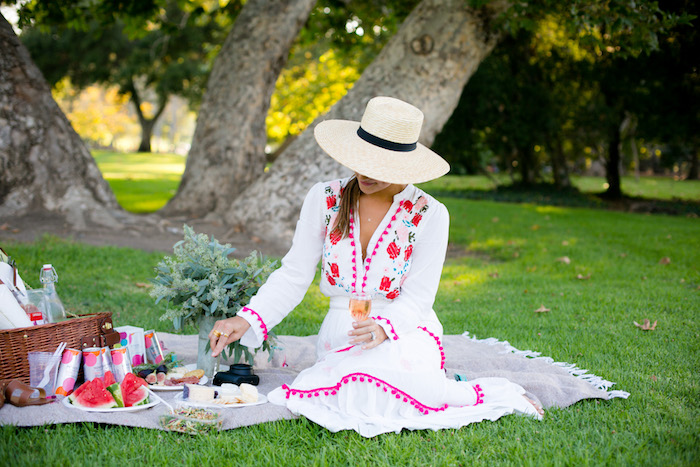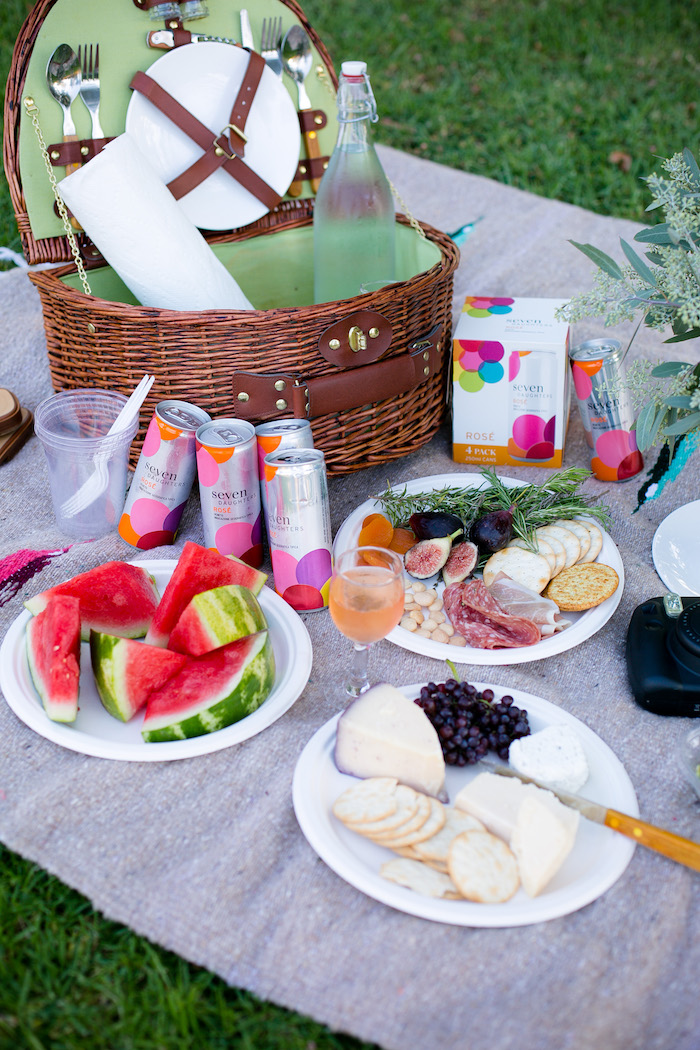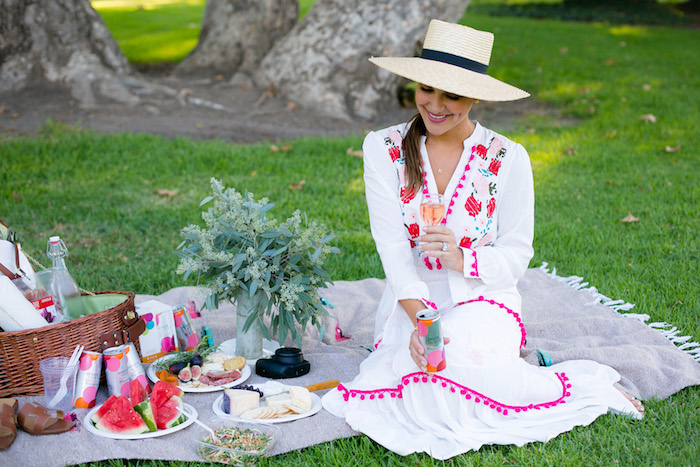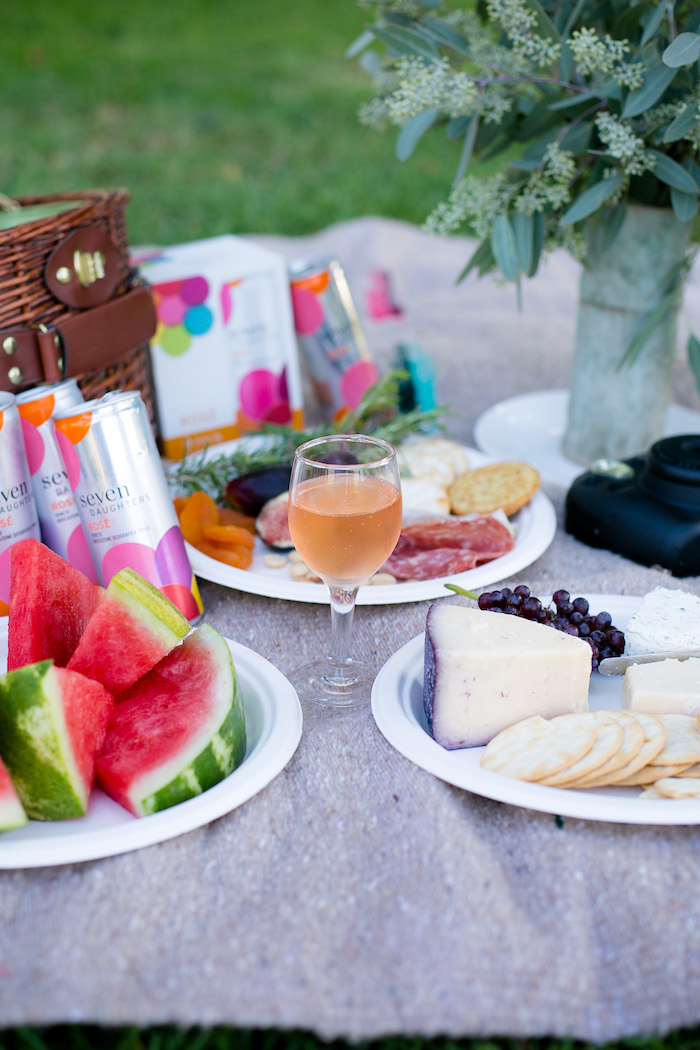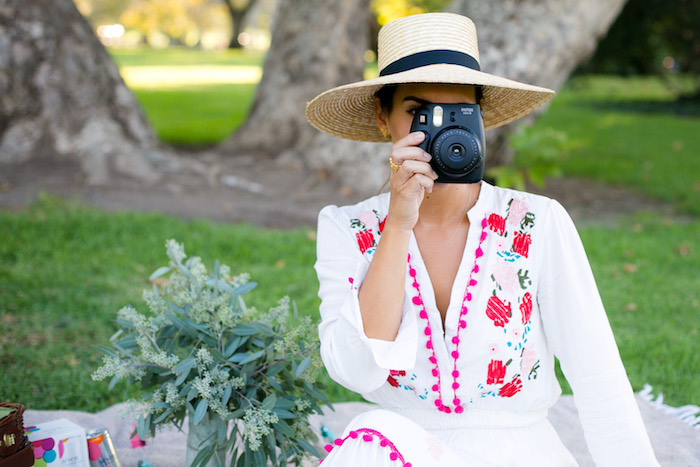 Photos by Dad
Seven Daughters Rosé | similar picnic basket | dress | hat | sandals, similar look for less here | mini polaroid camera | similar blanket here and here
Thanks so much for reading! Do you love planning some lunch or dinner al fresco? I'd love to hear your must-haves. Trust me, once you see how easy wine-in-a-can is for outdoor entertaining – there's no going back!
You can check out Seven Daughters on Facebook and Instagram and find their wine in your area here.  AND the code CBL7D is good for 20% off any Seven Daughters purchase on Uncorked.com! XO –
Brought to you by Seven Daughters Wine