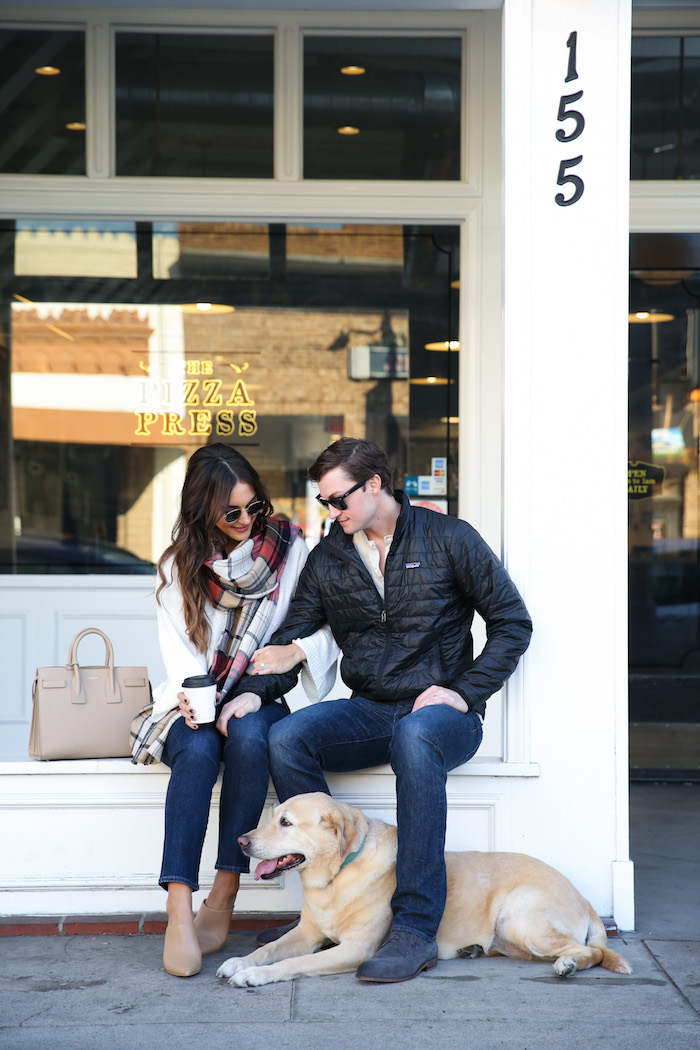 I must start this post by saying that even when we first started dating in college, I thought Christian had great style. He always showed up for our dates dressed like he walked out of a catalog, and he has no problem putting together looks for himself.
However, once he started his residency he barely had time to feed himself, much less buy clothes.  So I've gladly taken that off his plate and used it as my excuse to try to get him to step out of the box a little bit! Thankfully Nordstrom has such an amazing selection and carries all of his favorite brands – Patagonia, Levi's and Sperry to name a few.
Some of my tips for shopping for your guy are:
1.  Figure out the brands he likes/trusts and try to stick to them.
Some of Christian's favorites are listed above! When you find something that fits great consider getting it in several sizes or patterns.
2.  Learn how to shop for his build.
This was probably the biggest help for me. Christian, the lucky guy, is long and lean. I buy him slim fit everything.  It makes a huge difference.  I also have used Nordstrom's Men's How-To's and Style Advice section because I'm not as well-versed in mens fashion but try to do what I can to educate myself!
3.  Order a lot and let them try on things at the house on their time.
With Christian's crazy schedule, I love ordering from Nordstrom because I can just order a TON of different pieces and send back whatever styles he doesn't like. It makes life so easy because he can try on at home on his own time and I don't have to drag him to a mall (which he's only allowed me to do like… three times in ten years).  I also feel like when he can try things on at home he is a little more likely to try things out of his comfort zone.  AKA I can convince him to keep a few items that are more on-trend!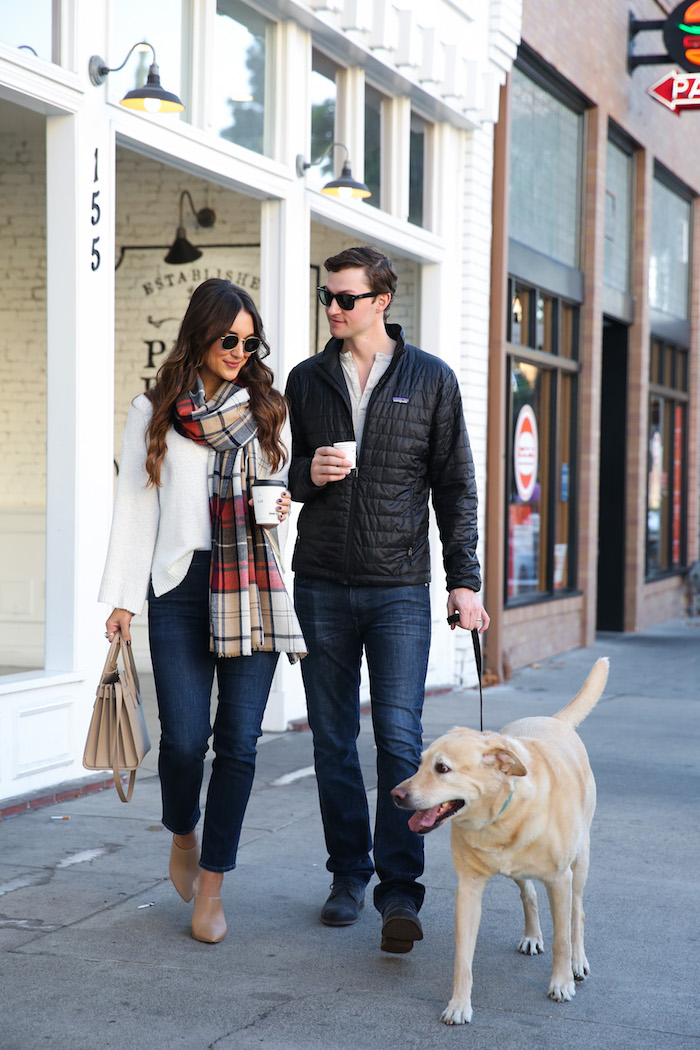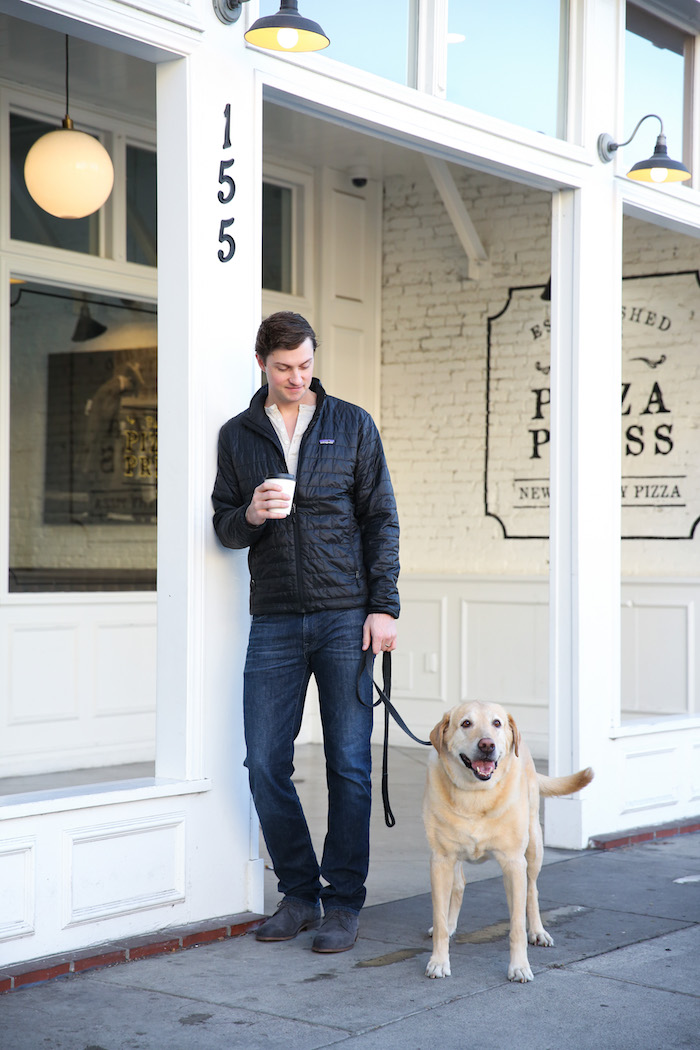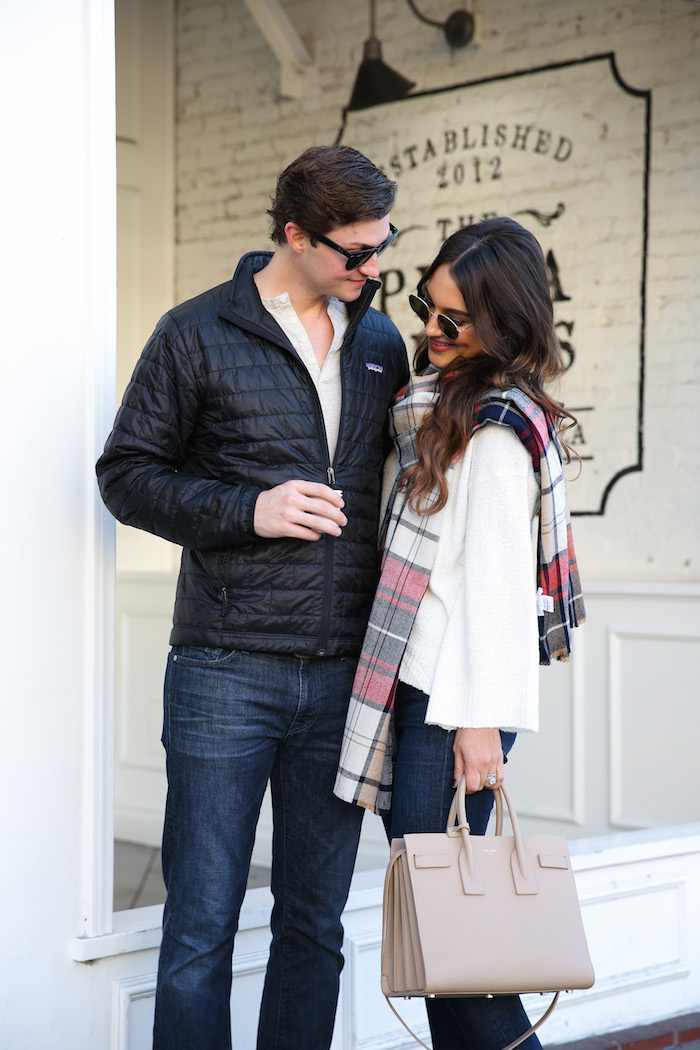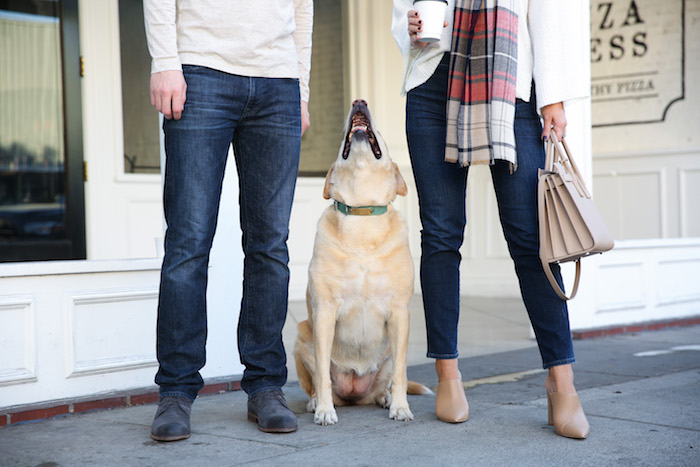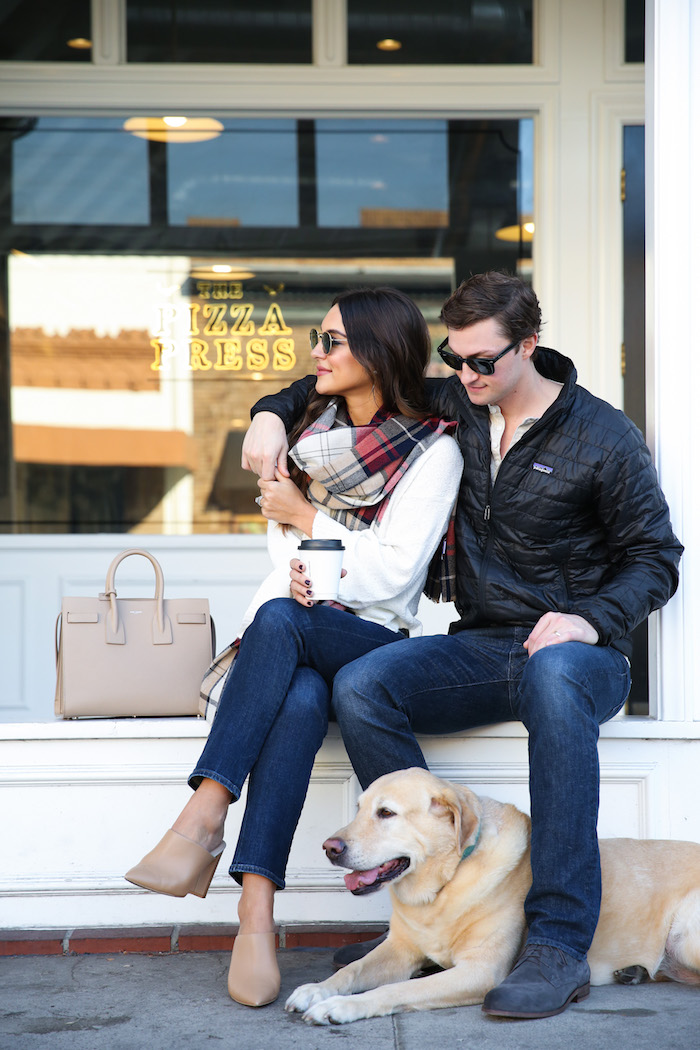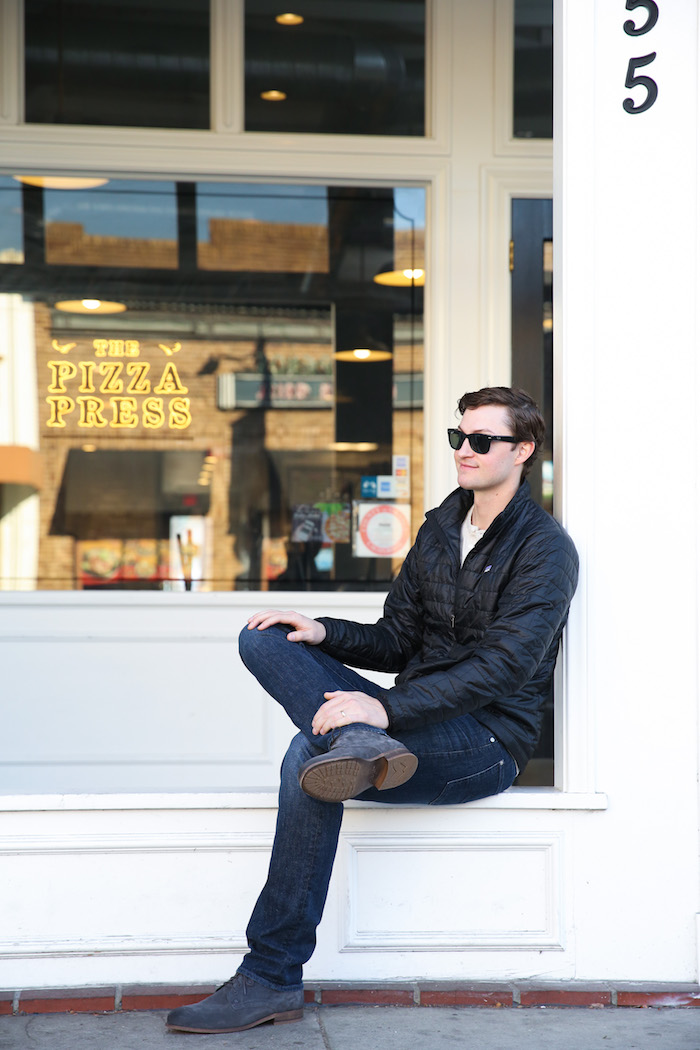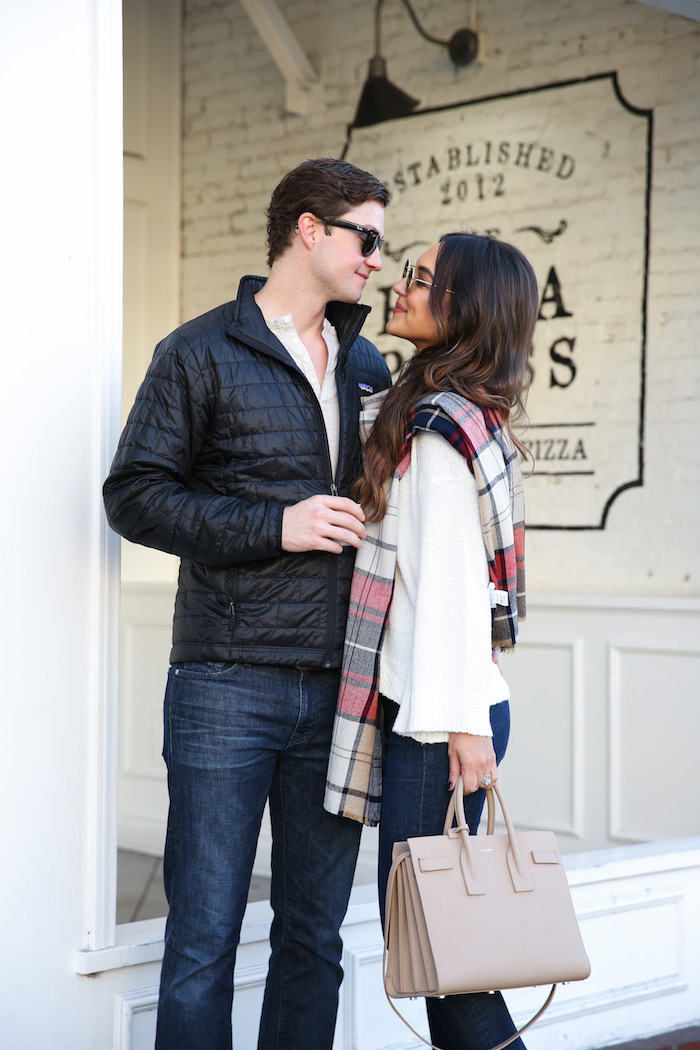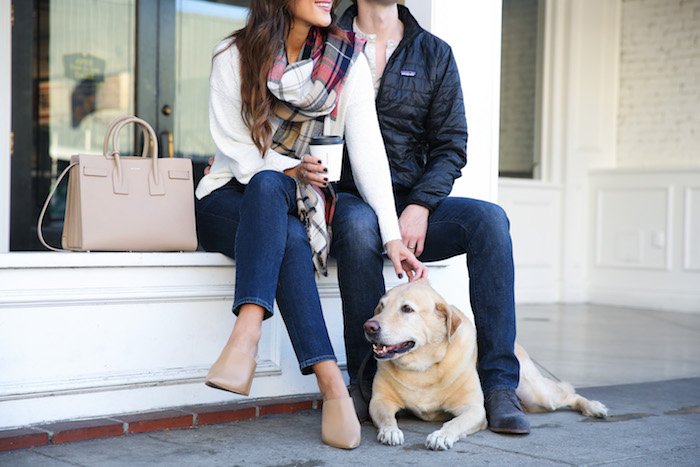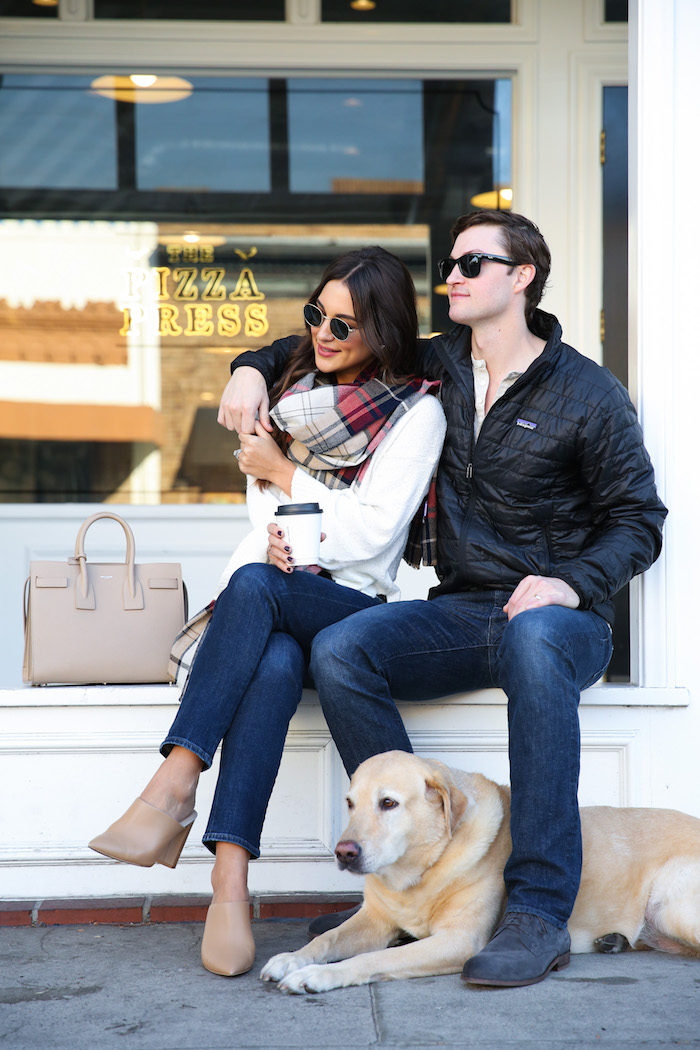 photos by Vincent Elejorde
on him: jacket, love the vest version! C also has and loves this vest | shirt | denim | shoes | sunglasses
on her: sweater – runs big, also love this one and this one | scarf – love this plaid for the holidays! | denim – I would recommend sizing down | similar mules here and here (30% off) | bag, love this look for less | similar sunglasses here, splurge here
I had so much fun shooting this with Christian and Bailey I told him I would be dragging him into posts more often and he gave me some serious side-eye… but really did have a good attitude. God bless!
Do you shop for your guy? I'd love to hear any of your tips for sneaking in some of the newer trends while still keeping the dudes happy. Thanks so much for reading – XO –
Brought to you by Nordstrom