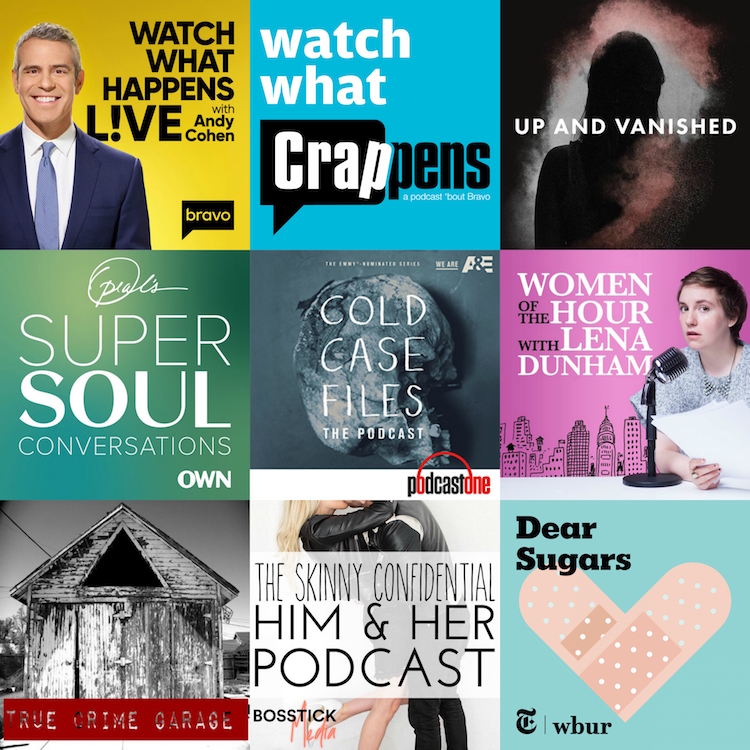 I am a HUGE podcast-lover, and I get so many questions from you guys about my favorites that last year I shared this post rounding up some of CBL's fave listens of 2016.
Since then, I've discovered even more gems! So I wanted to round up another post including new finds. I still love the original ones I shared last year, these are just some new additions worth sharing.
COMEDY:
Watch What Happens Live – Obviously, when this became a podcast it was like the best thing that ever happened to me. I no longer watch the show as much and just listen while I'm cooking, driving or cleaning.
Watch What Crappens – The parody podcast that reenacts and makes fun of all things Bravo! related. Ben and Ronnie are a RIOT.  Christian can't handle it though – he's like, "first you watch these women fight on TV and then you listen to these two guys mimic their fight!? I can't listen to this." But it's like liquid gold in my ears. No shame.
PaleOMG Uncensored – I think Julie is hysterical and I was honored to actually be on her podcast earlier this year (you can listen here)! She is totally raw, honest and unfiltered, and I love listening to her discuss her dog, hilarious neighborhood situations and overall stories.
TRUE CRIME:
Casefile – I love these because they're quick bites of true crime stories that usually have full circle endings.
Cold Case Files – Addicting with new stories for every episode.  This is A&E's podcast, so you know it's going to be good.
True Crime Garage – Love these guys and how they have a beer of the week, discuss different popular true crime stories and always honor the victim.
Up & Vanished – I've never listened to a podcast like this before. It starts off sharing the story of  missing woman in Georgia and then by the end of the podcast someone is arrested and charged with her murder. INSANITY, but also kind of amazing that by bringing up an old case and digging into it, it actually helped solve a murder mystery and give the victim and her family justice.
Dirty John:  Mind-blowing that this entire story took place about 20 minutes from me in Orange County. A captivating story about a real relationship built on a nightmare.
S-Town:  The sister podcast to Serial. Binged it when I was traveling and kept calling my sister because I couldn't believe this story was less than an hour from where she lives in Alabama. Bananas!
PERSONAL and/or BUSINESS:
Oprah's Super Soul Conversations – Obsessed. Oprah is my Queen, and I love everything she does. Now that I can listen to her interview all kinds of people on my phone!?  It's like winning the lottery.
Dear Sugars – I heard about this podcast from Oprah's podcast, and it's amazing. It's almost like a more polished Dear Abby, produced by the New York Times.  One of the hosts is the author of the book Wild (you might remember the movie with Reese Witherspoon), and both hosts are incredibly wise with their thought-provoking replies to readers letters.
The Skinny Confidential: Him & Her Podcast – I love listening to Lauryn and Michael share their opinions on relationships and business. It's always interesting hearing both a female and male perspective on marketing, branding and marriage.
Where Should We Begin – I recently started listening to this podcast when I heard it mentioned on another podcast. It's almost like eavesdropping on a couples therapy session… except they know they're being anonymously recorded for a podcast so you don't have to feel guilty about it.  Fascinating!
Women of the Hour – I love pretty much love everything Lena Dunham creates, so when I heard she had a podcast I was all in. She treats it almost like a show with seasons, but it's a great listen.
Did I miss anything that you love? Tell me your favorite podcasts! And don't forget to check out last year's favorites here. Thank you so much for reading! XO –