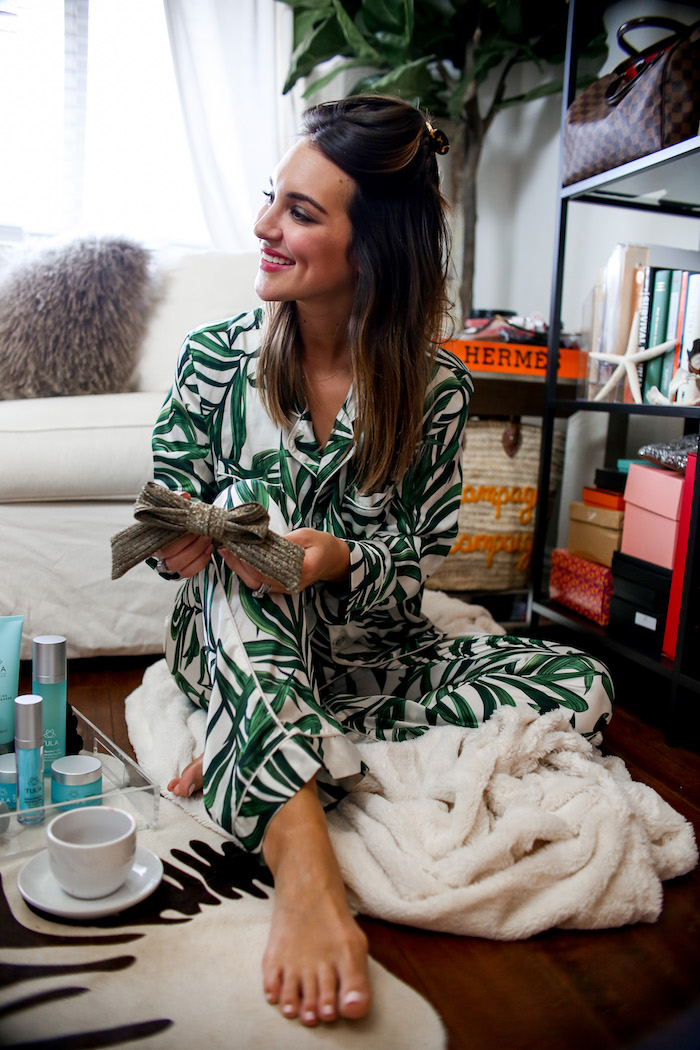 One of my FAQ is about my skincare routine. I touch on it in the FAQ page of this site, but today I want to dig a little deeper into my usual day and night pampering.
One of the skincare brands I've used for years is Tula. While I've always been fortunate to have pretty clear skin, it is sensitive, so I love that this brand is great for that need.  Another thing I really love about Tula is their many selections of travel-sized products.  As you guys know, I'm on the go fairly often – so having high quality travel-sized cleanser, serums and oils is clutch!
My morning and evening routines are fairly the same, so I want to share the step-by-step products that I use daily to take care of my skin.
A Great Cleanser
This is so important! I've found that some cleansers feel like they burn my eyes, but not this one. It's gentle and refreshing, and I love that it comes in a baby size for travel.  This oil-based cleanser is a fun change that I like to use sometimes in the evenings.  Oil-based cleansers are especially  helpful in the winter months when we we all need some extra moisture.
On this topic,  I also love my strong hair clips and scrunchie game. Gotta have 'em!
A Face Serum
I've really jumped in the serum game in the past two years, and I can tell a difference when I'm using a serum regularly.  This one is excellent and I feel like it adds some dewiness to my skin.  Recently I tried a pressed serum for the first time and it's very cool! Super silky and luxe feeling, and a little goes a long way.
A Moisturizer + Facial Oil
I've used this moisturizer for years (also comes in travel-sized) and I love, love, love it.
When I worked for a beauty company, I started using facial oils and couldn't help but notice all the comments I started to get from coworkers on my skin. Since then I've used one daily, either on it's own as a moisturizer in the summer or mixing it into cream lotions for a glow.
I've found that my skin now almost thirsts for it if I skip this step! Again – a little bit goes a long way.
Eye Cream
I use eye cream in the mornings and evenings. Again, if I skip this step my eyes feel dry – so I'm now addicted!  If you like Tula's day/night moisturizer shared above, you'll love this eye cream.
A Face Mask or Treatment Pad Once a Week
I try to use Sunday evenings for a little extra pampering and will pull out a face mask or treatment pad for a some self-love. Not only is great for a skin reset, but it's also just fun to terrify my husband with a face mask, robe and Real Housewife TV show.  That's a lotta estrogen coming atchya!
This is a new product of Tula's and it's unlike any other face mask I've tried.  It's really creamy and while some masks feel like they really strip and repair damage (which is great too!), this one really helps your skin hold onto moisture and is ultra-hydrating. A great mask for winter skin!
Bonus Product When Needed: Moisturizing Eye Gel Pads
When I have some extra time or feel like I need some quick skin TLC, I'll pop on some eye gels for 10 minutes or so.  I actually keep mine in the refrigerator because it's some bonus de-puffing!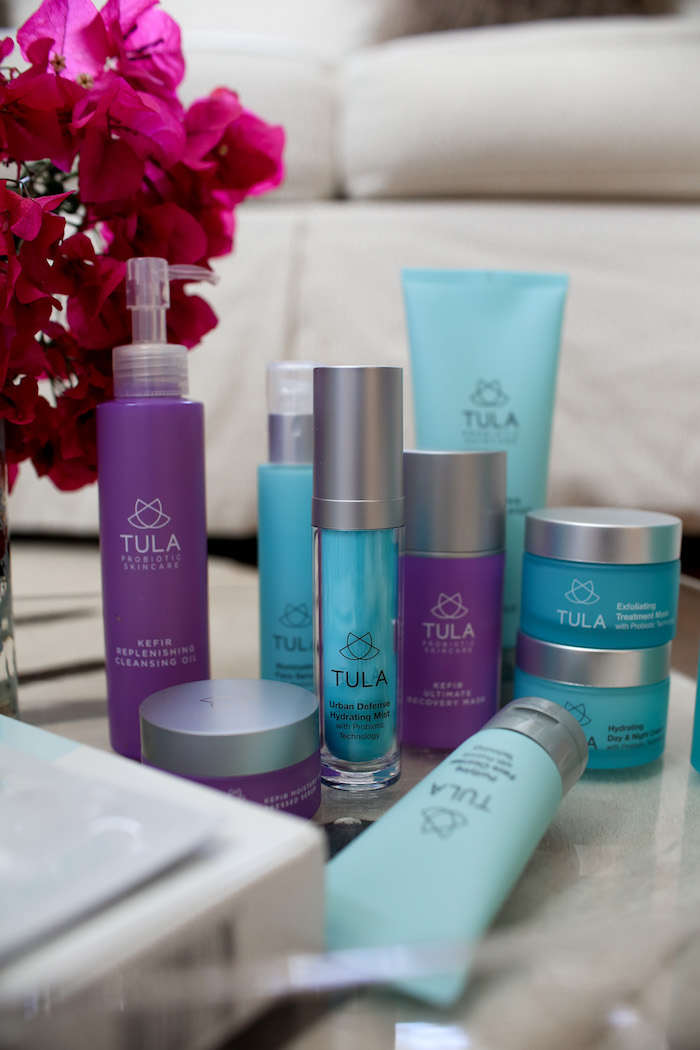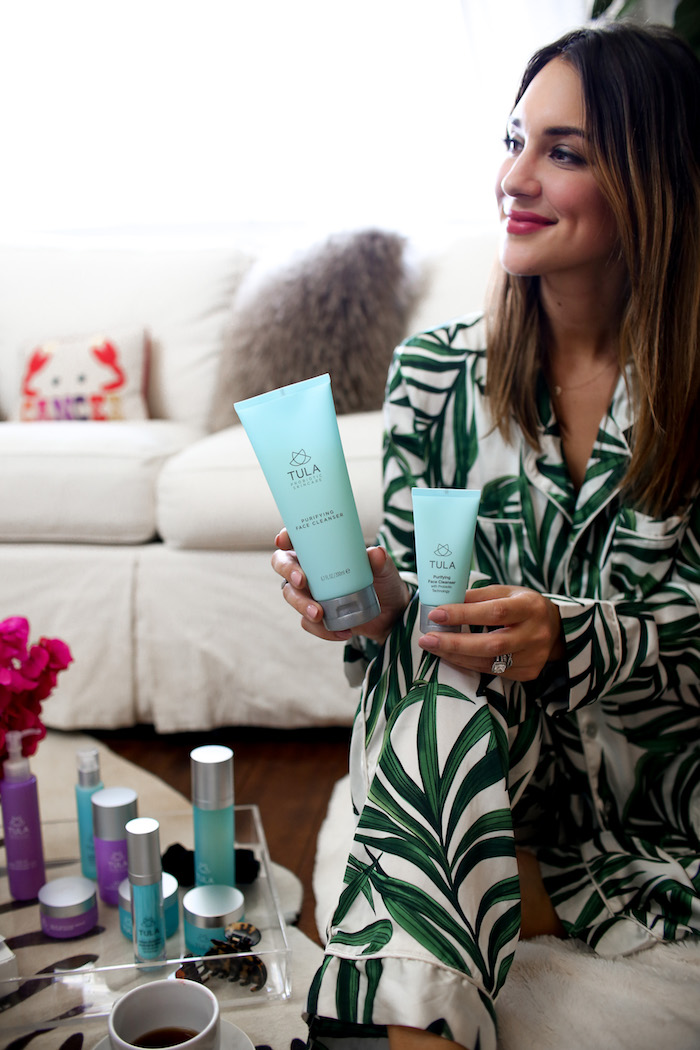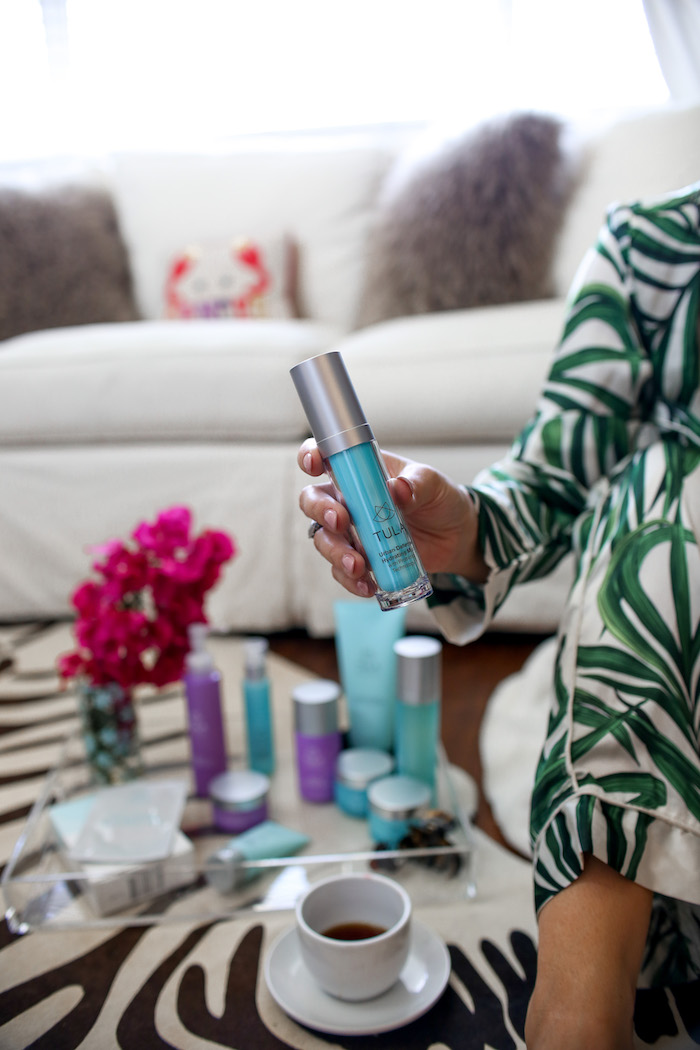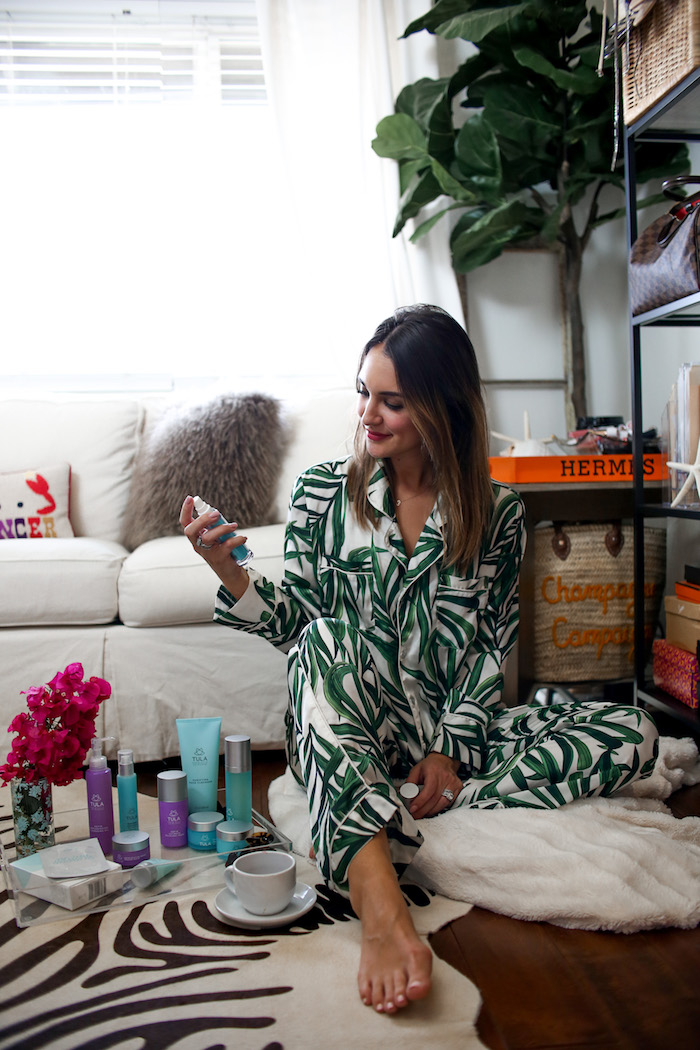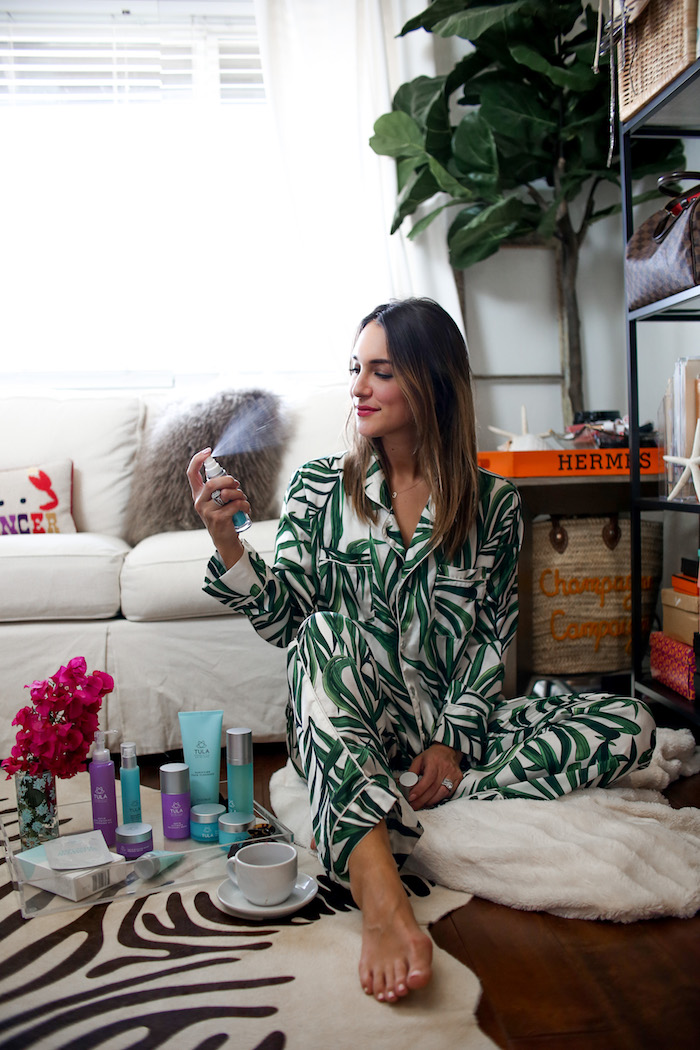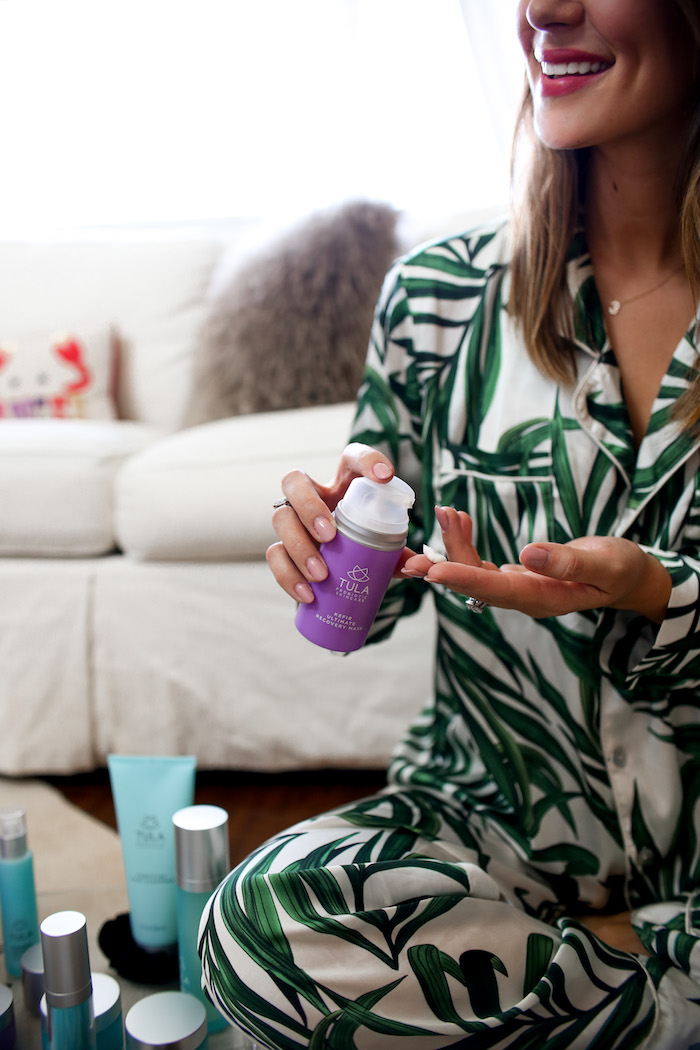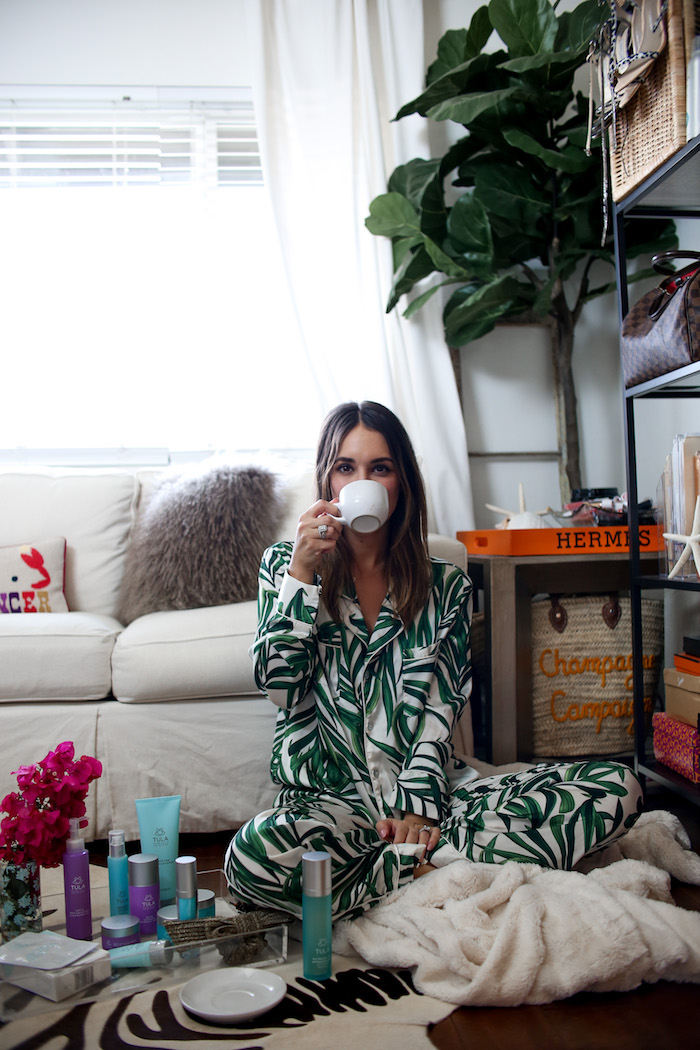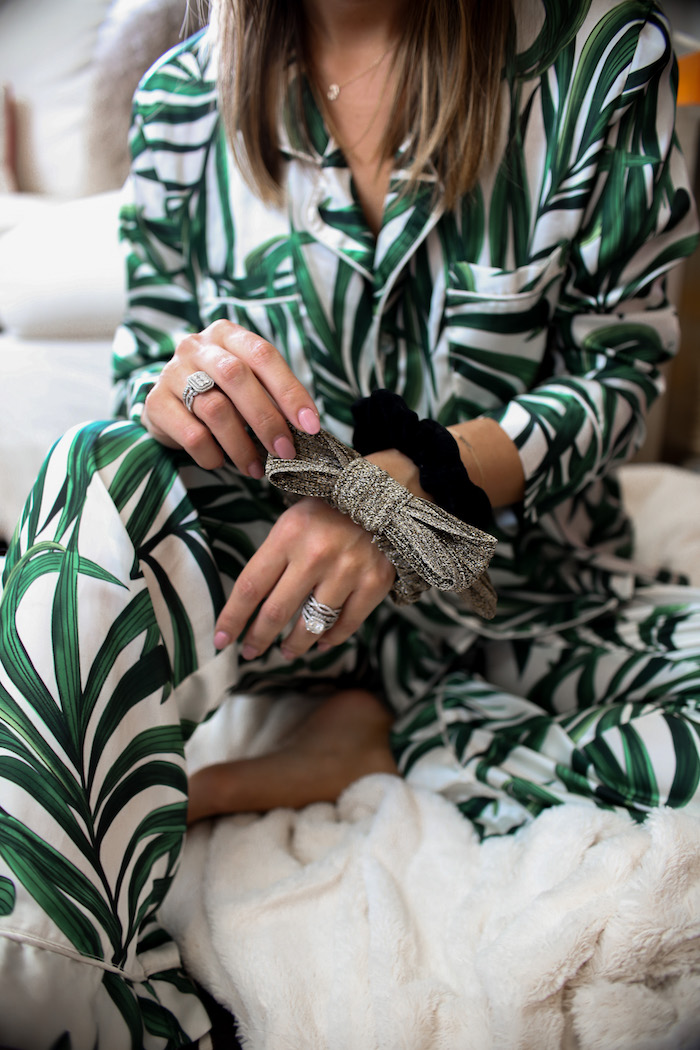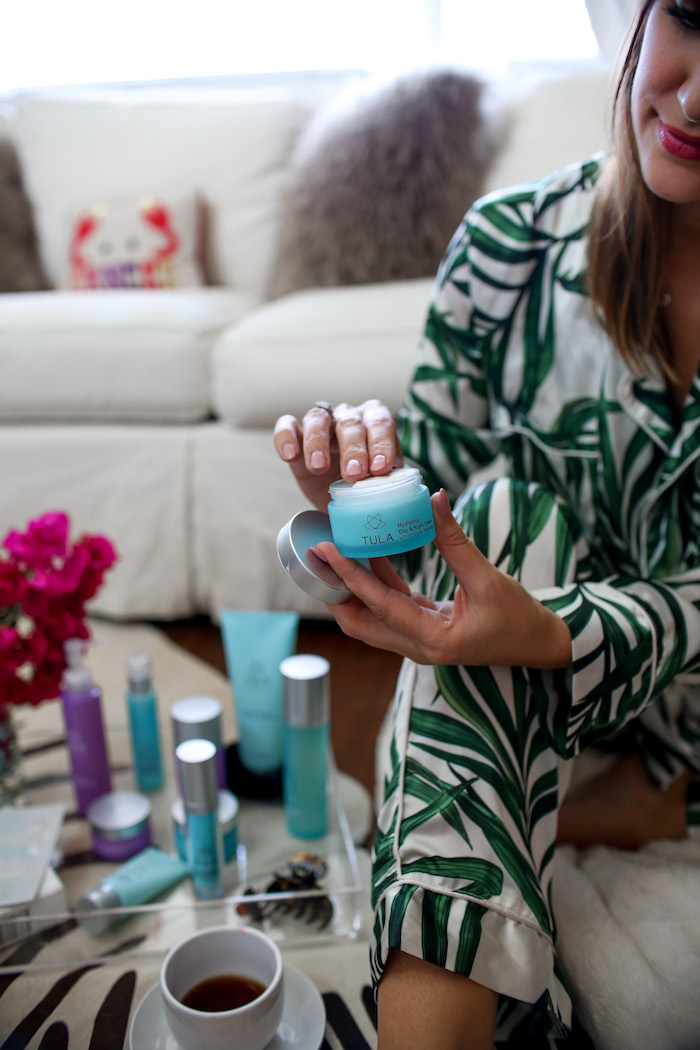 photos by Christian Barnes
Purifying Face Cleanser, travel-sized version | Hydrating Mist | Hydrating Day and Night Cream | Illuminating Face Serum | Dual-Phase Skin Reviving Treatment Pads | Exfoliating Treatment Mask | Pro-Glycolic 10% PH Resurfacing Gel |
Kefir Pressed Oil (loving this concept) | Kefir Cleansing Oil | Kefir Ultimate Recovery Mask
pajamas c/o Show Me Your Mumu, love all of these palm picks | rug c/o Summerhouse | gold scrunchie | similar black velvet scrunchie | hair clip
Have you ever tried using Tula products? I'd love to hear which ones you may have tried and what you thought!
AND you can get 20% off your Tula order with the promo code KATHLEEN20.  You'll also receive free shipping on orders over $50!
I'd also love to hear any extra skincare steps that have been beneficial for your skin. Let's all learn from each other! Thanks so much for reading and sharing – XO –
Brought to you by Tula, all opinions and experiences are my own.