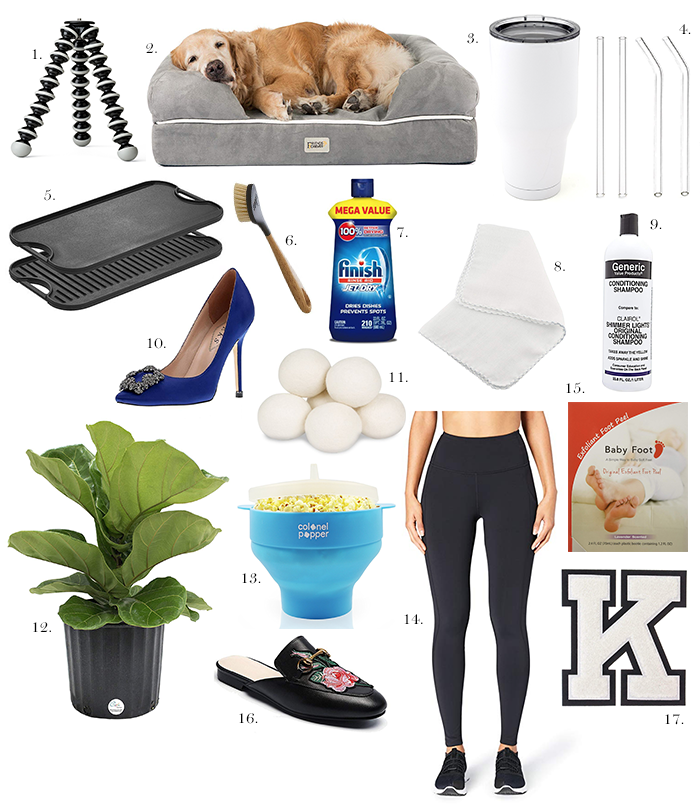 1 | 2 | 3 | 4 | 5 | 6 | 7 | 8 | 9 | 10 | 11 | 12 | 13 | 14 | 15 | 16 | 17
A few months ago I shared this post of my favorite Amazon purchases over the past year, and the response was so amazing! I loved hearing some of your favorite Amazon buys, and I thought the comments were really so helpful.
SO, after purchasing a lot of things this summer (big surprise), I wanted to use this week's wish list to hash out some of my favorites as of late.
1 & 2 | I recently bought this bendy tripod that works for both my new small camera and my larger DSLR. I haven't gotten to use it a ton yet, but I already know it's going to be great for travel.  I've also shared this dog bed here, but Bailey has loved it so much. So many of you have also bought it for your pets, and I've loved seeing photos of your furry ones enjoying it too!
3 & 4 | Being in a cooler climate in San Francisco, I've noticed I'm not drinking as much water as I typically do. I bought this gigantic tumbler and I can already tell I'm drinking way more water during the day. I also recently bought these glass straws and I love, love, love them (more than my metal straws)… but they don't fit in the openings of any of my tumblers or to-go cups, so that's a little bit of a bummer.
5 & 6 | Living in an apartment we don't have a balcony or patio to grill, so this has really come in handy. Christian has mastered using it and is really doing a great job with his stovetop grilling!
7 | I mentioned this on Instagram recently, but if you want your dishes to really sparkle, using this product will change your life. Every time I unload the dishwasher I am so amazed! It makes my dishes look brand new.
8 & 9 | Two of my favorite bloggers recommended these two products, so you know I bought them asap. Helena of Brooklyn Blonde uses these cloths to wash her face and says it's a game-changer, and Courtney of Kerrently says this purple shampoo is the best bang for your buck!
10 & 16 | I purchased these heels and they are unbelievable dupes. So gorgeous – I can't wait to wear them! I also recently ordered these slides and can't wait to get them in.
11 | We use these instead of dryer sheets and they do a great job and are more economically friendly.
12 | I so desperately wanted this plant for my birthday, but sadly they don't ship to California. If they do ship to your state, get on it girl!
13 | I bought this popcorn popper a while ago because it takes up less space than an appliance (which I also love but storage is very precious to us these days).  It works great and collapses for storage.
14 | I ordered these leggings and love that they have zipper ankles, side pockets and a little zipper pocket in the back. They're really comfortable and perfect for walking Bailey when I have my phone, keys, etc.
15 | What you've heard is true, this foot mask is amazing. I would warn you not to do it before a vacation though because your feet actually peel for quite a while!
17 | You've seen this patch on my denim jacket here, here and here, but it really makes such a statement. I love an oversized varsity patch!
Tell me if you like these kinds of practical purchase posts and if you've bought any of these items before. I secretly love reading random but resourceful posts like this, so I'd love your feedback!
AND, of course if you have any great Amazon steals, you know I want to hear. Thank you so much for reading and sharing – XO –