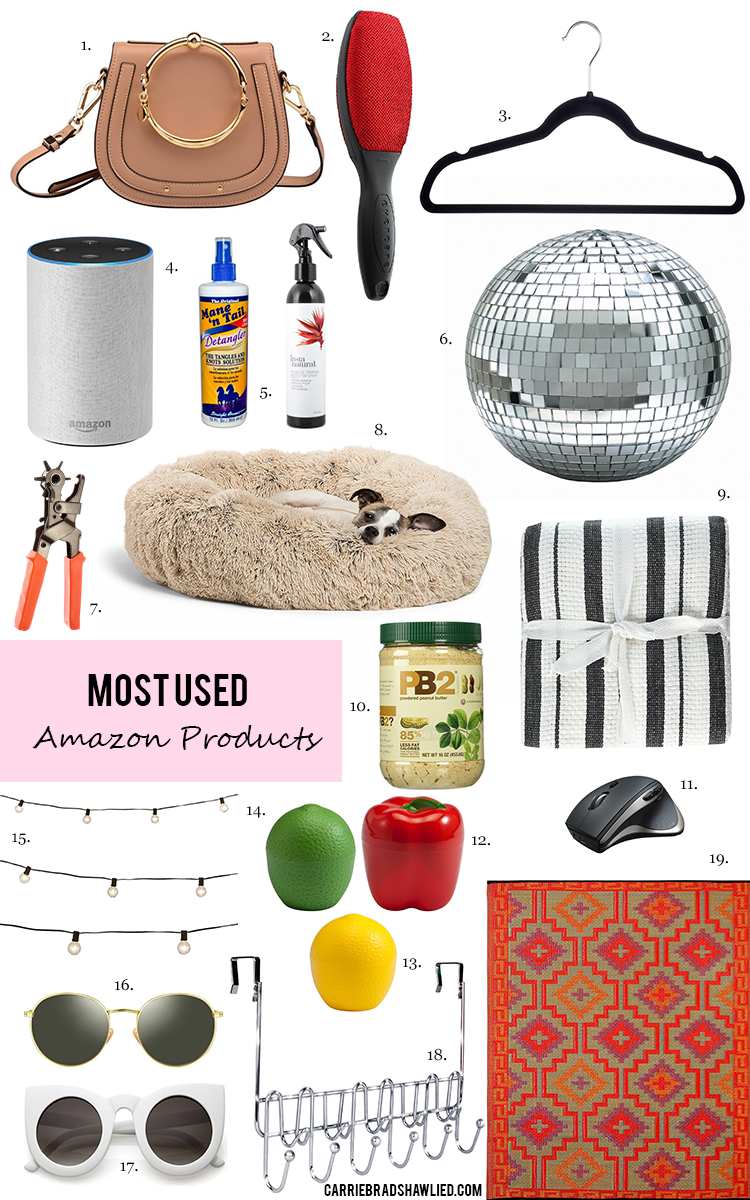 1 | 2 | 3 | 4 | 5 – a and b | 6 | 7 | 8 | 9 | 10  | 11 | 12 | 13 | 14 | 15 | 16 | 17 | 18 | 19
I know this is a little random, but I love seeing other people's recommendations for all-around great products, and I had so much fun compiling my Best Buys of 2017 that I thought rounding up some of my favorite Amazon buys would be a fun post!
A little this, a little that – let's get into it, shall we?
1 | I've worn this bag nonstop since I got it – most recently here and here.  It is a great dupe, goes with everything and is a fantastic size. I really love that it's both a wrist and crossbody bag. You get the best of both worlds, and it comes in 20 colors!
2 | I have a lab and a black cat. Lint rollers are in every room of the house. I recently tried this one to see if I could get away with it's reusable factor… and it's amazing. Why didn't I buy this 10 years ago?!
3 |  Every single item in my close is on one of these no-slip hangers. A must-have.
4 |  This was a Christmas gift from C, and we really have had so much fun with it. She controls the lights in our house now, and honestly my favorite thing about her is playing any style of music or song instantly when asked, or having a hands-free device to set a timer while cooking.
5 |  My favorite detangler and heat protectant spray! I've reordered many times.
6 |  I bought these for this party… and then loved them so much I ended up putting one on our display shelves in the living room.  I also pulled them out for Bailey's birthday party!
7 |  When I was younger, my mom would heat up an ice pick and then help me punch extra holes in belts or purse straps, etc.  I discovered this device a few years ago, and I actually use it quite a bit! I'm always punching extra holes in belts so I can wear them as hip or waist belts.
8 |  I took a deep dive not too long ago to try to find a pet bed for Lula that wasn't ugly. I have a few little beds for her throughout the house, but I keep one under our coffee table, so it's easily on display. I found this one, and it's both cute AND she is obsessed with it.  Such a great buy for a small-medium sized pet!
9 |  My favorite kitchen towels!
10 | This powdered pb changes your smoothie game, big time.  SO much flavor with a fraction of the calories (no oil!).  Yum.
11 |  I use both a desktop computer with a mouse and a macbook.  I recently bought another mouse for my laptop and for someone with wrist pain, it's so much better for me. I could kick myself for not doing it earlier!
12, 13, 14 | I LOVE these little containers. I also have one for onions and avocados.
15 |  Christian bought these bistro lights and strung them up on our patio as a Valentine's Day surprise one year, and they bring me so much happiness each night when we turn them on. Such a great purchase and something I know we'll incorporate in every place we live.
16 |  I wear these almost daily. They're a dupe and at a fraction of the cost, I don't have to stress if I scratch them. I'm actually on my second pair!
17 |  My most recent sunglasses addition! These are so fun and spice up any summer outfit!
18 |  I have way too many robes. Most of them are gifts, but I love them for different reasons! I have my cozy robe, my summer robe, my black robe for when I'm wearing self-tanner… it's a problem. Christian was always complaining about the door hook being overloaded, and then I discovered this guy. Best decision ever! Now I can hoard all my robes without his judgement. Cheers!
19 |  This outdoor rug is reversible and adds so much color and fun to our patio. It's been really durable for us and I get so many questions about it on social media.  It comes in a few different sizes!
Ok I know that was a novel, but now I want to hear what some of YOUR best Amazon purchases are! If you can't tell… I'm a frequent Amazon shopper, so I'm always on the hunt for the latest and greatest.
Let me know if you'd like to see more posts like this! I could do my favorite kitchen gadgets, favorite household products, travel must-haves… let's get into it.
Thanks so much for reading and sharing! XO –