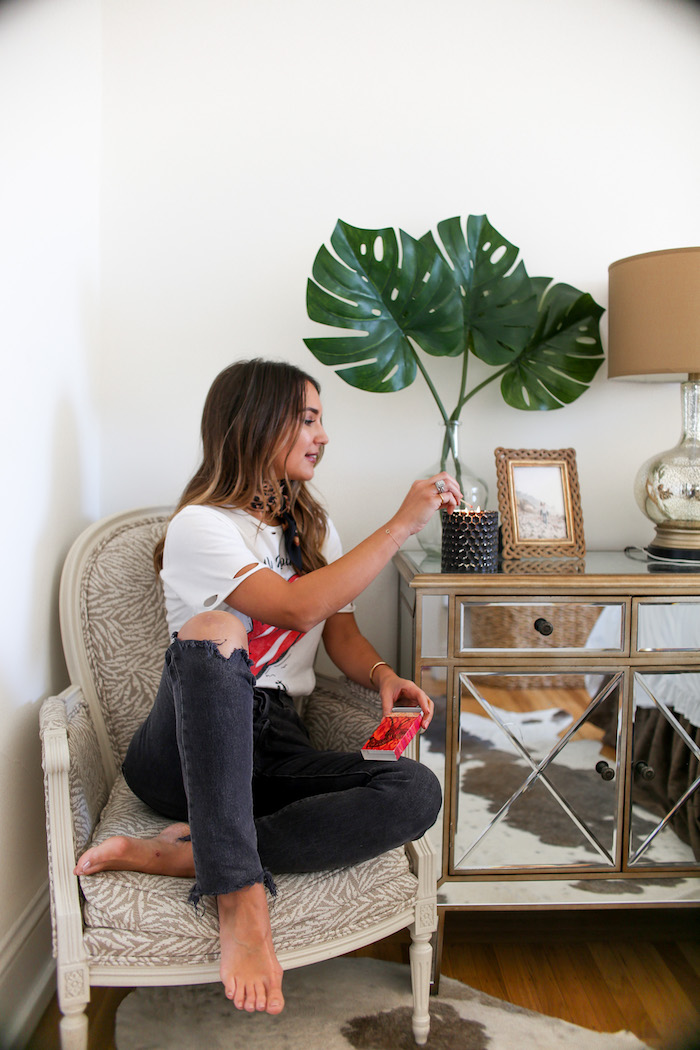 Not too long ago I stumbled upon this article about the proper way to burn candles, and while so simple, it made so much sense.  I had no idea I was burning candles incorrectly for years.
It's a bummer when you get a new candle, start to burn it and notice the wax is funneling or it's creating a black ring around the candle jar. Especially when you're burning a gorgeous, expensive candle. I want to get every drop out of them! The ones you'll find around our house are from Votivo and Capri Blue, and at the bottom of this post I'm sharing my favorite candle scent and how YOU can win your own luxe candles (scent of your choice)!
I discovered three important steps in my research that I now always abide by when burning candles.
Burn Time
Especially for a candle's first burn, they should burn for at least one hour per inch of container diameter. So, if you bought a new candle that is 3 inches in diameter, you should burn your candle for at least 3 hours (though not more than 4 at a time).
Wax has a memory, so you want to burn your candle so the melted wax spreads all the way out to the edge of your container. That way, when you burn your candle the next time, it will remember to melt all the way out to the sides. Another solution for easily doing this is finding candles with multiple wicks.
Below is an example of what not to do!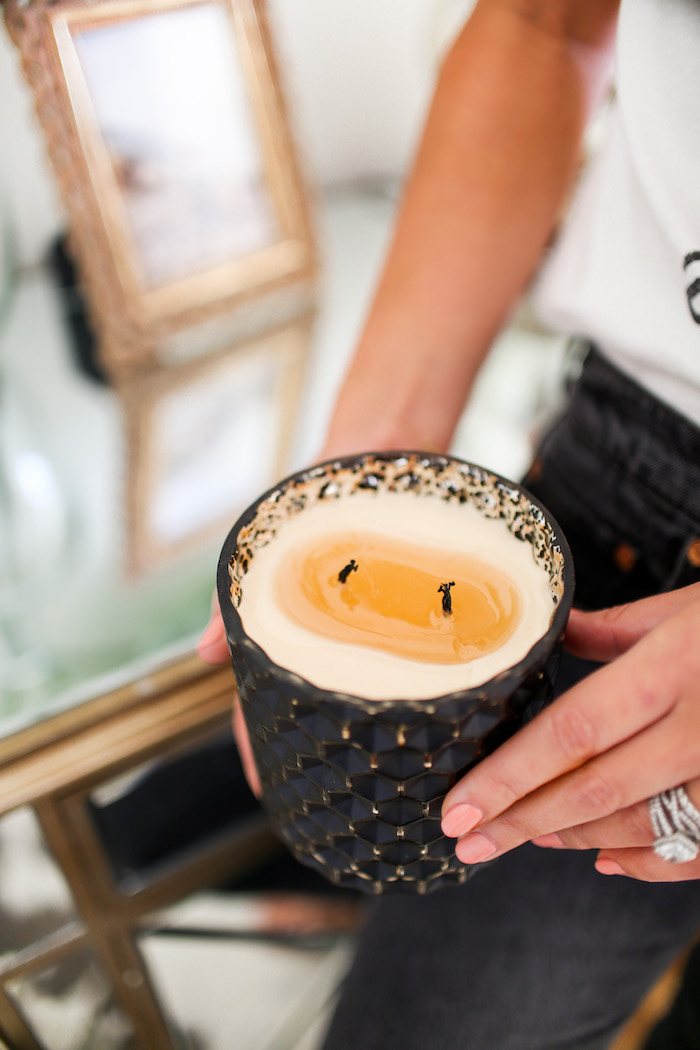 Trim Your Wicks
Trim your wicks to 1/4 inch before lighting, and try not to burn for more than 4 hours, otherwise carbon will start to accumulate again (queue the black smoke and that not-so-pretty black rim on your candle jar).  I'm trying to actively be better at this. It's definitely my biggest candle downfall!  I think I need this set in my life for easy trimming.
Before You Blow It Out…
If you're real fancy, you can use the tip of a screwdriver to dip the wick in the wax to put out the flame. Then use it to straighten the wick out for the next burn. Or you can use a snuffer like this one!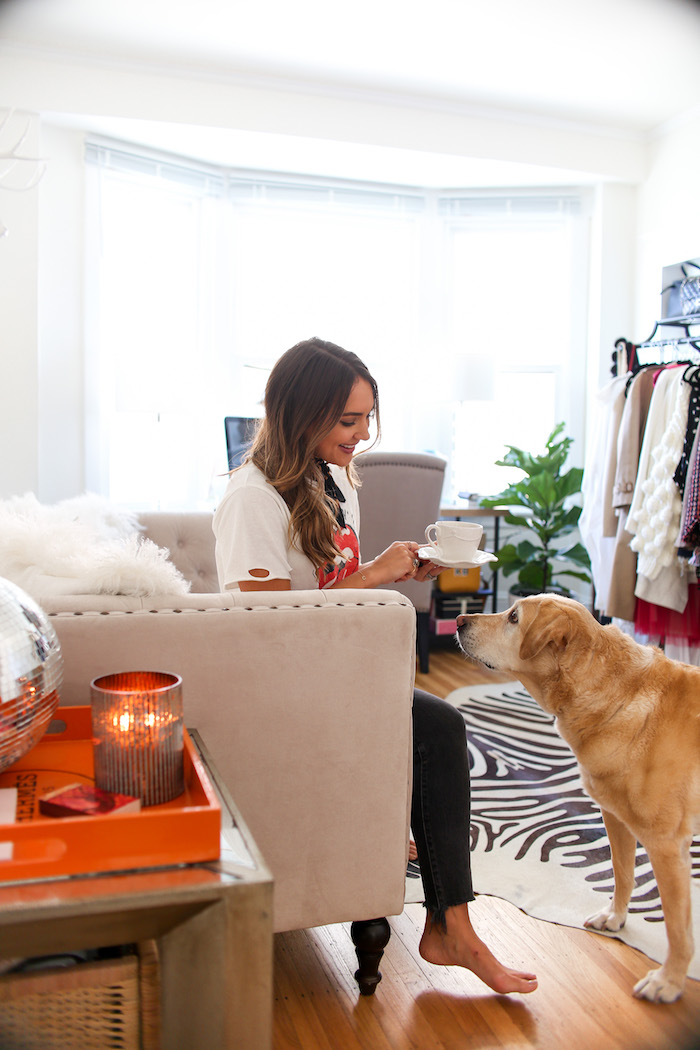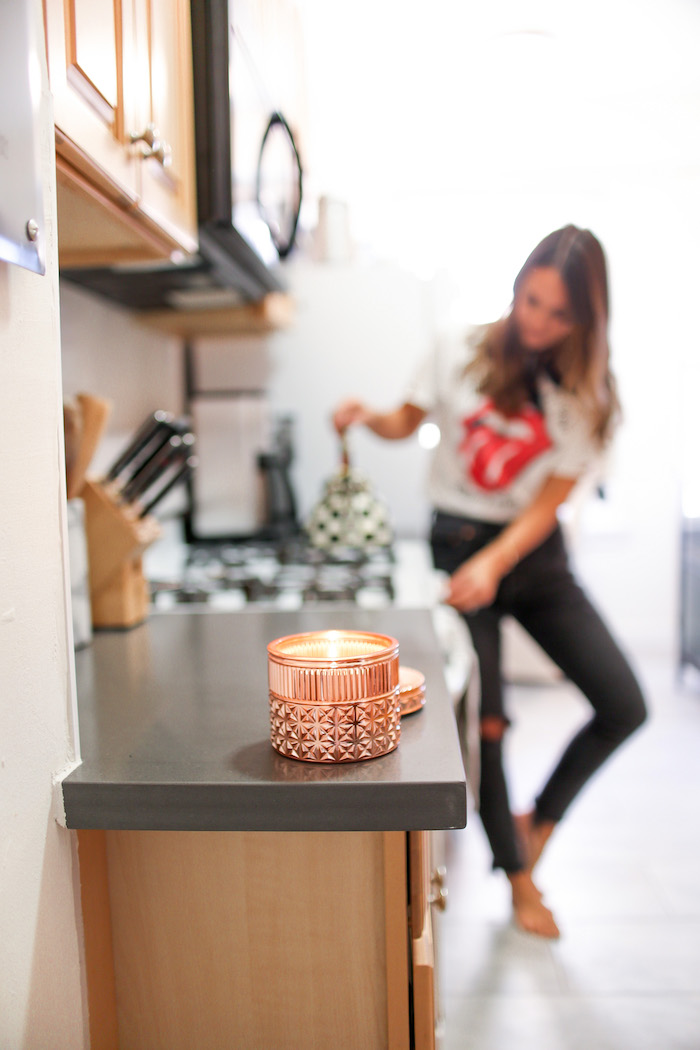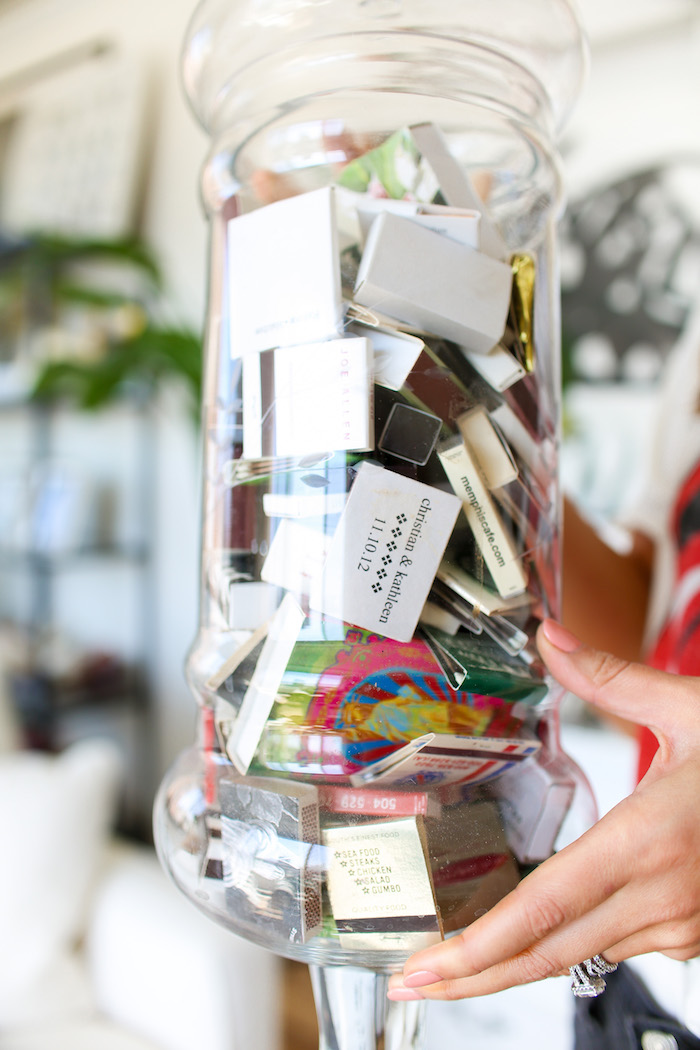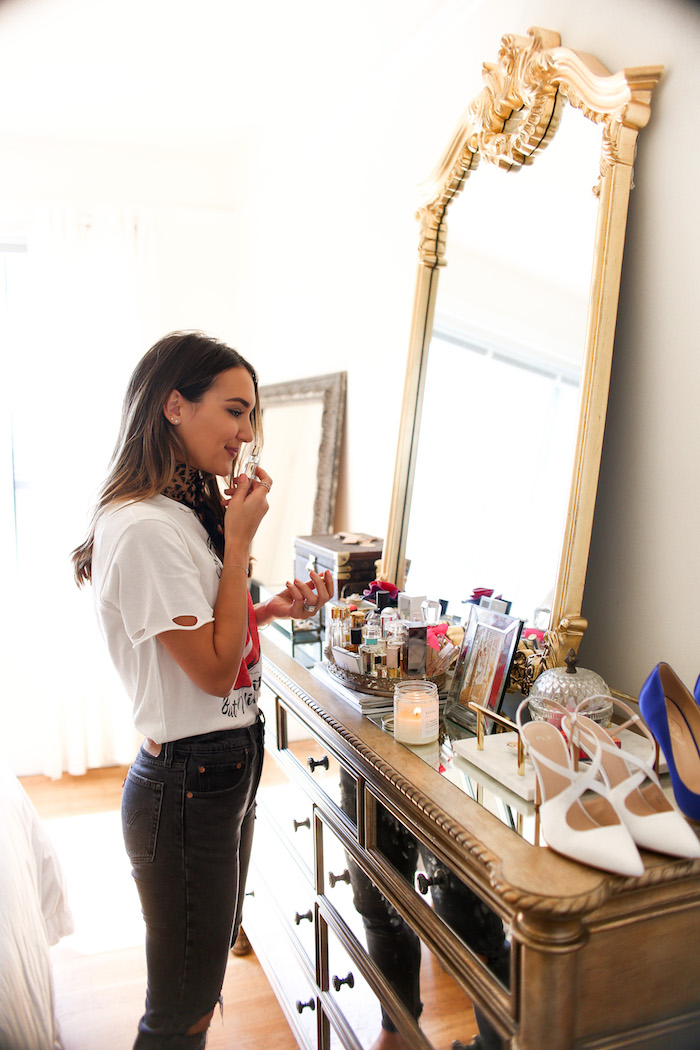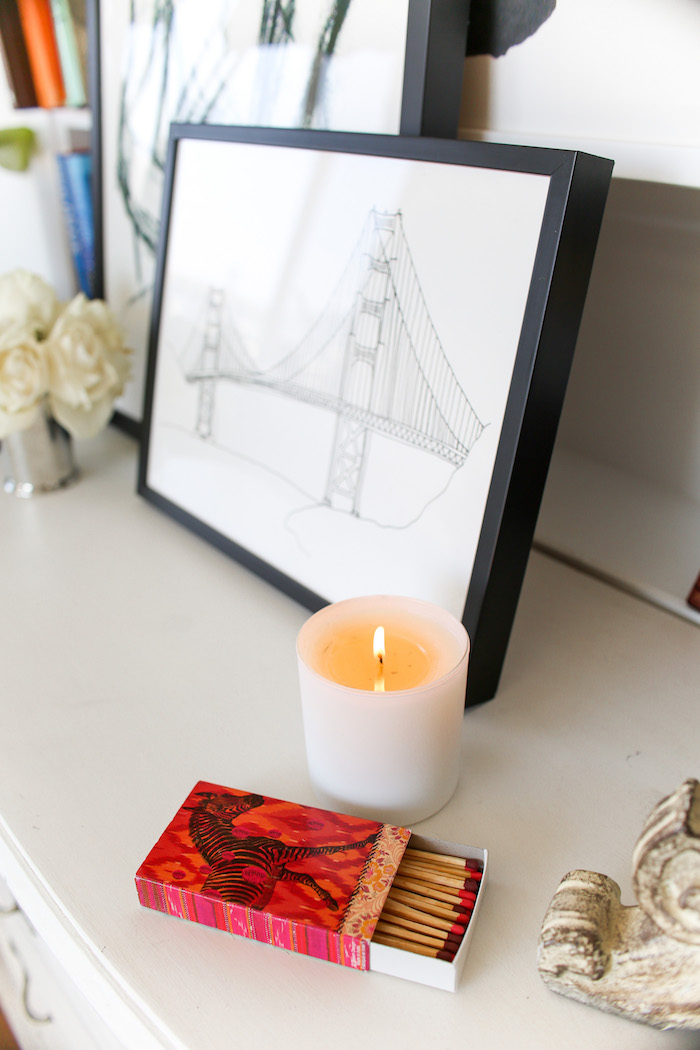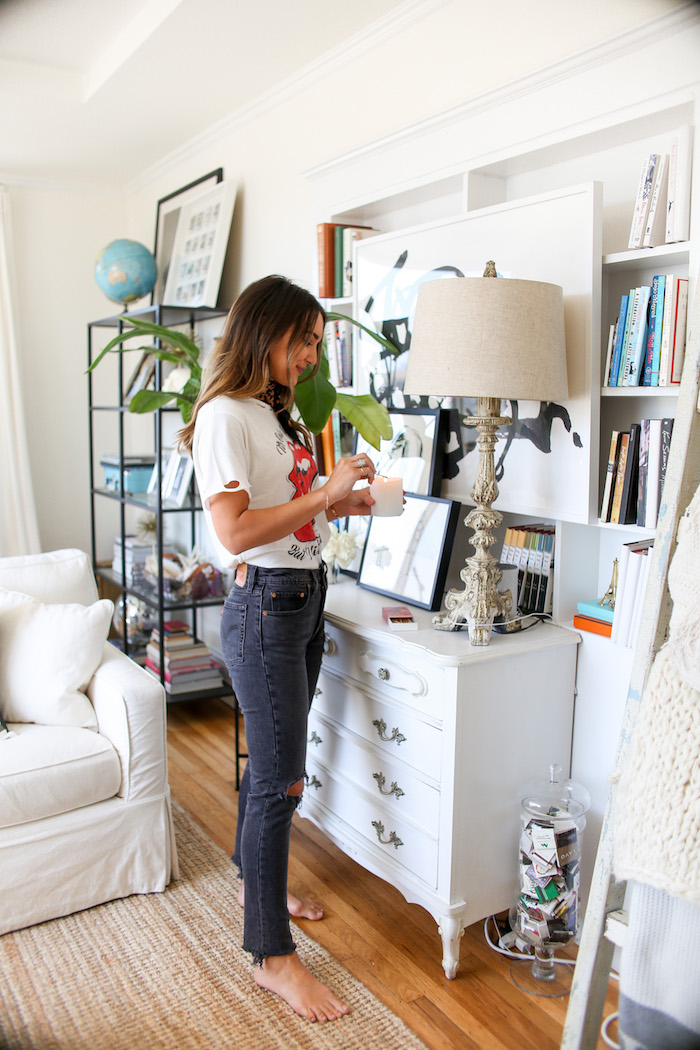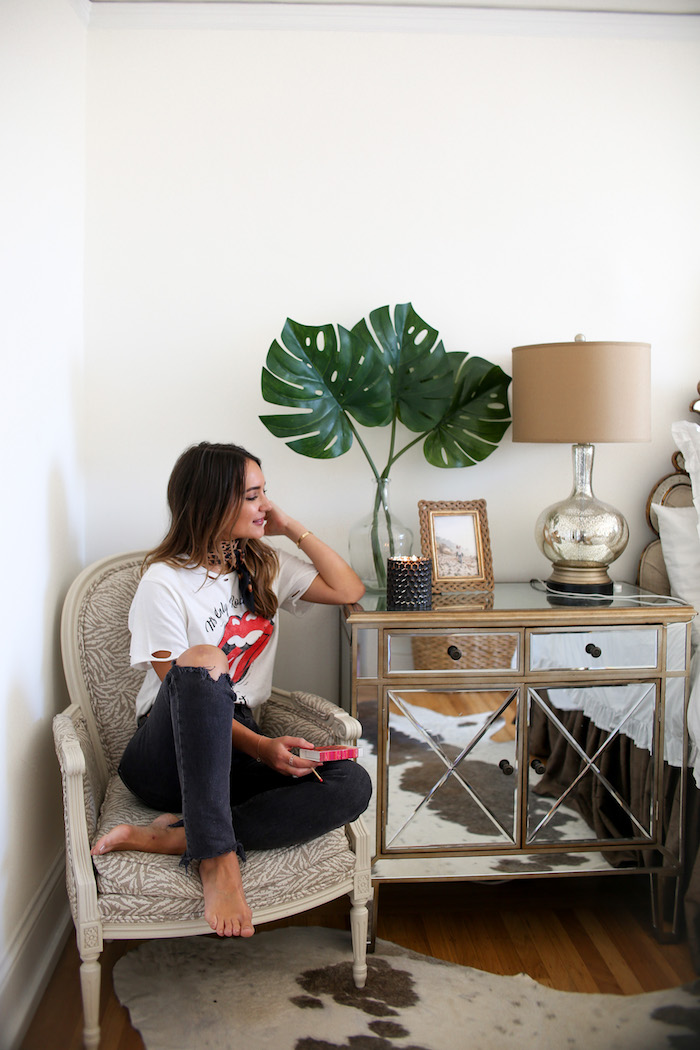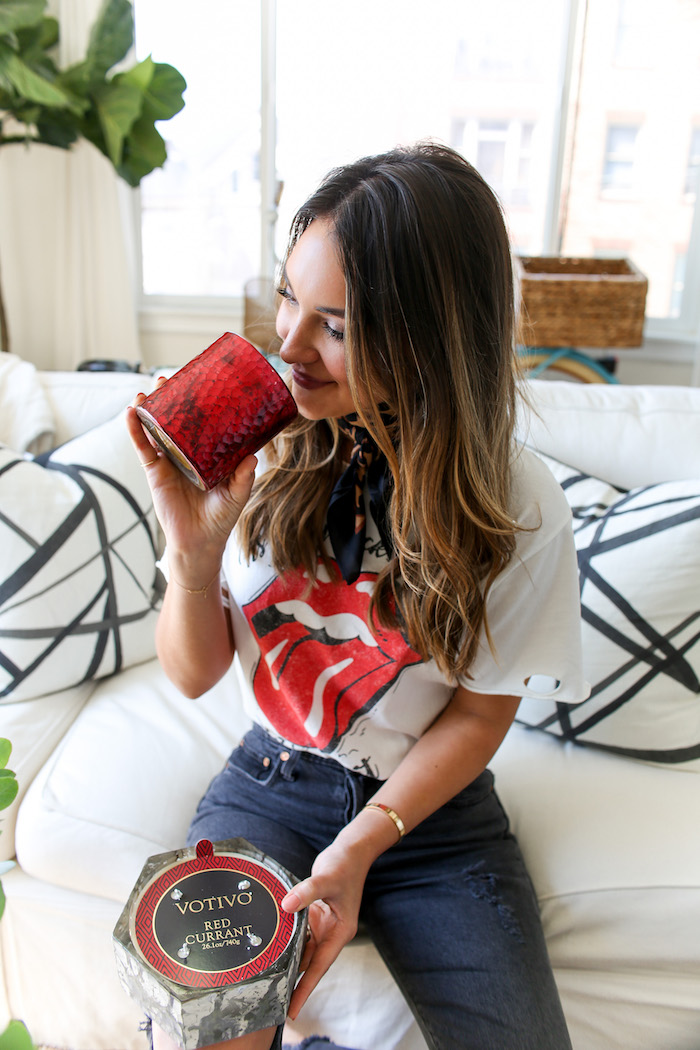 photos by Christian Barnes
tee | neck scarf | denim | black & white abstract pillows | tea kettle | cup & saucer
I wanted to photograph the glass jar that I have in our den filled with matchbooks. I started collecting them years ago, and my grandmother actually gave me some of hers she's saved from when she was a flight attendant, traveling all over the U.S. I love reaching in to see what I pull out, where it's from and guessing if it was originally mine or hers.  A fun little thing to collect!
AND, now the most exciting part of today's post! One of my absolute favorite candle brands, Votivo, is giving a CBL reader the chance to win 3 candles of his/her choice!
I've shared my love of their products in this post, but their Red Currant Collection has slowly become the signature scent of our home. It smells earthy and musk-y, and better yet, it's Barnez-approved. Everybody wins.
To Enter (open to US residents):
1)  Leave a comment with your favorite candle scent.
2)  Subscribe to my new YouTube Channel (and leave your YouTube username so I can find you!).
**UPDATE: The winner is Cara Alexander! Thank you so much to everyone who entered!**
Thanks so much for reading and entering! XO –