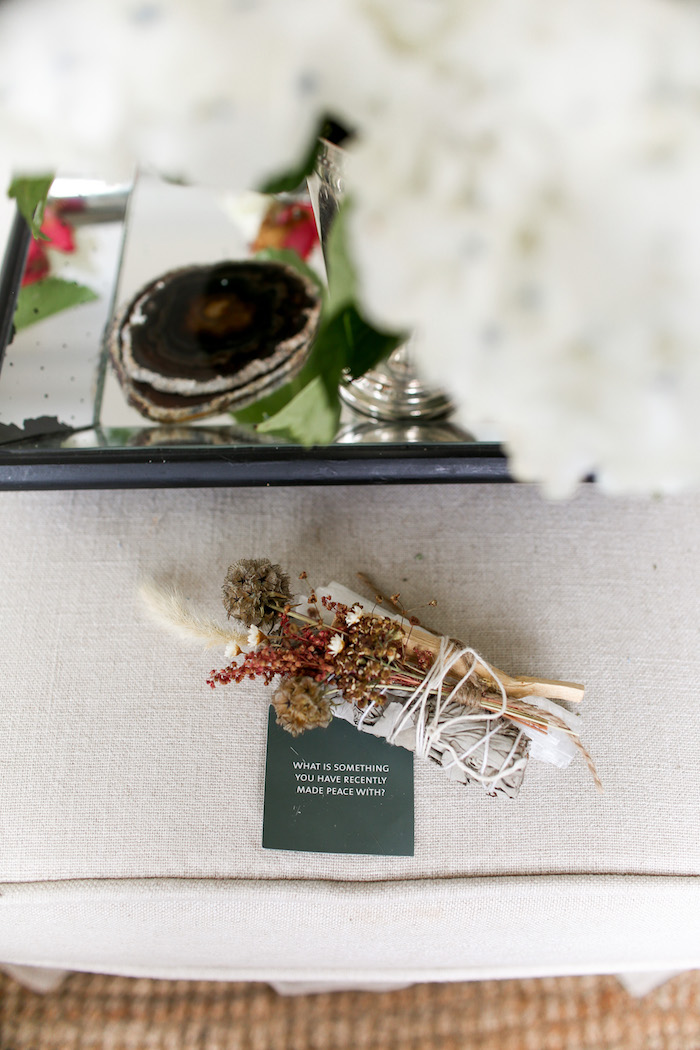 A few weeks ago, I went to a brunch event that had these little cards at every place setting.  Each question was different, and there was no assigned seating.  When I sat down and looked at this little card asking me, "What is something you have recently made peace with?" Oh boy. Where to even begin?  I knew there was a reason I was faced with this little card.
We went around the table and answered our questions out loud, and my answer to this question was left on my heart all day, and then all week.  Apparently all month becuase here I am, still talking about it.  I shared this experience on Instagram Stories, and I loved the response I got from girls on Instagram and in emails, so I decided to bring it over to the blog for a larger conversation!
I've been open on this blog that I'm in a transitional phase of my life. If I'm being totally honest here – I'm not really enjoying it. Ha!  I took a deep dive into some of the details here.
I'm in a place where I'm having to consciously practice gratitude and positive thinking every single day because I just can't seem to get into a rhythym since we moved from Orange County.  I don't think I even realized how happy I was in Southern California until we moved and things have felt so different.  It's as if my emotions are dancing on eggshells and every time I bump my shoulder walking sideways into my closet (the only way to squeeze in there #smallspaces), hit my shin trying to dig in the back of some corner to find something I had to store underneath a chair or go up and down two flights of stairs 7x trying to do one load of laundry… I'm on the verge of tears.
I write this post from my desktop computer, as I somehow spilled half a cup of coffee on my work laptop on Monday morning and it's currently drying out in front of a fan. The screen won't turn on and of course I had a great computer repair place in Orange County… but I don't live there anymore so every obstacle, every challenge feels more complicated and magnified because I have to start over. It feels like I can't catch a break these days, and knowing I'll inevitably be starting all over in a handful of months when we move… feels exhausting.  Sidenote: I hate moving and have always struggled with change.
It's been that kind of season, if you feel me.  A season where I'm feeling unlike myself, emotionally delicate, holding my breath for the next mishap that normally I would power through but these days makes me crumble.
So what is something I have recently made peace with?
Clearly… I've not yet made peace with this transitional time. But something I am working on every single day is focusing on my path. I told Christian in one of my tear-filled broken moments last month (poor C… tending to my many meltdowns is becoming all too familiar) that I felt like I decided to run a marathon with all of my friends and they're 5 miles away from the finish line and I'm still stretching.
He said, "More like you're all on a hike and you are stopping to smell the flowers before you get to the rocky peak where the flowers don't grow but the views are good.  Some people only want the view and some people only want the flowers.  We want both, so we can't really compare ourselves to people with other aspirations.  They'll do what's best for them and we'll do what's best for us."
Which brings me back to this quote:
"For a long time it had seemed to me that life was about to begin – real life. But there was always some obstacle in the way, something to be gotten through first, some unfinished business, time still to be served, a debt to be paid. Then life would begin. At last it dawned on me that these obstacles were my life." Alfred D. Souza
I do feel genuinely happy for all the wonderful people in my life who have all the things I'm desiring right now – stability, fellowship and support from their communities, a home (with a yard! and a laundry room! and maybe even a garage!), holidays spent with their families, kids and so on.  I truly am.  I'm just not there yet.
And rather than focus on all the things I don't have, I really need to appreciate what I do have. We don't have as many responsibilities or bills, so we feel comfortable splurging on ourselves and others.  There aren't nap times or diaper bags so we can ride Vespas all over town and have wine with lunch without worrying about pumping and dumping or daycare pick up. With no yard or greenspace outside, we're walking the dog 3 – 4x a day uphill but hey – we're toning those glutes!  Living in a small apartment so there isn't as much to clean, no "housework" or landscaping to maintain.  We can go to 9PM dinners without worrying about the babysitter and can be completely selfish with our time.
Would I trade all of these things for more space, a house, community and maybe a baby Barnes? Of course. I'm ready for that phase of my life… but we're just not there.  I'm actively working on making peace with my path.  It's unlike yours and yours is unlike mine. And that's ok. In fact, it's wonderful! We can all learn from each other, and truly appreciate achievements and milestones when we reach them.
These obstacles are our lives. It's a part of our story, and an important part. I know it will be revealed to me why I had to go through this overly emotional and challenging chapter.  Am I enjoying it? Nope. Not really.  Is it going to make me smarter, stronger and more grateful when the next chapter starts? Definitely.
So now I want to ask you – what have you recently made peace with?  Life isn't all roses. Frankly, I know I learn the most from the harder times.  They're important and character-building.  So let's all learn from each other.
Thanks so much for reading and sharing! Big hugs to all my girls in a transitional phase right now. XO –