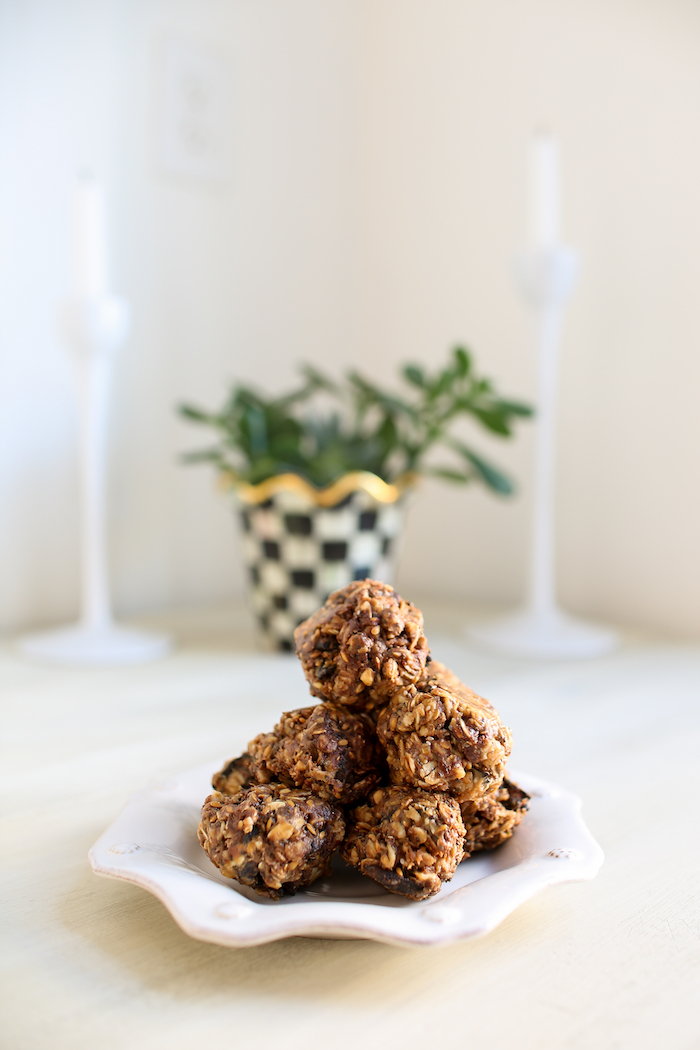 A week or so ago on Insta-Stories I mentioned that I was going to make Christian some protein bites so he could have something quick and easy for weekday mornings.  I've made him homemade granola bars before (very old post about them here), but he reminded me I had made some even smaller protein balls before and he was right!
I polled the girls on Instagram to see if they wanted me to share the recipe and the answer was yes, so here we are. Shall we?
Ingredients:
1 to 1 and 1/4 cup oats (I use 1 and 1/4 but try 1 cup first and  check your consistency to see what you think!)
1/2 cup peanut or almond butter
1 tablespoon flax seeds
2 table spoons chia seeds
1/3 cup honey or agave
1/4 cups milk chocolate or dark chocolate chips
1 tablespoon chocolate protein powder (if you don't want to buy a whole container you can use cacao)
Directions:
Combine all ingredients together, roll into bite sized balls and store in your refrigerator for at least an hour before eating.  I will make them the day before and let them chill overnight.
I used this recipe as a foundation but added less flax seeds and more oats.  They're under 200 calories and have almost 6g of protein, so for Christian they're a really handy morning option.  He asked me to make them again so I think we're heading in the right direction.
This recipe is also really similar and adds vanilla extract which sounds delish!
Thanks so much for reading, and if you have a homemade granola or protein bite recipe you love, I'd love to hear! You can check out more recipe and food-related posts in the food & drink category of this site – XO –