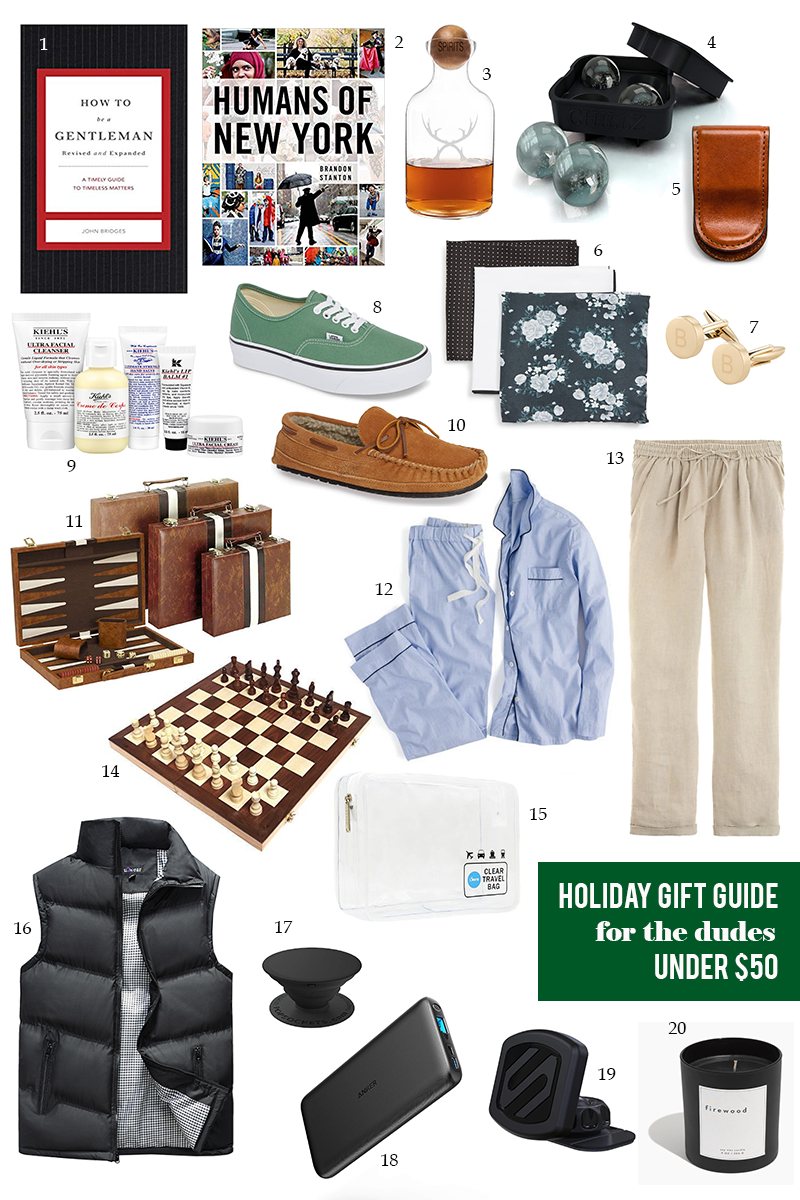 1 | 2 | 3 | 4 | 5 | 6 | 7 | 8 | 9 | 10 | 11 | 12 | 13 | 14 | 15 | 16 | 17 | 18 | 19 | 20
Comin' at you December with some holiday gift guides! You can find all holiday related content in the "holiday" tab at the top of this site.  You'll also find a drop down tab from there that says "gift guides." There you can find all gift guides from this year and years past to help serve some inspo for your holiday shopping!
For the guys –
1 | I mean, maybe this is dropping a hint (or is the Southerner in me), but every man should skim through this book.
8 | I saw a guy in the Apple store wearing Vans in this color and I thought they were SO cute. So different than the usual guys sneakers!
9 | You can't go wrong with Kiehls.
10 | Everyone loves some cozy slippers! C loves these.
11 + 14 | I think having games is such a fun twist from the traditional dinner and a movie night. I love the thought of giving beautiful board games like this one and this one.
12 | I know most guys don't wear pajamas, but I think it's important to have some decent ones when traveling.
13 | I bought Christian some drawstring linen pants years ago and he was like "I'm never going to wear these." Cut to now and wears them around the house all the time. ALL the time.
15 | Clear travel bags – not a sexy gift but a practical and very useful gift for the traveler.
18 | While we're talking about traveling, if you don't have one of these slim multi-charge battery packs, you need one in your life ASAP.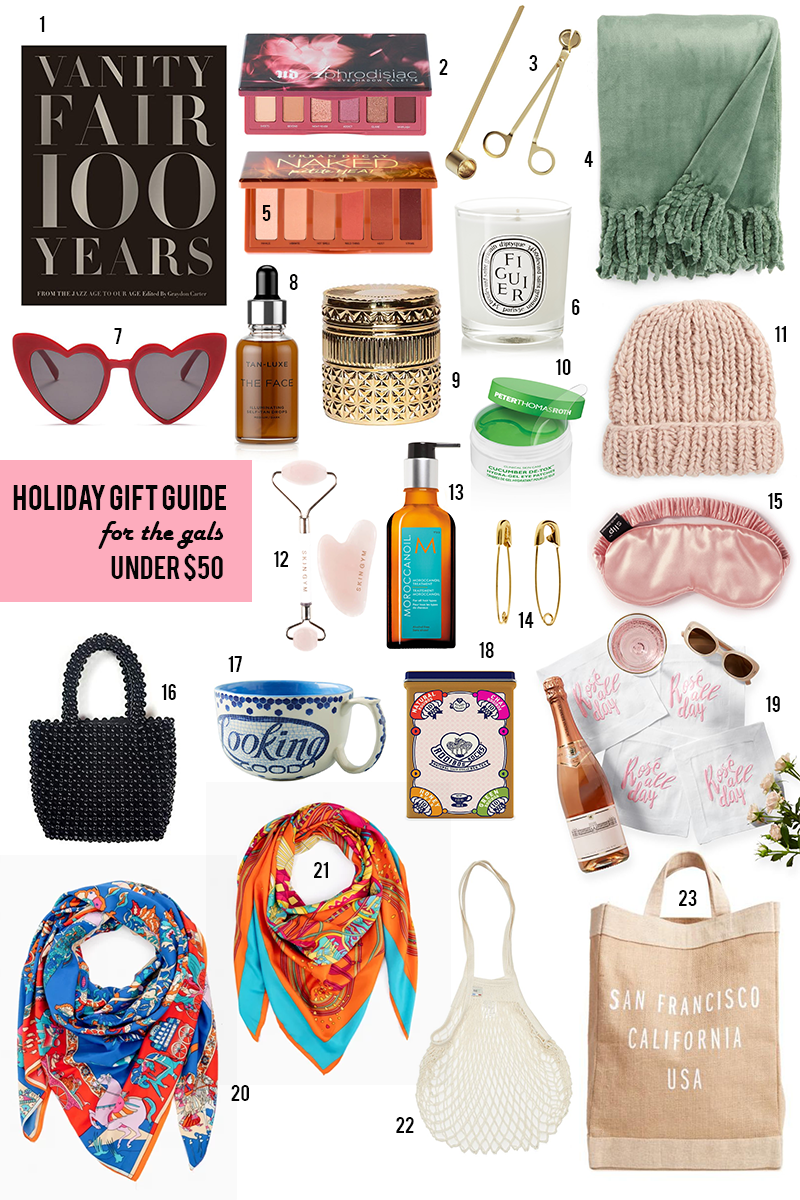 1 | 2 | 3 | 4 | 5 | 6 | 7 | 8 | 9 | 10 | 11 | 12 | 13 | 14 | 15 | 16 | 17 | 18 | 19 | 20 | 21 | 22 | 23
And now the ladies!
2 + 5 | I love love LOVE these mini palettes (aphrodisiac and heat). They are perfect for travel and have everything you need for a day and night look.
3 | This candle trimmer and snuffer is on my list!
7 | I mean, talk about adorbs stocking stuffer.
8 | This is for the sister or girlfriend, but trust me – it's the best face self-tanning product I've ever tried!
10 | I asked for these one year and keep them in the fridge, still use them on special days. I love that they make a less expensive version.
13 | This will last someone a lifetime – the gift that keeps on giving!
14 | On my list!
16 | I just got this bag and it's so cute. I especially love that you can wear it year-round.
17 + 18 | There isn't a mug cuter than this one. Pair it with some tea and give to a coworker!
20 + 21 | I have one of these gorgeous scarves and it looks so expensive. I think they're so gorgeous and would be an amazing gift for a mom or mother-in-law!
23 | My favorite grocery bags. I have three and they're the only ones I use because they're so incredibly durable and hold so much.
I hope that gives some guidance and help in the small gift department! I'm going to be working on creating more gift guides in the upcoming weeks, so if there is something in particular you'd love to see (gifts for kids, coworkers, gifts under $100, etc.) – let me know!
If you're looking for a little bit bigger of a splurge in the jewelry department, I shared this necklace in this post last week.  You can customize it to make it your own, which makes it such a unique and sweet gift for a mom or mother-in-law!  My favorite charms are the horseshoe, key, k, c and this feather. I also recently got this jewelry box and I can't get over how much I love it. They make a smaller one too!
Thanks so much for reading – XO –