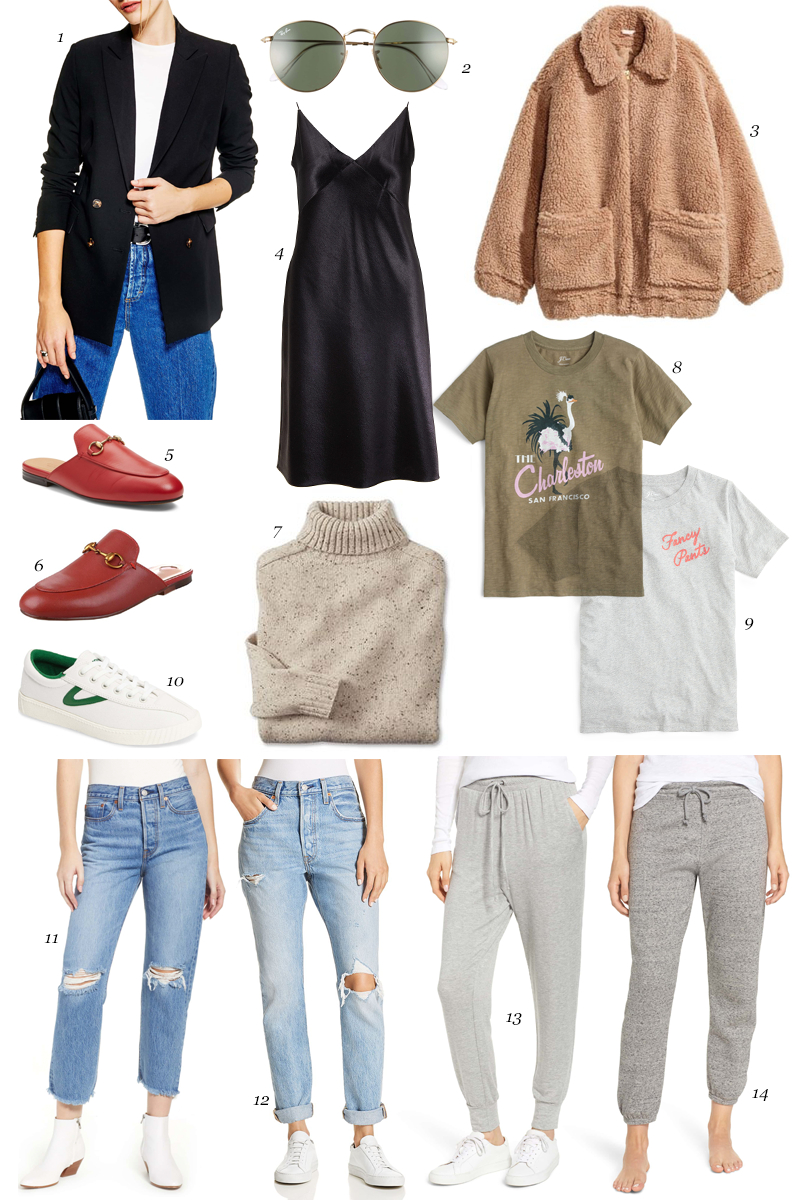 1 | 2 | 3 | 4 | 5 | 6 | 7 | 8 | 9 | 10 | 11 | 12 | 13 | 14
I thought this week's spin on my weekly wish list could be the 10 pieces I reach for most often in my closet.  And guess what? None of these pieces are designer!
When I asked you guys for feedback on what you would like to see in 2019, a lot of you asked for more affordable pieces.  The term "affordable" really is different for every person, but I took that as less designer items.  I've always loved splurging on the occasional luxury piece, but it's definitely not the majority of my closet.
So let's get into the pieces I wear most frequently and why –
1 | Classic Blazer – I have many blazers, both patterned and solid, and they really look great with everything. You can wear them over a turtleneck, tee or camisole or with a bodycon dress to cover up.  You can't go wrong adding a classic blazer to your closet, especially if you're working in an office. Layer it over a spaghetti strap anything and you just became office appropriate, sister!
2 | Ray Ban Sunglasses – my mom gave me these for my birthday and I've loved them even more than I thought I would. I wear them with everything and the larger 53mm is so much flattering on my face than the 50mm.
3 | Teddy Coat – I got a short camel teddy coat on major markdown on Black Friday and I wear it so much that even Christian is like, "are you wearing the same thing every day?" The answer is… yes.  It's like wearing a hug.
4 | Black Slip Dress– I have many posts dedicated to my love of the classic slip dress (like here, here, and here), but I think a slip dress is an extremely versatile and non fussy piece to have in your rotation.
5 + 6 | Slip On Loafers – I wasn't sure if I would wear these a lot when I bought them, but then I wore them constantly and bought these dupes in two different colors. Now that I'm walking around the city so often, I wear them nonstop!
7 | Turtleneck Sweater – I have a black cashmere turtleneck sweater that I wear with everything in the winter. I always travel with it on trips, and sometimes I even wear it too much. I can't have enough turtlenecks, and I really love this chunky camel one.
8 + 9 | Graphic Tees – I clearly have a graphic tee obsession (see how I styled them here and here), and having a few cute tees on hand can dress down any skirt or blazer.
10 | Sneakers – I have a few pair of Tretorns and I wear them almost every day. I keep this pair by the front door and they're what I walk Bailey in every morning. Soooo comfortable. I want to buy another pair when I leave the city (there's no telling what is on the bottom of my current pair, #citylife).
11 + 12 | Levi's Mom Jeans – I've dedicated so many posts to my love of this style of jean (like here and here), but once you high waisted mom jean, you don't go back. I love them. Now when I wear skinny jeans it feels so… not me!
13 + 14 | Gray Joggers – As much as I'd like to be the person that gets dressed and puts on makeup everyday…. let's be honest, I'm usually putting on joggers and a tee with a sweatshirt or a teddy coat.
And that's my list!  Was it what you expected? I don't know if this is the San Francisco influence on me or what… there are no heels or faux fur or sequins on this list.  What is happening to me?
What are your staple items on heavy rotation? I'd love to hear. Maybe I need to add to this list!  Thanks so much for reading and sharing – XO –