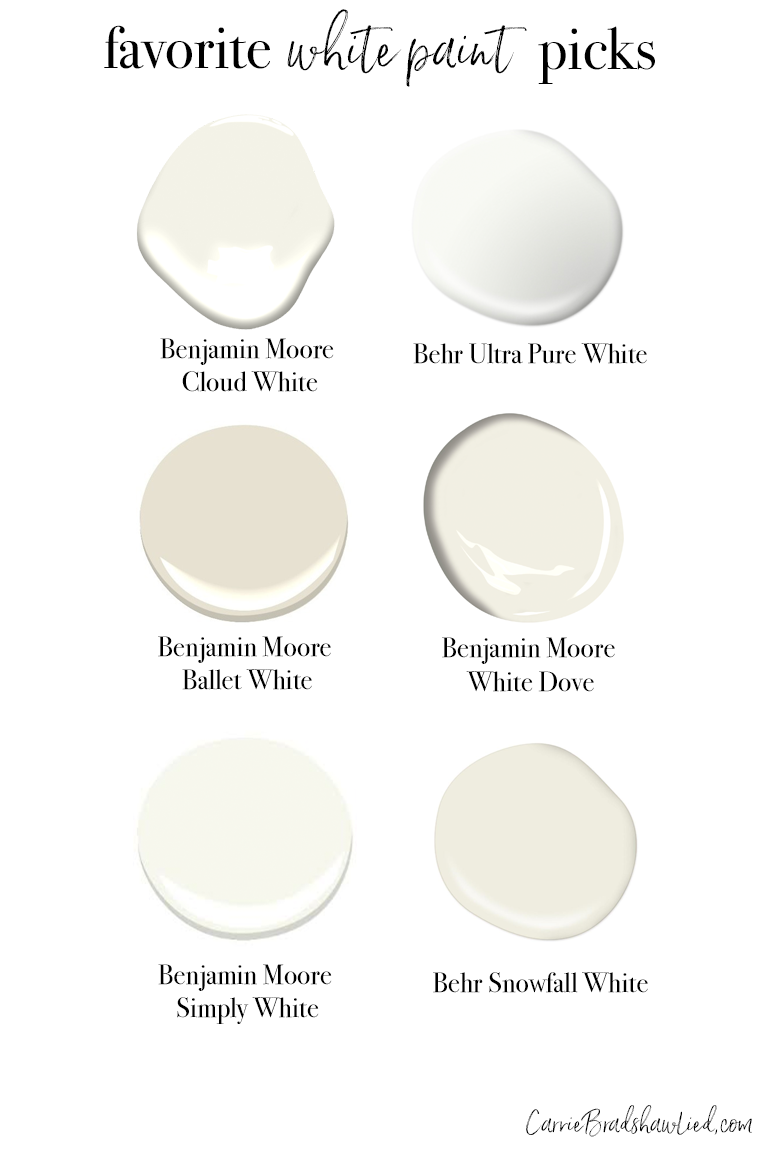 One of the most common questions I've been getting lately on social media is, "what paint color is that?"  I have a few favorite shades, so I wanted to put together a blog post that would be a resource for those of you looking for warm white shades!
In the past, I painted our entire Orange County townhouse in Benjamin Moore Cloud White.  It was a great shade, and we loved it.  Our new home in Georgia already had Benjamin Moore White Dove in the den and on the kitchen cabinetry, so we extended that into the kitchen walls, breakfast room, powder room, hallway and living room.
Our current home (sneak peek photos here) is painted in flat paint, which means it really shows every. Single. Scuff.  We are sticking with flat to touch up, however I would not recommend painting with flat paint.  Eggshell is going to be so much more forgiving of marks!  We need to repaint every bathroom because they are covered in water marks… and if it was eggshell you probably wouldn't even see anything.  But we will be repainting with eggshell paint that will hopefully be more forgiving!
Upstairs, the nursery, guest bedroom and my office were already Benjamin Moore Ballet White, so I just touched it up.  I'm including a few more white shades I really like, including some by Behr.  We'll be painting our exterior brick white as well, so I'm on the hunt for exterior shades!
If you want to see rooms in these shades, simply google search the name of the paint and tons of Google images will pop up giving you an idea.  My favorite way to test shades?  Buy sample and test them on your own walls.  You can see how they look with the natural lighting of your space, which is super helpful.
I hope this helped answer some of your questions about white paint and if you have a favorite shade that isn't listed here, please let me know in the comments!  Thanks so much for reading –