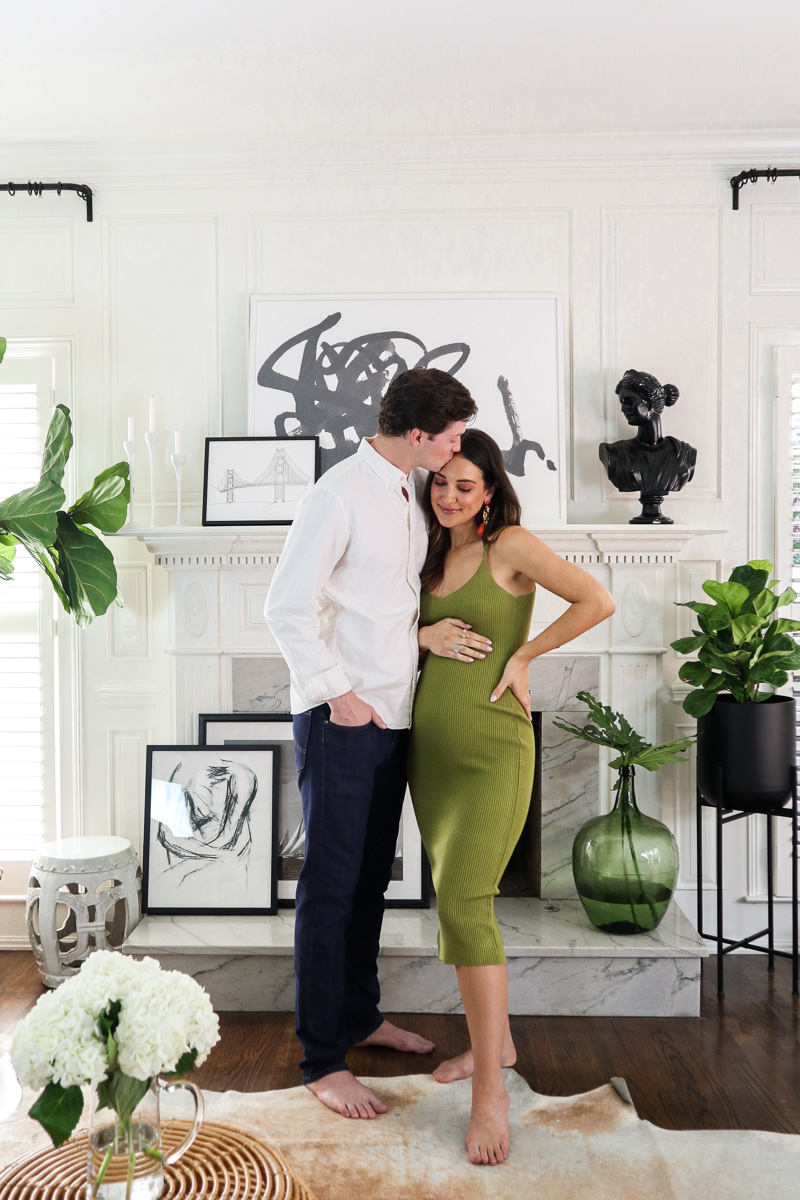 So when we shared our big moving announcement a few weeks ago, there may have been one more little secret we've been keeping…
We're expecting our first baby in November!  I'm 20 weeks along with this little one, and it's the best San Francisco souvenir we could have been blessed with.
Because I've been keeping this secret from you guys since March (!!), I wanted to share a little video recapping the first trimester.  From finding out we were expecting to our first ultrasound, how we told our families over Mother's Day weekend, the first item we bought for baby and how I've been feeling along the way – everything is covered in a quick 5.5 minute recap below!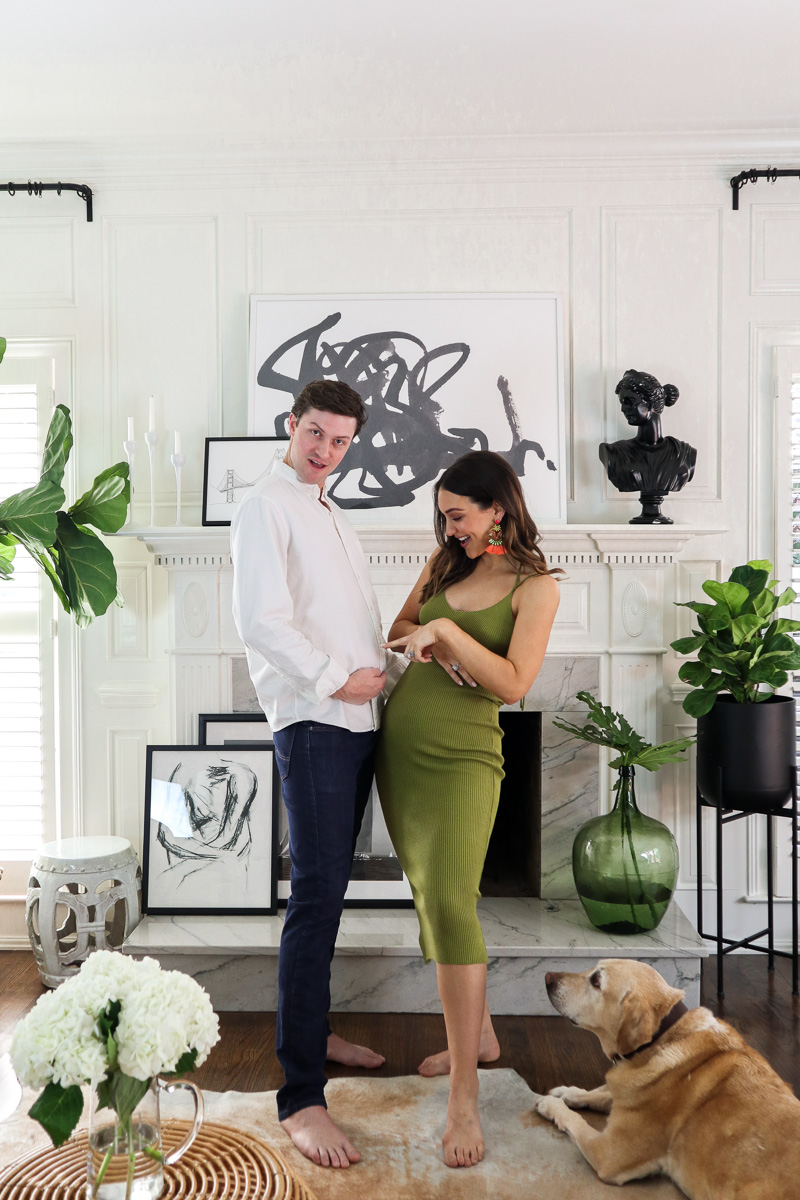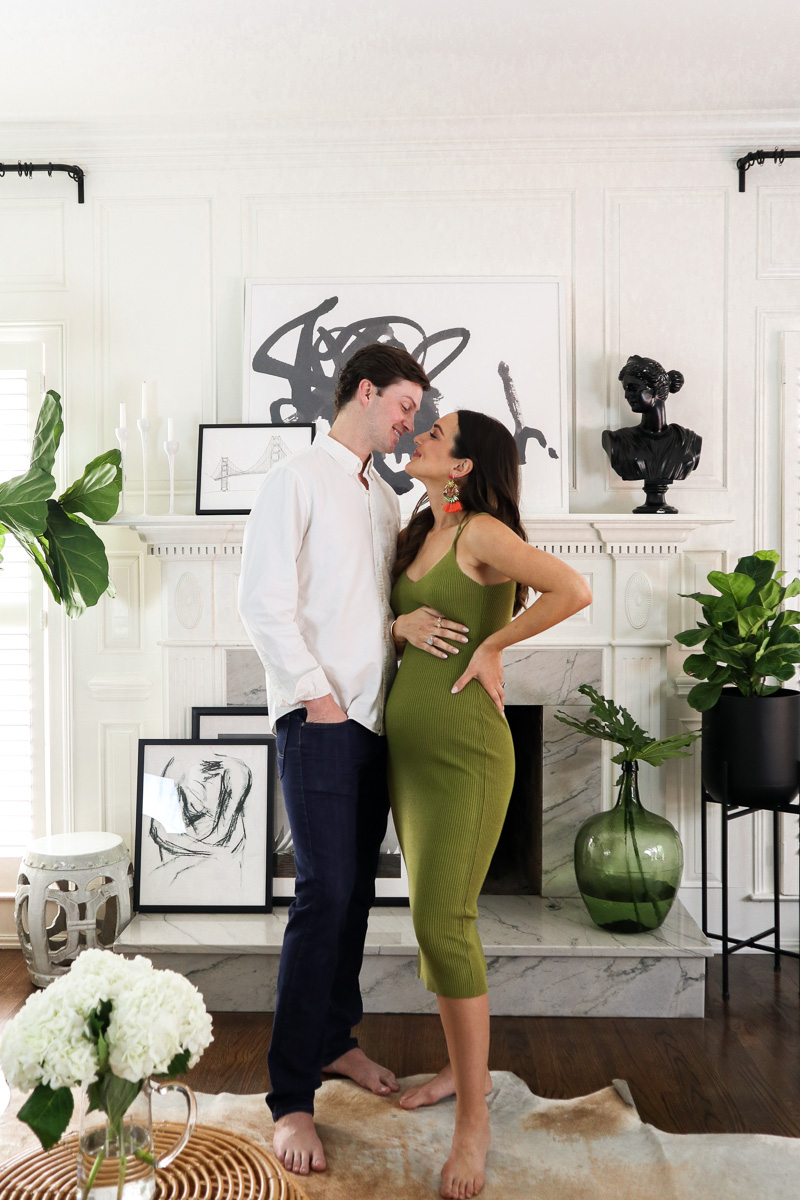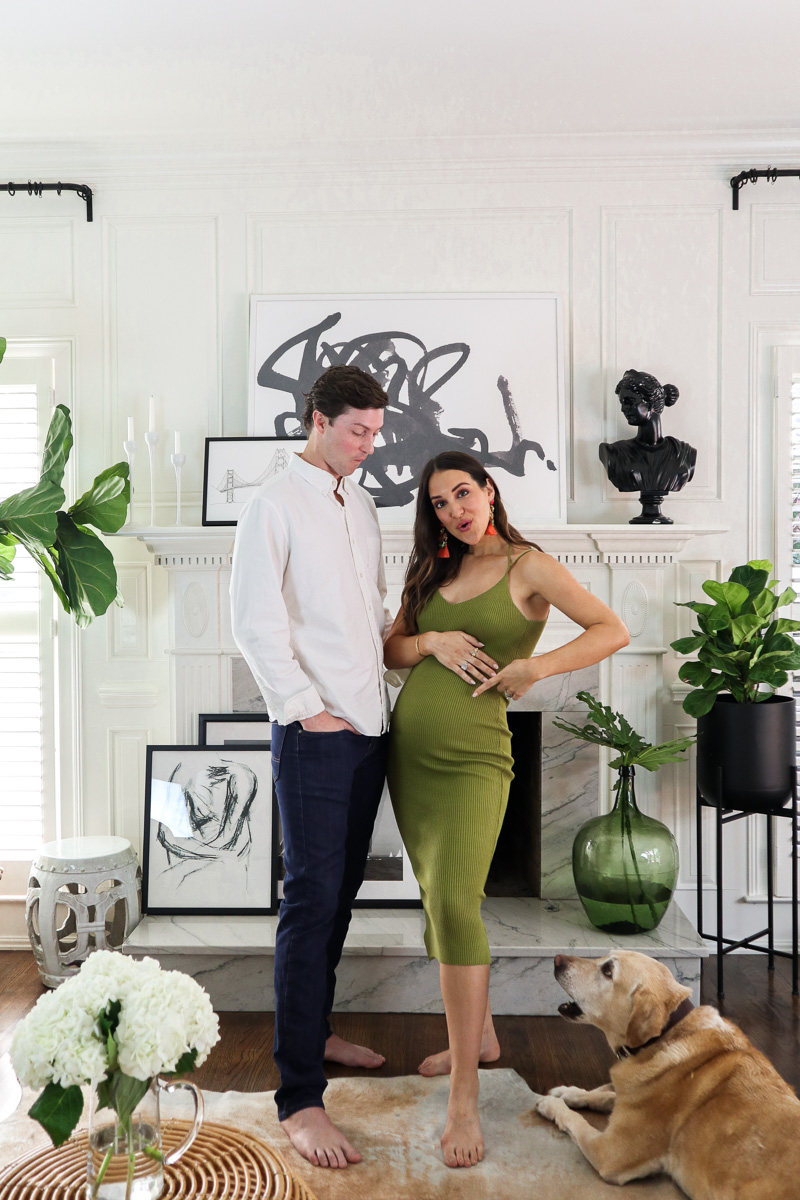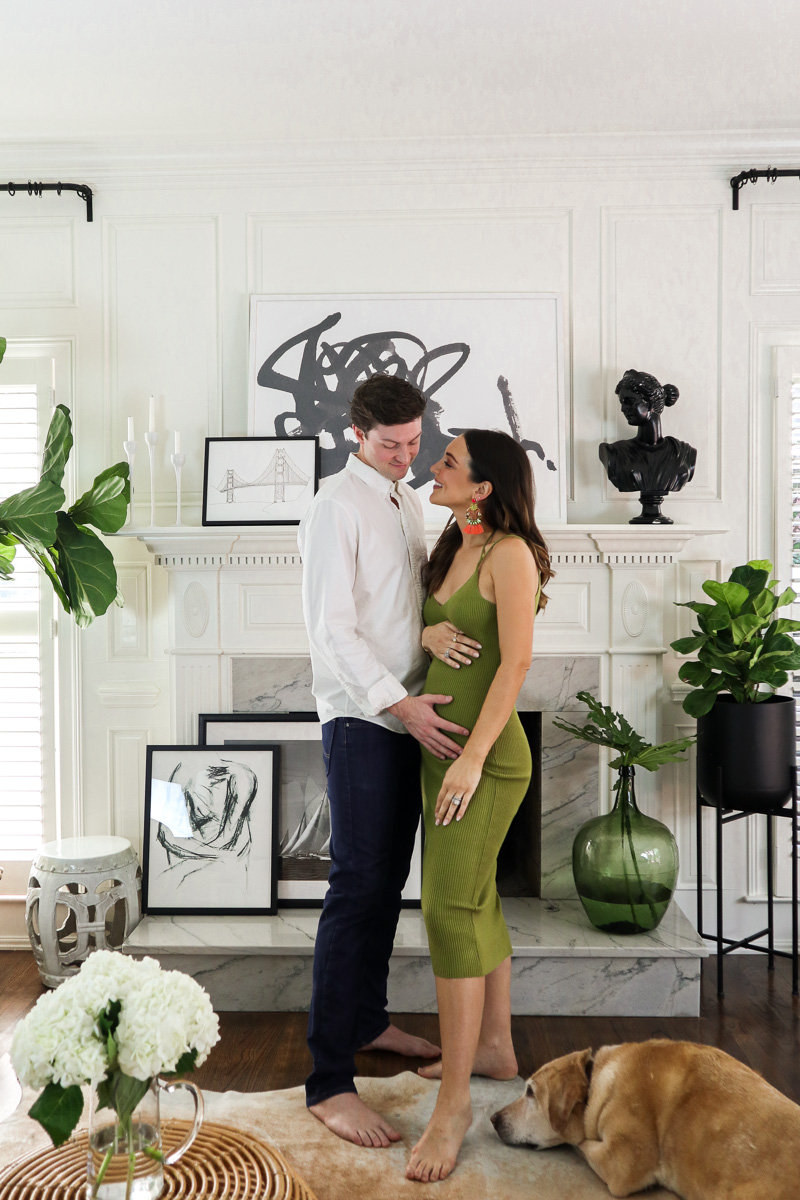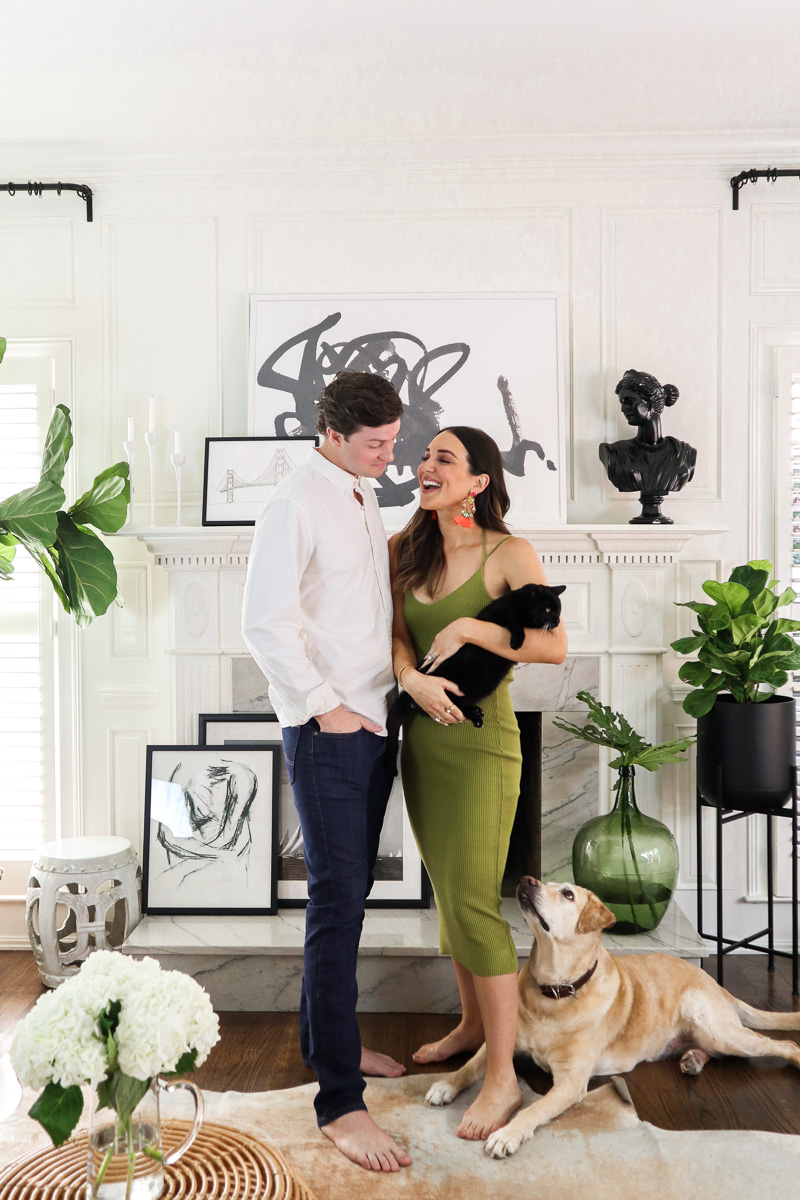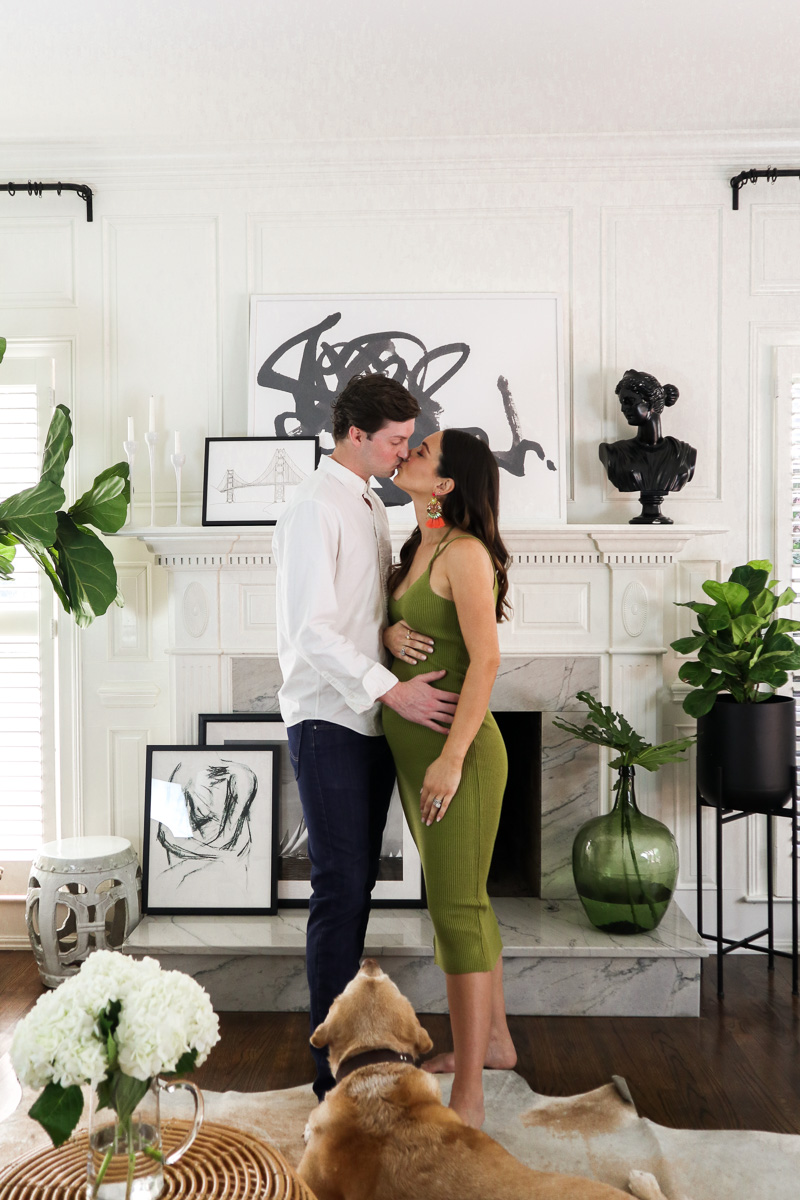 dress (old), similar style here and here | earrings (old) – similar here and here | abstract art | golden gate print | silhouette print | black planter, out of stock, also love this one and this one | bust | ottoman
So all of this to say, moving across the country, starting over in a new city, Christian starting a new job, buying our first home, and having our first baby… we are clearly just taking it all on at the same time.  Just trying to see what else we can tack on while we're at it!  But they are all such exciting and happy moments that I feel really lucky to be experiencing so many of them at once.
And of course, I am so excited to finally share this news with all of my CBL girls!  In the first few months I was trying to think of creative ways to share the news and so I thought the video would be a great way to catch you up to speed.  Christian and I figured we would keep it a little inside secret until I was showing, and around 18 weeks there was no more hiding this bump.  I'm still wearing most of the same clothes (the forgiving ones, at least),  but I can tell that once we hit the third trimester I'll be needing to dip into maternity.  With so many things on our plate right now, "we'll get there when we get there" has been my mantra.  One day at a time!
I would love to hear if you guys have any more questions or if there is anything else you'd want me to fill you in on.  We can do a baby version of the monthly blog FAQ if you prefer?  Please leave any questions below in the comments!
As for how baby will affect CBL… I don't really know just yet.  Probably as frequently as Christian pops in or out, but I think it will depend on how much you guys want to know, what is relevant/helpful to those of you who take the time to read this blog, etc.  I know there are so many amazing motherhood blogs out there and CBL will always remain focused on fashion, with emphasis on other lifestyle categories including marriage and now family.  I would love to hear if pregnancy/postpartum/baby content is helpful to you or if you prefer the existing lifestyle categories as is.
Thank you so much for being a part of this joyous time with us.  This baby was not a surprise, it was what we had been hoping for this year and we feel so overwhelmed with gratitude that we have been chosen to take care of and raise this little boy or girl.  Christian keeps saying how excited he is to meet this baby!  He's been so protective and wonderful, making sure I don't lift heavy boxes and that I'm eating healthy and drinking enough water.  I think he called me every hour on the hour when I drove across the country with Lula.  It's been really sweet.
You can check out more video content by subscribing to my YouTube channel here or checking out the "video" category of this site!  Thank you so much for being a part of our journey.  Your support and encouragement always means so so so much to us.  Love y'all! XO –
Pregnancy recaps