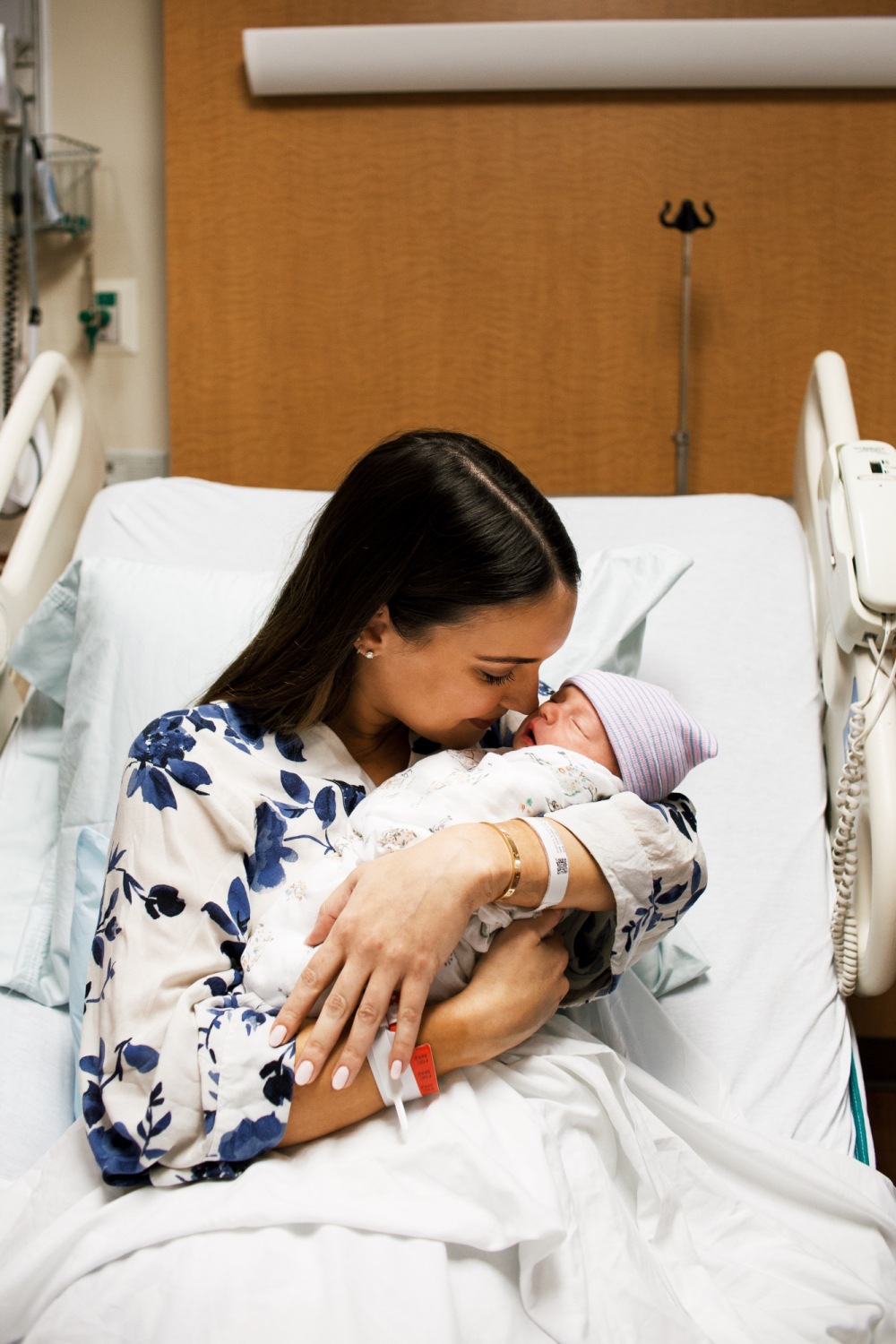 I've been looking forward to writing Hudson's birth story so I can hold onto it as I'm sure my memory will fade over time.  So I wanted to write it while it was still fresh!
I'll admit, I went into his birth with little to no expectations.  Every woman's experience is different, our bodies and babies are so different.  Our next child's birth could be completely unique and nothing like our first!  So I had a three step birth plan:  have the baby in a hospital, get the epidural and have a healthy baby however that may happen.  I really love the hospital and doctors we chose.  I completely trusted them to do what was best for the baby and myself.
After praying the baby would come early and be healthy (as probably all 9 month pregnant women do!), at 2:30AM on Friday, 11/22, I woke up with some lower abdominal cramping.  I thought it could stick around or go away, so I tried to drink some water, reposition and get comfortable.  I quickly realized there was no getting comfortable and at 3:00AM I got out of bed to walk around the house.
Around 3:30AM I used an app called Contraction Timer (recommended by my brother's wife and so helpful) to start timing what I was feeling.  I started to realize this could really be it.  So I finished packing up my things, organized the pets food, ate some leftover pasta at 4:30AM and got dressed.  I tried to let Christian sleep until 5AM as I knew he had been really tired the night before (I feel I now deserve a gold star sticker for this).
At 5AM, I woke Christian up.  I told him I thought I was in labor and after timing my contractions they were consistent.  He asked if I wanted to call my doctor first and my response was, "no, I don't want to wake her up if it's a false alarm."  Which is hilarious to me – typical daughter and wife of doctors.  I never want to be the cause of waking anyone up!
Christian calmly got up, finished packing a few things and we hopped in the car by 5:20AM.
When we rolled into the ER, they asked if I wanted a wheelchair, and I said I preferred to walk.  I would periodically stop to breathe through a contraction as we made our way up to the third floor.  Then I was checked by a nurse… only to find out I was already between 8 and 9cm dilated.  As in, we were almost ready to push.
That's when I started to get anxious.  I thought I had more time!  What about the epidural!?  That was literally one of the only puzzle pieces to my "birth plan!"  Christian could see my face start to shift once we heard we were much further along than we thought, and he stepped in to give me a little pep talk.  He said that if I could be this calm without medicine this far into labor, that I would be tough enough to push without the epidural if it was too late.
While I appreciated his vote of confidence… having a natural birth is just not something I felt ready to do.  I absolutely respect and admire anyone who does, but personally I am grateful to modern medicine and welcome it.
The nurse swiftly rolled me straight to labor and delivery and within minutes I was surrounded by wonderful nurses (who were all at the end of their long shift no less) taking blood and filling out paperwork.  They were moving as fast as they could to gather all the information and testing necessary before I could hopefully be seen by the anesthesiologist.
They made it happen, and an anesthesiologist walked in the room with 10 minutes to spare before a scheduled c-section.  He got me fixed up real nice, and all was well in the world in minutes.
From there we debated even calling our families and thought we could just let them know after the baby had been born since things were moving so quickly.  But the epidural slowed things down a little bit.  We had a few hours of downtime before it was time to push, so we called our parents.
You never know if your actual doctor will be available to deliver your baby, and I was so happy to see my doctor walk into the room.  Everyone at the practice is great, but I felt so lucky that she was there to help these newbies, as she is exceptional.
In what felt like no time, we were ready to push.  There were just four of us in the room – Christian, myself, my wonderful doctor and an amazing nurse.  The energy was so relaxed, so calm and happy.  After an hour of pushing during contractions, I felt this wave come over my lower body as our son was born.  I can't describe it as accurately as it deserves to be described, but it was unlike anything I've ever experienced.  I hope I never forget it.
Christian actually recorded the audio of Hudson's arrival and it's saved in the "CBL Bebe" saved stories on Instagram, but every time I listen to it I have tears in my eyes.  I had no idea that labor and delivery could be so wonderful, so zen, so joyous.
We were between two names for the entire pregnancy.  However once we met our boy with his head full of dark hair and inquisitive blue-gray eyes, I felt that his name was Hudson all along.
He is named after Christian and his maternal side as well as my maternal side, our Hudson Alexander Barnes.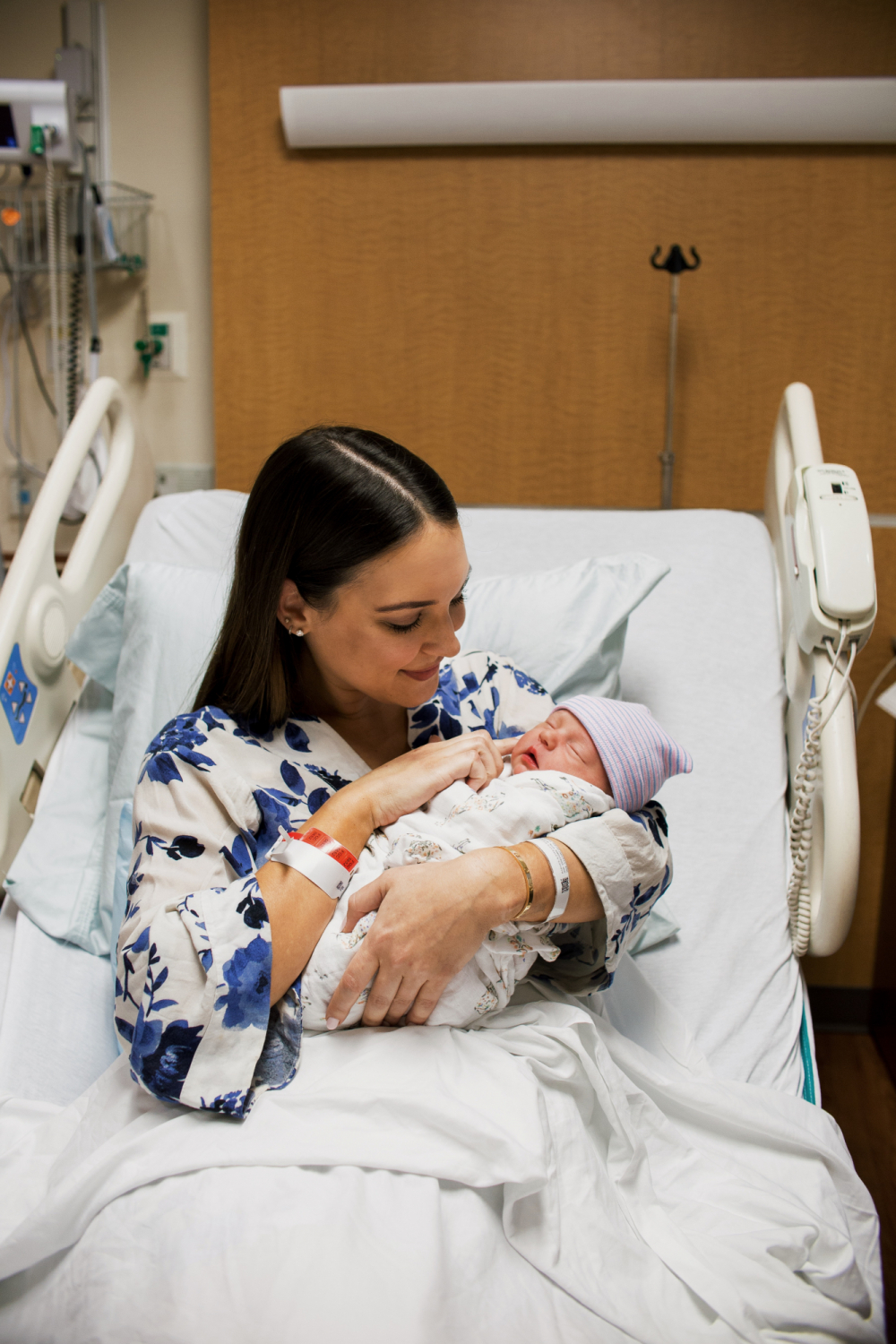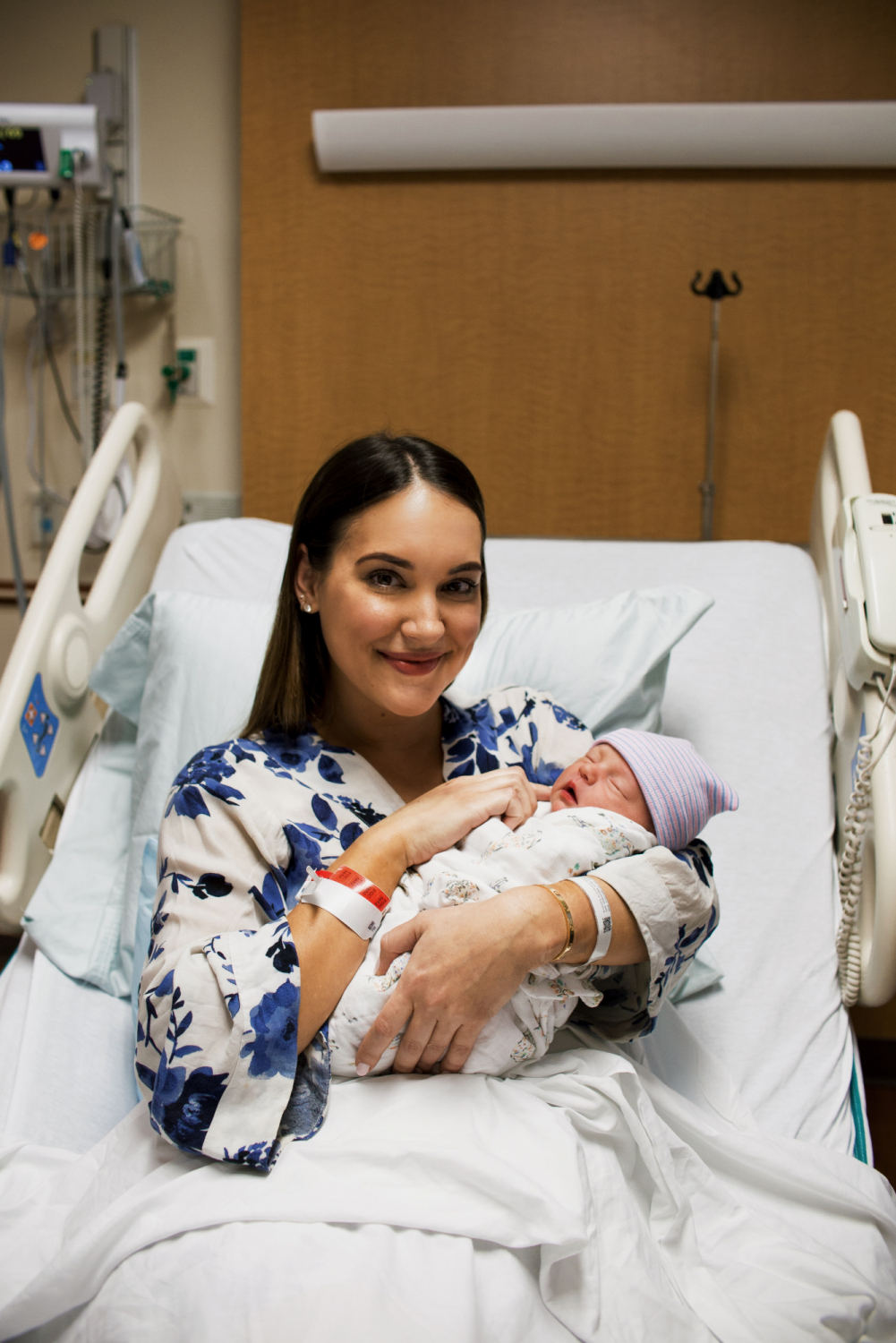 robe | photos by Christian Barnes
We spent two nights in the hospital.  The nurses were absolutely amazing and took such great care of us.  When it was time leave I was ready to be in our own space again, but I knew recovering without those ladies was going to be a buzzkill.
Did I cry the first night home because I felt overwhelmed?  Sure.  But now, two weeks later we have a little bit of a rhythm.  Christian's parents, my parents and my sister have met the baby.  We have an amazing NICU technician helping us a few days a week so I can get some work done.  I'm able to both learn from her and have a few time blocks of independence.  Hudson is a great eater and sleeper so far, and we are all just adjusting to life with him on the outside!
I wanted to share this story because I felt like during my pregnancy, women were so quick to tell me scary or stressful stories of pregnancy, labor, delivery and recovery.  I know everyone's journey is different, but I have been amazed at how pleasant and happy the process has been.  And I know there is every kind of story out there.  But to anyone who is a little anxious or nervous about becoming a mom and the path required to get there, I hope this story will be reassuring and comforting.  Know that you could absolutely have a totally mellow, calm experience.  Those exist too!
Thank you so much for reading, for all of your kindness, love and encouragement.  December has been pretty busy for all of us, but I am hoping to slow down in January and really enjoy some downtime with my boy.  Having a newborn around the holidays has just been really, really special.  Gratitude to the max.  Love you guys and thank you for so kindly welcoming our Hudson to the CBL fam – XO –