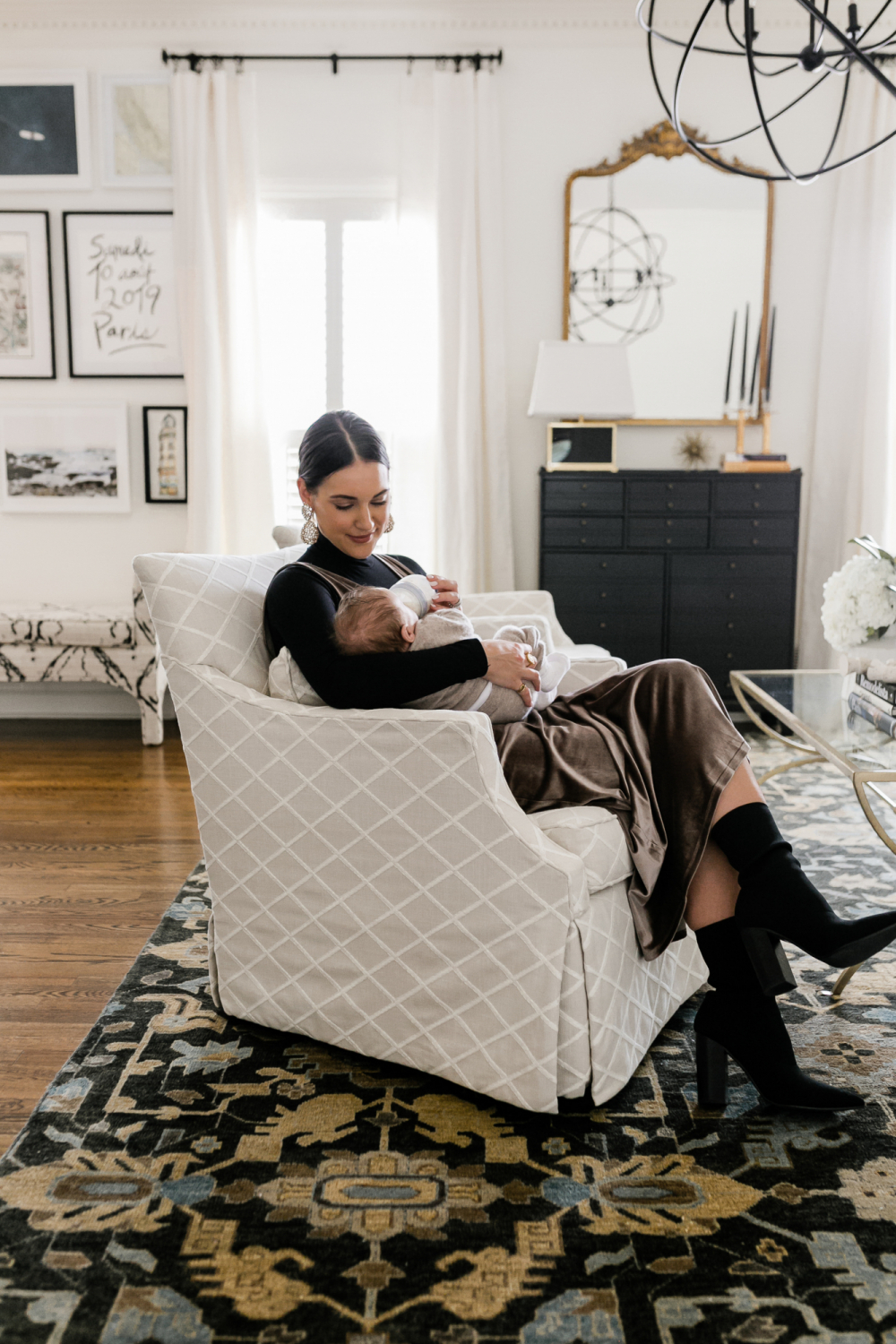 room details shared here
A few weeks ago I briefly shared on Instagram Stories that I had stopped breastfeeding.  I have been surprised at how many people I don't personally know have asked me daily if I'm still breastfeeding… it's such a personal topic and one that I wouldn't consider asking someone unless I knew them well.  It's on par with asking someone how much weight they've gained during pregnancy (which I finally answered here, available if you search "weight gain" on this site).  Maybe this is just me, but I don't think we should ask anyone we don't personally know about their weight or breasts.
Some questions we can ask: How are you?  How can I help?  Or even a statement like:  You're doing a great job.  Your baby is precious.  How amazing it must be that you are everything he knows.  Moving on!
To be honest, it wasn't a topic I planned on discussing because I would prefer to keep my opinions to myself because it is so personal.  However, I don't think the questions will stop until I address it, so here we are!  Let's just put it all out on the table.
I was hesitant to share I had stopped breastfeeding because I wasn't willing to take on the potential judgement and opinions.  Every mother puts their child's best interests before their own.  It's our instinct.  But you can't take care of someone else if you're not taking care of yourself.  And I feel it's my job to share the struggle I had with breastfeeding because the friends who were supportive of me and sounding boards during this process literally got me through those first months.  And it's my job as a woman to pay it forward as they did for me.
I breastfed Hudson for two months and the first six or so weeks were exclusively until I had to begin supplementing because my production wasn't keeping up.  I tried lactation cookies, supplements, drinking tons of water, eating plenty of calories, I cut all dairy from my own diet for over a month, I tried the HaaKaa pump, my own breast pump, talking to my lactation consultant many times, all the things.
The truth?  I loathed every second of it.
First of all, it was painful.  When my supply came in I was in more pain than my contractions.  Christian jokes that I didn't break a sweat when I gave birth.  I shared Hudson's birth story here, but I was dilated 8cm when I checked into the hospital and truly enjoyed the experience.  Based on this fact alone, I like to think my pain tolerance is pretty high.
I had alarms set for when it was time to feed Hudson (every 2-3 hours), and I would have this pit in my stomach every time it went off.  I felt the dreaded hours I spent feeding every day were actually keeping me from fully bonding with my baby rather than make me feel closer to him.  I couldn't help but resent him for this physical pain and continued hormonal imbalance that made me feel so frustrated and in pain.  He had a great latch and I still struggled to enjoy it.
It must be mentioned that Hudson also had colic for weeks 2-11 and we tried everything.  Nothing worked except time and patience.  I think this topic deserves its own post once I feel we are totally in the clear, but wow.  I mean, wow.  That was a journey on its own, and I do think it was a big contributor to not enjoying the additional struggle of breastfeeding.  Trying to learn how to best soothe him was exhausting enough, on top of the breastfeeding struggles and always having my laptop in front of me.  Oh yeah, and also taking care of postpartum self… which always naturally came last.
While breastfeeding, I felt trapped in my house and lonely being the only one who could feed my baby.  While Christian slept soundly each night, I was awake, topless and tired in a dark room breastfeeding our son.  I know for some, breastfeeding is so much easier.  No bottles to pack, you can just whip it out and voila!  But for others it is so much harder than that.  I was never comfortable breastfeeding in public and would just sit in my car or even worse, not leave the house at all.  I had such a short window I could get anything done before my chest began to ache or he began to fuss and I would just think, "how can we live our lives like this?"
My goal for six months of breastfeeding quickly dissipated to three.  But once I had to start supplementing I was doing double the work.  Breastfeeding for hours a day while also feeding him bottles, finding time to pump and then to the sink to wash all the bottles, tubes and parts… all while still trying to maintain somewhat of a workflow with emails and deadlines.  I would be feeding Hudson while calculating the hours I was spending breastfeeding in my head.  And the answer is around three hours a day which is over 20 hours a week… which is a part-time job.  On top of a full-time job.
It was much harder to remember to eat enough calories and drink enough water because I was spending so much time breastfeeding.  The irony is that I had so much more time once I stopped breastfeeding to get those calories in!
With a medical professional as a spouse, it was important to Christian that Hudson be breastfed and I wanted to honor that.  We were both breastfed for eight months or more.  After all, isn't this what is best for our baby?
I went to my six week follow-up with my OB and I had to fill out a postpartum survey.  She sat down with me and told me that while I didn't fall in the postpartum depression category, she still wanted to discuss some of my responses to the survey.  While chatting with her, it was quickly determined that breastfeeding was making me dread the day and that time spent with Hudson.  She simply said, "so why not stop?"
Why not stop?  Why continue something that was clearly making me miserable and not even working for us?
So I went home and declared to Christian I would breastfeed until two months and then I was stopping.  It wasn't a discussion, it was a statement.  He didn't love my attitude, but I didn't care.  This was something I was doing for Hudson and even more importantly, for myself.
And I stopped breastfeeding at eight weeks.  I also stopped crying every day.  I stopped dreading feeding my baby.  In fact, Christian and I often jokingly fight over who gets to feed Hudson at night!  Which is a complete 180!  I stopped dreading getting dressed every day, as I apparently had little to no breastfeeding-convenient clothes.  I got to wear loose dresses and clothing that actually fits my postpartum body rather than what works for breastfeeding.  I also stopped complaining incessantly to Christian.  I was happier all around, and he could see that.  Now we both realize that it wasn't working and letting it go was absolutely the right choice for us.
I am so much happier.  Hudson is happier because he's fed more food which means he focuses while eating instead of shaking his head out of frustration.  When we leave the house, I just toss a bottle of water and formula in my bag and we can go do anything, anywhere because I feel confident bottle feeding in public.  And anyone can help me feed him if I am busy working or need a break.  Which means a few nights a week Christian takes monitor duty at night and I get to sleep without worry.
It works best for us and I feel clearheaded emotionally and mentally which helps me be a more present mother to my son.
I also want to share that my sisters, mom and several friends have breastfed without any of this heartache and struggle. They also took more time away from work or fully focused on their baby rather than returning to their prior career.  For some it is a beautiful experience that only deepens the bond between mother and baby.  And if you are one of those women, I love that for you!  How great that must be.
I now realize that I should have taken more of a break from work.  My job is unique in that sharing my life is my business.  Because of that, to disconnect for three months would be particularly challenging.  I wasn't sure how exactly to step back for that long (and I still don't know how I would do this).  Therefore I was trying to be on email, answer reader questions every day, take calls and maintain somewhat of a work flow and that just doesn't work when you're breastfeeding a colicky newborn (and trying to find some time to take care of yourself postpartum).  Perhaps if I had found a way to take an "official" two or three month maternity leave (paid or unpaid, it's a gift!) I could have focused more on keeping my supply up and the experience would have been less stressful.  Or perhaps not?  During the hard days, going to my office and shutting the door was my escape and rejuvenated me.  And on many days, I really needed that.
For our next child, I am going to try to figure out how to take more time off and will try breastfeeding again.  But you don't know what you haven't experienced!  I also didn't know Hudson would have colic and cry all day.  I was told newborns slept all day.  Thankfully he has been an amazing nighttime sleeper from the jump and loves his crib (his nursery and crib are shared here), but that boy has some pipes!  I regularly thank God we live in a house and not our previous city apartment as I would genuinely worry we would get evicted due to noise complaints.
I wanted to share my story to other women out there who have felt this way.  You're not alone.  You're never alone in your thoughts or feelings.  Another mother has felt that exact same way.  And you will find what works best for your family.  Hudson is now a happy, formula-fed baby and his parents are happy too… except when they argue over who gets to feed him.  What a prince!
I'm here for you.  We are all here for you!  Just as those women were there for me.  You got this, mama.
Thanks so much for reading – I would love to hear your experience if you tried breastfeeding and are open to sharing.  But if not, that's ok too.  I get it – it's personal!!  XO –