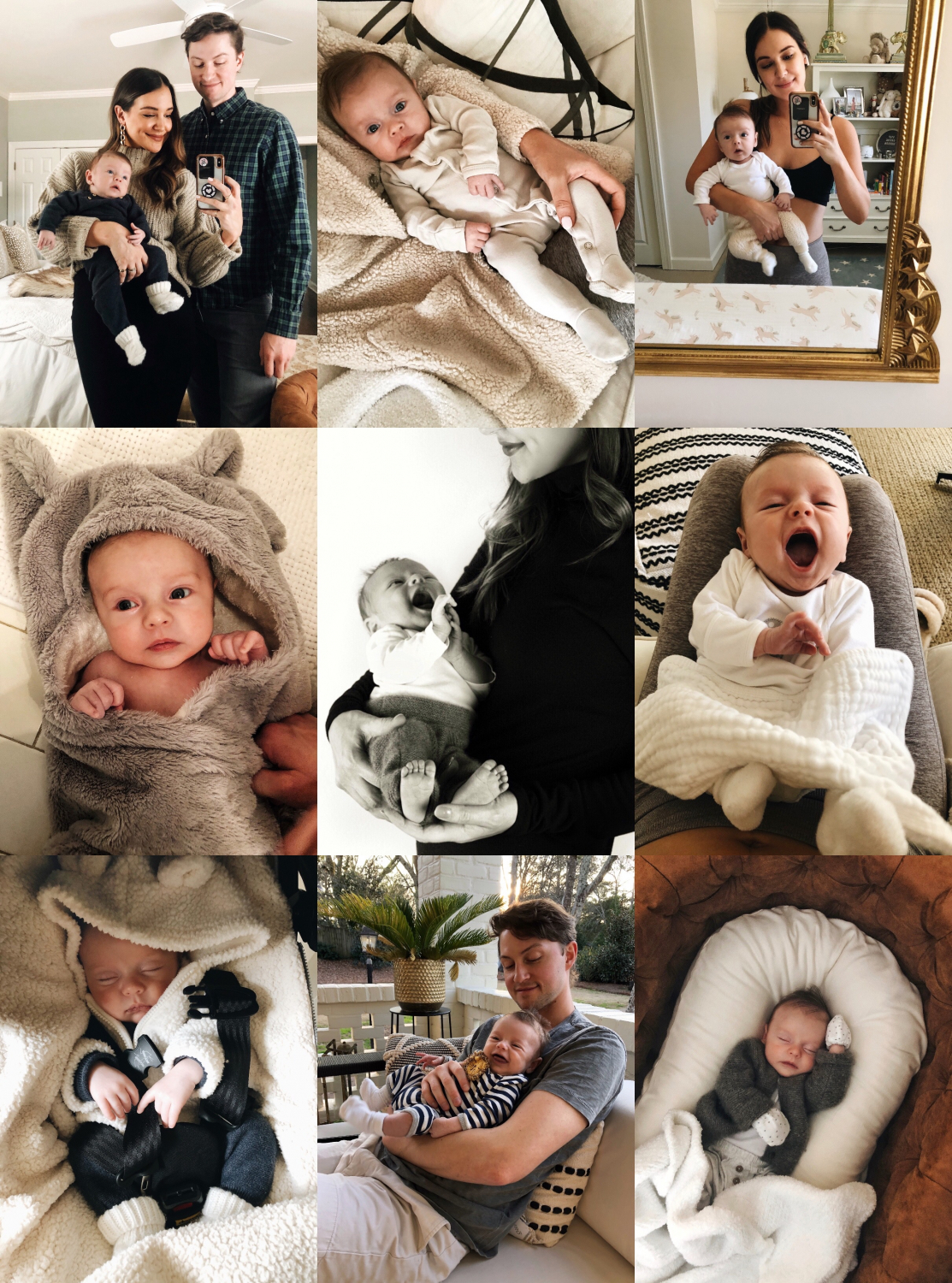 I was planning on waiting until Hudson was out of the newborn phase to share our tried and true, but so many of you have requested this post so I'm going to share what we are really loving so far!
H is 8 weeks old and the below are some of our must-haves:
Comotomo Bottles | We have a few different kinds of bottles but these are my favorite.  They have fewer pieces to clean and fit into our bottle warmer perfectly.
MAM Pacifiers | My SIL said babies "choose" a pacifier.  We have all these cute ones that I've tried to get H to like and nope, he like these glow-in-the-dark ones.  We continually go back to them, so he has indeed, chosen.
Burp Cloths | We have been given so many adorable burp cloths, but I continually reach for these.  They are so soft and the perfect size.
Boon Bath Tub | Hudson has always liked baths and I credit this tub.  He is able to sit up in a comfortable position without slipping.  And as my mom once said, "be careful… wet babies are very slippery!"  It sounds ridiculous… but they are.
Doona Stroller | Wow wow wow.  Where do I begin?  This single piece stroller/car seat combo is incredible.  It's small and compact, making running errands as simple as possible.  Hudson also is known to take some of his naps in it because he loves how cozy it is.
Baby Shusher | People told me to get this and I thought it was so dumb and a waste of money.  Fast-forward a month into H's existence and I bought it.  I was wrong – it's actually the best.  I always take it with me in case of a public meltdown when the sound machine isn't nearby.  It helps calm him in fussy fits… it is in fact, the greatest.
Lounger | We use this lounger every single day.  On the bed, on the sofa, in a bassinet for a short nap, Hudson loves this thing.  Honestly I wish they made it in my size.
Pampers Diapers | We have tried a few different kinds and Pampers is the best by far.  Less blowouts, the line that shows if the diaper is wet or not… they are just the most functional.  This was a recommendation by a friend with twins (and OBGYN!), and she's right.  After enough outfit changes, we use the Baby-Dry diapers.

Amazon Baby Wipes | On that note, we have also tried lots of wipes and these are our favorite – also recommended by a mom friend.
Keekaroo Peanut Changer | A gift from my manager, this changing pad rules.  If there are any accidents, you just wipe it down and move on.
Socks | I love how soft these are.  For a splurge, these are also amazing!
Fleece Halo Swaddle | The hospital we had Hudson in actually let us go home with this one and I feel like he sleeps more soundly in it because it's so warm.  I don't mess with DIY swaddling.  Stick with the zip up or velcro.  Know thyself.
Taking Cara Babies | I have Moms on Call and 12 Hours by 12 Weeks, but the Taking Cara Babies course has by far been the piece that has given us the biggest results.  After taking this course, I instantly felt like I could pick up on cues from Hudson.  Worth the time and money, 100x over.
These are my favorites so far for 0-3 months!  Let me know if you have any must-haves that weren't on this list.  I'd love to hear.  Thanks so much for reading and sharing – XO –