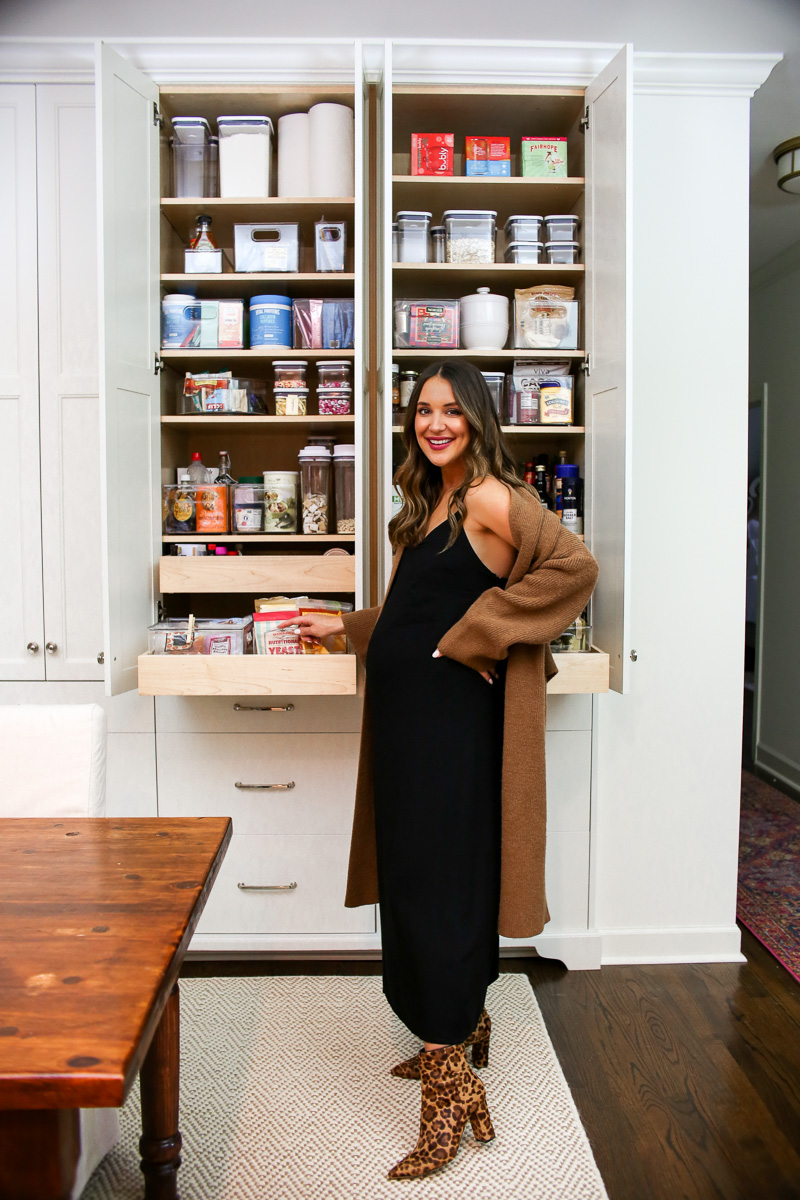 I knew that as soon as we had a house to call our own, I would be investing in organizing the cabinets and drawers.  I am majorly type A, and nothing brings me more joy than a functional, organized house!
So today I'm sharing a peek into our pantry, kitchen drawers and refrigerator to show you how I organized them with The Container Store.  And most importantly, how you can do it too.
There are services out there you can pay hourly to help you get organized, and for some people that is an amazing option!  But I think it's also great to know that you can skip that expense and do it yourself with a little research.
But before we dive in, I want to be sure to share that The Container Store is having a kitchen sale through November 10th!  So if you're looking to get your kitchen in tip top shape before the holiday season really starts, there's no better time than now.
PANTRY ORGANIZATION:
We have three large pantry cabinets and I use two of them for food and the third for storage.  I ordered a mix of different pieces that I thought would best utilize these shelves.  You could go rogue and do your own thing like we did or you could keep it simple by ordering a kit like this one or this one.
I customized our pantry by ordering the below:
Oxo Good Grips POP 10 Piece Canisters | They also have a half-priced 5 Piece Set.
Oxo Good Grips POP Cereal Dispensers | I've literally always wanted cereal containers. I love these.  Deeply!
The Home Edit 3-Tier Shelf | I'd recommend ordering a few of these for canned goods.
The Home Edit All-Purpose Bin | These are the best and super versatile.  I'd also make sure to grab a few of these.
The Home Edit Organizer Bins | Order several of these!  You can use them to organize larger storage bins or simply use them on their own.  They are really helpful in both other containers or pantry drawers.
The Home Edit Divided Lazy Susan | I think it's always helpful to have at least one Lazy Susan in your pantry.  We use ours to store granola bars and snacks, but I know I could use it for anything.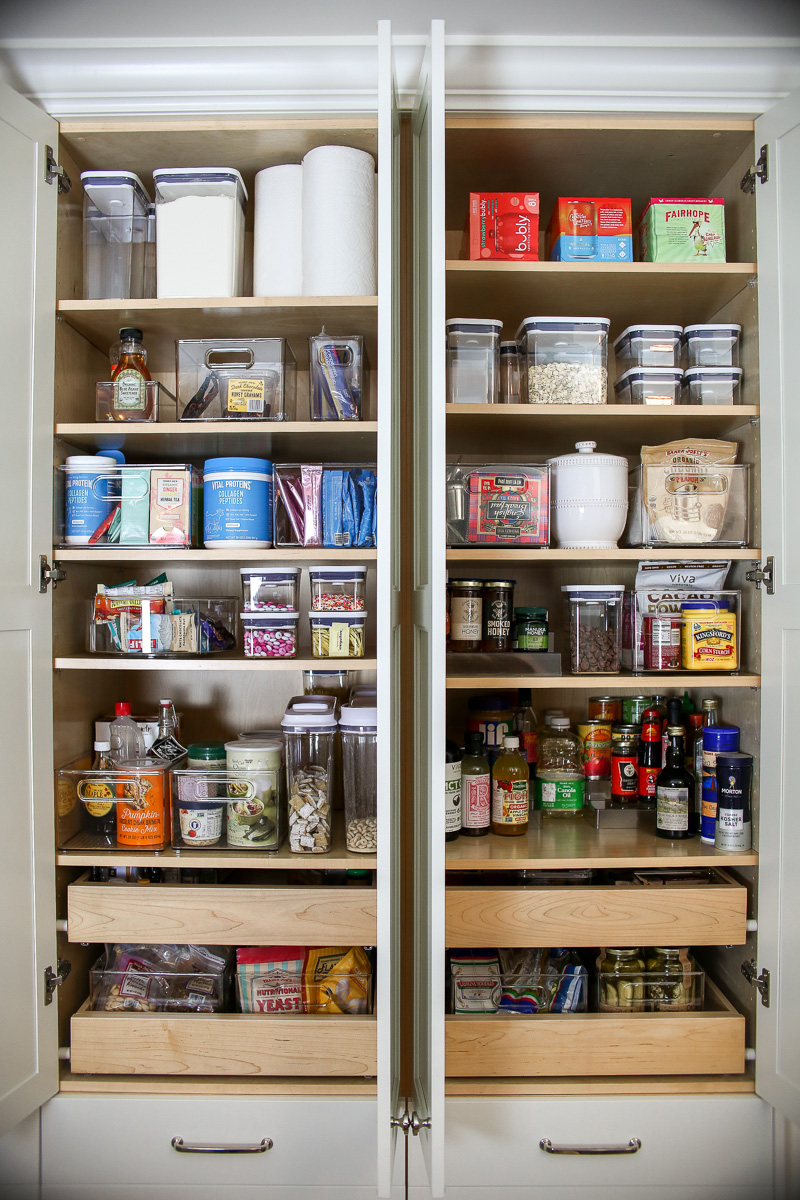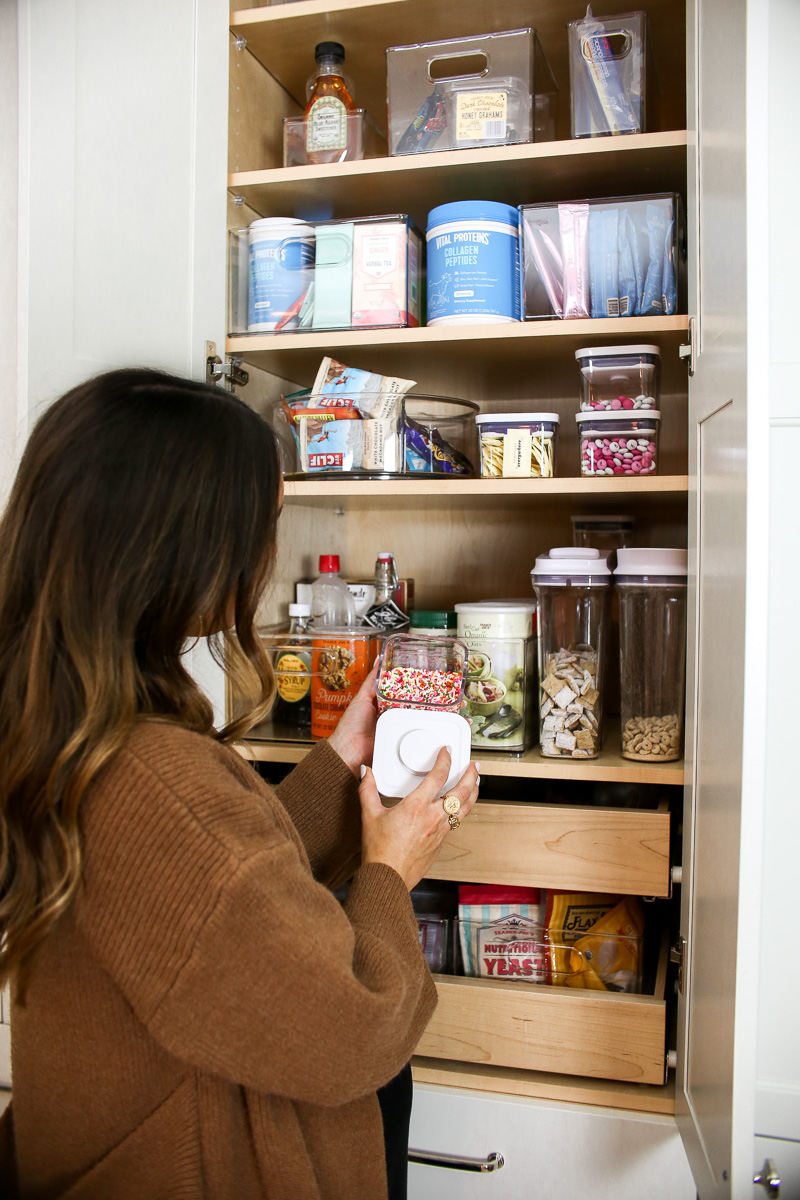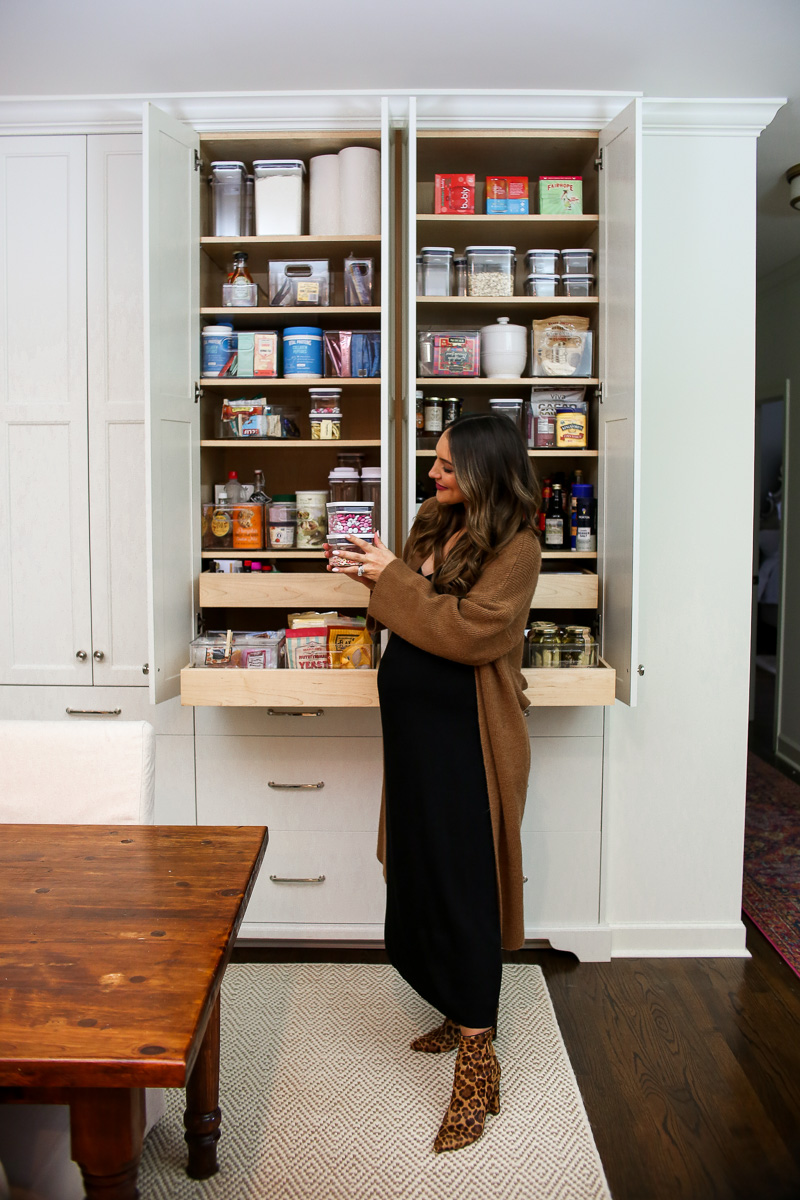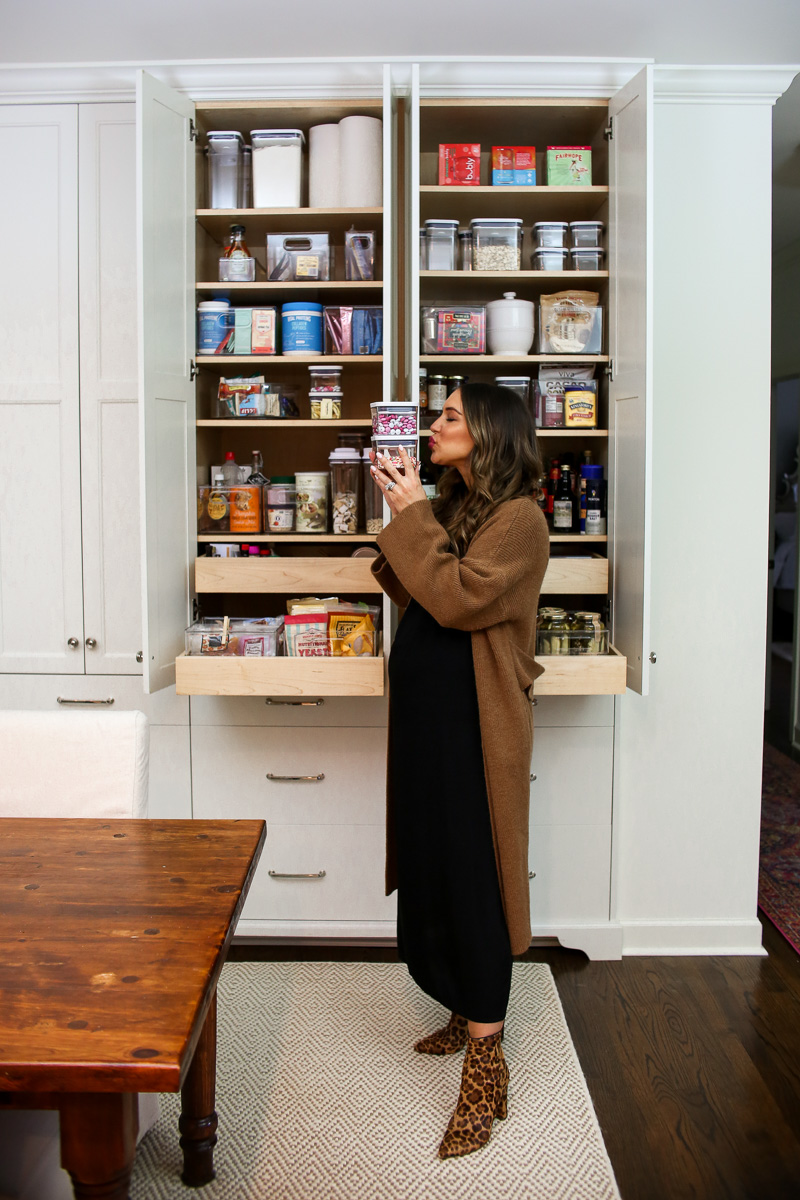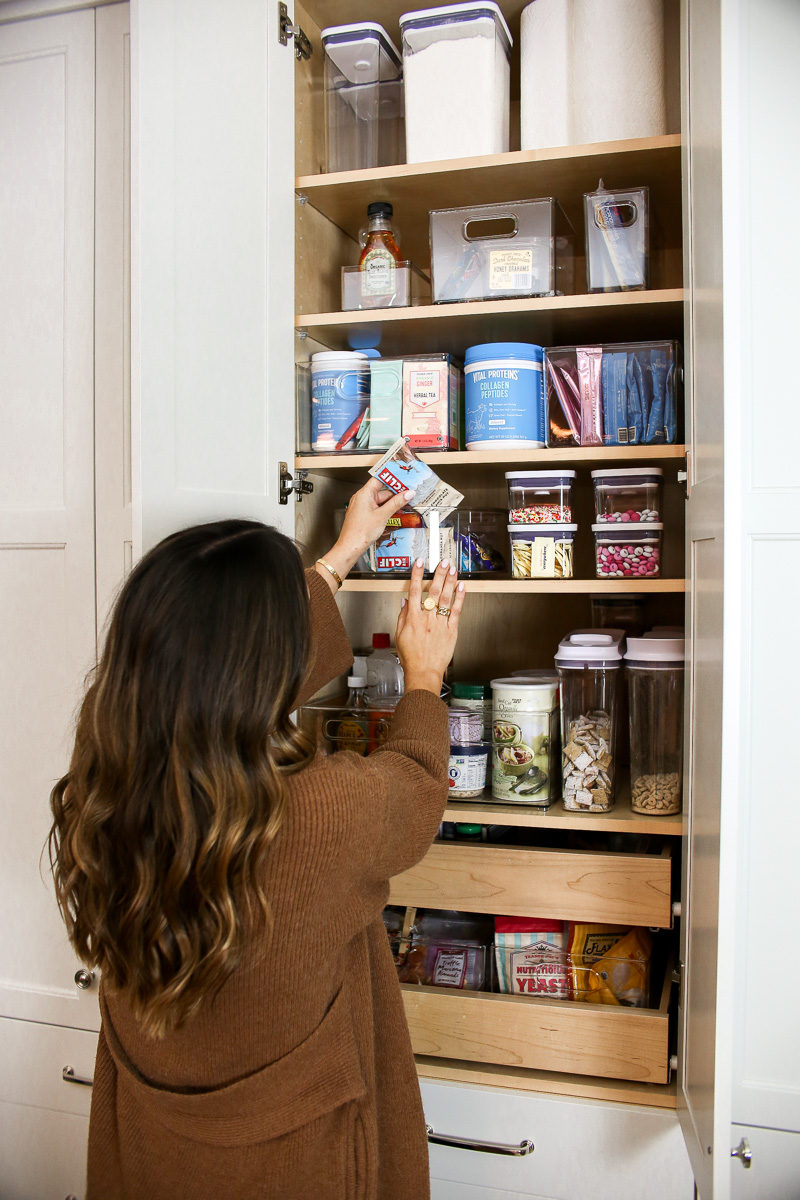 KITCHEN DRAWER ORGANIZATION:
I ordered two of these Linus Large Drawer Organization Kits and they were perfect for the two most visited kitchen drawers in our space – the "junk" drawer and utensil drawer.  It makes such a huge difference to have all of the rubber bands in a bin, all of the markers in a bin etc.  Rather than stress me out when I open it, it's now always neatly displayed.  Bonus points that it makes telling a guest where the scissors or measuring tape is super easy!
We also ordered this Under Sink Organization Kit and I love it.  It's so easy for cleaning supplies to get lost under the sink, but having this drawer that rolls out makes an alarming difference in knowing exactly what we're storing under there.
Lastly, I've been so surprised at how many of you guys have asked about our dish drying rack!  I ordered both this Silicone Drying Mat and this Folding Bamboo Dish Rack.  We have a big farmhouse sink, so I still needed a place to dry hand-washed items.  It's been the perfect solution.  Plus it folds up easily for storing when you are entertaining.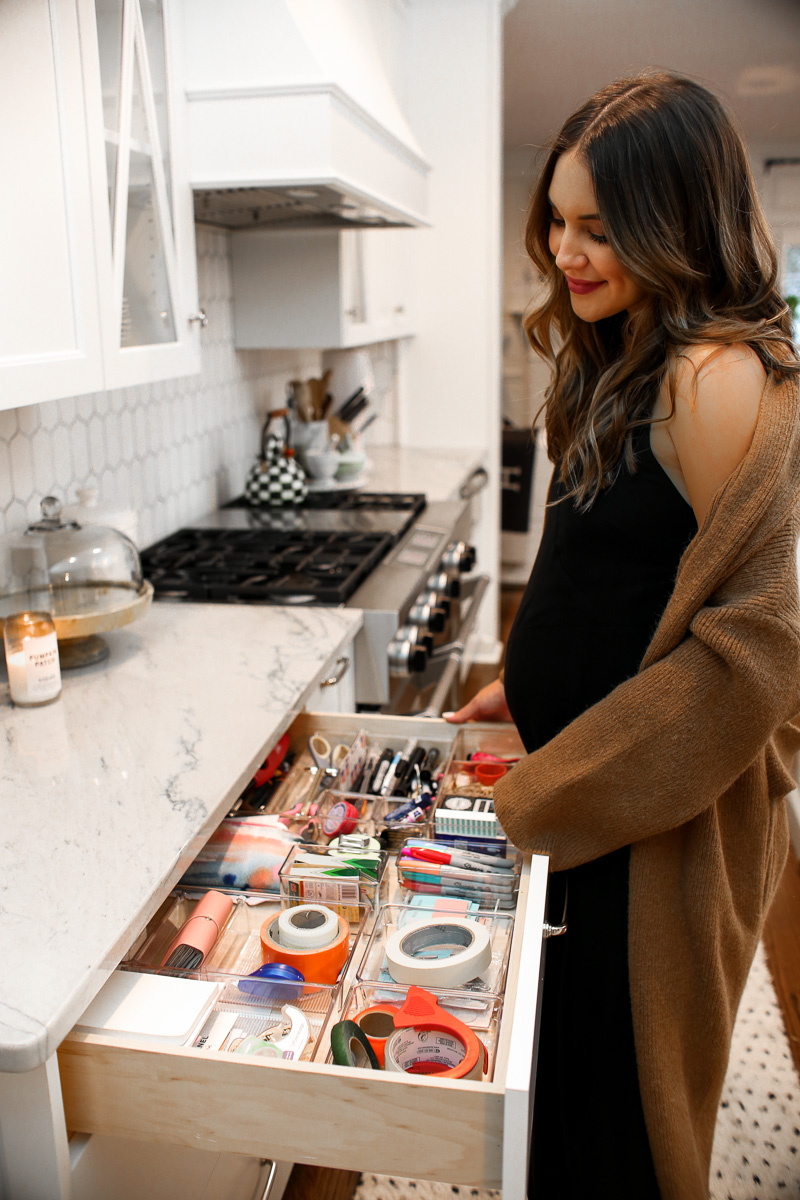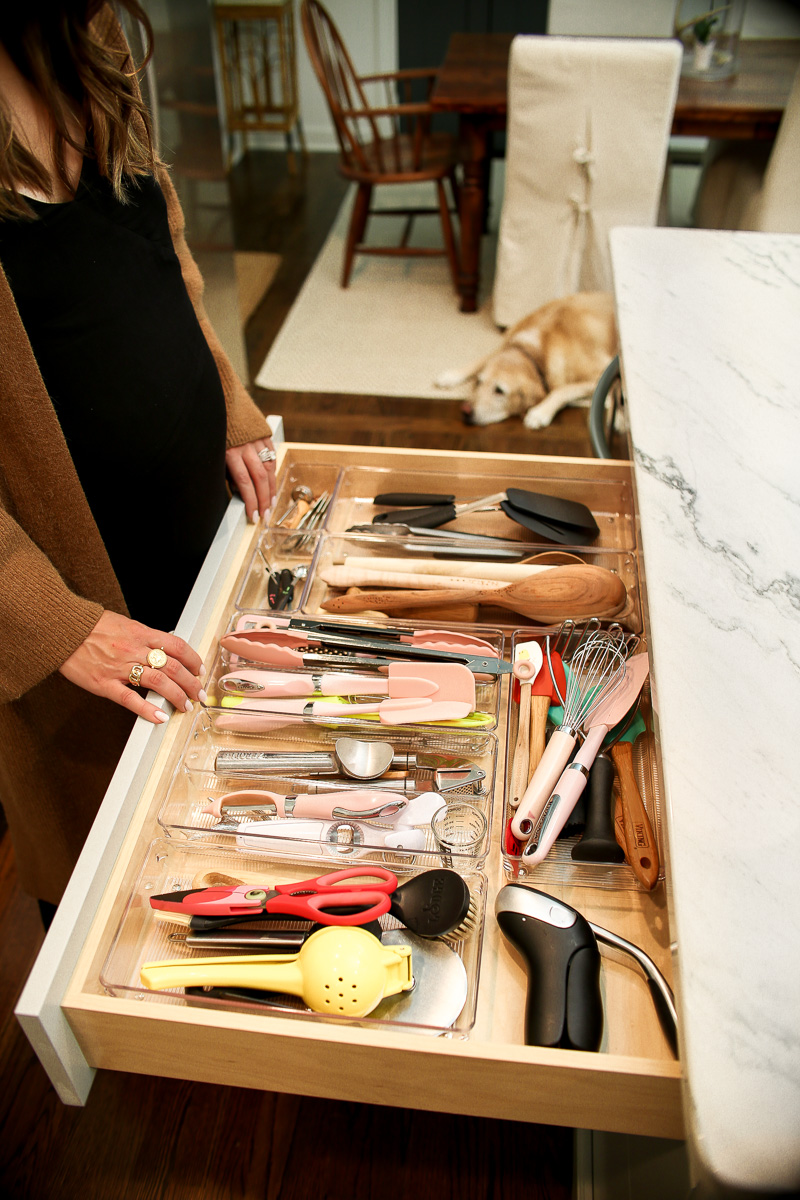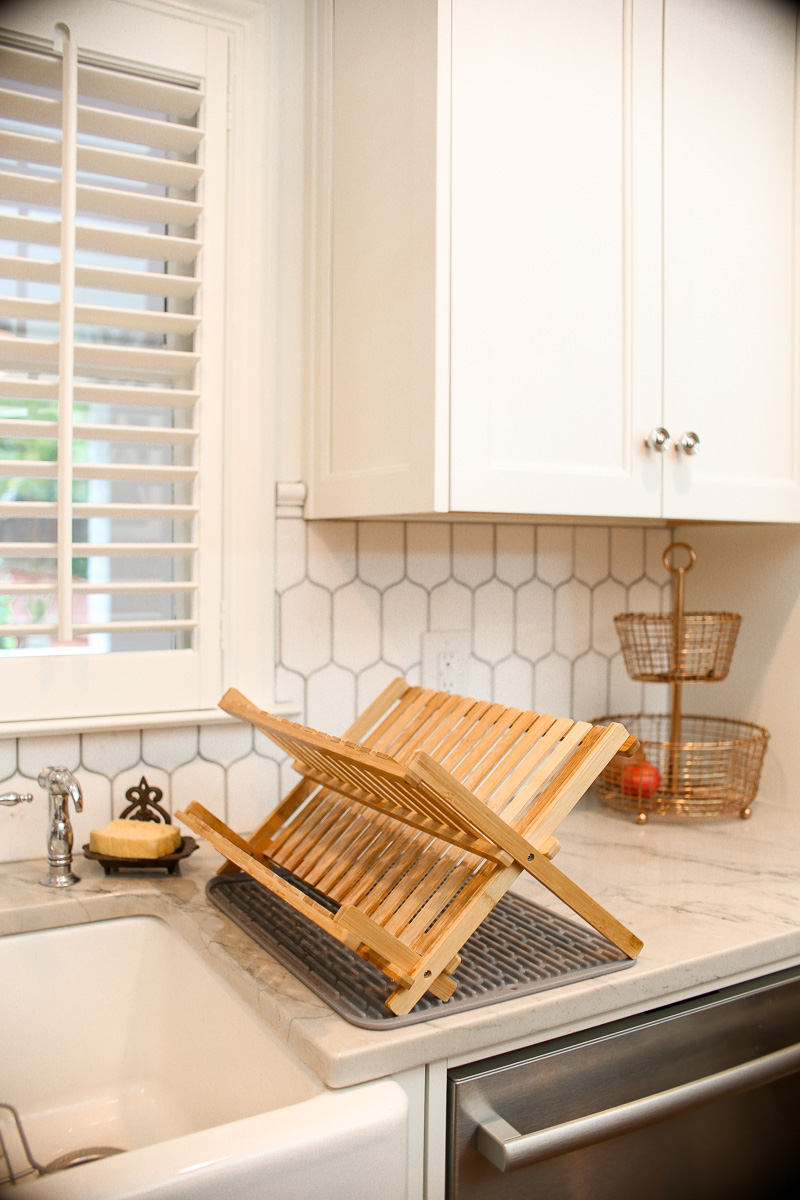 FRIDGE ORGANIZATION:
The Fridge Organization Kit was the perfect kit to organize our refrigerator.  It comes with plenty of containers for storage, sealed food containers, bottle holders – the works.
There were a few things I knew we wouldn't need, so I eliminated them in the custom order section and then added things I wanted extra of (like the Fridge Monkey).  Know that you can take these kits and eliminate or increase the quantities of any of the items to make the kit your own.  It's just there to serve as an incredibly helpful starting point!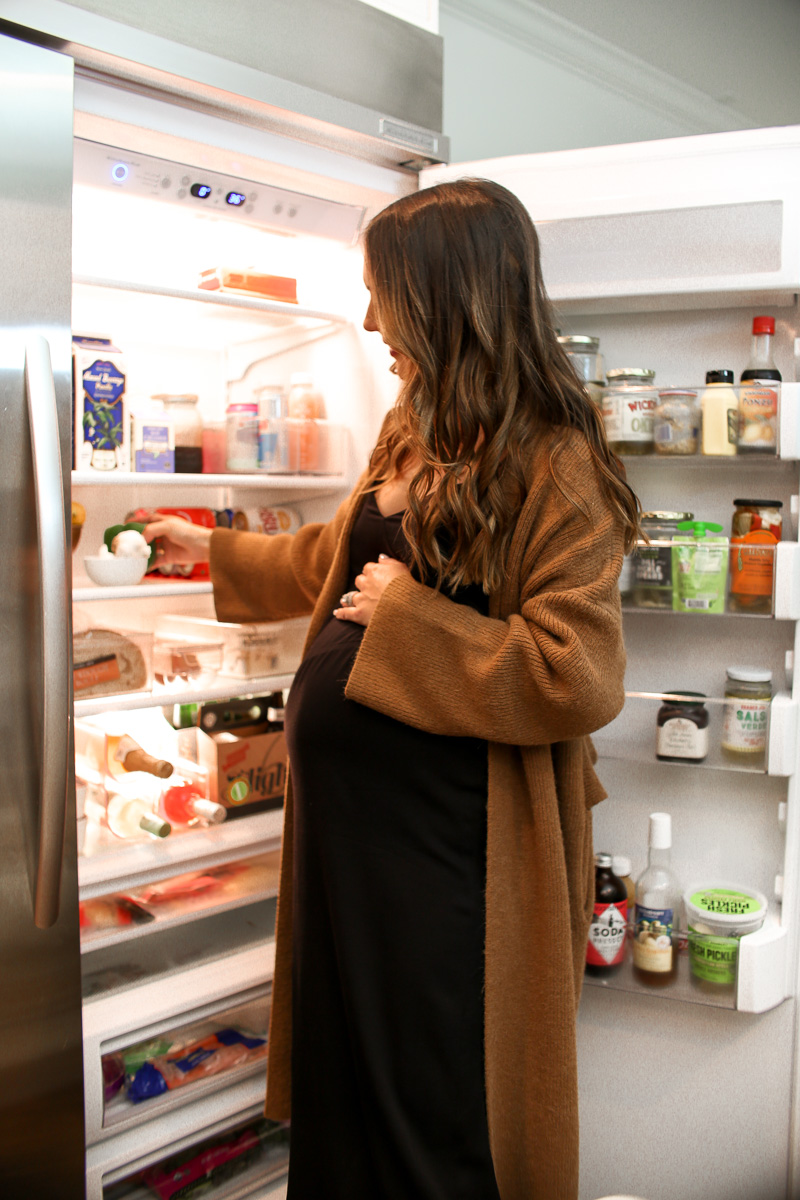 photos by Christian Barnes
dress, also love this one | booties | cardigan, also love this one and this one
If you've ever done a deep dive into your pantry or kitchen, I'd love to hear how you organized it!  Don't forget The Container Store's Kitchen Sale goes through 11/10/19.  And for another fab project with The Container Store, you can check out our bedroom closet transformation here and here.
Thanks so much for reading and sharing – XO –
brought to you by The Container Store