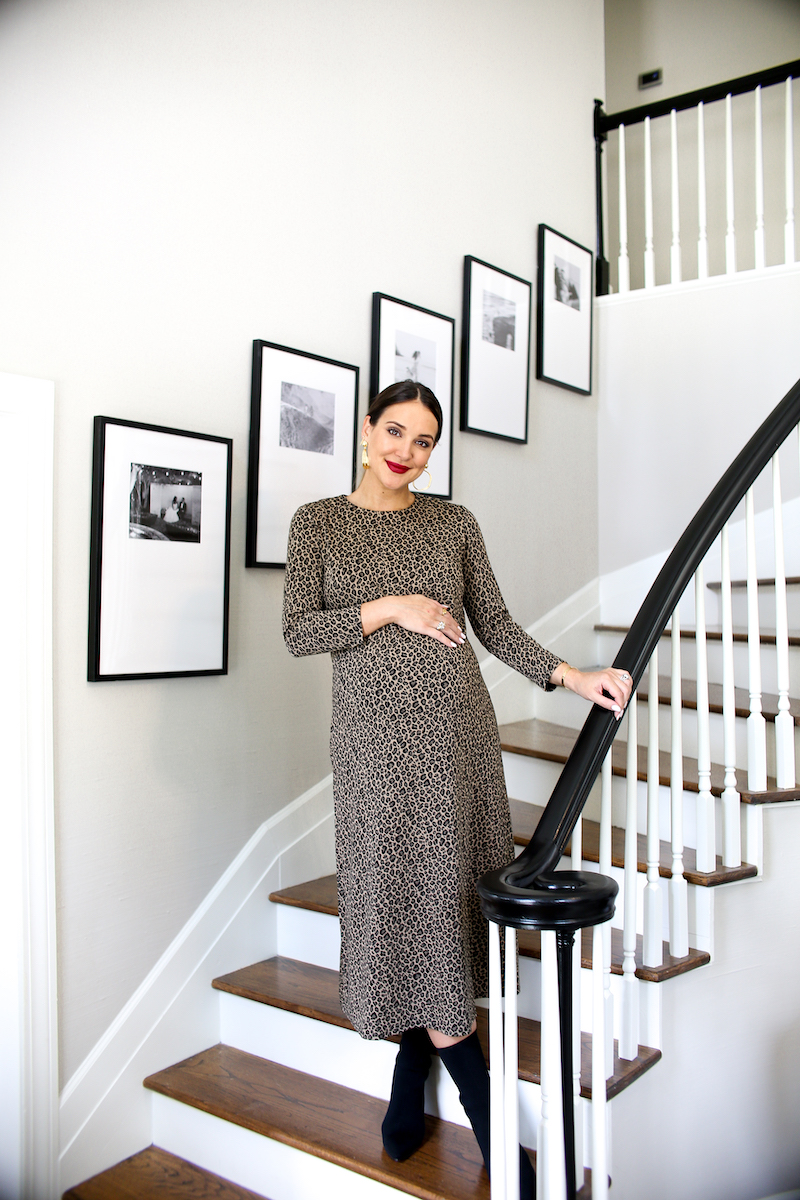 dress (sized up one size for the bump) | earrings | lip in Love Drunk | similar booties here and here | photo frames c/o Framebridge
Where do you begin with a new home?  Hire a designer?
I think this varies person to person depending on your confidence with your interior style, budget and motivation to decorate your home.  I have never hired a designer but for this home I knew we would need to purchase a lot of new pieces and wanted some assistance with those big decisions.  I have worked with two very talented local women on many of the rooms in this home.  Often times it's just me asking them, "do you think we should go with this one or this one?  These drapes or these?"  But just having someone else to help me with those decisions has been really helpful and absolutely worth the investment.
Will you do a home tour soon?
I don't think this entire home will feel complete for years, but I'll be sharing rooms as they are finished!  We just moved into this home in July and it's much larger than any space we've ever lived in.  Many of the pieces of furniture we've ordered take 8-12 weeks to even come in, so it's just going to be a process.  But I will share as much as I can along the way!  I'm also saving lots of snippets and links in the "GA Home" saved stories on Instagram.
Can you share more information on your rugs?
I plan on doing a full blog post just on rugs as this is so highly requested!  I still have to complete a few more rooms… we just moved in a few months ago so things just take time.  Most of the rugs in our Georgia home are from Annie Selke.
You can also search "rug" on this site tons of posts with the room's rugs linked come up.  I have also tagged rug sources in the "GA Home" saved stories on Instagram.  That saved highlight is where I'm saving all home sneak peeks before room reveals go live!
Will you share your tablescape for your Thanksgiving dinner?
I'm taking a more relaxed approach this year as I'm 35 weeks pregnant and just don't have the energy to go all out this year, but you can see previous years setups here, here and here!
What are a few items you splurged on for home decor that were definitely worth it?  
Our dining room light fixture is gorgeous and a splurge that I think it totally worth it.  Painting the exterior of our house was another splurge that was most definitely worth it!
Splurge vs. save for your house?
I always think sofas and chairs are worth splurging on.  We spend so much time sitting on furniture that it's important that it's both beautiful and functional.
I like to save on accessories and throw pillows.  I always want to mix things up so the big pieces are the only items that stick around for years and years!
Do you clean your own home or are you planning on hiring a service?
This is a question I get quite often that always surprises me.  But apparently you guys are interesting in house cleaning!  I had someone come every other week in Orange County, and she was incredible.  We still text and keep in touch, she is a gem.  In San Francisco I was quoted 2x as much to clean an even smaller space, so I cleaned our apartment myself that year.  Now that we are in Georgia I've hired two lovely women who come together every other week, and so far they have been wonderful!  I know when the baby is here I'll be more thankful for them than ever.
When I clean myself it takes at least half a day of my time when I could be working.  I don't mind cleaning, but logistically and financially my time is better spent working and hiring professionals.  I always do interim cleaning between their visits!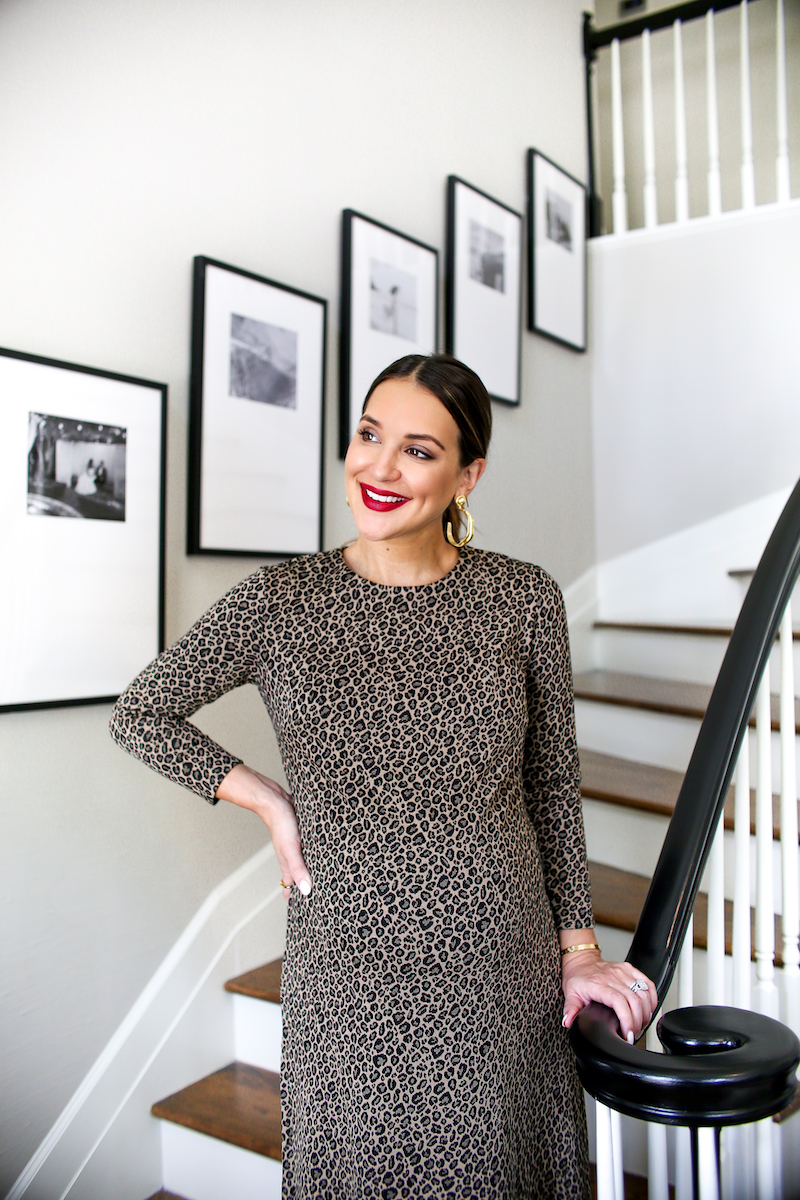 Just moved from Phoenix to Atlanta.  What are some good basics to start a winter wardrobe?

Welcome girlfriend!  Know that it never gets that cold in the South.  My mom always said if you live in the South, splurge on spring/summer pieces over fall/winter because you don't always get as much wear out of cold weather items!
My top picks would be:
OTK Boots, look for less here.
A fabulous scarf like this one or this one.
Do you have a boot spray recommendation for leather or suede boots?
Yes I always spray my suede boots!  I've used this spray but honestly any suede boot spray is great, it's more about just actually spraying them vs. which spray you use.
How do you style a slip skirt for a holiday party?
Love this question!  You can see some styled outfits in this realm here, here and here.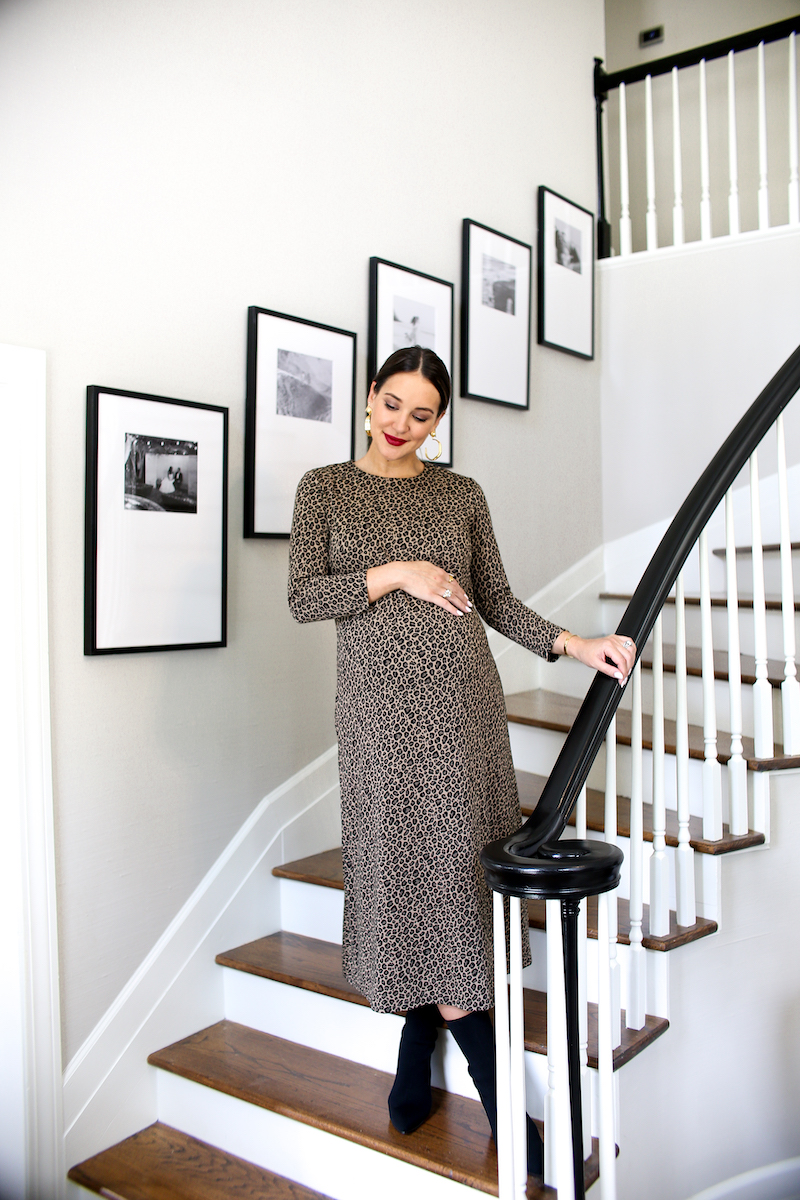 Etiquette on bringing/sending a gift to a gender reveal in addition to the baby shower?
The gift giving can seriously get out of hand for both weddings and babies, in my opinion.  I mean… none of us are the first women to ever get married or have a baby!  I think ONE nice gift is plenty to cover all the showers.  Rather than several small gifts, splurge on one lovely, memorable gift.  This personalized pewter baby cup is one of my favorite gifts to give those I'm close to.
You make pregnancy look amazing!  Do you think you'll miss it?
First of all, thank you, you're a doll.  I have been really lucky with a pretty mellow pregnancy and I don't take it for granted.  While I look forward to not only him being here, but also having my non-pregnant body (and clothes!) back, I do think I'll miss certain parts.  Almost every morning I'll drink tea in bed and I'll pull up my nightgown and watch him dance in my belly.  If he's in a weird position, I'll pat pat pat that lump and he'll move and even out.  We have a rhythm, just the two of us.  I've gotten caught calling him "my baby," and Christian reminds me, "I think you mean our baby."  I know I only have a few more weeks of having him all to myself!
What stretch mark creams or oils have you used during pregnancy?
I saved this in the "Oh Baby" saved stories (along with other pregnancy-related topics + links!), but I've been using this stretch cream.  I recently was gifted this belly oil so now I combine the two and put them on my belly and chest.  I haven't seen stretch marks yet, but I also hear this can be more about genetics than which creams you use.  However I'm still just using one in case it does help!
Is there anything you did that helped you not get morning sickness or other symptoms?
My annoying answer… not really.  I also think this might be genetics.  My mom and sister both had easy pregnancies with both their daughters and sons.  I've been fortunate to have a very similar pregnancy to theirs.  The girls I know who haven't enjoyed their pregnancies have said their moms had difficult pregnancies as well.  Tell me what you think!
What will your work pattern be like once you have your baby?
I think I have to have this baby and see how it goes before I can really know.  I know that I'll need some help with him so I can maintain at least three structured office days, but for those first six months I'm going to want to be right there for everything.  For the first two months we have hired some help from a guru in town who is literally going to teach me how to be a mother.  I already adore her and am so, so thankful to have her help.
Then we'll have to decide what's going to work best for our family – daycare, a nanny, etc.  Time will tell!  Trying to give myself grace and take it day by day.
Are you taking maternity leave?
Kind of… this baby is due right before Thanksgiving, and November and December are my busiest months of the year.  So that was really smart of me!  I want to give myself time to not only enjoy our first newborn baby but also give my body the grace and time it needs.  But I don't want to disappear from CBL during holiday!
I am working ahead as much as I can to pre-shoot before December and will take December slower than usual.  Thankfully January and February are calm months for me typically, so I know I will also have that time to slow down.
In a nutshell:  no, I don't have a traditional three-month maternity leave.  But I love my job, and I would still rather do this than anything else.
When will you announce the baby's name?
When he is born!  Truthfully we are still bouncing between two names.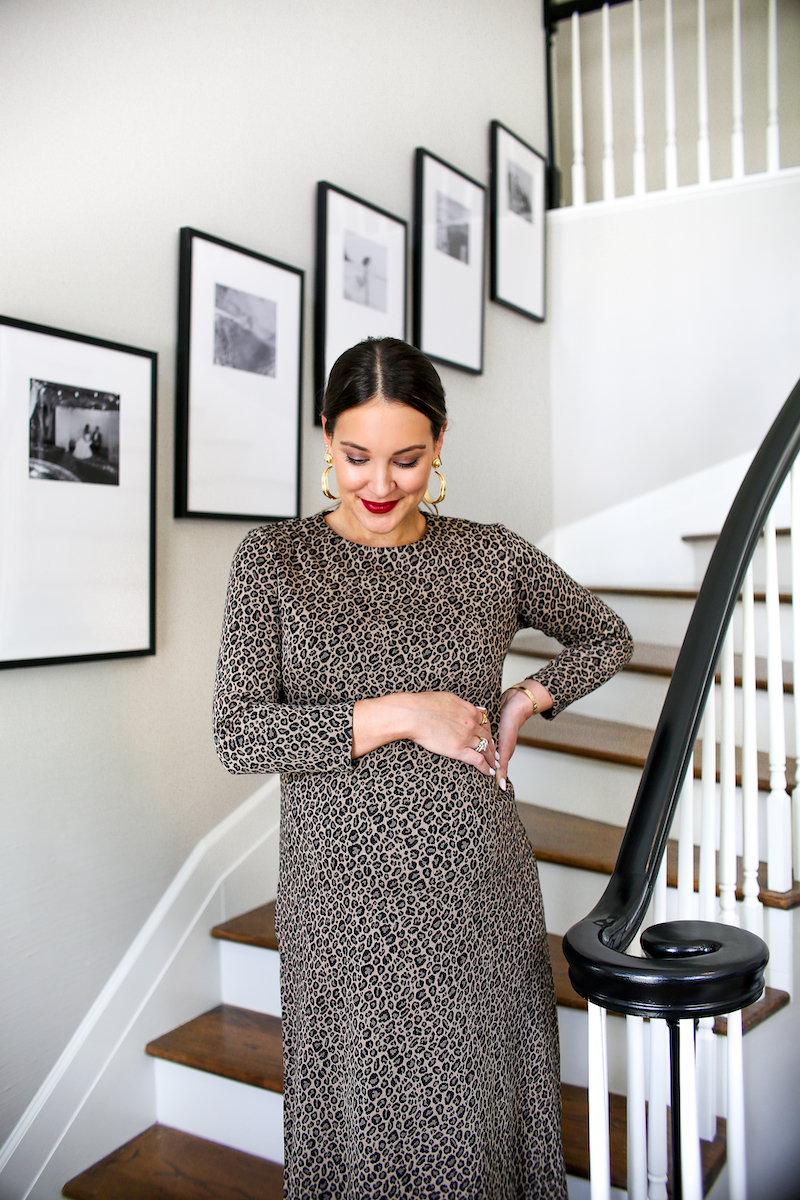 Best moisturizer you have used for dry skin this time of year?  
When your skin is dry, I think it's more about using a facial oil than the moisturizer.  I would recommend adding a few drops of face oil to your moisturizer or using around 5 drops of a facial oil on its own without any moisturizer.
The face oils I'm loving right now are this one, this one and this one.
Can you post your hair and makeup routine?
Yes they are posted on the blog!  Hair can be found here, makeup can be found here.
Do you wish you and Christian had moved somewhere even closer to family than Georgia?
I feel confident that we are where we are supposed to be.  This move fell right into place so easily in so many ways, and I am very calm and comforted knowing that I feel we followed where God led us.  That being said, my dad is getting closer to retirement and they'll be able to be more flexible.  My sister is a little over three hours away and my brother will soon also be a little less than three hours away.  We are 7-8 hours from Christian's family in Mississippi which is a little tougher, but thankfully they are a happy road trippin' kind of bunch!
What are your top tips for moving since you and Christian are pros?
I've got a whole blog post about moving tips for you here!  Or just search "moving" in the search bar and it will pop right up!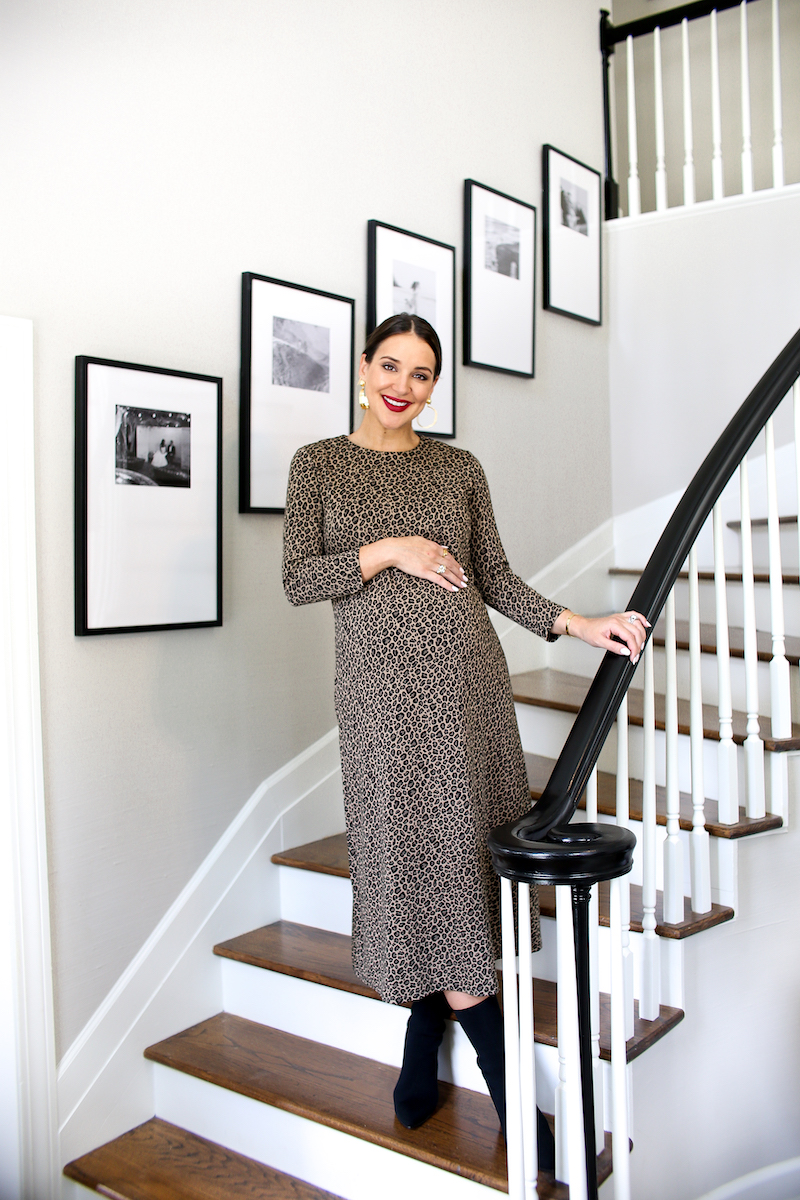 photos by Christian Barnes
That's a wrap for this month!  You can find my second trimester Q&A here and September's Q&A here.  If your questions wasn't answered here, it was likely answered in one of the earlier months.  Check the "personal" category for all of the Q&A's on this blog since March.
Thank you so much for reading and for your fabulous questions! XO –