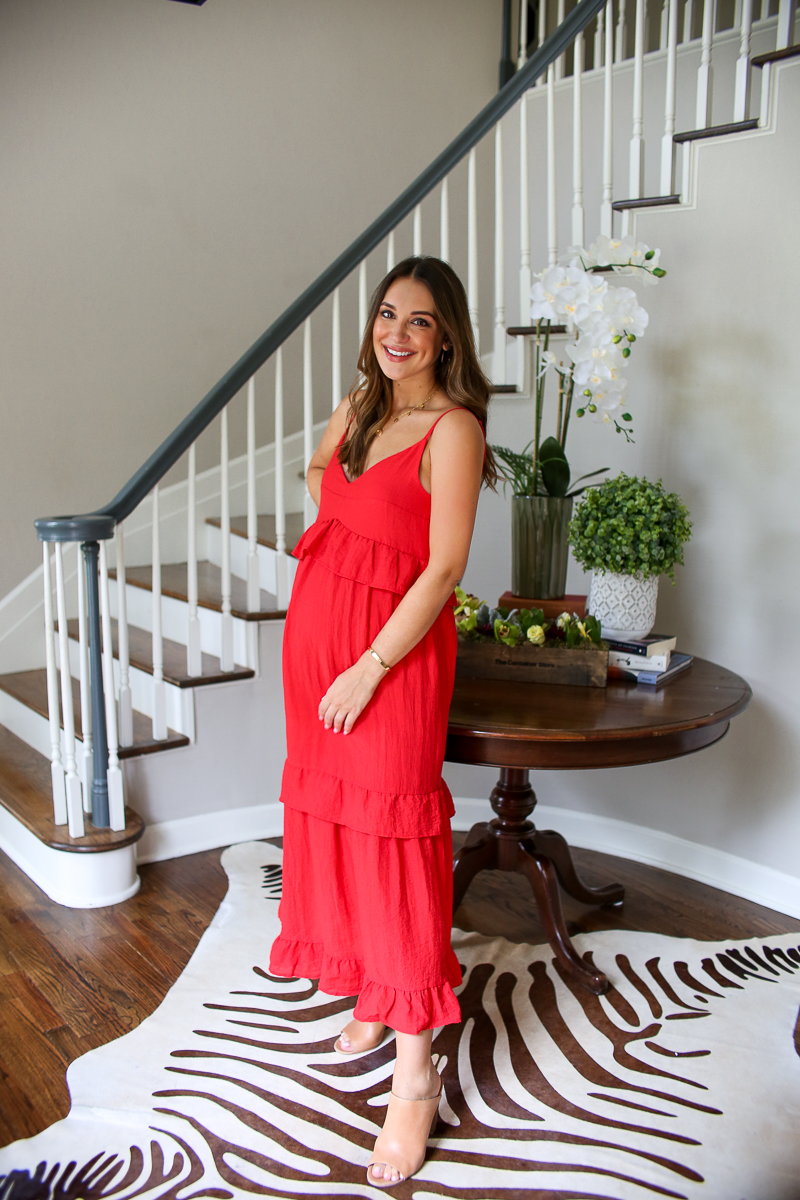 dress, also love this one (on sale) and this one | similar mules here and here | necklace 1, 2 | rug c/o Summerhouse, similar style here
I was a slacker in August due to our travels, but I'm back at it with our monthly Q&A!  For all the Q&A's up to this point, just search "Q&A" in the search bar and four posts should come up.
Any maternity jean recommendations?
So I have not ventured into much maternity clothing at (almost) 30 weeks pregnant, but I do have and love these maternity spanx, these jeans and these leggings + jeans.  I really like them!
I've read to order your usual size in maternity clothing, and that's what I've done.  It hasn't led me astray yet!
Baby bag picks?
For now I bought this insert and hope to use it in my Goyard or Louis Vuitton Neverfull and see how that works out.
What are you registering for?
I didn't make a registry until last week and I only put some really practical things on it.  We do have our nursery items, stroller, car seat and bassinet chosen and ordered so now we just need the little things (swaddles, bottles, diapers, wipes, etc.) that we are working on in the upcoming weeks!
I've had people recemmoned Lucie's List to me.  It might be helpful to those of you trying to compile your own registry.
Any morning sickness first trimester?
I talked all about the first trimester, how I was feeling, symptoms, etc. in this post and video!
Sum of it: I was really fortunate to feel great and did not struggle with morning sickness.
What's your nursery theme?
Super neutral with a few pops of "boy" in art and the rug.  We are hoping our nursery will remain the nursery for all of our babies and therefore want the majority of it to work for any gender.
What baby books have you read so far?
I bought Expecting Better and have read about 30 pages.  Not because it's not great, but because we have been so busy during this pregnancy!  I also intent to purchase Moms On Call after receiving so much positive feedback about it.
I'm not stressed about reading all the books and having all the things before he is here.  I want to enjoy how mellow this pregnancy has been, and enjoy the time I have left in our quiet house just C + myself and the pets.
I know when he is here that maternal instincts will kick in and we will figure it out one day at a time!
Do you have a birth plan?
My birth plan is to have the baby as peacefully as possible with the help of an epidural and doctors and nurses.  I will do whatever they tell me to do!  And I'm really thankful to have Dr. Barnes by my side.  As well as Dr. Williams, another Dr. Williams and Dr. Adcock (and he's a pediatrician!) a phone call away should we need them.
I will admit it makes me feel so much more relaxed as I know we have so many doctors in the family who will double check things for us in the instance we needed them to.
Where would you look for dresses for engagement photos?
It's been a long time since I was an engaged gal but I'd recommend sorting by color at Nordstrom, Revolve, Bloomingdale's, Shopbop, Neiman Marcus, ASOS and Rent the Runway.
And best wishes! 🙂
What's a quote you live by?
"Use what talents you possess; the woods would be very silent if no birds sang there except those that sang best."  Henry Van Dyke
What is something you do everyday that you think helps you be a better person?
WOW!  What a great question!  I try to keep up with a gratitude journal or sharing 3 peaks of every day over dinner with Christian.  Practicing an attitude of gratitude helps me to be a more understanding, patient and appreciative person.
I'd love to hear what you guys do!  This is such an inspiring question, right?
How did you train Bailey not to get on your furniture?
Christian started this when she was a puppy, and through disciplining her at a young age she learned that she isn't allowed on furniture, upstairs, in or outside without being invited.  She waits for the correct command before making her move.  When you have an 85 lb. dog living in the house, they have to be disciplined.  We remind her that this is our house and Bailey and Lula live in it.  Not the other way around!
Favorite budget-friendly handbag brand?
Polene.  Rebecca Minkoff.  Zac Zac Posen.  Gigi New York.  Leatherology.  Parker Thatch.
What's your home inspo?  When will we get a full house tour?
We are in our first home that really feels like an "adult" home, so I have been intentional to style it and fill it with grown-up pieces that are both beautiful and functional.
A full house tour may not come for quite a while because there are a lot more rooms in this house than we've ever had before (!!), but I do plan on revealing room by room in both photos and video as they are complete.
So far the closet has been shared here, and I think the breakfast room, den, nursery and dining room will be revealed in 2019.  Living room, guest bedrooms, office and master bedroom will hopefully be coming in 2020!
Do you ever feel resentful you put your career on hold to go with Christian for his job/school?
I actually feel really fortunate because I've never really felt this way.  Have we put other life goals and decisions on hold for his career?  Definitely.  But not neccessarily my career.
Every move was actually a positive change for my ambitions.  Moving from Mississippi to California changed the entire trejectory of my path for the better.  San Francisco was tough, but it was a time to open up more and connect with so many of you about struggles, therapy, and getting through challenges.
And now we are in Georgia in our first real "home," and I'm able to really settle in and take on decor and renovation projects I've dreamt of for years.  We have really been blessed to always be able to reach for the stars while still supporting each other's dreams.  And I know not to take that for granted!
How has your relationship changed since Christian is done with med school/residency/fellowship?
It's amazing.  Everything people say is true – life on the other side is a dream!  He is home everyday by 6PM.  He loves his office, coworkers and staff.  He is treated with respect and he respects them.  He feels appreciated, rested and excited about his job and that happiness pours into our relationship and home.
It's night and day.  If you're in medical training or your s/o is, what those ahead of you say is true:  IT GETS SO MUCH BETTER.  Your life will completely change for the better in time!
Is it an odd feeling to know you're done moving constantly and can establish roots?
It's really the best feeling.  I've never been someone who enjoys constant change, and I've looked forward to this moment since we graduated college!  We have both worked so hard to get to the place we are now, and we are so thankful… and relieved.  So, so appreciative to be on the other side after so many years of the grind.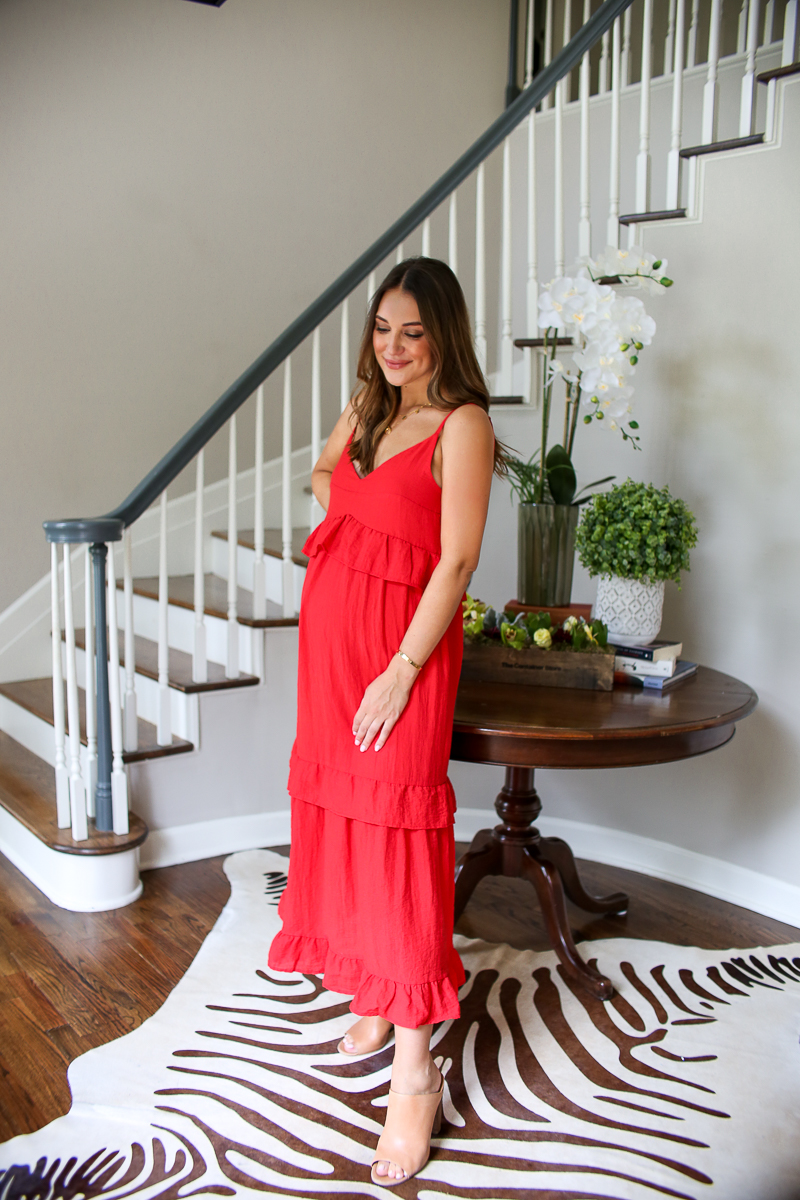 Thank you so much to everyone who submitted a question for this month's Q&A!  You can check out March here, April here, May here and July here.
A fun video is coming tomorrow to this blog, so I hope you guys will come back and check it out!  Thanks so much for reading – XO –