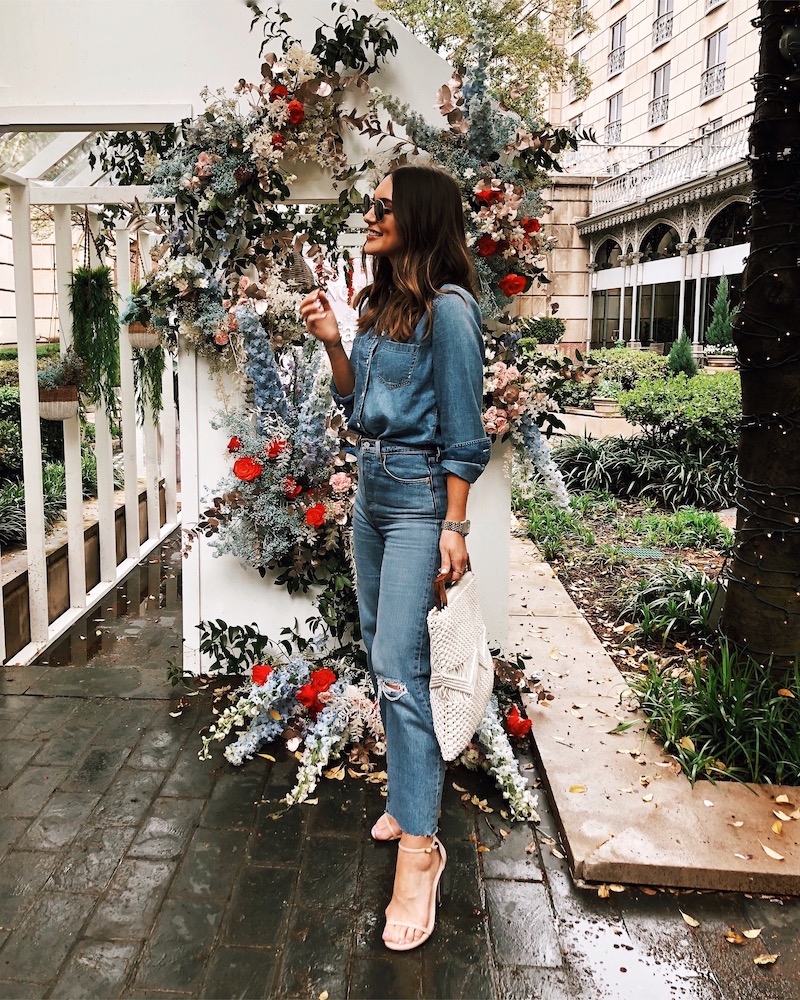 sunglasses | shirt | denim (25% off), also available here and here | heels | bag – Shiraleah
How do you deal with being so far from your family and having to live wherever Christian needs to live?
Great question!  I do feel really lucky that for the past six years, my brother's family has also been located in California as well (SF, LA and now San Luis Obispo).  So for holidays and important moments, we all have each other, even if Christian can't make it.
But even with that, it still can be hard.  I'd be lying if I didn't say that it wasn't.  But focusing on the fact that it's temporary helps.  And also… you know how sometimes you go home for a long weekend for a holiday and it's so chaotic?  There are six kids under 10 running around and after two nights sharing a small mattress and waiting for your turn to shower you're dreaming of your own quiet house?  I try to remind myself of that too.  That one day I'll probably look back on our Christmas day at the beach or Easter hike and think, "that was pretty special, just the two of us."
Laser hair removal… have you done it and did it work?
I have done it! I used it on my bikini and underarms.  It worked really well for about two years and then it seemed to come back (but still not as much as pre-laser and feels more fine).  I think most women who do laser hair removal have to be consistent with some maintenance once a year or so.  I'd like to laser my legs eventually as well!  Just manage your expectations.  There's no magic trick for anything, really – let's be honest!
Could you ever picture yourself on a Real Housewives show?
I mean… I wish.  Ha!  Honestly, Christian would never be a part of it and he points out that most couples end up divorced, which isn't untrue.  I know how much he would despise it so I could never do reality TV.  Unless he could somehow never show his face or be present (like Cameron's husband on Southern Charm… who also happens to be an MD).  In my dreams!
If you weren't a blogger what would you be doing in your career?
Before blogging full-time I worked in marketing, PR + social media and really loved it.  So I think I'd still be working in that space.
What do you miss most about working in a traditional office job?
The teamwork! I love being on a team and surrounding myself with likeminded, driven people.
When are you moving?  And are you excited about the next place you are living?
Christian's job starts September 1st, so we have two months of freedom this summer!  We are excited.  I think it's going to be a great fit for us and the future.  A hint: it's a place neither of us had ever been before, but we've only heard great things about.
That being said, we have been on the house hunt for months and it is bleak. I mean, I didn't think I would enjoy house hunting to begin with (house hunter shows give me anxiety), but I have been surprised by the limited selection.  Fingers crossed!
3 places you've never been that you want to travel to?
Bali, St. Lucia, St. Tropez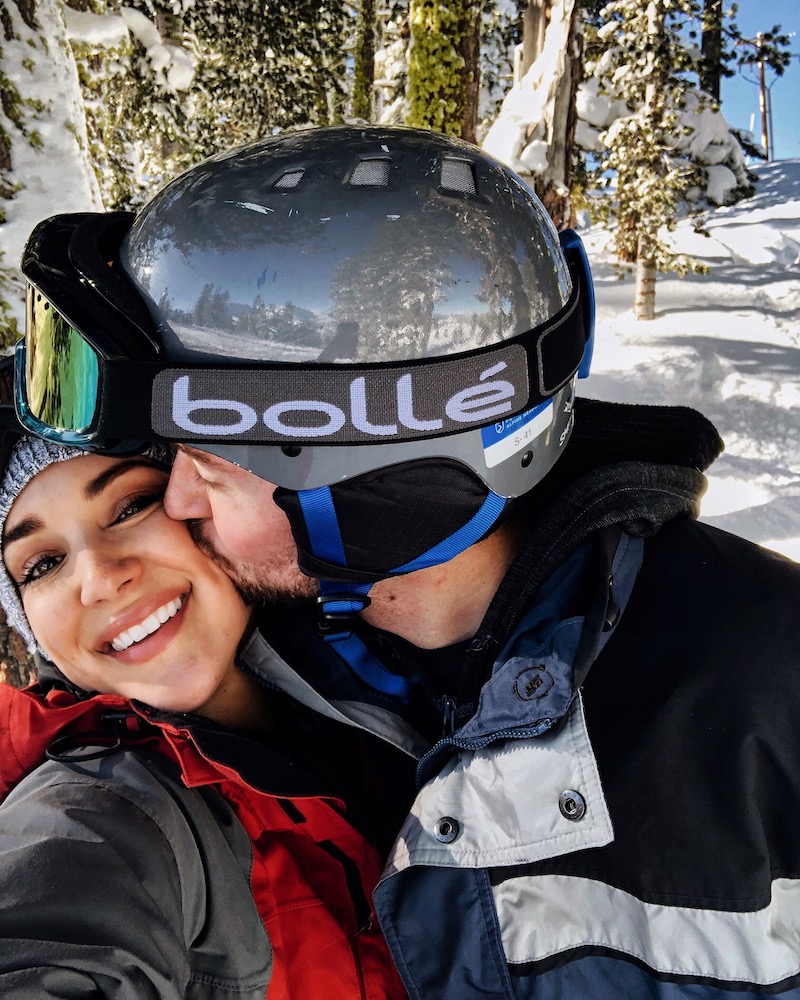 Tips for newlyweds?  What advice would you give yourself and Christian as newlyweds?
Great question!  I share more personal posts of our relationship in the marriage category of this site.  This post might be insightful to my biggest tip.  And I share the things we've learned over the years in these posts:
Has the adjustment to SF gotten any easier?
Yes and no.  It's gotten easier in the sense that we are now used to the lifestyle and it's the "new normal."  But when I'm visiting friends in various cities or chatting with my friends in Southern California, Nashville, Dallas, Mississippi, Louisiana, Birmingham, etc., I realize how uniquely challenging my simple day-to-day tasks are by comparison.  I mean… it's all relative to you, you know?
What are your 3 favorite things about San Francisco?
1) The tap water is SO fresh because it comes from Yosemite. 2) It's walkable.  3) It's never warm enough to get sweaty.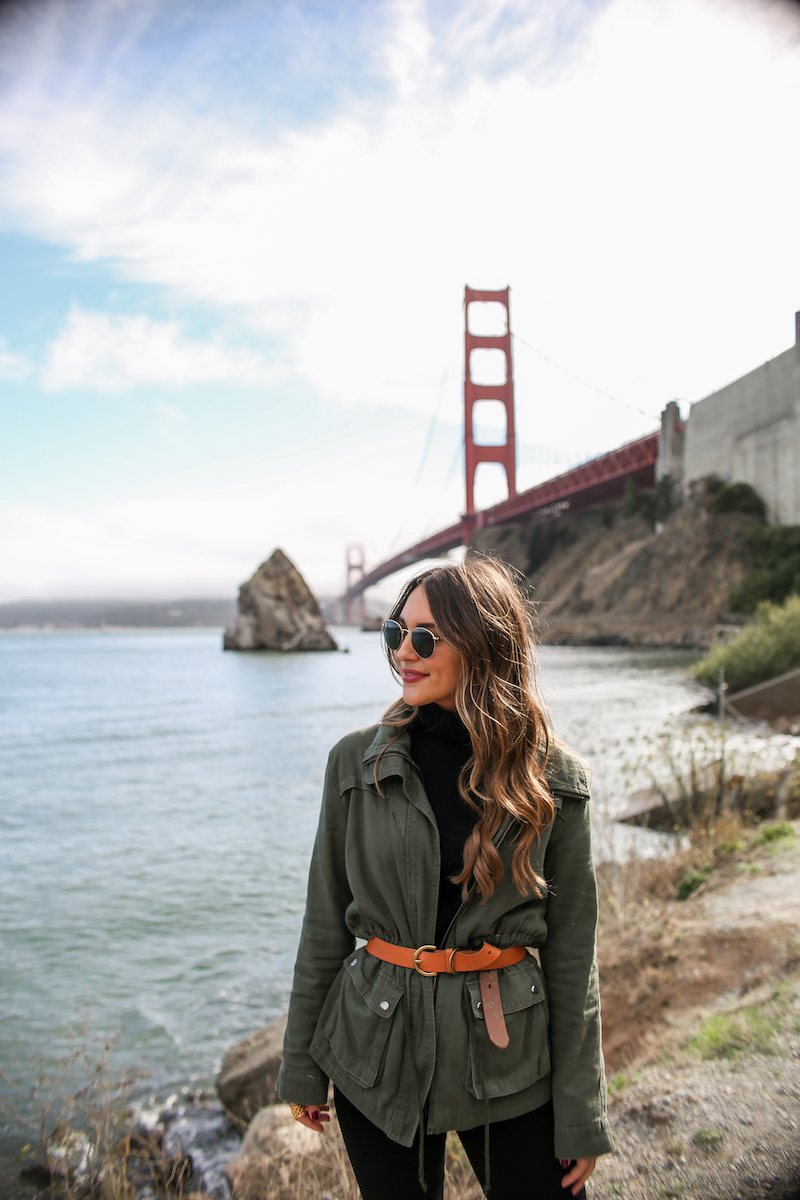 similar jacket here | similar belt | denim | similar turtleneck | sunglasses
What's your biggest tip for someone moving to the Bay Area this fall?
If you're moving to the city, make sure you check out SFMTA to make sure you have all the permits, signage, etc . you need to park on the street and park a moving truck.  There are no dumpsters so you're going to have to call a service a couple hundred dollars to remove your trash.  Don't invest much in spring/summer clothes because I don't know if there's been a day since July that I haven't worn a jacket.  And take your shoes off at the door (don't get me started on this map)!
What are you and Christian's enneagrams?
So I've taken this quiz twice and one time I got a 1 and the other time I got a 3… so I'm not sure which I am!  I asked Christian to take it and he got a 6!?  I don't know how I feel about this test or if I agree with it but I know people really love and live by it!
Would you move to another state to be with a long-distance boyfriend?
As long as it's still a location you would want to live in even if you were single, I say go for it!
How do you find your passion and the career you're meant to follow?
I read a book my senior year of college that essentially stated, "you'll never be fulfilled in your career unless you follow your natural God-given talents."  And that resonated deeply with me.  Spend some time thinking about your strengths and where you shine and try to find something that will utilize those talents you possess.
"Use what talents you possess.  The woods would be very silent if no birds sang there except those that sang best." Henry Van Dyke
Your authenticity is so refreshing, is it hard to be authentic on social media?
Thank you so much!  I beyond appreciate this.  It can be challenging at times.  I've made it my personal mission to be honest and truthful about highs and lows.  But anytime you're not 100% positive there can be some criticism that follows.
However I wouldn't trust someone if they only gave everything a 10 out of 10, you know?  So I just remember that the influencers and accounts I resonate with are the ones who's authenticity shines through, and that is motivating!  Along with this kind of feedback!
Are you a vegetarian?
I eat vegetarian about 80% of the time.  The remaining 20% I'll eat some fish and occasionally some beef or chicken but usually not much.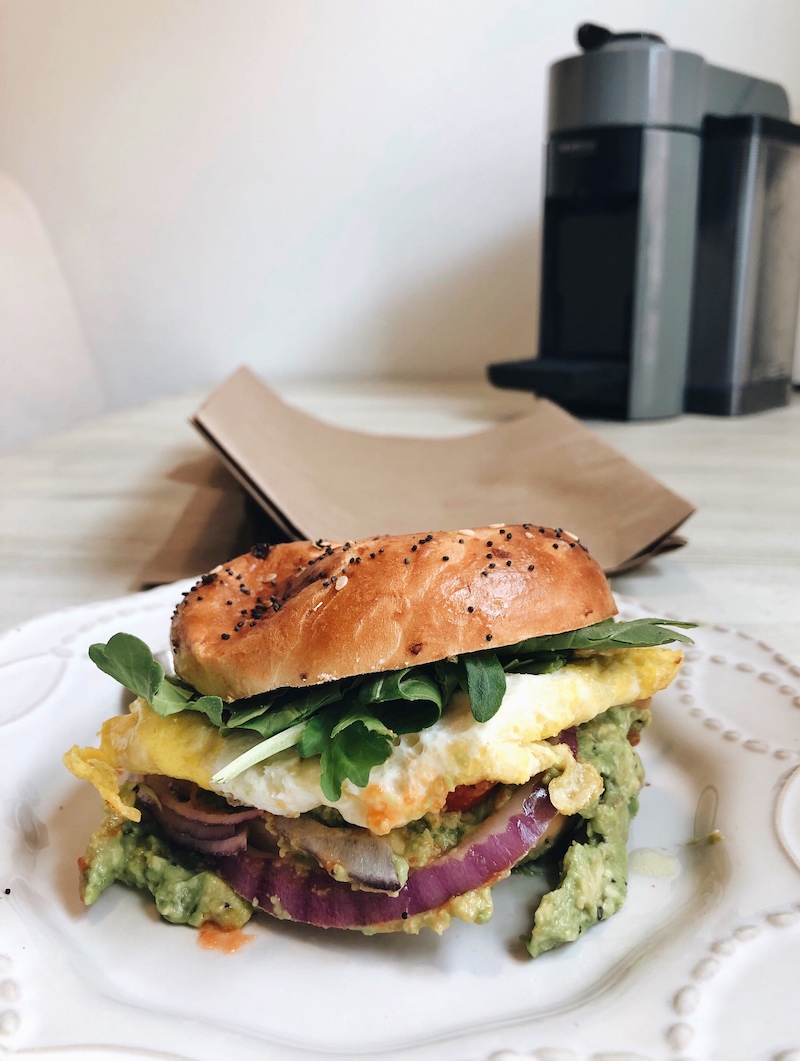 bagel, avocado + everything but the bagel seasoning, red onion, arugula, hot sauce, fried egg with pepperjack cheese
What do you eat in a day (but like, for real on a typical day)?
Honestly every day is different.  I always try to drink at least 70 ounces of water a day.  But lately my eating looks a little something like this:
8AM – Coffee with half and half
11AM – Avocado toast with a boiled egg and sliced tomatoes + everything but the bagel seasoning
3PM – String cheese and a honeycrisp apple… and a piece of chocolate (like the pb cups I shared in this post!). Sometimes a Diet Coke or Diet Dr. Pepper if I have one.
6PM – I start texting Barnez because I'm hungry and trying to figure out what time he'll be home.
7:30PM – I'll cook dinner for the two of us.
9PM – Demand a bite of whatever dessert Christian is eating (he has a major sweet tooth!).
What is the biggest takeaway you've gotten from therapy this year?
Not to be so hard on myself.  Stating what you need is not high-maintenance, it's just being clear, communicative and honest.  And the most helpful of all is how to see things from another's perspective, and from someone who genuinely has your best interest at heart while remaining nonjudgemental.  I've had many lightbulb moments in therapy that I'm so grateful for.  Therapist and counselors really have SUCH an incredible gift!
Would you ever get plastic surgery?
Totally.  I think everyone should be able to look in the mirror and like what they see.  Of course that goes without saying that a healthy self-image is important.  But if there's something bothering you that healthy eating, contouring and exercise can't fix – you do you, girl!
What made Christian choose head and neck surgery + facial plastic surgery?
"I love problem solving and Head and Neck Surgery plus Facial Plastic Surgery allows me to solve complex problems for patients that others don't understand. My training has taught me how to manage these problems medically, surgically, and through minimally or non-invasive techniques, so I feel I can educate my patients and help them achieve their goals through a variety of options." – from Barnez
Love how you throw meals together – what are your go-to spices/sauces/marinades to have?
Love this question!  I always have an "everything" seasoning, usually Shapley's from Ridgeland, MS because my mother-in-law gives it to us every Christmas.  I love Trader Joe's Everything but the Bagel seasoning.  I also LOVE these salt flakes that my mom got me hooked on.  I put garlic, olive oil and lemon juice on almost everything.  And my girlfriend Nikki introduced me to Trader Joe's Balsamic Glaze which can take a boring/simple meal and take it to the next level.
Thank you SO much to everyone who submitted these fantastic questions!  You can check out last month's Q&A here, and I'll be posting another one in May.  Thanks for reading and have a beautiful weekend – XO –