I always love hearing/reading what's in other people grocery carts.  I discover so many new things, and it helps me mix it up!  I did our weekly run to Trader Joe's last week, so I photographed my staples along the way.  Let's get into it –
I did a water taste test not too long ago (does that sound crazy?) so I could determine what my favorite sparkling water was.  Obviously Topo Chico is king, but it requires an extra stop, and I can be lazy.  TJ's Sparkling Mineral Water is always in my cart.  I add fresh lime or a splash of juice and it's delicious.  I literally go through at least two big bottles a week.  It really helps curb soda cravings.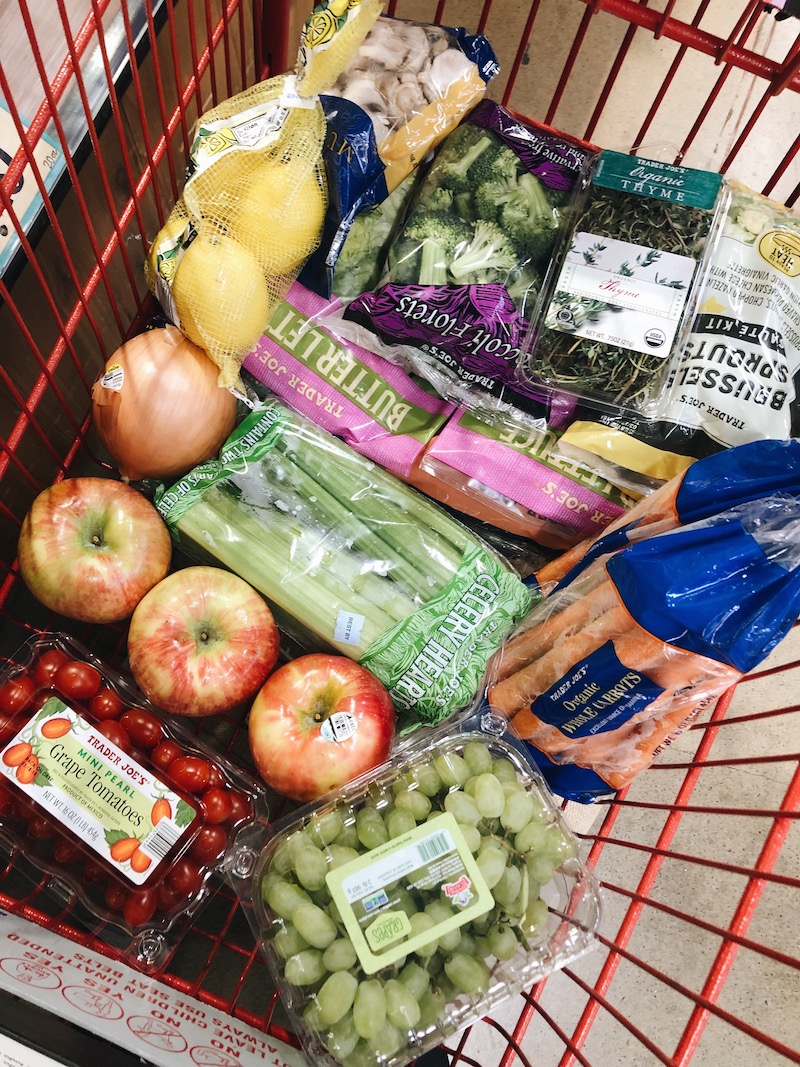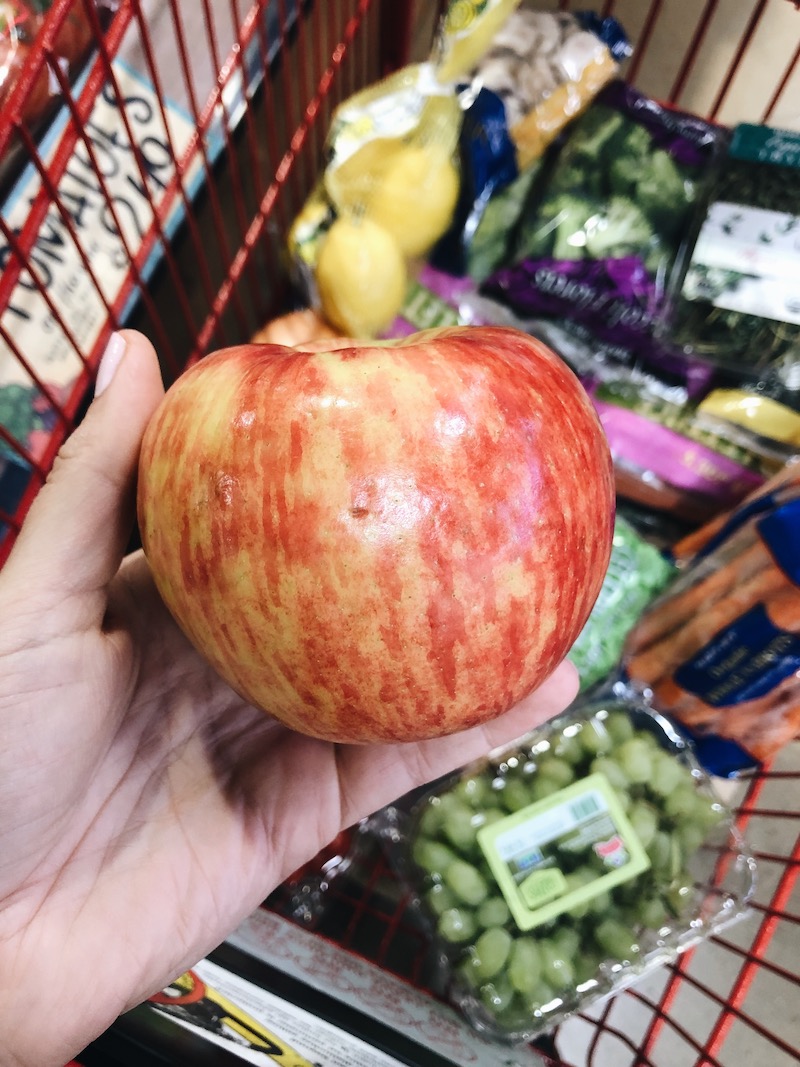 When I start shopping, I always hit up the produce and fill up my cart first.  I seriously love carrots… but not the baby kind (I feel like they have no flavor, anyone else?), so I will get two bags of those and some celery.  Honeycrisp apples are my favorite, along with fresh green grapes (I'll freeze some too to pop in white wine or sparking water/juice combos).  Kale, arugula, cherry tomatoes, lemons, broccoli – all great for quick side salads for dinner.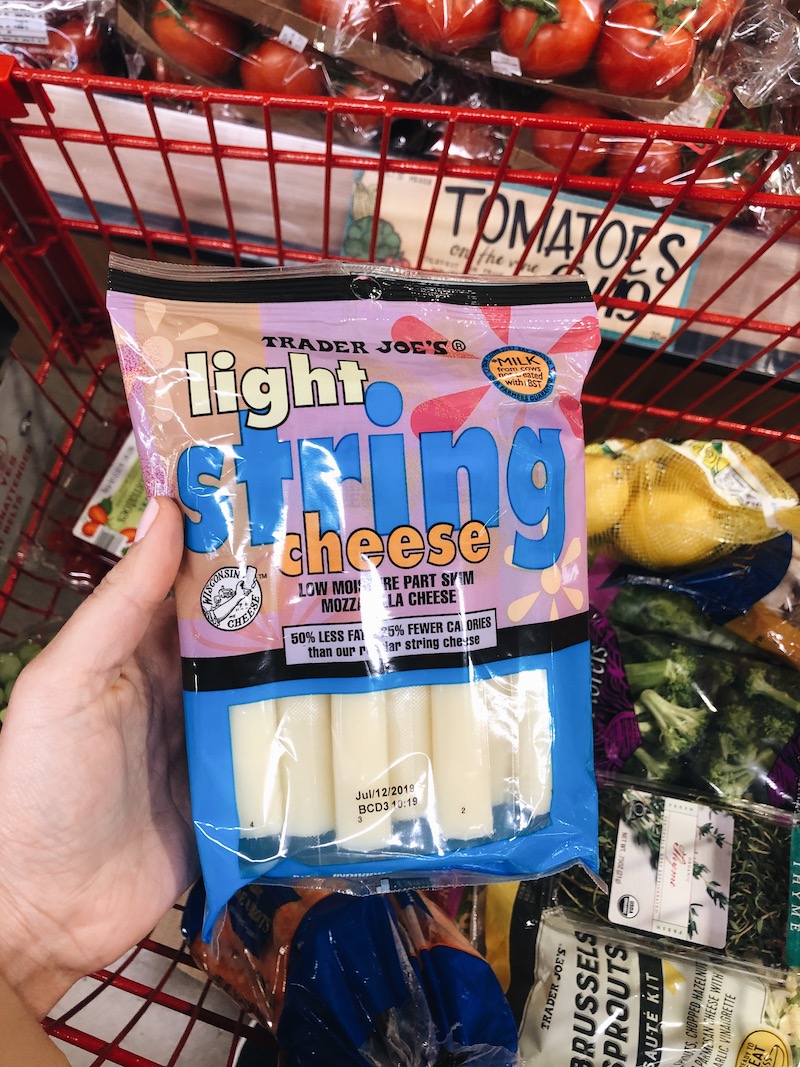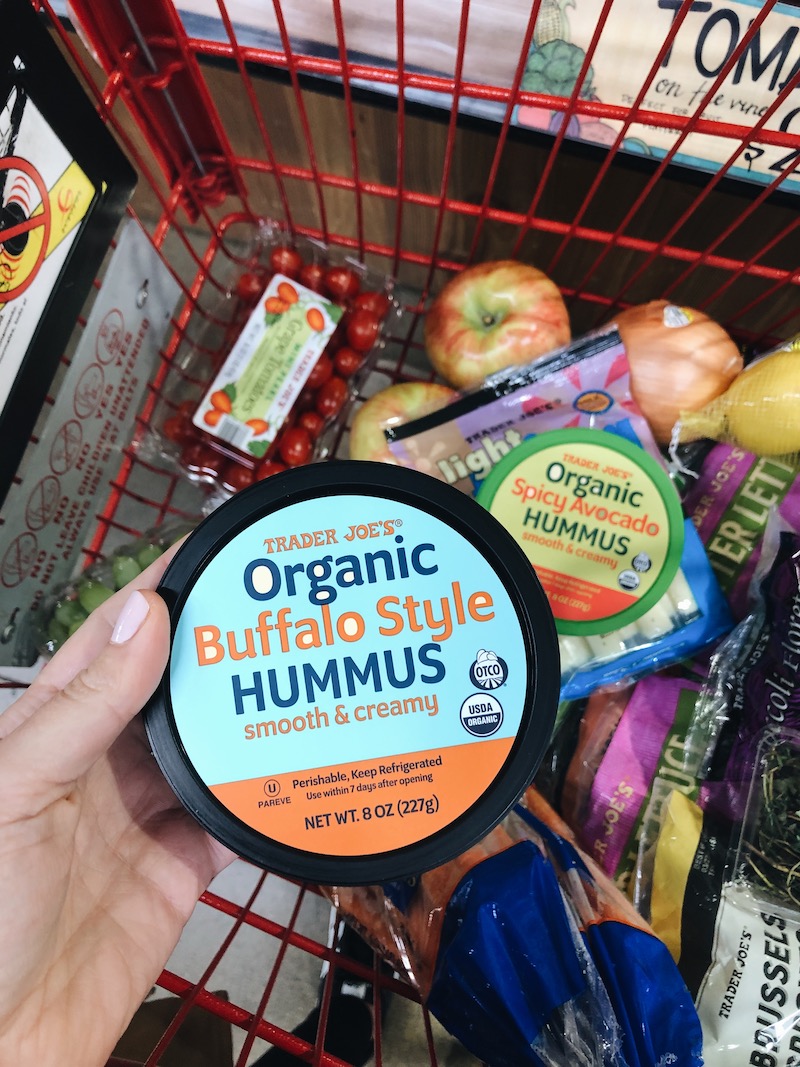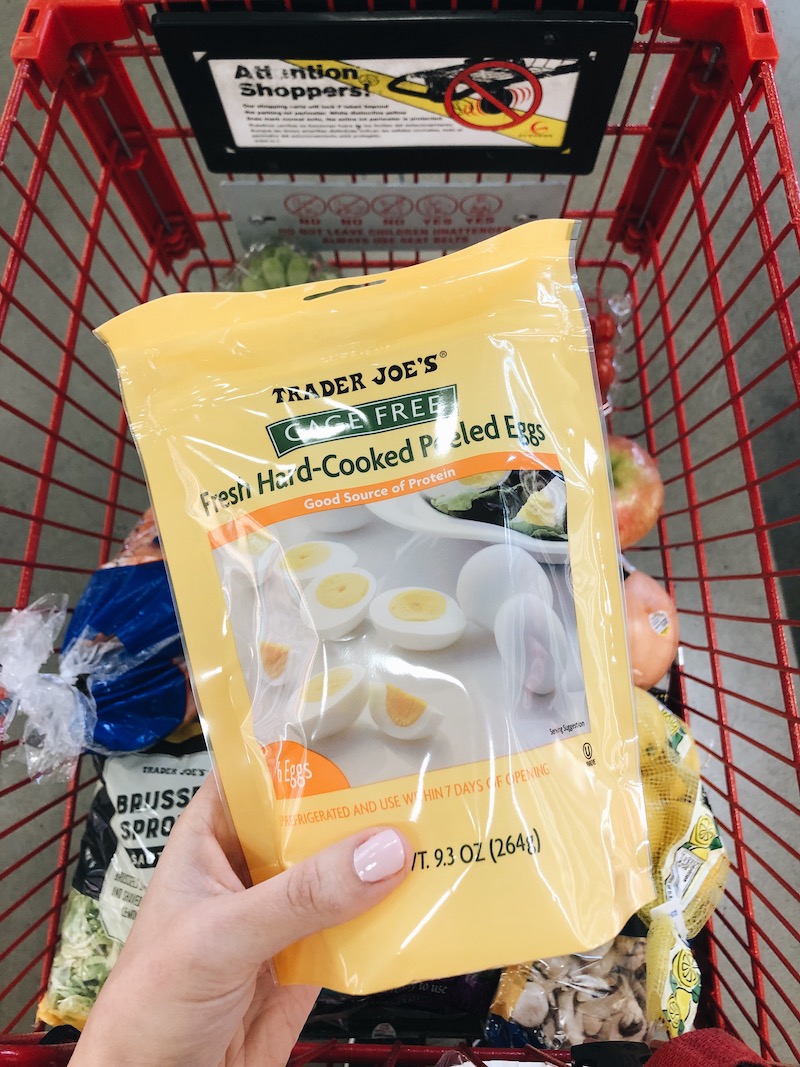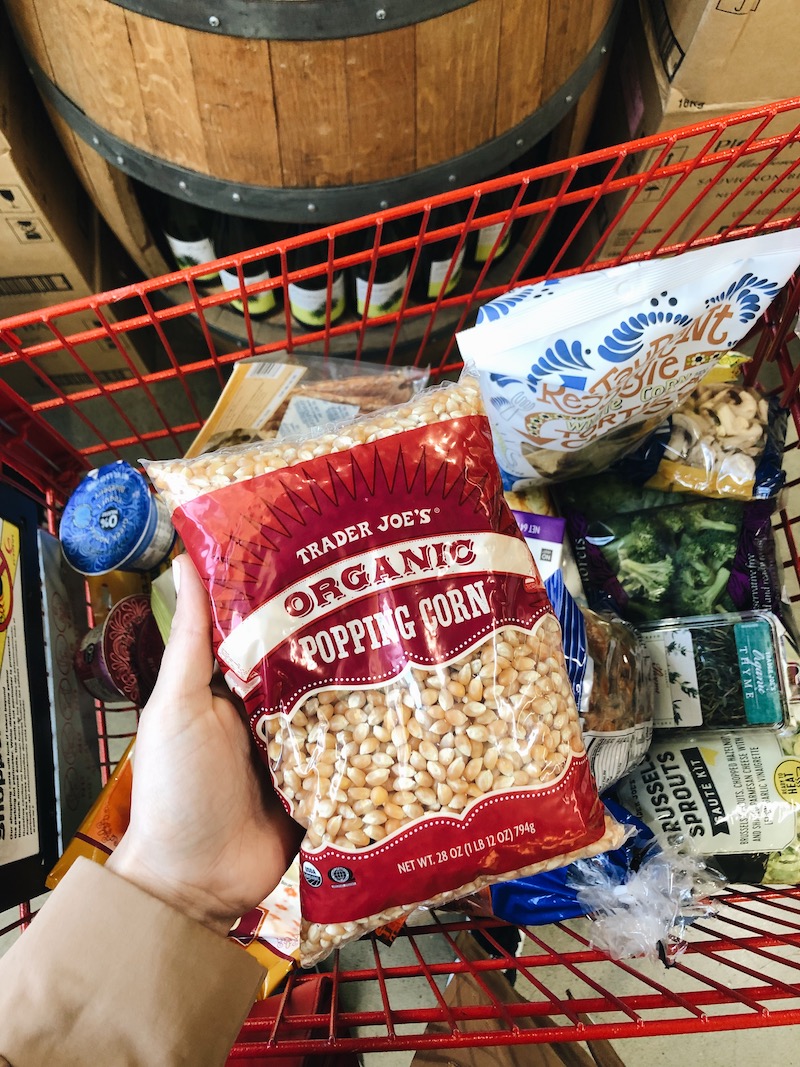 For snacks – I eat a string cheese probably every day.  I also love hummus to go with my veggies and hardboiled eggs.  I love popping my own popcorn in this handy device too!  I'll add different seasonings – sometimes salt flakes and olive oil.  Other times cajun seasoning… I just try different things!  If I'm really going for it I'll melt a few tablespoons of butter and drizzle that on top, but I try to save that for movie nights.
When it comes to snacking, I try to keep it as easy as possible so that I'm not tempted to reach for unhealthy things.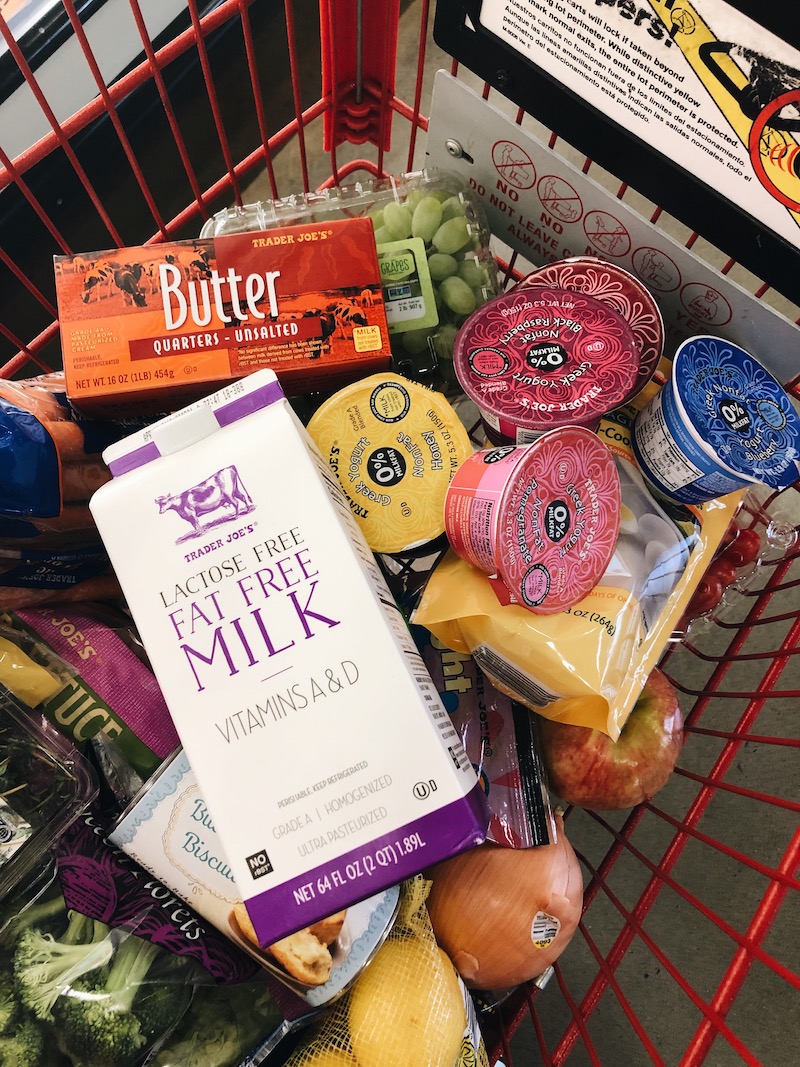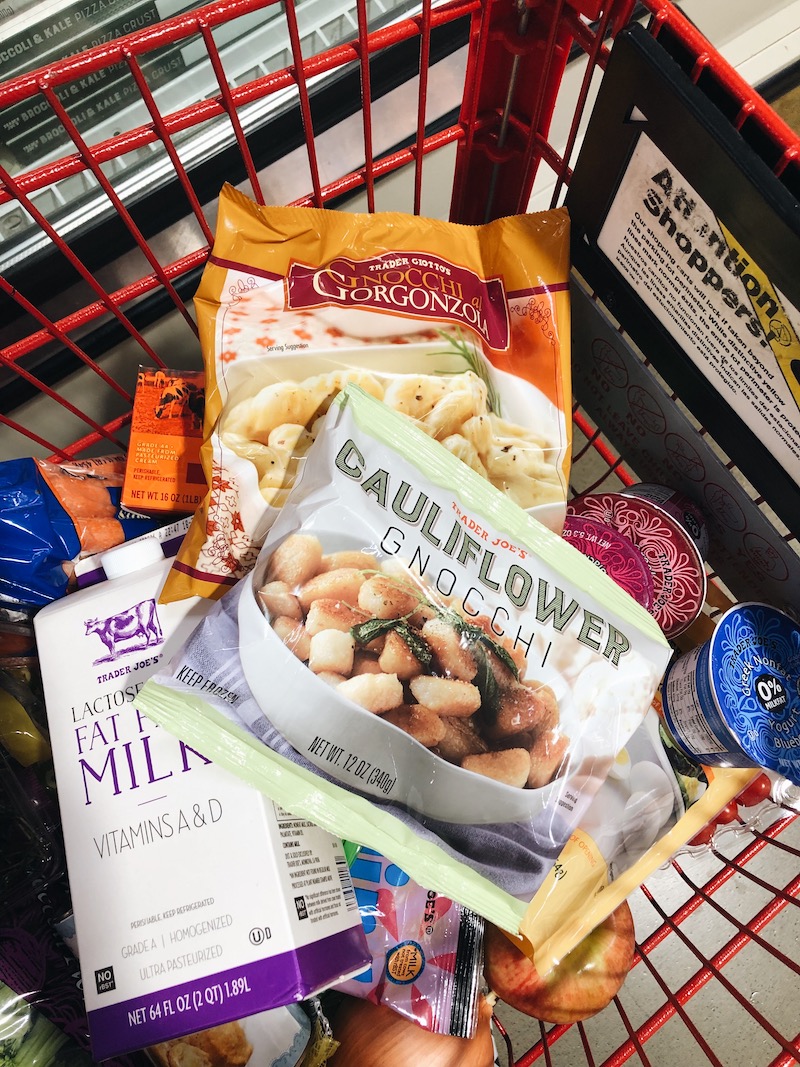 I like plain Greek yogurt because I'll use it in dishes in replace of sour cream, but I also like to toss a few small flavored ones in my cart in case I need a snack or I'm extra hungry in the mornings (I'm not a big breakfast eater).
Cauliflower gnocchi is one of my favorites of the many cauliflower options at Trader Joe's.  I'll mix it with their gorgonzola gnocchi and the sauce is enough to cover both bags.  BUT if you're only cooking the cauliflower gnocchi, I do not follow their directions.  I just pan sear it in a few tablespoons of olive oil until it's lightly browned one each side.  When I cook it like their directions say to, it's always soggy and just… not good.  Of course their cauliflower rice and pizza crusts are great too!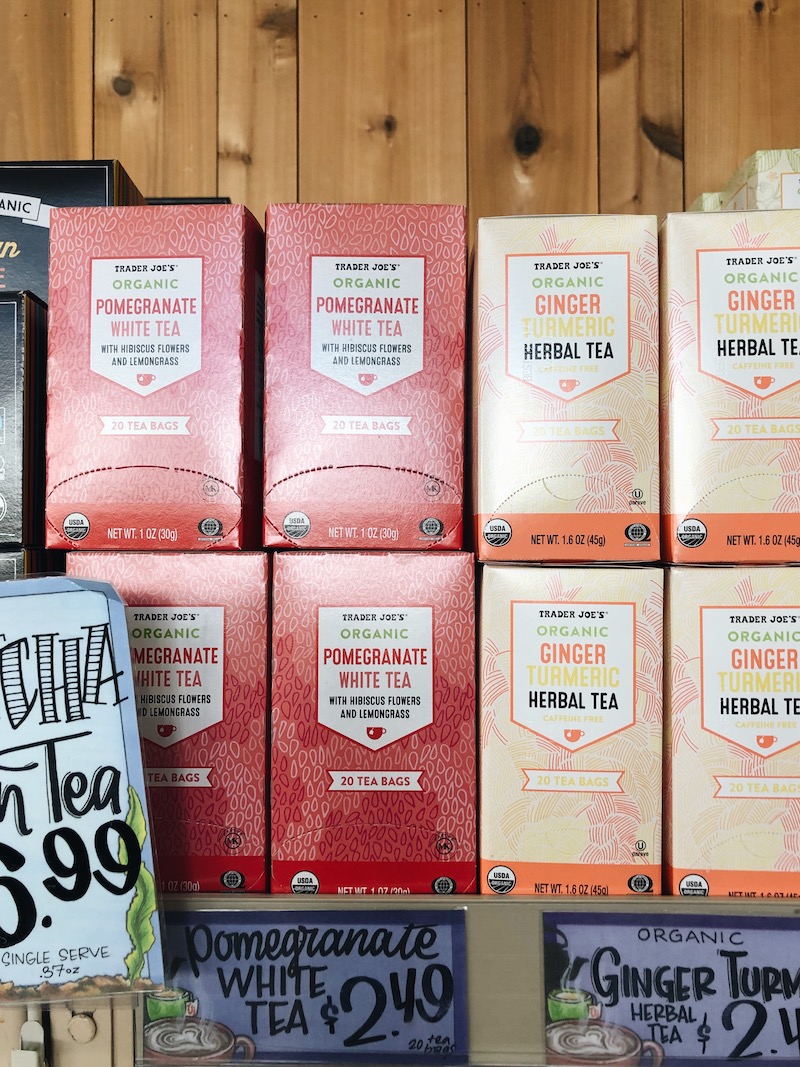 Their pomegranate white tea is SO good if you're a tea drinker!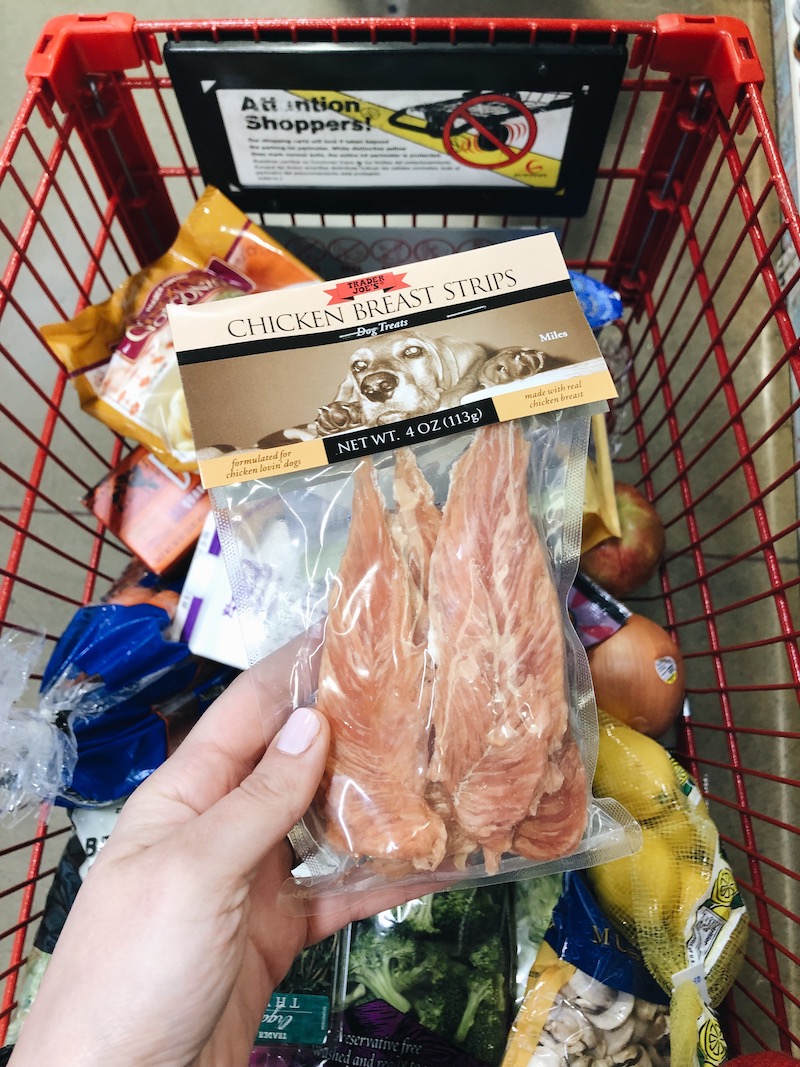 Now that Bailey is into the double digits and we walk so much to and from the park, we have a "4 o'clock snack time," and I'll give her one of these every afternoon.  I feel better about it because it's limited ingredients, and she now sits by the treat jar and waits for it.  I've created a monster!
Now let's get into those #treatyoself items…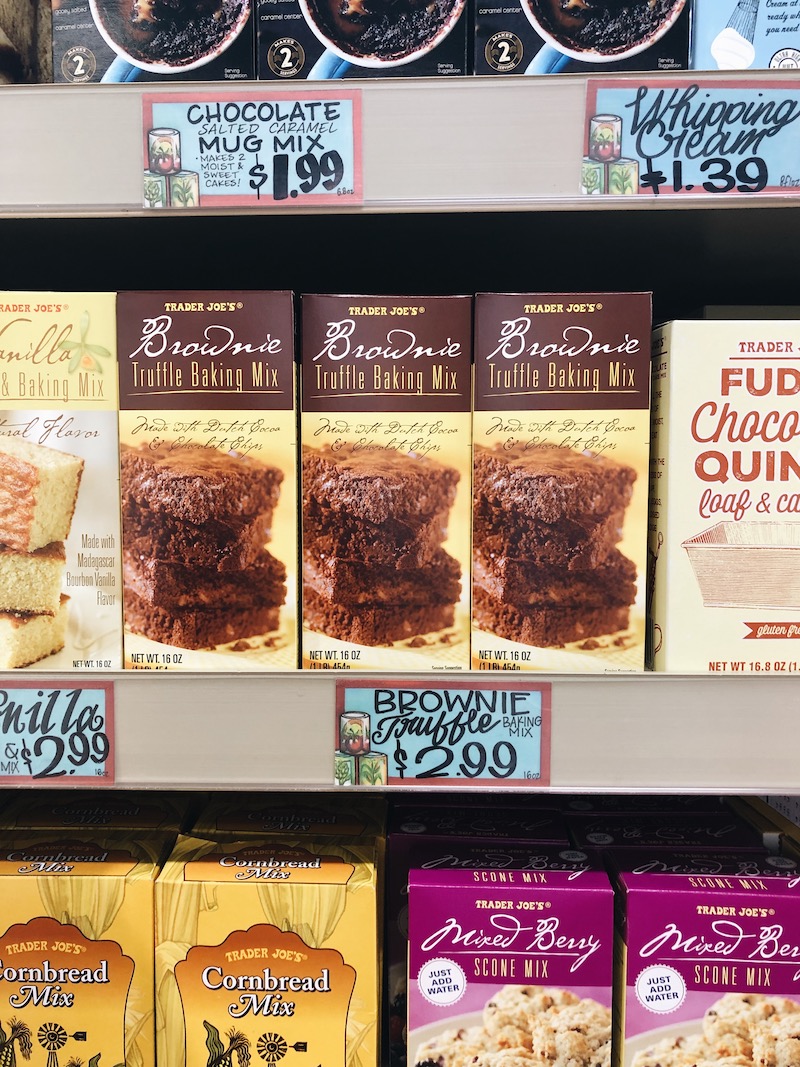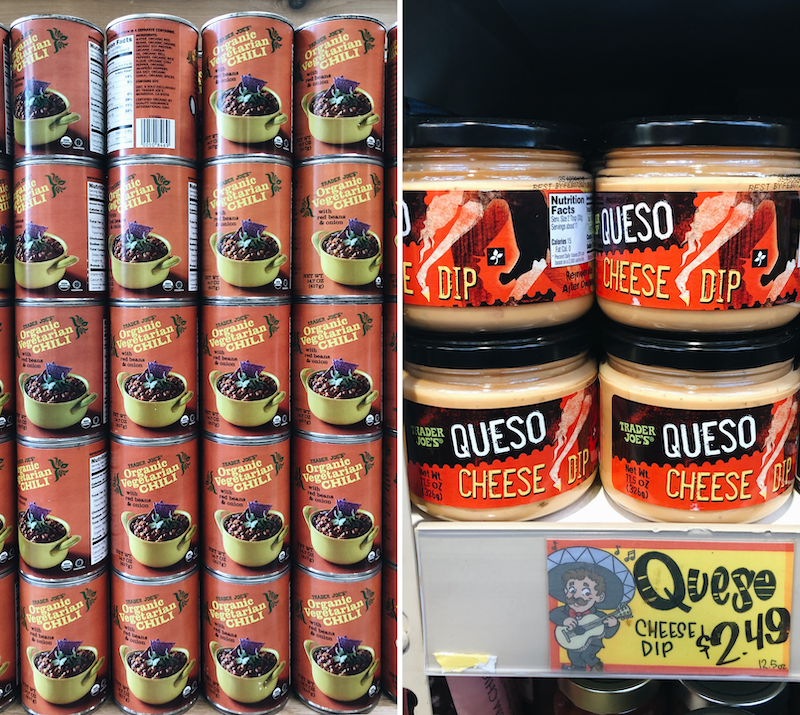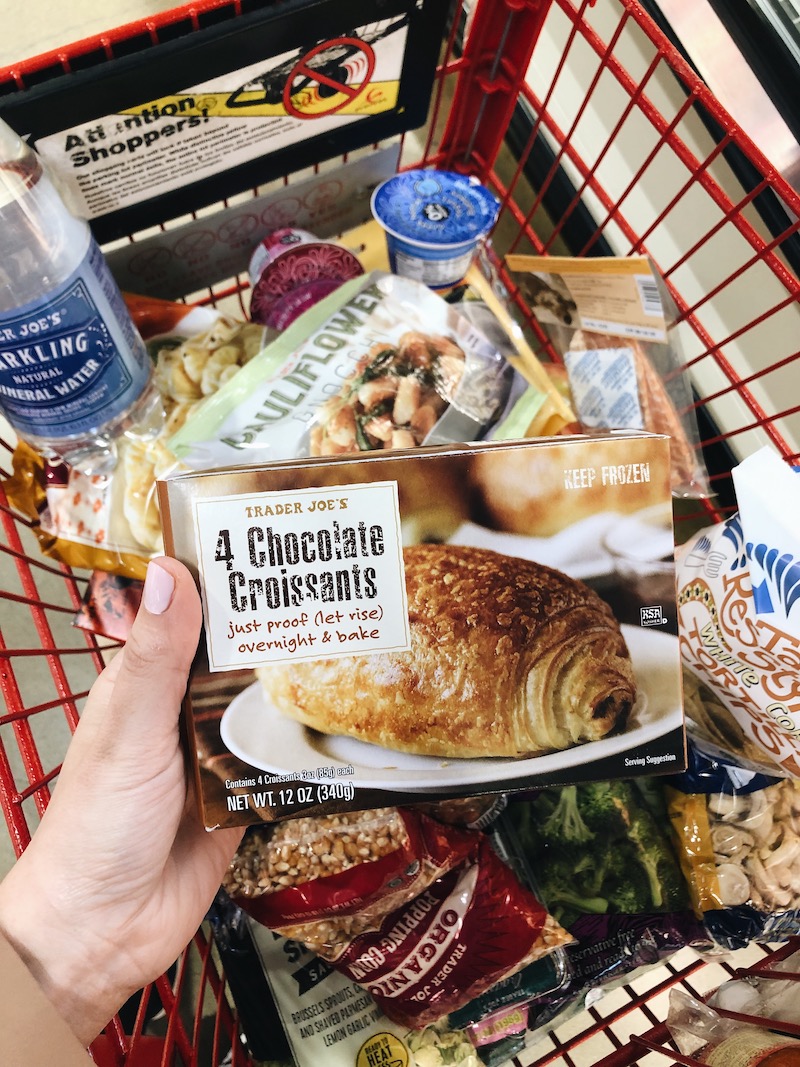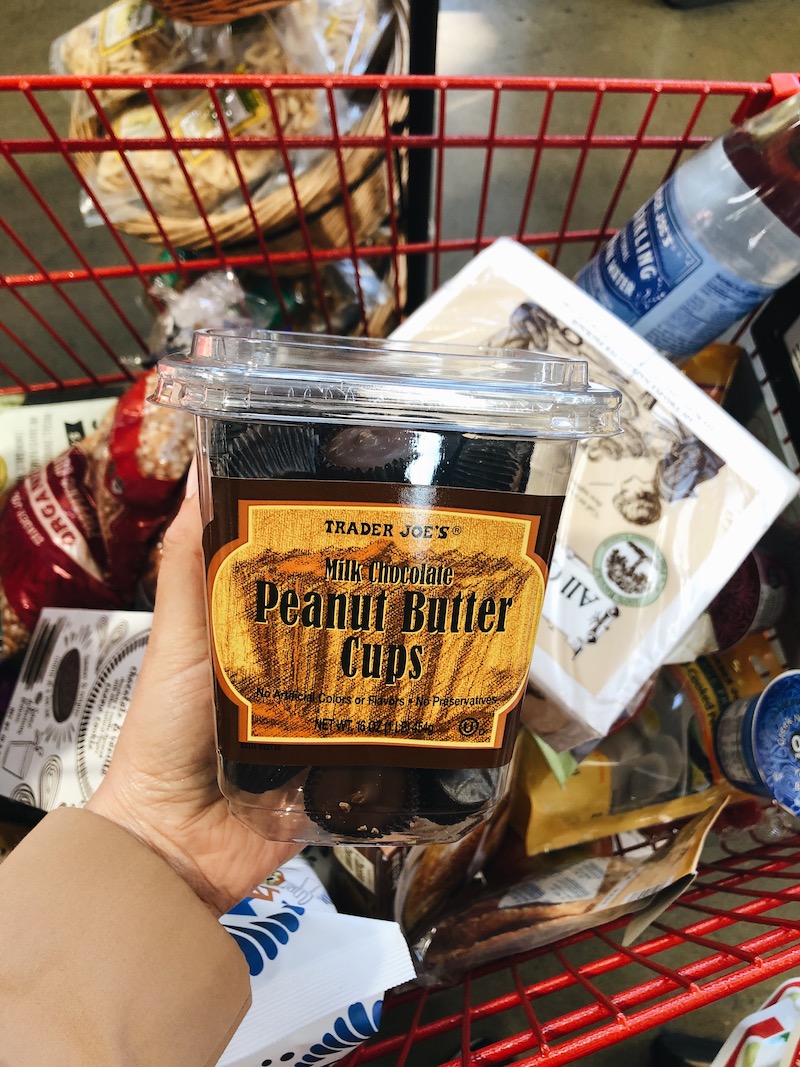 Christian's favorite guilty pleasure – their truffle brownies.  I have made them numerous times for parties and just sprinkle some powdered sugar on them.  Everyone asks me for the recipe… and they're just from the box!  Sometimes I'll throw in chocolate chips, but they're excellent on their own.
Lisa Allen shared on her Instagram that combining TJ's vegetarian chili + queso made an amazing dip, and now I both love and hate her because it's incredible and I'm addicted.  Christian thought it sounded gross at first.  Then I made it and now he loves it just as much as I do.  It's so good and great for a party!
If it's a special weekend or we have guests staying with us, their frozen chocolate croissants are so good you'll think they came from a bakery down the street.  I've also bought their chocolate croissants in the bakery section, but Christian and I agree these frozen ones are better.  You just have to remember to pull them out of the freezer the night before so they will rise!
And while we're talking desserts, you can't beat their peanut butter cups.  Love the dark chocolate ones too!  But I have to pull a few out and put them back in the cabinet.  Because if I bring the container to the den… it's over.
Tell me what you thought about this post and I can try to do them more often! If you have a favorite Trader Joe's item, I know everyone reading would love to see in the comments!  Thanks so much for reading and sharing – XO –