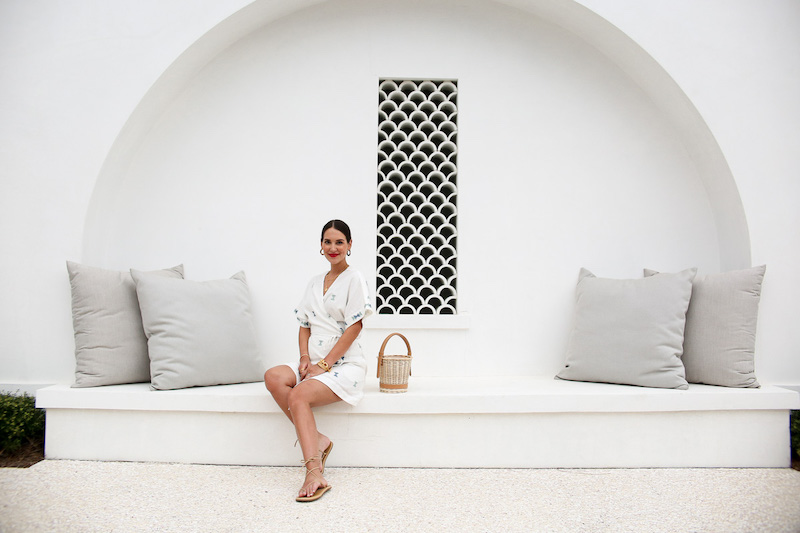 similar earrings here and here | dress (runs TTS) | bag | similar sandals (over 30% off) | lipstick in rouge muse
What are you most excited about for baby?
Seeing Christian in this person.  I think to see the love of your life in a tiny person your body created… it's just indescribable I'm sure.
Favorite part of pregnancy?
Feeling the baby move every night – it reminds me that there really is a little person growing every day in there.  It's crazy.
Are you finding out gender?
Yes we found out!  We recently told our families and have some close friends to tell before announcing it to the world… and I have to think of how to do it!
Do you have names picked out?
Almost! We are between two names for the first name but haven't settled on a middle name.
Will you be rounding up your best pregnancy-safe products?
Not exactly.  And here's why – everything is relative.  When I found out I was pregnant, I went through my entire medicine cabinet and read the ingredients on every single skincare product I was using.  Almost half I couldn't use anymore based on the google research I did.
I am nervous to share what I am or am not using because pregnancy can be such a delicate/opinionated topic and even my SF and GA OBGYN's have felt differently about some ingredients.  Therefore I really recommend you read on what you're comfortable with and consult your doctor to find what's right for you.
What are you most excited about and most nervous about becoming a mom?
Excited:  I am deeply invested in the happiness and comfort of our 12+ yr old pets.  I think about them all the time, helicopter any sitters we have for them and ask the vet more questions than I ever ask my own doctor.  I am genuinely concerned I might love our baby too much.  Is that normal?  Probably not.
Nervous: That my interests or hobbies will change.  We want to have children to add richness to our life but not completely change our life… you know?  It's important to me we have other joys and things to talk about other than our kid(s).
Biggest cravings/food aversions?
Honestly, none.  There was one Peruvian restaurant in SF that I swore smelled like a dirty dishwasher and I nearly had to leave… but other than that the only time I've been nauseas is in Prius Ubers.  Thankfully I haven't had to take any lately!  This pregnancy has been pretty breezy… that or I've been too busy to notice that many changes.  Who knows!
TTC (trying to conceive) journey?
I mentioned in our announcement post that this baby was not a surprise and was something we wanted in 2019.  I had no idea if it would take one month or a year, and we were surprised that it didn't take very long.  Therefore I didn't get too deep into apps or products as I was going to give myself a six month grace period before getting too technical… but who knows what the next time will be like.
How many kids do you want?
We both came from families of 5 and joke that we are going to see how much we like the first two before deciding if we want a bigger family. Ha!  We both love working, so having three kids along with careers we are deeply invested in feels like a lot.  However, people do it all the time, so it really just comes down to what we personally think we can handle while still feeling fulfilled professionally.
Are you going to transition your blog to mommy things?
I hope not… and I hope that doesn't sound bad!  I share my life – fashion, travel, home, food, marriage, all of it.  Motherhood moments of course will be shared but fashion, home and travel will always the main focus of this blog.
What are you renovating in your new home?
Besides painting and doing some exterior work, we only want to revamp the bathrooms and then we we will be done!  The previous owners thankfully had fantastic taste and we love all the updates they made.
I want to purchase my first luxury handbag.  Tips in what brand is worth investing in?
Absolutely!  The below blog posts are a great starting point –
Most & Least Worn Luxury Accessories (& Why!)
5 Designer Pieces Worth the Splurge
Favorite Sites for Gently Used Designer Goods
How or did you deal with feeling that you weren't at the right point in your life as others?
LOVE this question.  I absolutely have dealt with this and addressed how I stop the comparison game in this blog post.
How come Barnez is around more lately?  He was working so much in SF!
Christian has now passed both his ENT and Facial Plastics board exams (four exams total – so proud of him) to become double board certified and is waiting to get his Georgia medical license.  We took July + August to move, get settled and travel before he starts work in September.
Did Barnez go straight from undergrad to med school or take time off/work in between?
Smarty pants Dr. Barnes was on full scholarship for both college and medical school and went straight from school to school without breaks.  He's 32 and just now finished with school and training, getting his big boy job.  God bless.
Thoughts on when to start a family while on the medical training journey?
Many people start families while in training, and it absolutely can be done.  Personally, I feel it really depends on the speciality and where you live/how far you are from support.  My brother and brother-in-law are in radiation oncology and pediatrics.  Both have more manageable training schedules and they both had multiple kids in training and were able to make it work.
Christian was in head & neck surgery and then facial plastics.  His schedule was truly insane.  If we had chosen to start a family in training, living across the country from both of our families, it would have led to a significant increase in stress and struggle, which is why we knew we had to wait.  It's completely personal to your life and what you think you can handle!
Will Christian's schedule be more stable now that you are in Georgia?
YES.  Which is one of the biggest pulls that brought us to Georgia – the day-to-day quality of life.
What other cities were in the running before you moved?
It was Georgia or two different positions in Orange County.
What advice would you or your husband give for someone just starting med school?
Kat:  Buckle up.  It is a long road filled with a lot of sacrifice for not only you but also your partner.  More tips here!
Christian:  Do your best to try to enjoy each phase of it and take one year at a time because if you're just holding your breath until you're done… it can be overwhelming.
What is the best 5 year jewelry gift to request for an anniversary?
Diamond stud earrings (on sale here!), Cartier Love bracelet, Michele watch or anything Monica Vinader.
Where did you get your pet bowls?
Love this question. 🙂  I love our pet bowls and they're both from MacKenzie-Childs!
How do you make friends as an adult?
I shared my tips in this blog post.
What are some of your favorite Athens discoveries so far?
I am embarrassed to say that we have been in town for about a total of three weeks, most of that time being spent working on unpacking and settling in.  So we definitely are very behind in exploring the area, but I know we have plenty of time to do that ahead of us and we are definitely excited about it.
Do you have any Georgia triggers?  You seem so happy!
Girlfriend… we are so happy.  I don't recall having many Orange County triggers either – we were also very happy there.  If you have followed CBL here or on Instagram, I was open about our year in San Francisco and tried to share comically without being completely disrespectful to those who live there and love it.  It was a difficult year financially, emotionally, physically, mentally… BUT it did make me over-the-top grateful for every single thing once we left.
Things like easily taking out the trash, easily letting the dog out, having a guaranteed parking spot, being able to go to a restaurant without a reservation, no one breaking into my car for an iPhone charger, not hearing my neighbors stomping around above me or waking up to someone ELSE's alarm clock, easy outdoor access, more space, having ice that isn't in trays, having my own w/d… while paying significantly less for all of those things.
I could literally list 100 basic things that have increased our quality of life significantly.  It's just a completely different life.  We've been up to our ears in settling in and investing in our new home, but it's still easier than our life this time last year.
How do you handle criticism?  You seem to have an easy confidence about you.
Thank you so much for this!  I competed in Miss Teen USA when I was a teenager and experienced criticism, both surface-level and constructive, from an early age.  I'd try out for cheerleader and all-star cheerleader all throughout jr. high and high school, played sports as well as ran for class office every year – so I was forced to become comfortable with criticism at an early age.
My thought has always been this – consider all of the people you admire.  People you know, celebrities, entrepreneurs – there's no way they could have gotten to where they are without criticism and "haters."  Everyone I admire receives way more shade than I do, so if I can't handle a little bit than I need to find a new career!
Do you have any tips for feeling close to family or friends when you live far away?
Phone and text is honestly how I've felt most connected throughout the past six years. My mom and brother live in Mississippi and California and they have a scheduled Sunday FaceTime. My brother is a doctor and they don't really talk during the week between his schedule and the time difference, but they'll save up things to share on their Sunday chats.
What's your take on getting a yellow lab puppy and living in an apartment?
Personally – I couldn't do it.  They are great dogs but shed like crazy and have TONS of energy… which means a backyard for an energetic puppy is crucial… or at least it was for Bailey.
Do you get lip fillers?
I have never gotten filler, only Botox (shared here), always administered by Christian.  There was a kid in my elementary school class who called me "big lips" once, and I complained to my mom.  She said, "honey, people pay a lot of money for full lips, you'll see."  Per usual, Karen was right.  But I have no judgement on lip filler, if I wasn't happy with mine, I would have no problem pursuing it!
I need Lula's story.  Is it somewhere I can read?
Love those of you who want more info on Lu!  I wrote about her story more in the beginning of CBL days, but I'd be happy to share again.
In 2011 I grabbed dinner and margaritas with my roommate.  We saw this little black cat in the parking lot on our way out and she came right up to me because she thought I might have food.  She let me pick her up, and then I didn't feel like I could leave her.
I took her to our apartment, called the restaurant and asked if she was their restaurant cat or something.  The manager said, "no ma'am, but there's an employee who feeds her sometimes but she doesn't work everyday.  You're welcome to try to come capture her."  I said, uh… there was no capturing, she hopped in my car.
She was already fixed and just had a really bad ear infection that took two months to fix.  I told all of the local shelters I'd found this cat and if anyone called about her to call me.  No one did.  Christian wanted me to find her a home and I did… but at that point I'd fallen in love with her and couldn't let her go!
In 2013 we felt a tumor on her leg in California.  I took her to the vet and they told me they'd have to amputate her front left leg to see if the tumor was cancerous or not.  Devastated but wanting to give this sweet cat a chance, we opted for the surgery.  The tumor was in fact cancer and they estimated she would have around six months.  Six months passed and she was doing great.  A year passed and she was great.  We have done two rounds of follow-up x-rays since 2013 and the cancer is not growing.  Lula is on her 9th life!
That's it for this month's Q&A!! Thank you SO much to everyone who submitted these fabulous questions.  Other Q&A's can be found here – March, April, May.
I love hearing from you!  Have a fabulous week – XO –