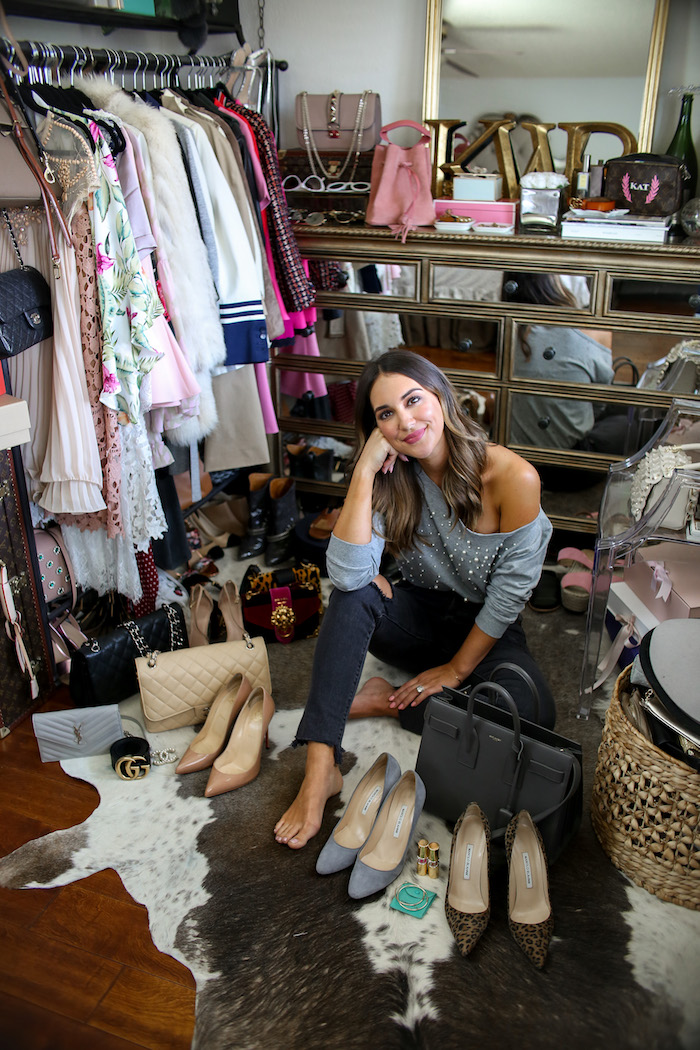 I've been wanting to put together a post like this for a while. I am all about some luxury pieces, while mixing in lower price points and "looks for less."  I recently shared a post about high/low mixing here and some of my favorite investment pieces here, but this concept of mixing Target and Chanel will always be something I'm preaching.  You don't have to spend a million bucks to look like a million bucks!
That being said… I've made some (self-proclaimed) excellent luxury purchases and some not as great choices. I thought I would go into further detail of WHY as to hopefully help any of you looking to make a luxury accessory investment!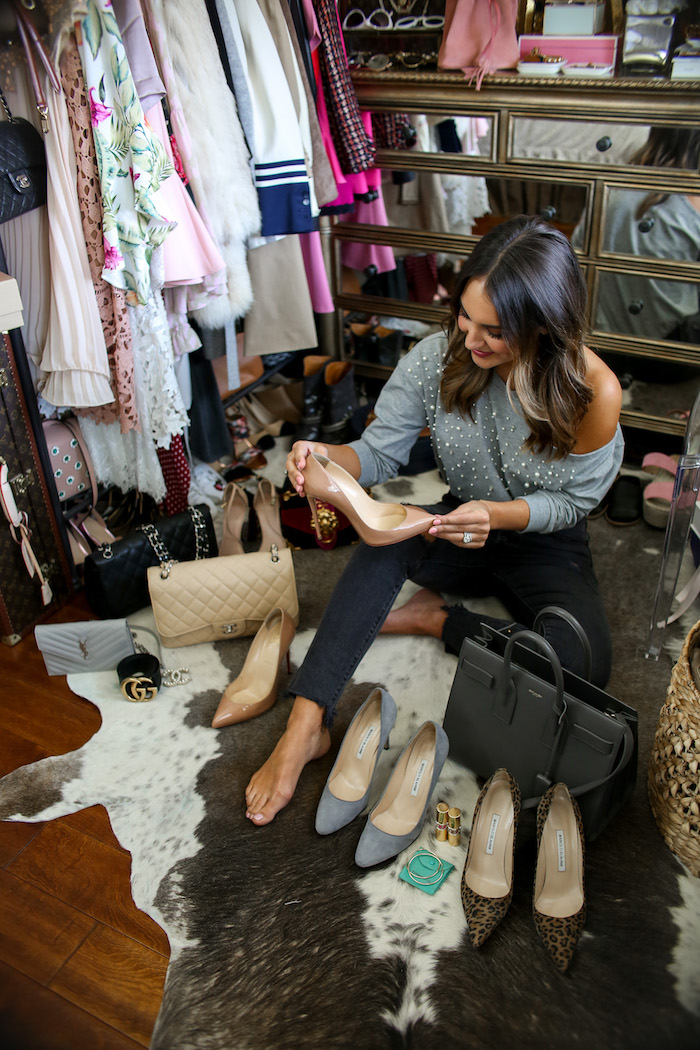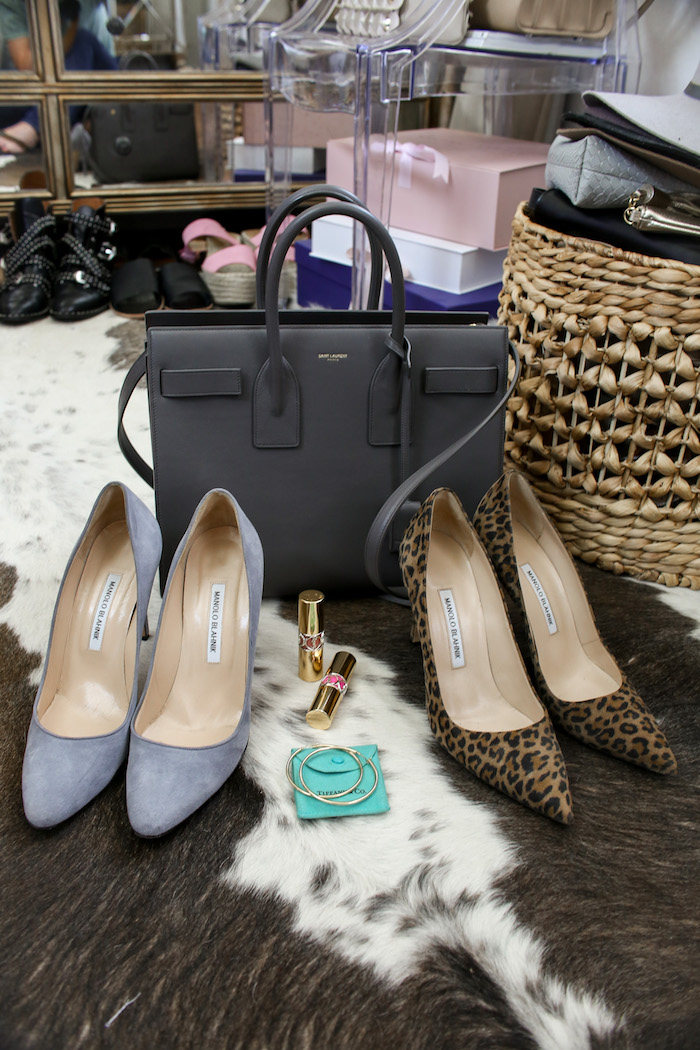 Let's get the least worn out of the way first, shall we?

YSL Sac De Jour
I saw this bag in a department store and immediately absolutely loved it. I love a structured bag. It maintains it's shape so beautifully and I thought the dark gray would go with everything. When I held the empty bag, it had some weight. I didn't think too much about it, but once I put in my wallet, knick knacks and so on… it felt like I was carrying a "sac" of bricks.  I later realized the interior was lined with suede and now they make them with a sleek leather interior which cuts the weight at least in half. I actually ended up buying one of the newer designs and love it so much more only because of the weight factor!
SO my advice: if it feels heavy at all when it's empty? Girrrll… pass.
Gold Hoop Earrings
These hoops actually are from Macy's and not Tiffany's – I just keep them in that little duster case because they fit perfectly.
I wanted a pair of quality gold hoops and my mom and I picked these out in college. They're lightweight, the perfect size and gorgeous.
BUT, because they have a clasp situation instead of a post back… one of them falls out of my ear constantly. I've even taken them to a jeweler to see if I could change the design to a post back and he said I couldn't. It bums me out because otherwise I adore them! In the future I would never invest in a nice pair of earrings that has a push clasp backing (I don't know the correct term for this!).  Le sigh.
YSL Oil-in-Stick Lipstick
These lipsticks are gorgeous.  But the go on like a chapstick and the pigment doesn't last more than an hour. Again – they're beautiful but if you're actually looking for lip color… pass.
Manolo Blahniks
I got these two pairs of Manolos at the same time and while they are some of the most comfortable designer pumps I own… I rarely reach for them. When they're on, the leopard looks more like an overall brown and the gray is this blueish-gray that when worn neither looks blue or gray. I'm sure I'm overthinking it, but it just pains me that I splurged on them and rarely wear them!
Christian Louboutin So Kate's (not pictured – sold)
I mean… these heels are basically a five inch heel with no sole platform at all. It's like walking on stilts. I could barely stand in them much less walk so I sold them (with a warning that they're the most uncomfortable heel of all time). I then vowed I'd only buy Louboutins with a 100mm heel. I can't even pretend to walk in the 120mm!
Gucci Sunglasses (not pictured – sold)
I bought a pair of Gucci sunglasses on a whim in Florida and they just didn't work for my face shape. They were a different shape than I normally wear and ultimately I never wore them, so they went to a new home.  Now if I splurge on a luxury pair of sunglasses, I make sure I already have and like a similar shape already first!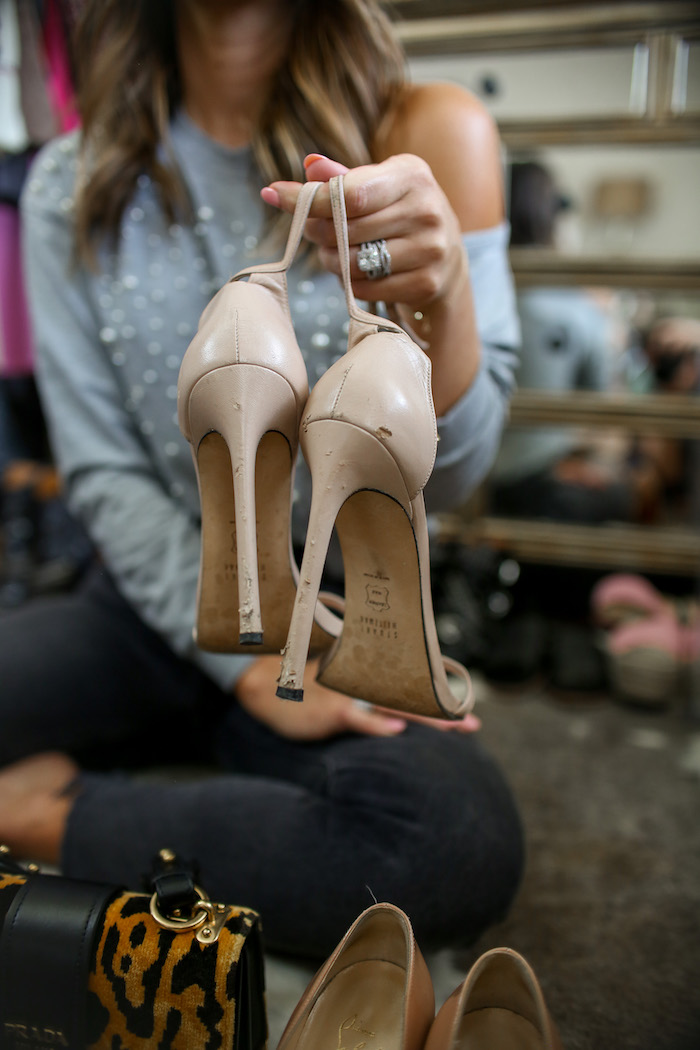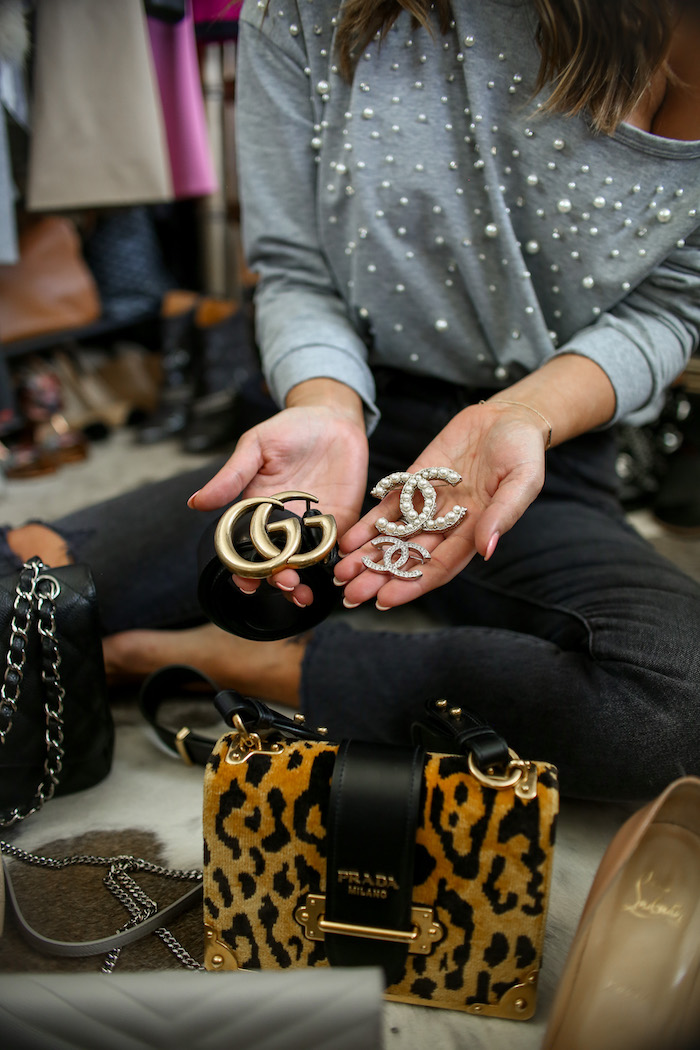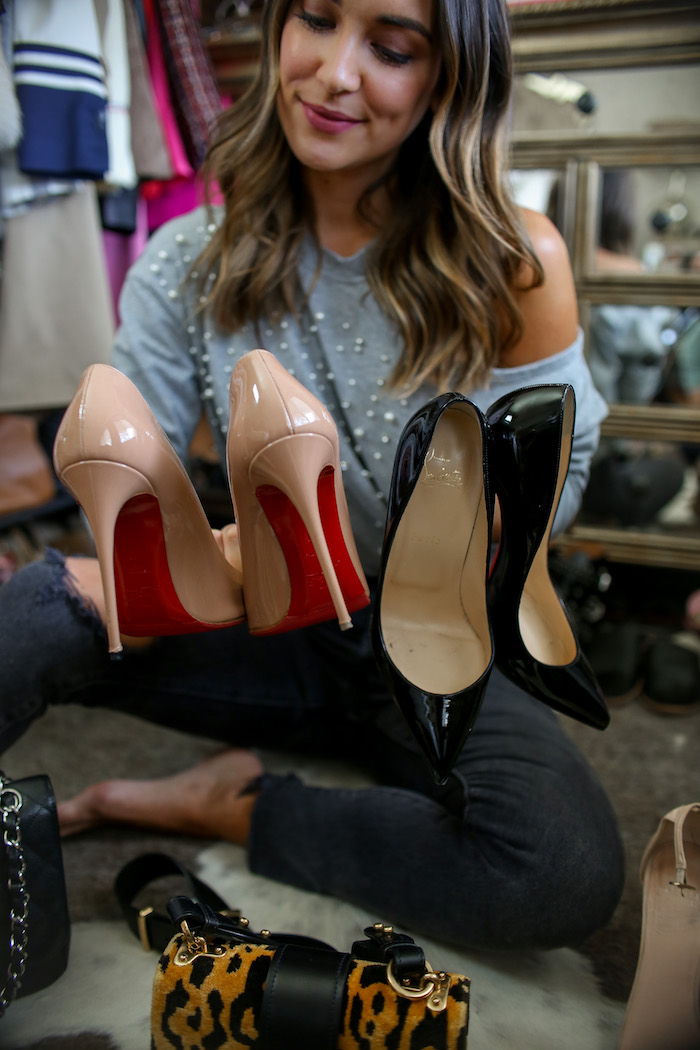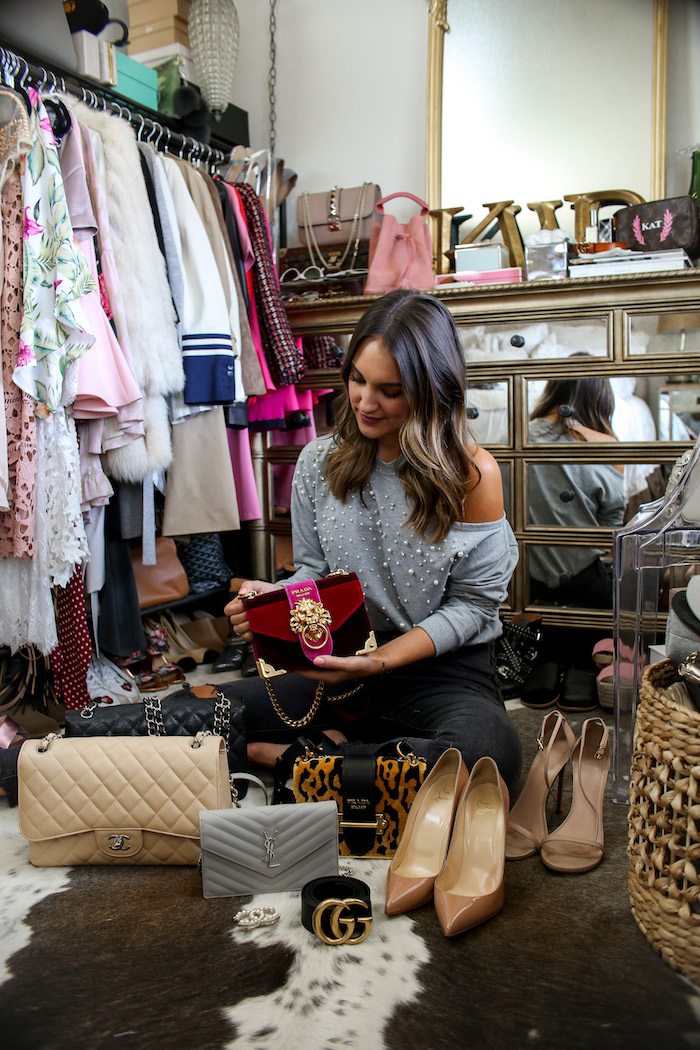 Now let's dig into the most loved items!  I could have added so much more to this list but I really wanted to focus on the crème de la crème.

Chanel Jumbo
Christian gave me my first Jumbo bag for my birthday, and it remains my most loved bag in my collection.  It's a caviar beige leather and such a dreamy bag I know I'll be wearing for decades. I love it so much I ended up getting a gently used black version of the same bag (full blog post here).
I only go for caviar leather over lambskin because while they're both beautiful, I am not delicate enough with my bags to maintain lambskin. The caviar leather is definitely more durable!
YSL Wallet on a Chain
When I got this bag from Luisa Via Roma  I had no idea how often I would wear it. You can wear it as a clutch or crossbody and I've gotten so much use out of it! They make this little bag in a ton of different colors and I really only have great things to say about it.
Christian Louboutin Pigalle
Now these are Louboutins that I can walk in (shoutout to the 100mm heel). I bought the nude first and then snagged the black. They are easy to keep clean and I probably wear the nude more than the black… but it's a pretty close race!
Gucci Belt
I bought this belt as my Paris souvenir and I've worn it even more than I thought I would. It looks great with denim but I think it looks even more fabulous over a coat or faux fur vest!  Everyone asks me about the sizing and I don't even know what size mine is… I tried on two and ended up buying the smaller one and added a few extra holes in it using this.  There's a size chart online – I'd recommend using that!
Chanel Brooches
I bought the big pearl one for myself and then my mom gave me the cz one on my wedding day. If you're looking for a a smaller sized accessory splurge, I would definitely recommend a brooch. You can put these on blazers, coats, dresses, on top of a tie waist dress.  This might serve some inspiration!
Stuart Weitzman Nudist
I have these in nude and black and you can tell… I wear them a TON. They are the most fabulous strappy sandal I've ever had. They look amazing with everything and have that perfect tall-but-not-too-tall stiletto heel. Can't say enough great things about these.
Prada Cahier Bag
Ok I must confess that neither of these I paid full price for. The pink/red velvet (sadly it's been sold out) was a Cyber Monday score and the leopard was a gently used bag I had to have!  When making a big purchase, I tend to go solid and neutral so I can get the most wear out of the piece.
I stand by the neutral investment theory, BUT… a patterned piece can be REALLY fun. I've been so surprised at how much these two Prada Cahier bags go with, and they definitely get way more attention than any other piece I have.  They're a great size and I've enjoyed them so much more than I thought I would!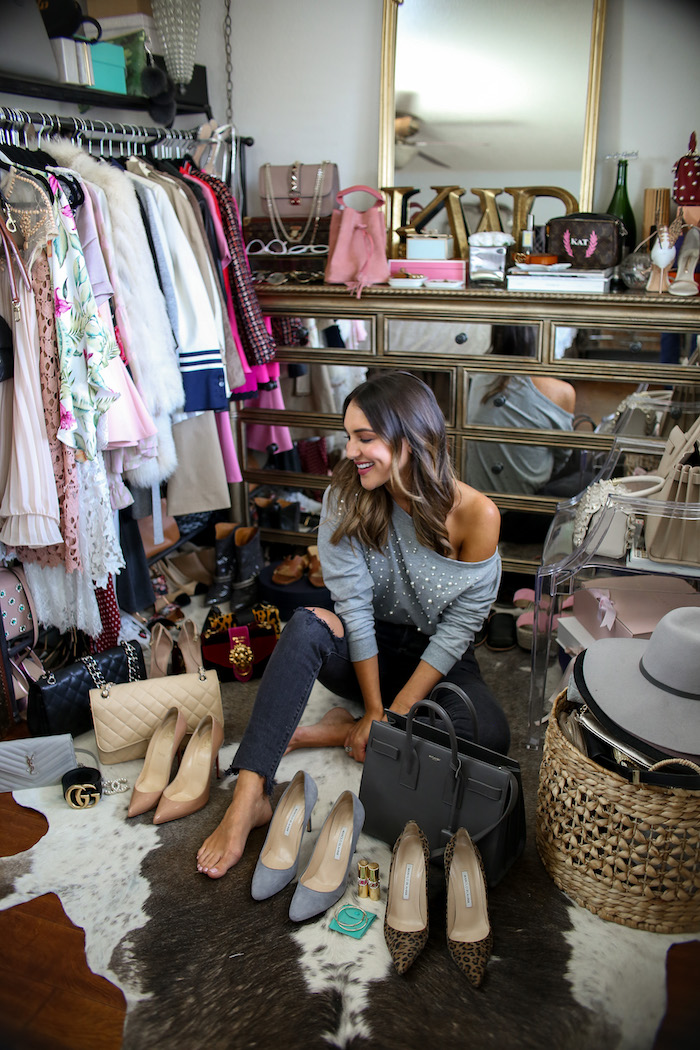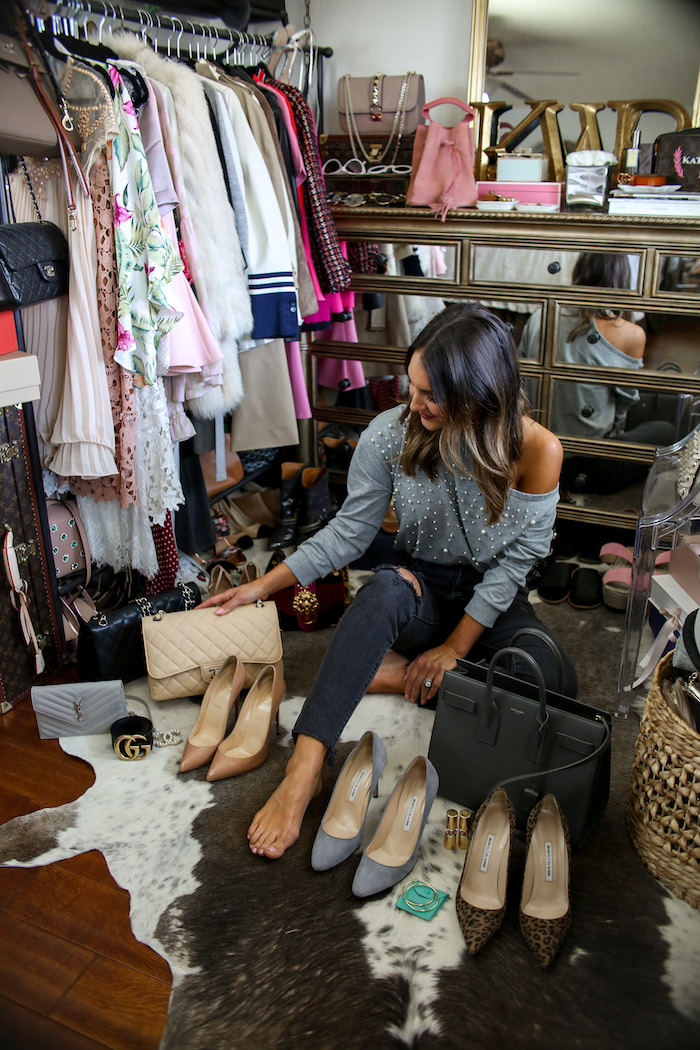 photos by Christian Barnes
sweatshirt | denim (run TTS) | room details in this post
Was this helpful? I hope that my experience with these pieces helped provide a little insight if you're looking to splurge on a fancy accessory. I try to put a lot of thought into big purchases, but sometimes I still miss the mark. Learn from me so you don't waste your dollars!
If you can think of any similar topics you'd like to see on this blog, I'd love to hear. I love hearing from you guys! Thanks so much for reading and don't forget to check out Shopbop and Bloomingdale's MAJOR sale happening. More details here! XO –