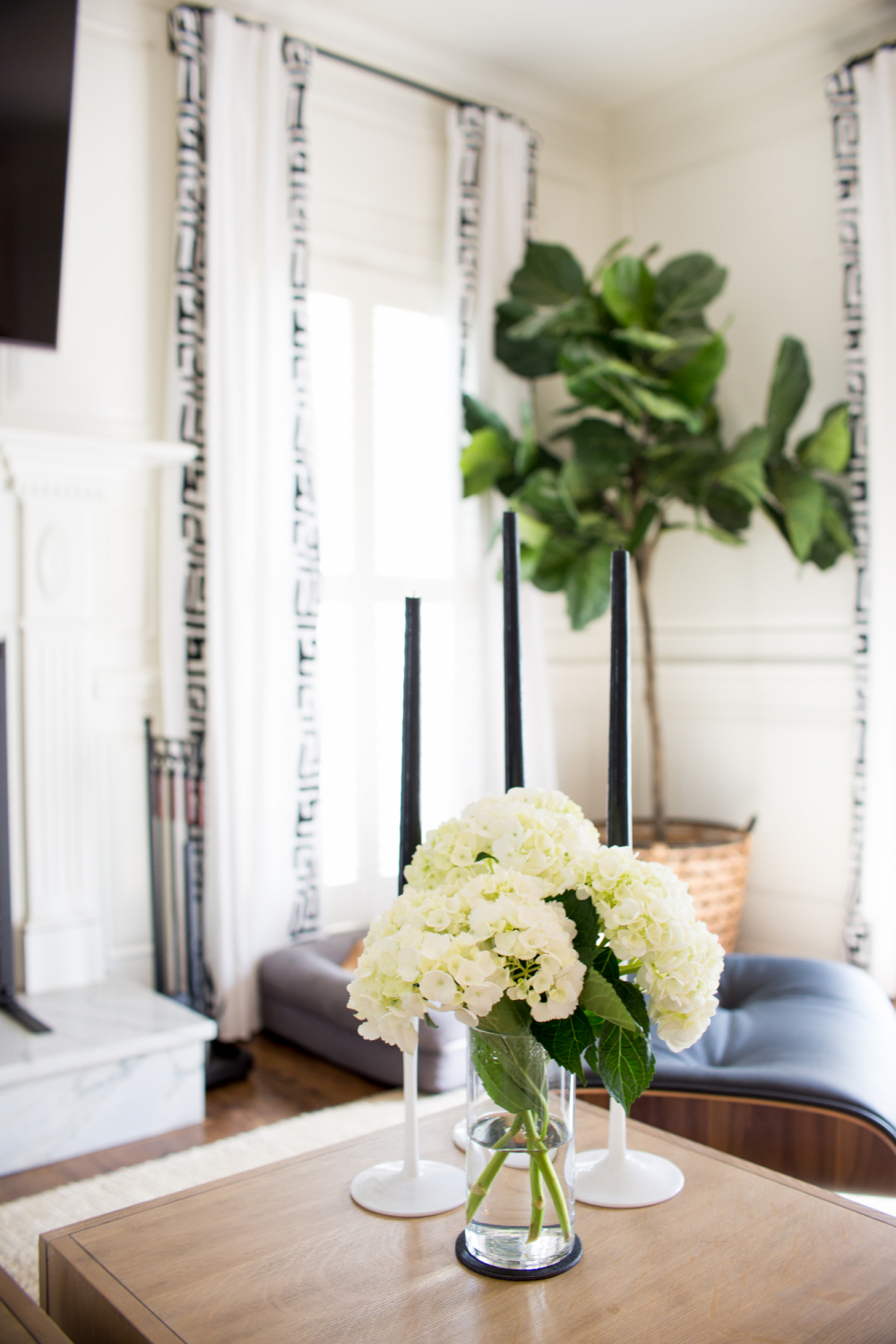 – making the most of staying in by tidying up –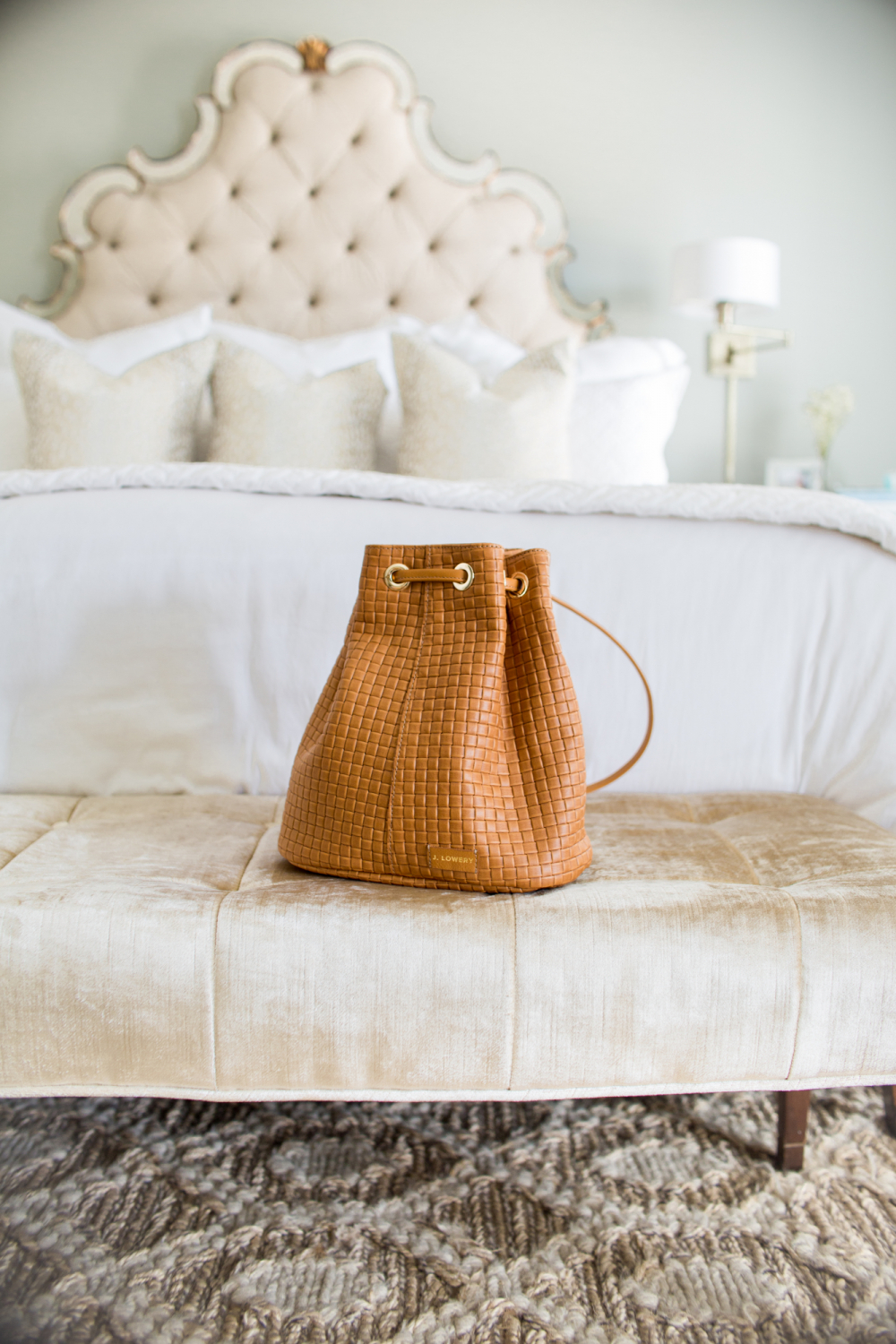 – a new backpack handbag from J. Lowery –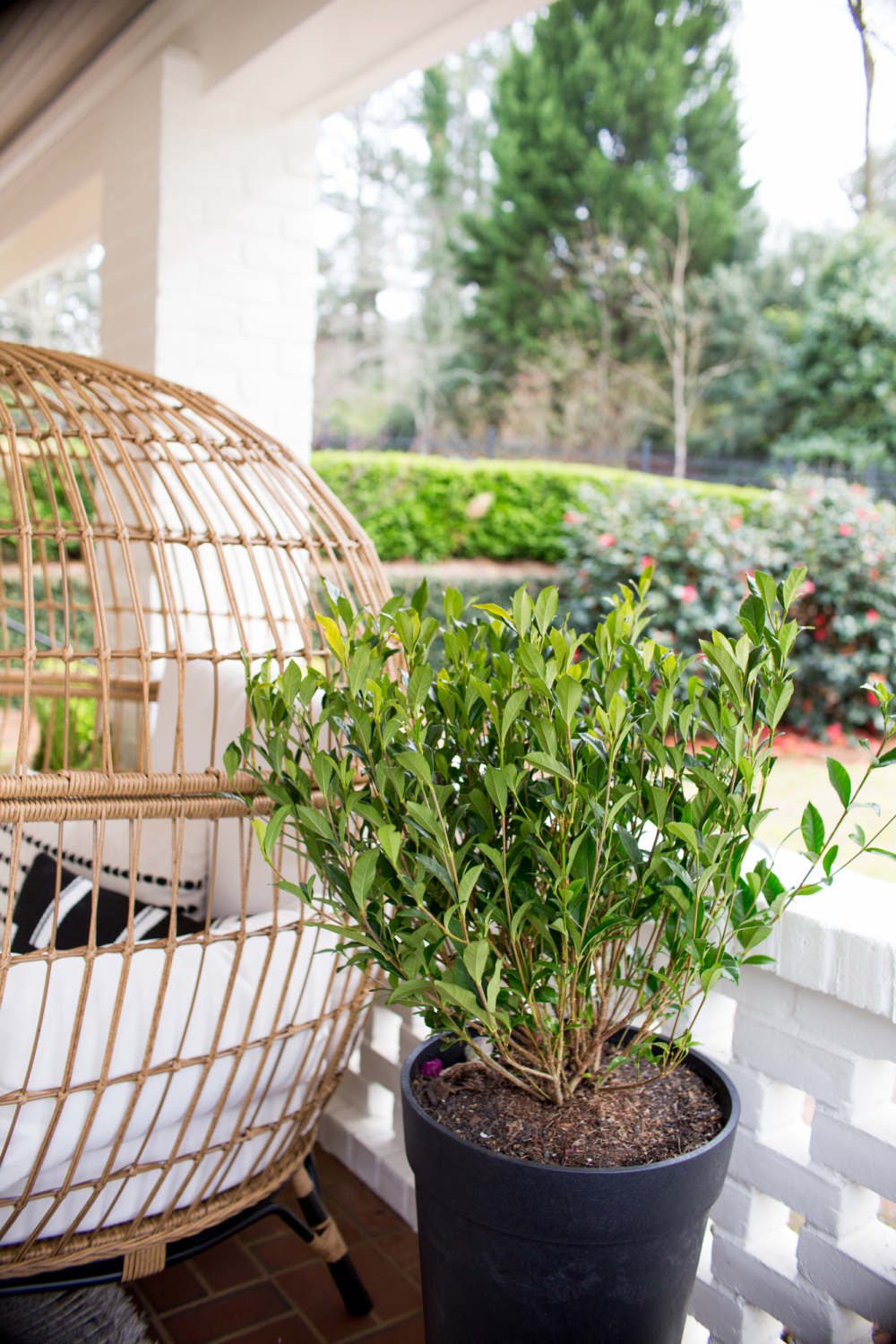 – potting a gardenia plant –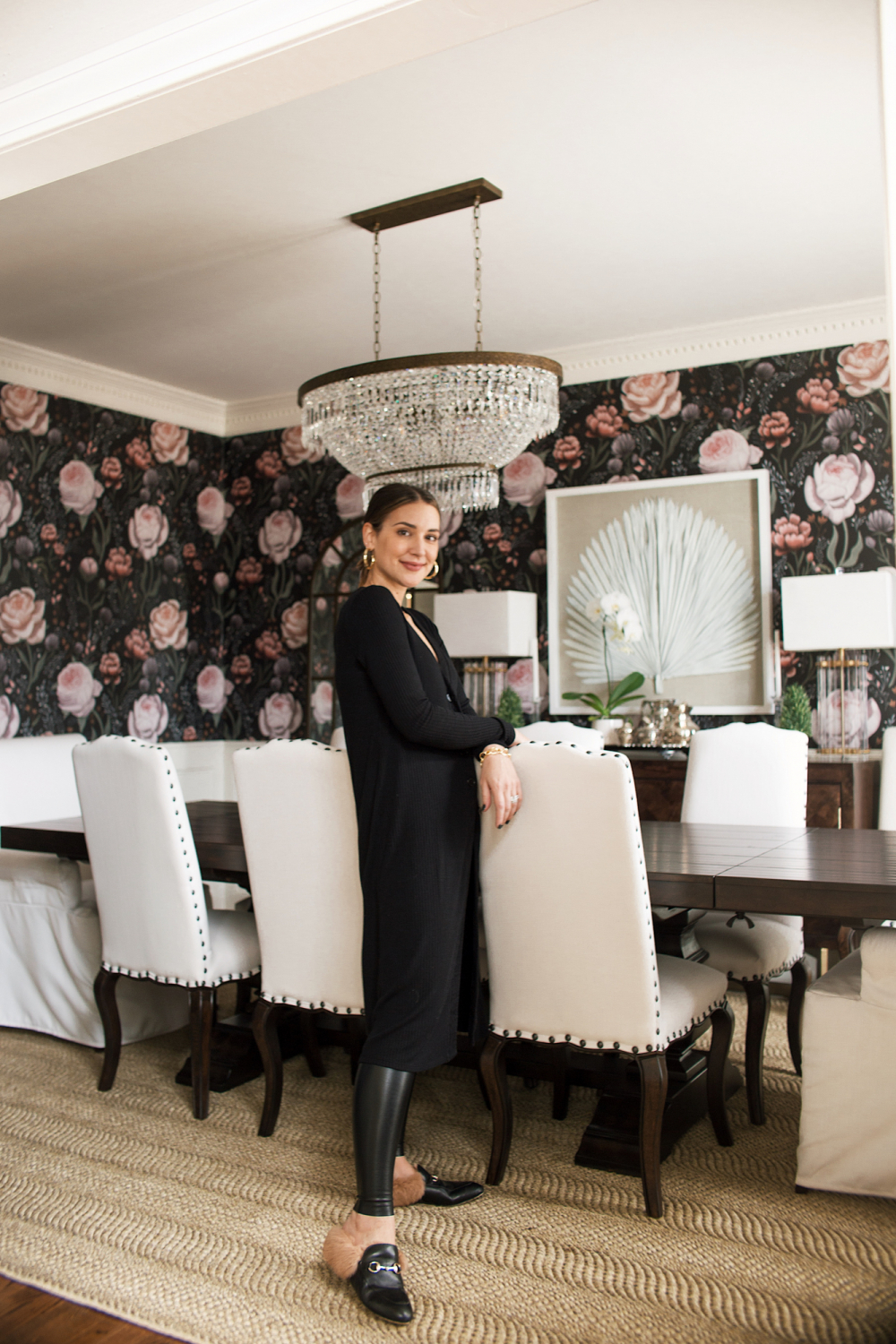 – finding ways to work at the dining room table so I can enjoy all of its pretty –
 leggings | cardigan dress | similar mules for less | dining room details here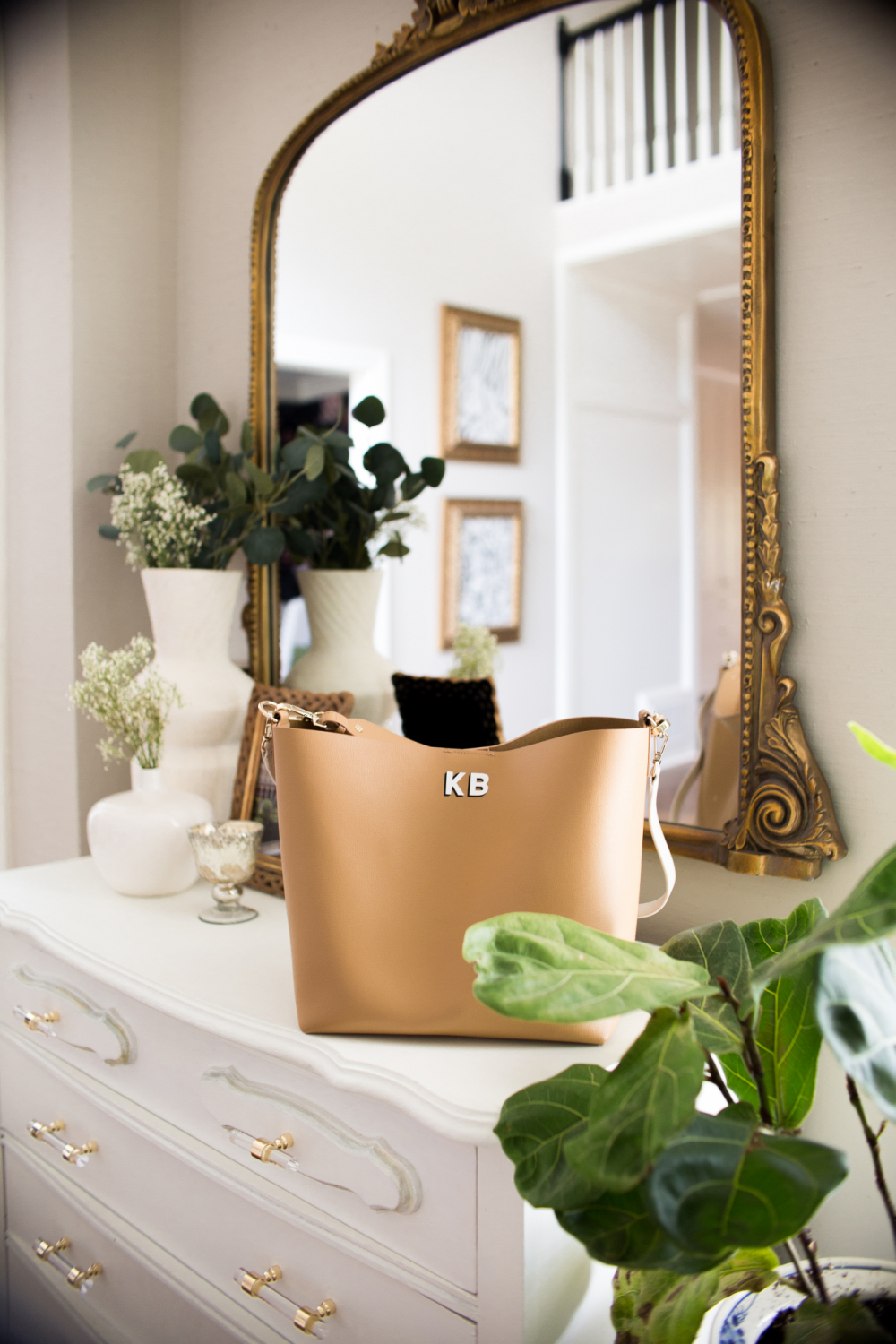 – a personalized bucket bag that I'm excited to pull out this spring –
Alright guys, week one down – how is everyone doing?  If I'm being honest, not too much has changed for me other than not having our usual childcare scenario, being less busy on email and not running errands.
Usually in this scenario without childcare, I would feel overwhelmed and stressed.  However because my email is slower than usual, I've actually been able to use that free time to get organized and spent more one-on-one time with Hudson.  And it's been really nice!  After spending so much time with him during his colicky weeks, now that he's happy it is a joy to spend this extra time with him.  Working from with a crying baby?  Not easy.  Working from home with a happy baby?  Challenging but definitely more do-able.
I've chosen to choose gratitude over anxiety.  Grateful that we have a home, backyard and neighborhood with fresh air to spend this "social distancing" time in.  I'm grateful that I have a happy little baby boy to make the days fly by.  Grateful that I get to be the one to get him up from every nap, soak up every smile and kiss.  We're grateful that we can afford to stock our pantry and refrigerator and that the grocery stores have plenty of food.  Grateful for all of our healthcare employees, grocery store employees, police force, delivery men and women and so on who are putting themselves at risk so we can all stay home.
I shared some of my top activities for staying in this week in this post, but I'd love to hear your favorite thing you did this week!  I love seeing how everyone is really coming together to help and share positivity right now.  It's what I hope I'll remember from this unusual time in history.
In staying in tune with what this blog is about – fashion, home, style, etc. – I want to share some major sales that are happening at the moment.  If you're focusing on spending/shopping less right now, I absolutely understand!  I am just sharing the below for anyone who is interested or has had their eye on something.  For those people, there is an opportunity to get it at a discount – like my mom snagging our favorite deodorant at 25% off!  I might need to snag one too…
Abercrombie | up to 50% off
American Eagle | select styles up to 40% off (including denim)
Ann Taylor | up to 70% off sale items
ASOS | up to 50% off sale
Banana Republic | 40% off regular priced items
Crate & Barrel | 20% off kitchen essentials
GAP | 40% off your purchase with the code TREAT
H&M | 15% off orders $60+ and free shipping with the code 3705
J.Crew | 30% off your purchase and 50% off sale styles with code NEWNEW
Last Call | extra 10% off designer bags and shoes + extra 40% off everything
Levi's | 30% off and free shipping with the code FRIEND
Madewell | 25% off your purchase with the code WHATASALE
Nordstom | 25% off select items site wide
Old Navy | up to 50% off site wide
Pottery Barn | 25% off bedding, 30% off bedroom furniture, 25% off quilts and free shipping with the code SPRING
Sam Edelman | 25% off with the code FAMILY25
West Elm | 25% off your purchase with the code FRIENDS
Big hugs and thank you guys for reading! Stay safe and if you have any at-home activities or recipes you've been loving, please share!  XO –