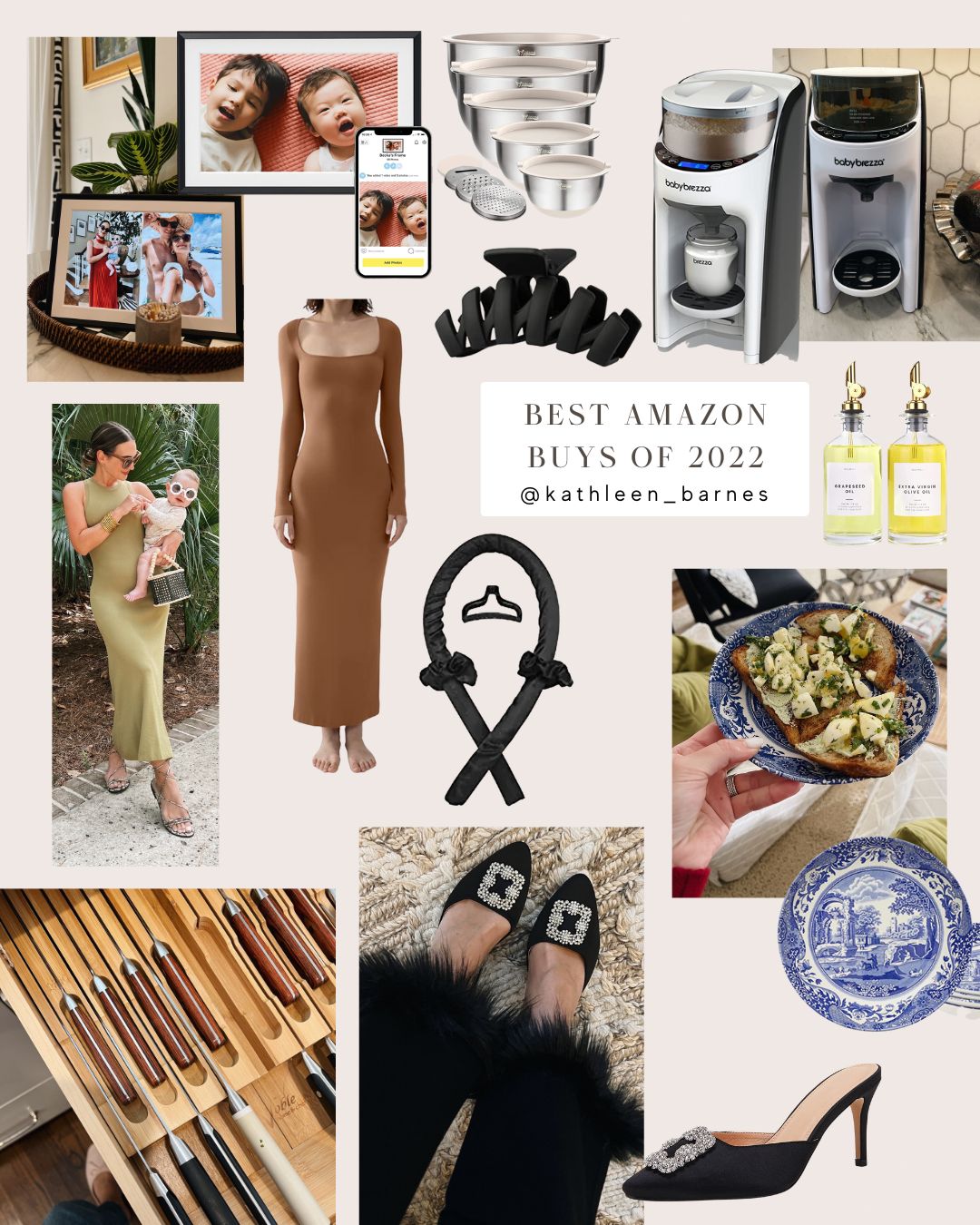 I'm still working on my best overall buys of 2022 and I shared the most popular items from you guys here, but today we are discussing my top purchases from Amazon!
Let's get into it –
You know when you implement a small luxury that makes you feel like a wealthy person? That's what this knife block is to me. It fits so perfectly in a drawer and cleans up the countertop. Win!
We gave my mom one of these frames last year and she loves it. It is SO easy to upload photos straight to the app and she constantly has new photos of her grandkids in rotation.
Recently I thought, "why don't I have one of these!?" I take so many photos of our kids and would absolutely love to see them constantly. It's the photo equivalent of a daily gratitude journal for me. Constantly showing the highlights of my own life and reminding me how blessed I am.
It's in my kitchen, I love it and can't recommend it enough!
When I finished nursing Theo, I treated myself to the Baby Brezza. It's basically a Keurig for babies.
I love it. Theo loves it. I am happy to report it's been worth the investment!
I love a stiletto and block heel so very much. But post-2020 and having two small kids… they're worn less and less often.
The kitten heels or heels up to 2″ are the most worn dress-up shoe most times. And when I bought these in black, I quickly returned to Amazon to buy them in red also. LOVE. If you're in between sizes, I would go with the larger size.
I own this Skims dress, and it's incredibly flattering. Highly recommend.
So when I heard this version was a dupe I had to try it out. And it is very good!! It fits more like a midi dress than a maxi but it's worth the purchase for sure. It runs true to size.
I kept seeing this on Tik Tok and had to know if it really works. Can I sleep in damp hair and wake up with legitimate curls/waves?
IT WORKS, Y'ALL. Granted, I need to touch up some spots after sleeping in it, but that takes about 1-2 minutes. I would absolutely try this out if you have long hair. I'm not sure it would work as well for shorter hair.
I love these nesting bowls because they cut back on washing dishes when you can mix up a salad and then put a lid and place it back in the fridge. So helpful and more compact for storage!
These are so pretty if you keep your olive oil out. I do because I cook with it daily, and I love that this is still visually nice to look at.
I bought this coverup in both black (seen here) and white (seen here) and took them to Mexico in October. They are so fabulous – highly recommend!
I love pasta bowls for almost every meal. Salads, anything with a sauce or broth, etc. These are so beautiful, dishwasher and microwave-safe.
Now I want four more!
These are so easy to throw in and go. Love 'em.
I love this dress so much that I bought it in multiple colors. You can easily wear them through spring, summer, and fall (layer a blazer and boots, done!).
If you have a favorite Amazon buy from 2022, I would love to hear it. I find these kinds of recs fascinating! Thank you so much for reading – XO –