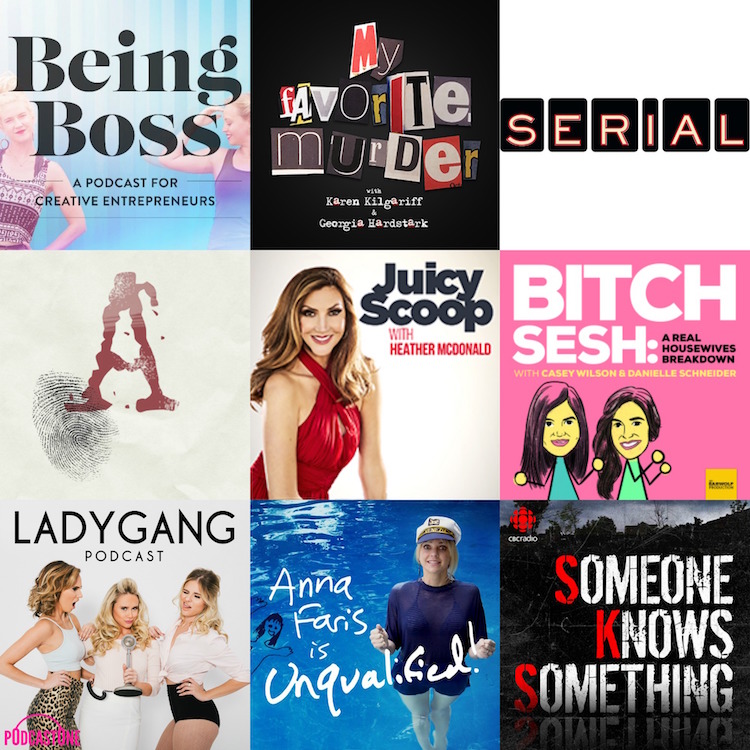 When I spent over an hour everyday in the car driving to and from my desk job, I really discovered the glory of podcasts, and from there my love has continued to grow. At the time, I only listened to two or three… but now I'm always on the hunt for the latest and greatest!
I think one of the biggest reasons I love podcasts is that I will listen while editing photos, walking the dog, cooking, cleaning, etc. I get bored fairly quickly, so it's a great way to stay engaged with something while continuing to work without turning on the TV and sinking into the couch.
Above are just some of my favorite listens, but I'm going to dive a little deeper and list a few extra of what I think are the best podcasts I've listened to this year.
COMEDY:
LadyGang – Some episodes are very #girlboss and inspriring, others can be a little crude for my taste, BUT I love that the three girls narrating are a Hollywood TV host, actress and social media superstar/online boutique owner. They often have much different viewpoints on the same topics, and they've interviewed some well-known women in the industry that provide some great girl-power advice.
Anna Faris is Unqualified – This is a new listen for me after reading all the rave reviews. I fell in love with Dax Shepherd after binging Parenthood, so I've listen to her interview him and it's pretty great. I can see why it's a good fluff listen!
Straight Talk with Ross Matthews – My mom actually got me hooked on this. It is laugh-out-loud hilarious, and a feel-good podcast for sure. Not to mention that when Ross gets heartfelt, he has some really amazing advice for listeners that you can always apply to yourself. Comedy with a touch of motivational speaking – I like it.
Juicy Scoop with Heather McDonald – My mom also told me about this one, which I wasn't sure I would be into at first. However, I'm a big Chelsea Handler fan, so I deemed it worth a listen. It's funny, and if you like the gossip mags and websites, you can basically save your $$ and listen to this podcast instead. Celebrity scoop and juicy stories about real life scenarios… it's like US Weekly and Lifetime all rolled into one.
Bitch Sesh – As a lover of all things Real Housewives, this is my favorite comedy podcast. If you follow any of the shows, this podcast is beyond hilarious. I laugh out loud in every single episode, and I was also a HUGE fan of Casey Wilson who plays Penny Hartz from Happy Endings (we own all the seasons of this show, #love). When I heard she was one of the hosts, I knew I'd be hooked!
TRUE CRIME:
Serial – The series that got me hooked on true crime podcasts. I give it a 10 out of 10. Season one rocked my world, but sadly I didn't find season two as captivating. If you want to get started in this category of podcasting, this is where you start! PS – if you liked this podcast, you should watch HBO's "The Night Of." Amazing.
My Favorite Murder – I mentioned on Friday that I heard about this podcast from this blog, and I've been binging ever since. Like, binging so hard that I've been triple locking every door in the house and Christian has had a Come to Jesus with me to reel it in (and I know he's right). I was on the phone with my sister and was casually talking about how you can't trust anyone… and she was like, are you still listening to that crime podcast 24/7?!
If you're a true crime addict, this series is for you. Not to mention the hosts are quite hilar AND dig back to 1800's – one of which being a story from the Tower of London that I just visited (London travel post here)! Just check out some of the taglines in their shop – it even made Christian laugh. I feel like I'll be getting this mug from him for Christmas.
I do wish the title was something different, as it does appear to make light of situations that are truly devastating. I don't think true crime stories and mysteries are for everyone, and while there is always something to learn about protecting yourself, following your gut, being careful, etc., sometimes ignorance can truly be bliss. It's like those who choose not to watch the news – I get it! I do enjoy when they talk about the survivors (usually female survivors). Talk about bada$$ chicks. Always fight back!!! Ok my PSA is officially done.
Accused – I finished this is a weekend and it was really good.. Very Serial-esque, except the verdict of the accused was the opposite (innocent).
Last Podcast on the Left – This is probably my least favorite of this category, but still worth an honorable mention. It's a little hard for me to keep up because I feel like they're so many people in the room chatting over each other, BUT they cover some seriously front-page mysteries, and they do a ton of research.  It causes you to really rethink your opinion on some of notable cases you've heard about for years.
Criminal – I've only listened to one episode of this podcast, but I like that it covers different situations – people who have been in the wrong and who have been wronged. Every episode is different, and it's definitely fascinating.
BUSINESS:
Girlboss Radio with Sophia Amoruso – Duh. Sophia Amoruso is THE boss. She interviews other female powerhouses, and it's full of great financial advice and just overall bosslady-ness.
Being Boss – A great podcast for learning new organizational tools in your business, along with taking note from other entrepreneurs on their own trials and errors. I have complete respect for anyone willing to let others learn from their mistakes. Preach on!
The Lively Show – My sister got me hooked on this podcast a year or so ago because there are lots of great interviews (all categorized so you can easily pick the areas that interest you most) with bloggers, business experts and minimalists. Over the past year it's ventured a little further from the areas that interest me most, BUT if you dig back to the earlier parts of the podcast, there are some really great episodes.
If you love podcasts already, I hope some of these will interest you. If you don't yet listen to any but think you could enjoy them while driving, exercising or cooking – I hope this will be a short guide to a few listens that will bring you some entertainment!
And of course, if you have any podcast recommendations that you think I would enjoy – there's always room for more!  Thanks so much for reading, and if you have any recommendations for similar roundups you'd like to see on CBL, I would love to hear! XO –