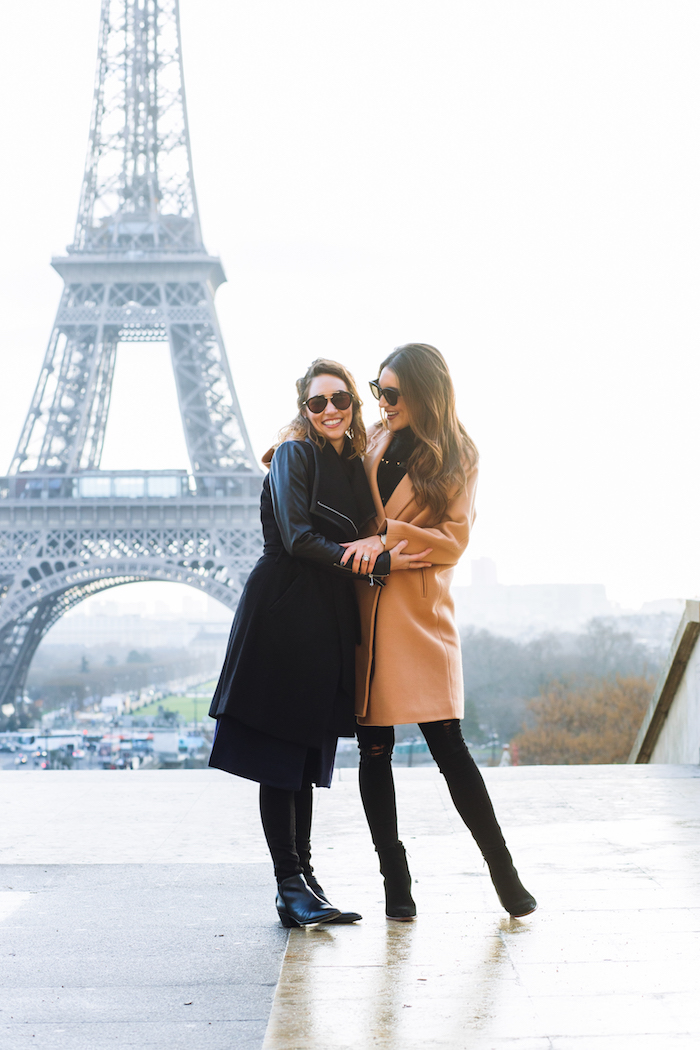 I shared some travel diary photos with Eurostar last week here, but I am excited to finally put together a formal "Guide to Paris" for you guys based on the things that Sarah Thorne and I really enjoyed!  Because I spent so much time in London recently (you can find that travel guide here), I couldn't wait to hop on the train to France. Eurostar was so fast it took just a couple of hours before we arrived and we were ready to explore!
If you're new to CBL, you can find a lot of the travel destinations and guides I've put together in the Travel section at the top of this page under "Categories." I owe a huge thank you to my sister for helping plan our activities in Paris. Thankfully we are similar travelers which made it even easier!
Because we had both previously visited to Paris on separate trips, a lot of the main touristy things we had already done, but some we wanted to do again (like The Louvre, Eiffel Tower, etc.) because really… who can see the Eiffel too many times!? So let's get into it –
Where We Stayed: Hotel Providence – we absolutely loved it here and I would highly recommend it to anyone looking to stay in a charming boutique hotel. The breakfast was complimentary every morning and we both agreed it was the best French bread and croissants we had during our entire visit!  The front desk was incredibly helpful and welcoming, not to mention the rooms and balconies were darling! Big points that it's very close to a metro station.
Sightseeing:
Tip: I would recommend buying a Paris Museum Pass. We had them and it allowed us to skip major lines, plus you feel less guilty if you just pop into a museum for 45 minutes. If When I return to Paris, I'll be buying one for sure!
Tip: The metro system is really amazing and we did not have to uber or taxi once. Put some $$ on a metro card and zip around town with no problem!
Tip: Metro passes can also be purchased onboard in the Eurostar bar buffet, which can save you some time!
Tip: Download the CityMapper app. It will tell you where the nearest metro stations are, which lines to get on and what side of the metro to exit. Incredibly easy and makes traveling so much more efficient and stress-free. I wish I had this when I lived in NYC!
Tip: If you do take the Eurostar to Paris during your visit, their 2-for-1 offer gives travelers 2-for-1 entry to museums and galleries across the city (including the Musée d'Orsay)!
Tip: Several museums stay open late on certain nights, which is amazing! We visited both The Louvre and Musée d'Orsay after dinner and loved utilizing that time, so be sure to check the hours of the museums you want to visit ahead of time.
Palais Royal: I had no idea how beautiful this area is. Absolutely gorgeous and more than worth a visit.
Montmartre & Sacré Coeur: My sister made sure we did this, and I was so glad she did! We took the metro there and strolled along the tourist shops along the way up to the church. There was a man on the steps playing the harp which was incredibly beautiful.
Tuileries Garden: A beautiful stroll – we walked through this area before ducking into Musée d l'Orangerie to get warm!
The Louvre: A Paris must – the Mona Lisa! Even though she's a little underwhelming… but there is so much to see in this huge museum. It was my second visit and I was surprised at how new it felt, but that's the beauty of museums – there is always something new to see.
Musée d'Orsay: So many of you  recommended this museum and once I visited I understood why. It's beautiful and not as intimidating as the gigantic Louvre. We loved visiting after dinner because they stay open late on certain days.
Musée de l'Orangerie: A beautiful little museum with Monet's Water Lilies. Incredible!
Eiffel Tower: A must. You can drink wine and eat bread & cheese on the grass or stand on the balcony above and admire – whatever strikes your fancy (and whatever makes sense depending on the time of year of your visit). Extra points if you get to see it twinkle at night!
Notre Dame: A must. We lit a candle for my Catholic grandmother (she turns 90 this summer!) and enjoyed the beauty of the cathedral. Exceptional.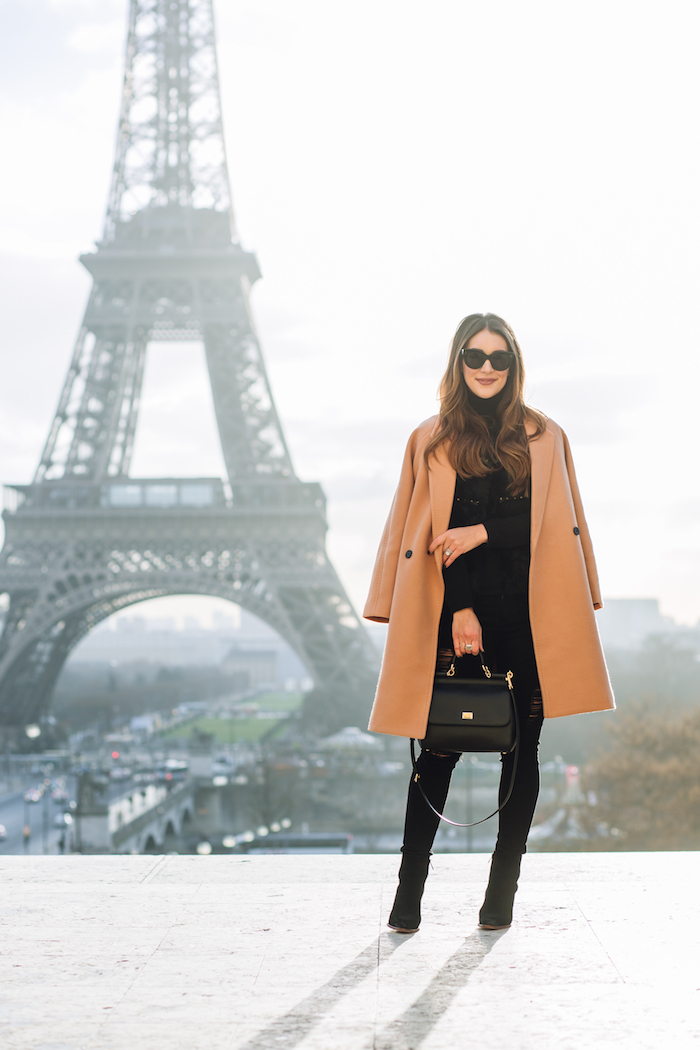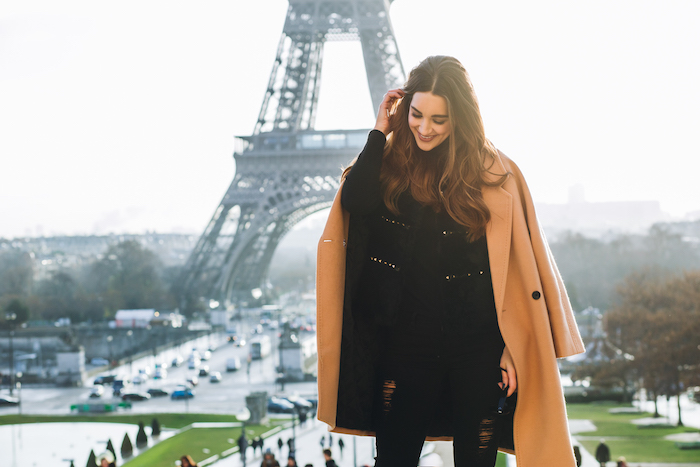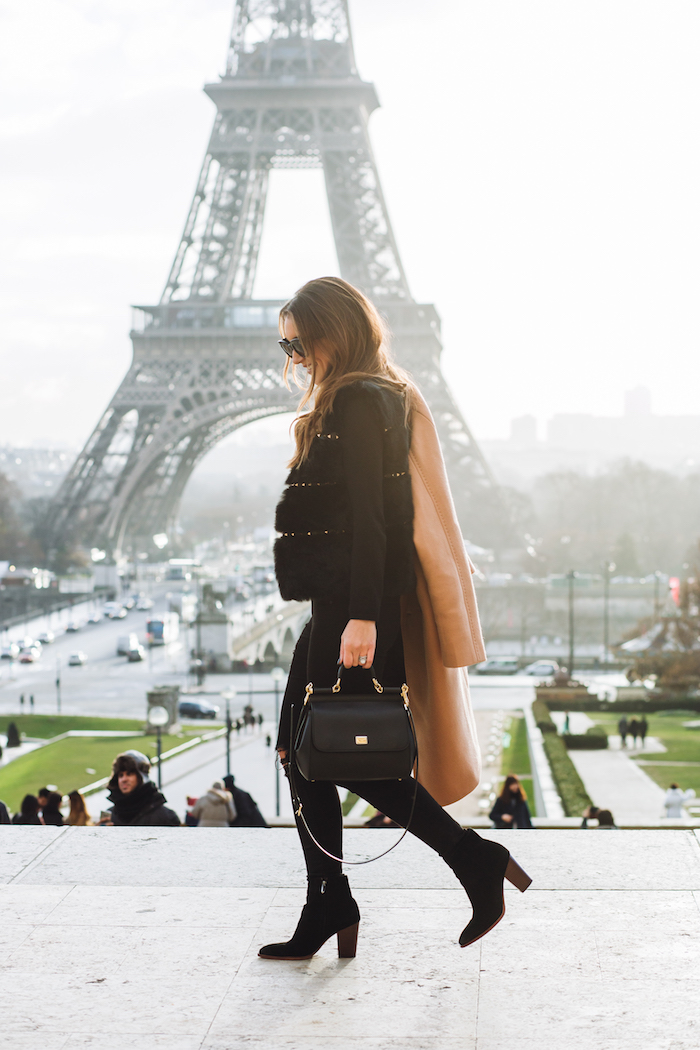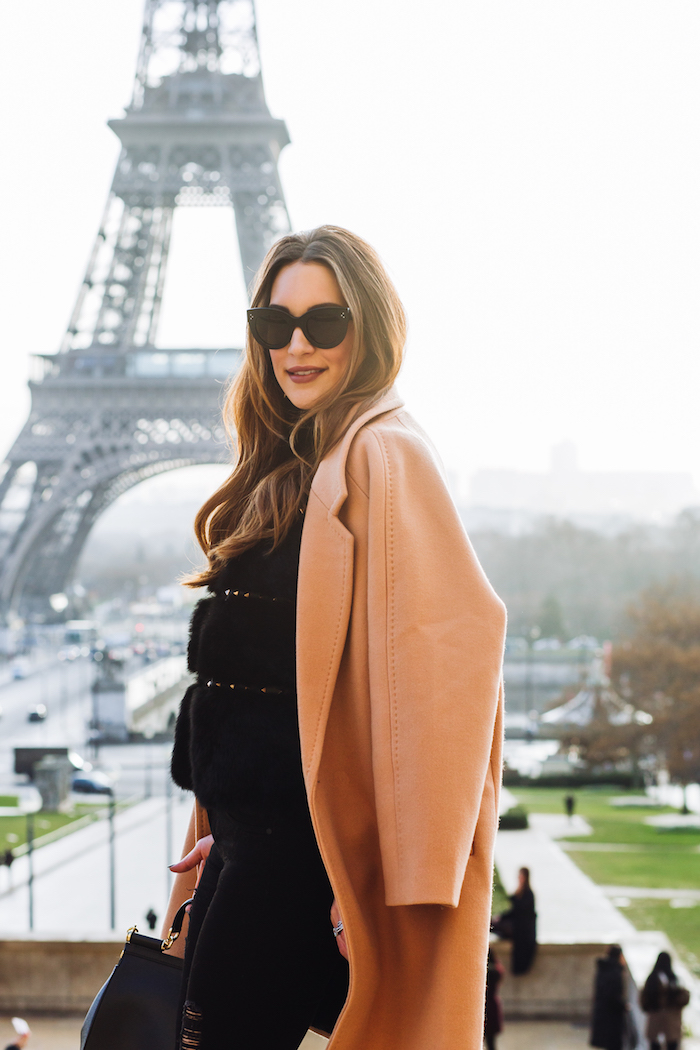 Eating:
Tip: Check around the restaurant at others dining. Most restaurants include tip in the bill so unlike in America, French patrons often do not tip as it is not expected. When I saw euros on other tables I would try to leave some as well!
Tip:  We had a few places written down to try but we mostly used Yelp based on our location. It never let us down.
Café du Marche: Close to the Eiffel and delicious – great pasta!
Angelina's (inside Galeries Lafayette or The Louvre): You guys said to hit up Angelina's for hot chocolate… and you were correct. It was amazing! What I couldn't seem to figure out was that it is inside the Galeries Lafayatte shopping area as well as (according to my online digging) The Louvre. Just a heads up! We had some pastries there and they were good but not life-changing. The hot chocolate for two however was divine!
O'Chateau: We had so much fun doing a wine tasting here and learning more about French wines and the regions of winemaking in France. You guys know that I love anything involving wine (my Napa Guide here), so it was really fun expanding my palette and knowledge.
Carette: Recommended by the fabulous photographer we worked with, Gabi Alves, this cafe is both darling and delicious. We stopped for coffee and sweets (pictured below), and we felt so Parisian, even just for a moment! A great cafe grab a coffee or tea close to the Eiffel.
Ozio: Another rec from Gabi, this was a fantastic lunch spot close to the Eiffel. The best pizza and pasta from our trip, hands down.
Le Petit Vendome: Yelp guided us to this delicious local spot after wandering around the shops at Place Vendome and it was beyond. I will admit it is not incredible service (so I wouldn't recommend it if you're in a rush), but absolutely amazing food!
Le Relais Gascon: This may have been my sister's favorite meal of the trip. We ended up here after spending our morning at Montmartre (and the shops close to it), and it was a delicious stop with these salads topped with homemade potato chips. Enough said (check it out on Yelp!).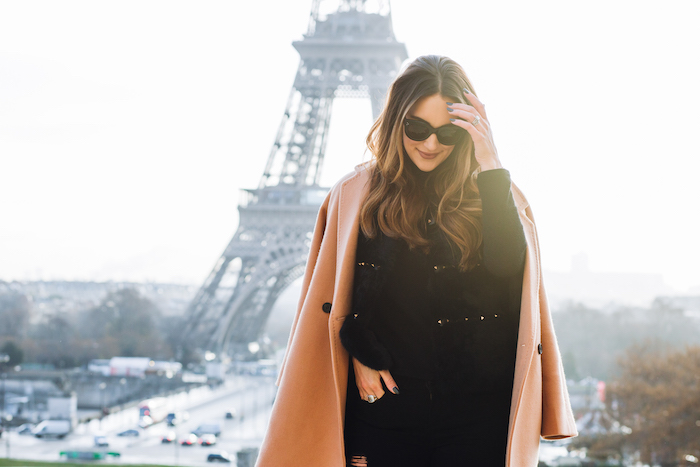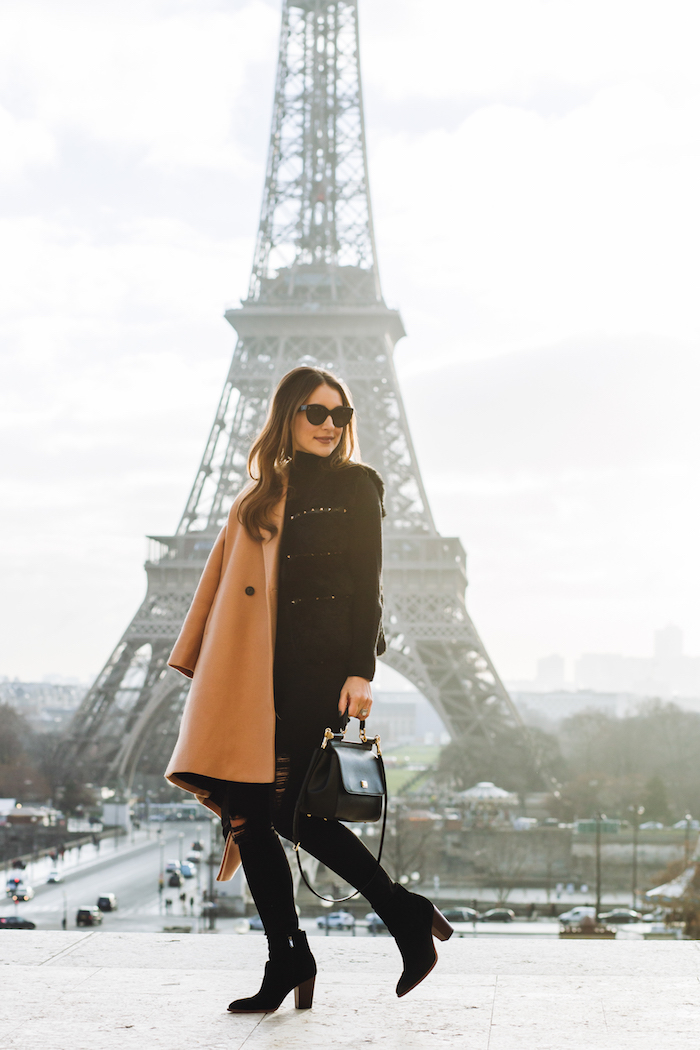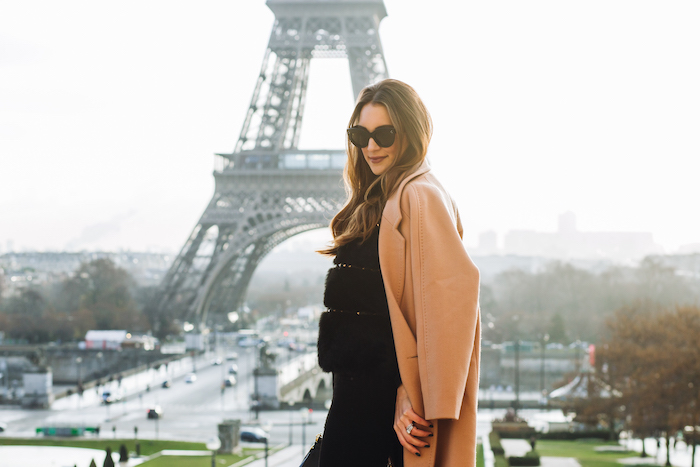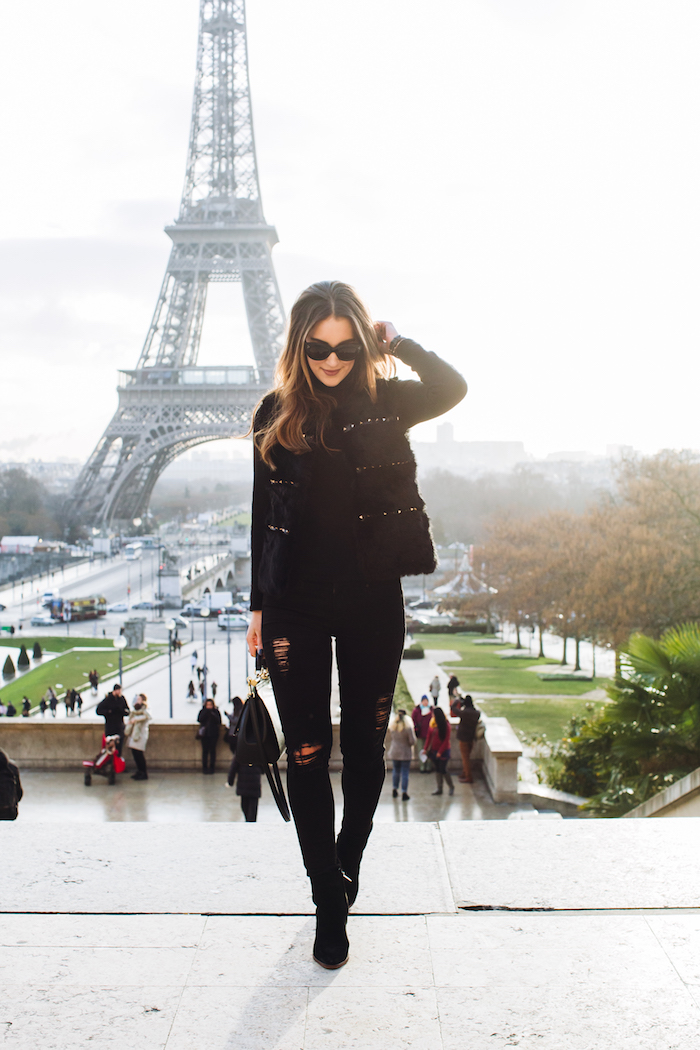 Shopping:
Tip: Be sure to check the Euro to USD price before purchasing an item to make sure you aren't paying more than you would in the U.S..
Tip: The department stores in Paris offer the VAT (value added tax) refund in the basement of their department stores (unlike London), so be sure to do that before you leave if you're buying a fancy something!
Printemps: A great department store with plenty of luxury everything.
Galeries Lafayette: Another gorgeous department store – where we had hot chocolate and also where I bought my Gucci belt (shared here)!
Paris Flea Market: We did this on our last day (which was a weekend day), and it was so much fun. We both got some special pieces I know we'll cherish forever, and I felt very Carrie, even in the very cold January weather. A memory I know I'll have forever.
Place Vendome: We actually wandered over to this area by default and it was stunning. Definitely worth a visit if you'd like to shop and stroll!
Shops along Rue des Francs Bourgeois: The darling girls at the front desk of our hotel suggested this area when we were looking for something to do on our first evening, and it was really fun! Plus I ran into the Urban Decay store and got to see my Lula on the wallpaper of the bathroom there… so you know that was extra fun for this cat lady.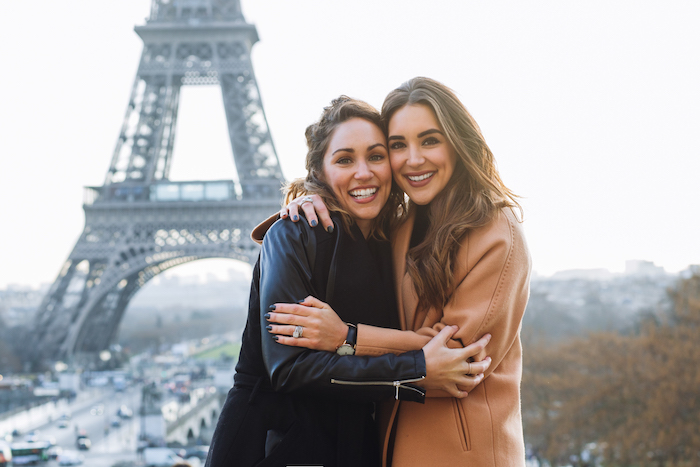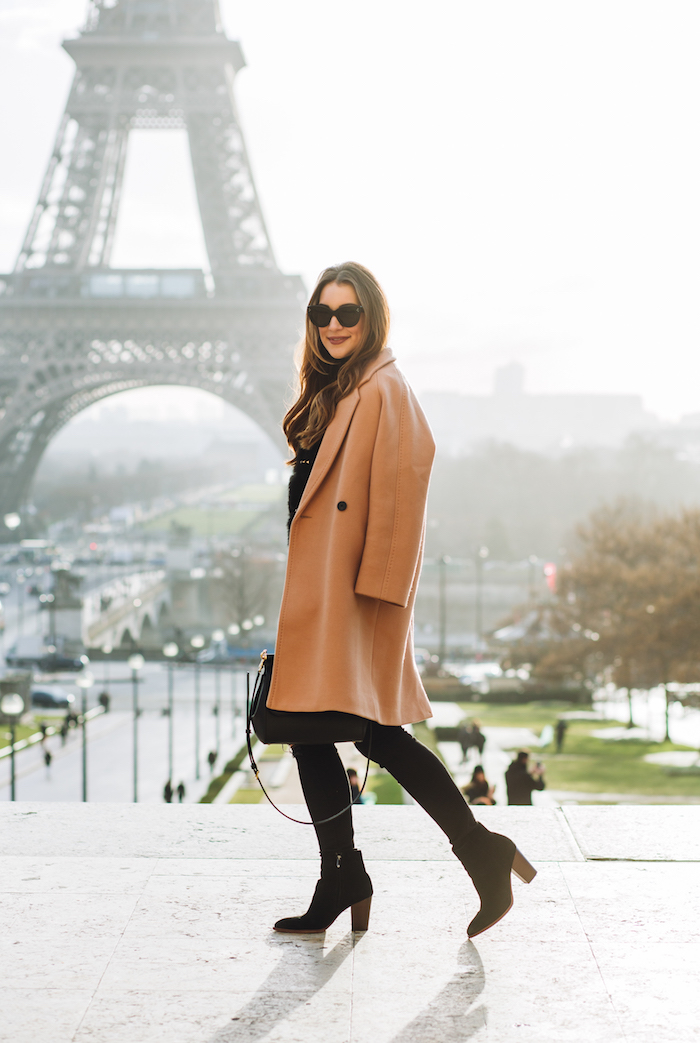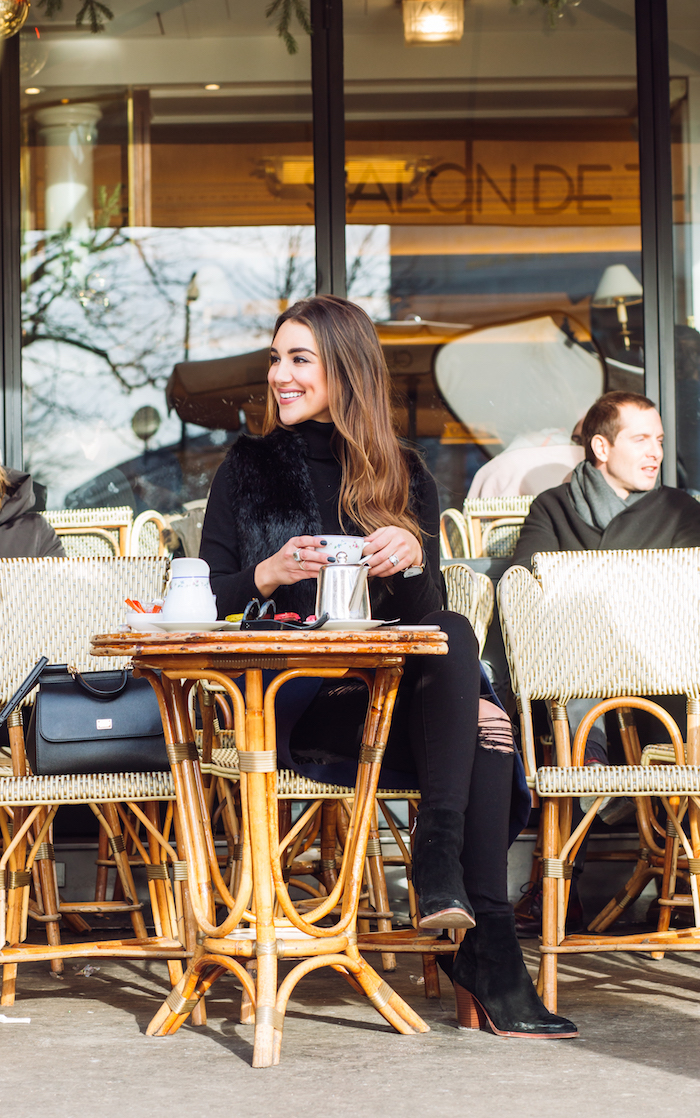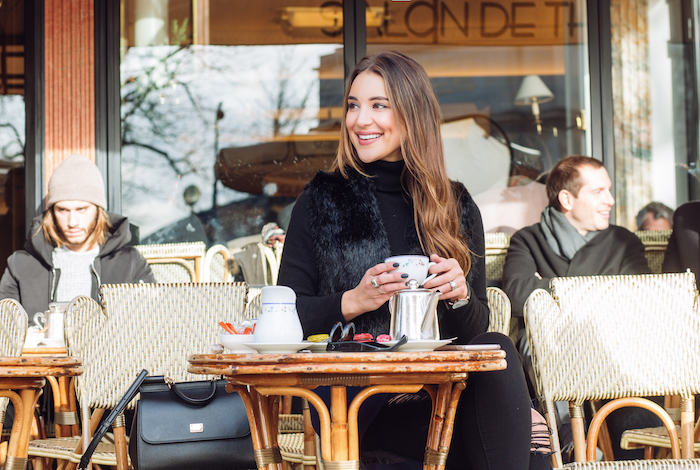 photos by Gabi Alves
coat – sold out, similar styles here and here| turtleneck | vest (sold out) – similar style here, here and here | denim – sold out, love these and these | booties – sold out, similar styles here and here | bag | sunglasses, similar look for less here | lip color in Baci
Again, if you'd like to know what I would recommend doing in London, you can check that out that guide here.
While I don't have any international plans on the docket at the moment, I'm always looking forward to what kind of travel guide I'll be able to put together for you guys next!
Thanks so much for reading, and of course if you have any Paris favorites, of course I would love to hear!  XO –
Brought to you by Eurostar