As many of y'all may have seen on instagram, my grandmother and I share a birthday and that has always been so fun!  We either spend it together or skyping, this year obviously choosing the latter.  Having a summer birthday, most of my friends were out of town at summer camps or on vacation on my birthday when I was growing up. Therefore, I never really had big birthday parties or hooplas, usually just dinners with a small group of friends or my family.  The benefit of these low-key childhood birthdays is that I rarely have expectations whenever July 12th rolls around.
Having low expectations means the past 7 or so years I have been so appreciative and grateful of everyone's thoughtfulness.  Even the smallest gesture just feels so meaningful.  All of the facebook wishes, blog comments, instagrams, texts, voicemails, calls — they really made the day so special and I loved catching up with so many, I didn't want the day to end!
Below is a little photo diary of the relaxing weekend – spent skyping, lounging at the pool, unwrapping presents, playing in Newport, hiking, hitting the farmers market and of course, shopping!  Thank you so much for reading!
Christian nailed the birthday dinner.  He chose Sol Cocina in Newport, calling ahead and asking for a table with a view so we could watch the sunset.  While enjoying dinner, the atmosphere and decor of the restaurant reminded us of one of the restaurants on our honeymoon – even better!  Moments like this just remind me that I really snagged a good one.
There's that sunset.
After dinner we walked around Balboa Island and window shopped, too full to eat a frozen banana or Balboa bar. On our honeymoon we always walked to and from dinner rather than taking a golf cart ride.  It was nice to walk and chat while both anticipating dinner and letting our big meals settle!  This walk around Balboa reminded me of our blissful honeymoon and was the perfect end to such a relaxing and happy day!
Is this French Bulldog by the "take me to Paris" sweatshirt the cutest display or what?  I later discovered this little bulldog can be found at Z Gallerie.
Driving out to a late Saturday afternoon hike –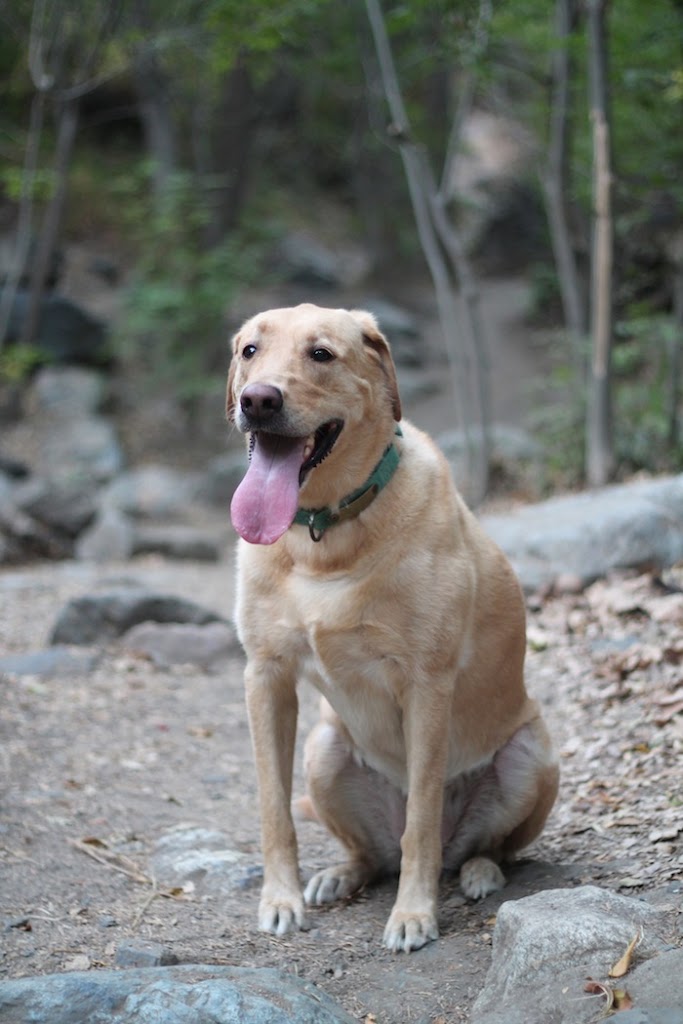 Seeing this apple pie craving of a hiking stranger's made me feel like I could manage the Holy Jim Falls Trail, also known as the "Cussin' Jim."
Jealous of the people in this Great Park balloon!
A crazy loaded hotdog on Hawaiian sweet rolls?  Genius, Dogzilla Hotdogs.
Thank y'all so much for all of your sweet birthday wishes and comments!!  You certainly helped to make my birthday extra special this year, and I mean it, mean it, mean it.  Lots of love – XO –