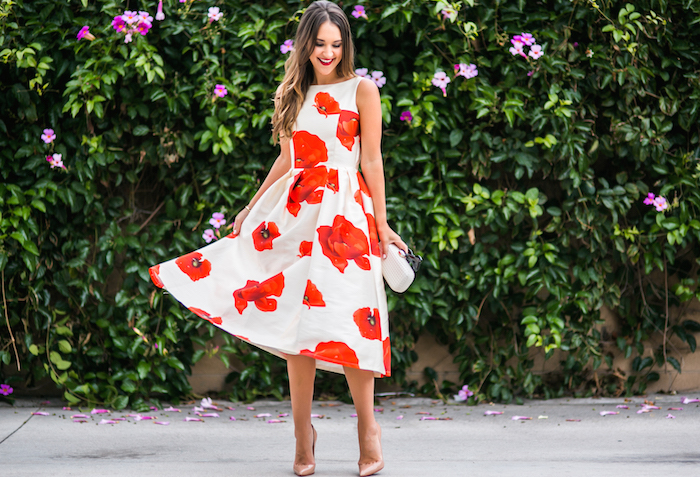 This dress, oh this dress.  Remember when you were little and you would put on a dress-up dress and feel like a million bucks?  The full skirt (perfect for twirling), the luxe fabric – it's like you put on the dress and felt like the best, most fabulous version of yourself.  That's how I feel about this midi dress (and a similar love for this skirt and this skirt).
It's so funny to see my girly-girl niece (and dare I say protégé) at three years old, falling in love with her princess dresses and dress-up baubles.  She puts on a tulle skirt, her entire face lights up, and you can see how special she feels.  Fast-forward 20 years and there's a powerful feeling about feeling confident in the right dress and heels.  At my day job (95% female), I see successful and powerful women running a global brand in 4-inch stilettos.  And it's a mighty fine sight to see.
This ladylike dress has a little bit of a First Lady vibe (I'm channeling my inner Jackie O), but I still love the red and white floral pattern and the statement it makes with its full skirt.

dress c/o (fits true to size and is under $60!)) | sunnies | heels, more affordable version here | clutch, old, similar here and here | gold rings c/o | gold bangle c/o | gold "c" bangle c/o
photos by Jason Huang
Thanks so much for reading, and tell me – what dress in your closet makes you feel like a #girlboss?  XO –