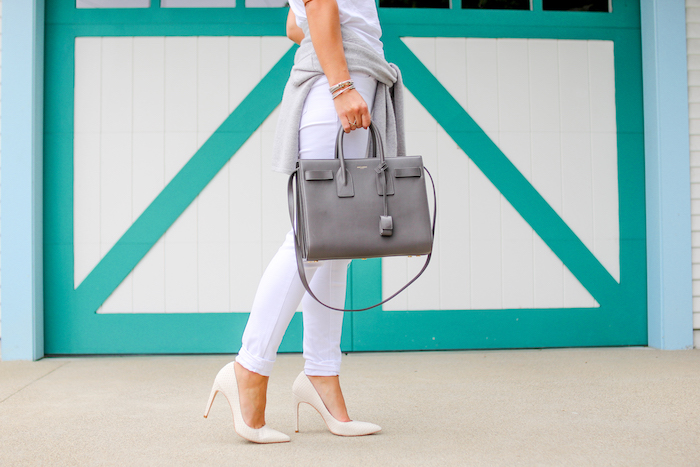 I'm always interested to see what other gals are stashin' in their purses, so today I thought I would share my own "what's in my bag" post!
Obviously, I always have my wallet and keys.  I'm pretty good about always having some business cards on me, and my friend Miriam introduced me to this extra card book that is perfect for storing gift cards!
A mophie charger and earphones are usually buried somewhere, and I am no longer able to have cutesy cell phone covers because I drop my phone everyday, so I have a tempered glass screen protector with a bumper on it.  I almost always  have a nail file and a ponytail holder. Nothing is worse than traveling or being out and about with a sharp, jagged nail or wanting to pull up your hair and not being able to! I keep one pill bottle that has various ibuprofen, allergy medicine and excedrin migraine medicine.  And I usually have a few pairs of sunglasses (these aviators are so lightweight and comfortable).
A few lip liners, glosses and aquaphor are necessities – and if I wasn't out, this compact would definitely be included! This is my favorite hand lotion, and I always have a handkerchief.  I actually collect them and we gave vintage hankies to all of our wedding guests!
bag | similar wallet | similar card holder | extra card book | aviators | similar blue lens sunglasses | hand lotion | naked gloss | sara happ gloss | lip liners in wallflower and manic | smashbox matte lip stain

Do you have any must-haves in your bag that I should know about? I'd love to hear! Thanks so much for reading – XO –