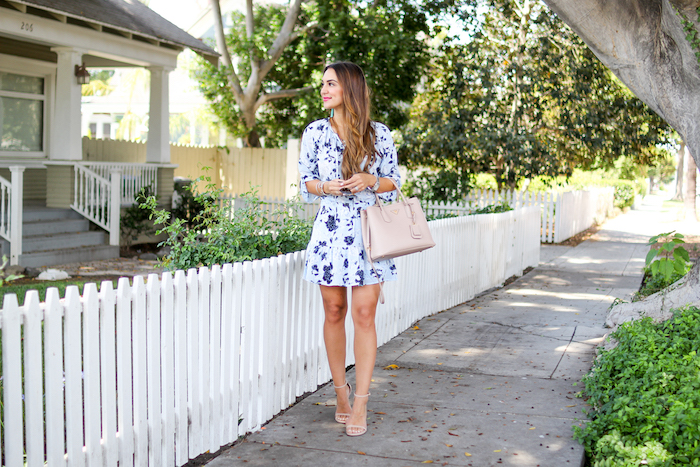 Two weeks ago I got eyelash extensions for the first time!  I have always oogled the long lashes of others, and have used Latisse and different lash serums.  I have definitely seen the length of my lashes grow, but no matter how many times I curl them (even with the magical Shu Uemura lash curler!), they don't stay curled and they're not as full as I'd like.  So when Jessica Smith reached out about expanding her California business in eyelash extensions and eyebrow microblading, I was all ears (and eyes!!)!
Jessica is based out of Utah, but has begun traveling to California once a month to take clients in LA and San Clemente. I was nervous about the lash process, not wanting to damage the lashes I had worked so hard to lengthen.  She explained that it is when the extensions aren't isolated properly that they can damage your lashes. The key is in the application, and of course, how careful you are with your lashes afterward.
For the first 48 hours, you don't want to get your lashes wet or apply any makeup – just leave them be. After that, it's advised not to wear mascara, but eyeshadow and liner is fine. I've applied eyeliner only a few times, both times I removed my eye makeup with oil-free makeup remover and a q-tip.  Jess advises to brush through your lashes once a day with a mascara wand applicator (she gives you one to take home!) and says you can wash your lashes once a day gently with baby shampoo and water. Don't sleep on them (sorry stomach sleepers!) and just leave them alone for the most part.
Some background info on the two kinds that Jessica offers – she glues either individual lashes (these would be called classic lashes) on one lash or 2-6 tiny fans on one lash (volume lashes), separating them so they can shed individually with the lash cycle. If you go to her Instagram, you can see some more details on the application process.  She gave me the volume lashes (it took a little over two hours) and microbladed my eyebrows (also about two hours) and let me tell you – I am in love!  You can see a close-up before & after here. The eyebrows require a touch-up, and after I have full completed the process I plan to share a separate post on that experience.  A sneak peek to the first round here!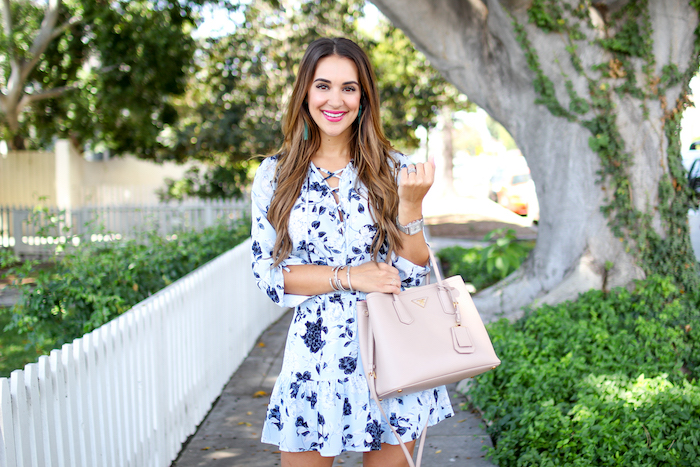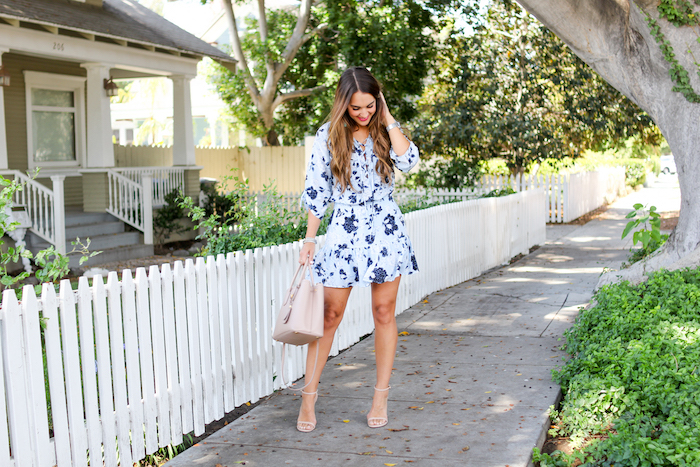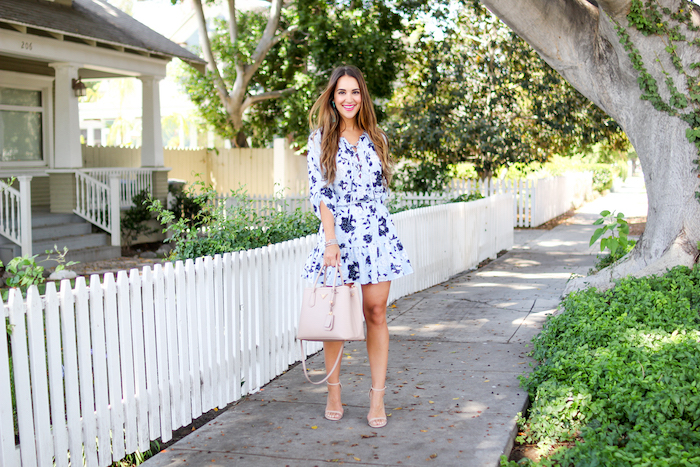 dress – also available here, love maxi dress in the same print! | heels, look for less here | bag, similar style for less here and here | similar earrings, love this pair for $15 | watch | cable bracelet 1, 2, 3 | hair extensions via Bellami, $5 off your order with code kathleen5 – I'm doing a full blog post on these extensions next week!
I will be meeting Jess on her next trip to California at the end of the month.  She'll be in San Celemente 6/28 – 30 and LA 7/1 – 7/2.  I'll be getting a lash extension refill (so it will be four weeks from my original set), as well as a touch up for my brows. I am going to share a completely separate post on that experience once we touch them up – so more to come!
A full set of eyelash extensions from Jessica normally runs at $230, but the first three people who visit her and share they were referred by me will get the application for $175 for July and August!  She is also offering a deal on microblading for CBL readers.  The brows normally run at $500 but she will be offering $400 in July and August to the the first three people referred from CBL.
You can contact Jessica via email: jessicadianesmith11@gmail.com as well as on Instagram!  If you have any questions I've missed – please feel free to ask!  I've always had lots of questions about eyelash extensions, so I'm happy to share any info I have. Thanks so much for reading! XO –