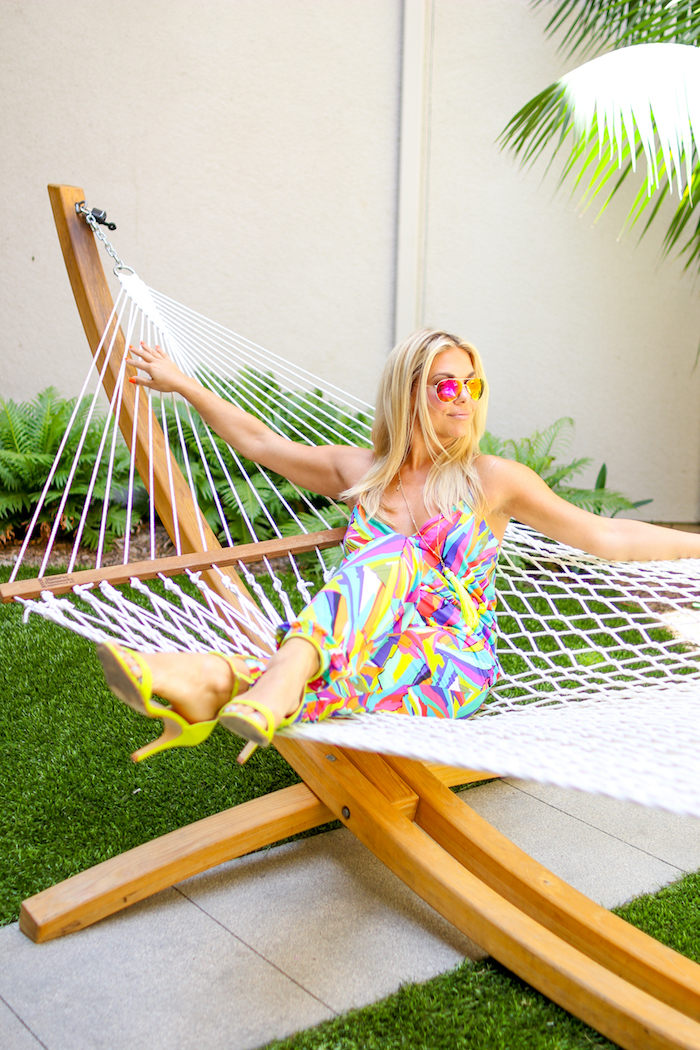 Kathleen: This girl.  Trying to write a short paragraph to explain why I love her so is nearly impossible, but Emily Loftiss is a dear friend of mine who is a TV personality and host, stylist and beauty expert.  Her motto is (and I quote), "dress everyday like it's New Year's Eve." She is a Georgia-raised Southern belle, Alabama grad turned Radio City Rockette in NYC (and I was mesmerized by these ladies when I was in the fifth grade, this is like, a big deal).
She now lives in Orange County (lucky for me!), and frequents Good Day LA and The Steve Harvey Show to name a few – she's my girlfriend and red carpet superstar, so today it's my privilege to have her take over this blog to share her five quick tips for feeling like your best self on those days when you really want to be in sweatpants.  You know this girl had days when she didn't want to get out of bed, but she had to put on her Rockettes leotard and high-kick in front of thousands of googly-eyed fifth graders like my former self, giving them memories for a lifetime.  And now instead of a leotard it's a microphone and a camera broadcasting across the country.  So let's all learn from the pro!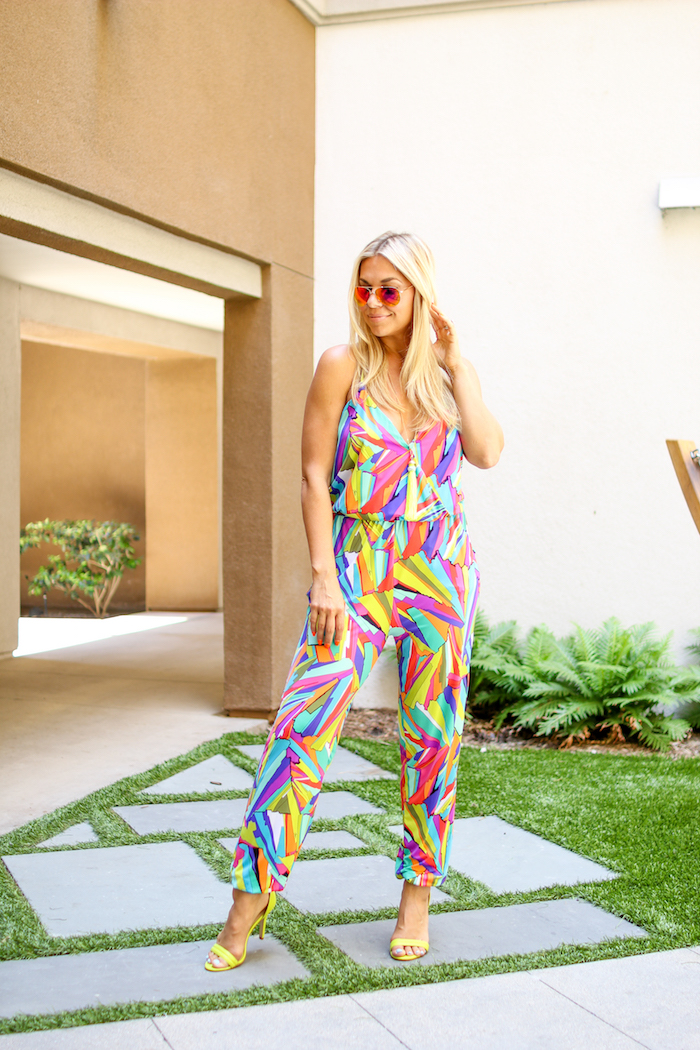 Emily Loftiss:  This just made my day when Kathleen asked me to write a blurb about self confidence. I honestly am just one of those folks born with an unbelievable amount of positive self-love. Sometimes to a fault! There were times when I had gained weight (after not dancing 8 hours a day for a living) and would look in the mirror and thought …."heyyyyy not too bad! I'll just trick everyone with my fierce hair and makeup today." I look back at those pictures and think – girlfriend! You needed to phone a friend! I'm like Mariah Carey- no matter her shape you can't convince her she is not fly, honey.
I do think it's the utter most important thing in the world to exude a positive self-image. It will help you in every phase of your life: interviewing, dating, leadership roles, business, marriage, weight loss, networking, happiness etc. Here are a few thoughts on improving your confidence or at least faking it until you feel that shift in your spirit.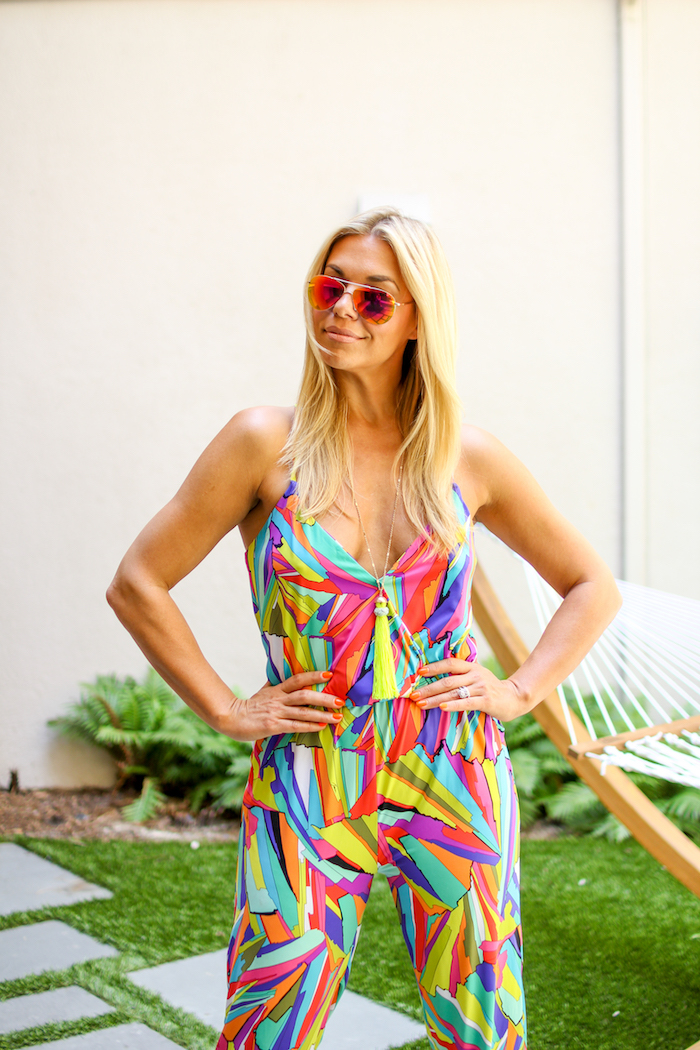 1. WHAT'S YOUR SIGNATURE?
Nothing makes me happier than people tagging a picture of a bright neon look and saying "thought of you!" My signature style is: anything orange, Micheal Kors perfume (smells like gardenias/ worn since 1999), jumpsuits,crazy prints and sequins.  I feel as soon as you figure out what you are known for that should be your go-to for an instant jolt of happiness.
2.  CONVERSATION STARTER
How many times have you had butterflies about attending an event and not knowing anyone? It doesn't matter if it's the 1st day of school/work, a wedding to a cocktail event. It's the worst to be "Sally-Sally No Friends" That's why when I'm dressing for one of these occasions, I wear a statement piece that is a conversation starter. Forget that boring black dress UNLESS you add a killer brooch with a great story behind it.
Two years ago I was invited to this black tie event at South Coast Plaza (the most luxe shopping center in the country) where each ticket started at $1,000. I was offered a free ticket and knew I would know not a soul. I decided to throw on a red dress and make a vintage necklace into a headpiece. The entire night people stopped me to ask me about my interesting look. I ended up having the best time and left making several new friends. When in doubt- wear the feathers, costume jewelry, sparkly shoes…the  showstopper piece!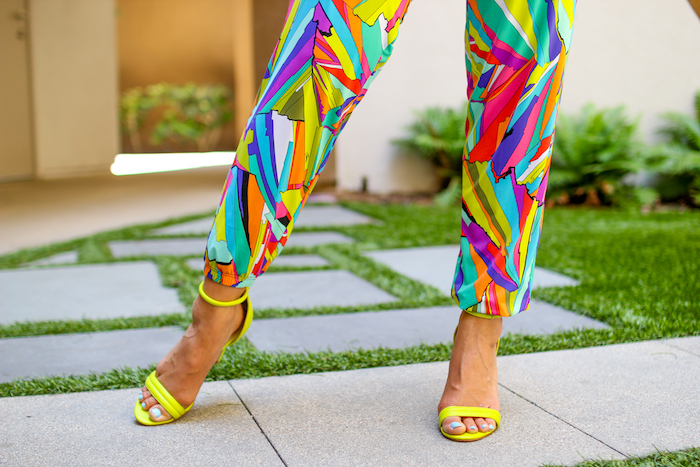 3. QUICK HACKS
Some days you just wake up and feel yuck. These are the days you need to have your go-to tricks to make you get in the mood for "hell yes this is going to be a great day!" Self-tanning is the way to my heart. I instantly feel thinner, younger and my skin is flawless. Have dry shampoo ready to roll. False lashes- why not?! If you have date night and not liking how your body looks- those falsies will make you feel glamourous. Blush always tricks me into thinking I'm not so tired.
And when in doubt- pull out the most ridiculous thing you own and wear that! Feeing bleh? Pull out that leopard cardigan, that highlighter yellow jeans, that hot pink tank. Wear it with pride, sister!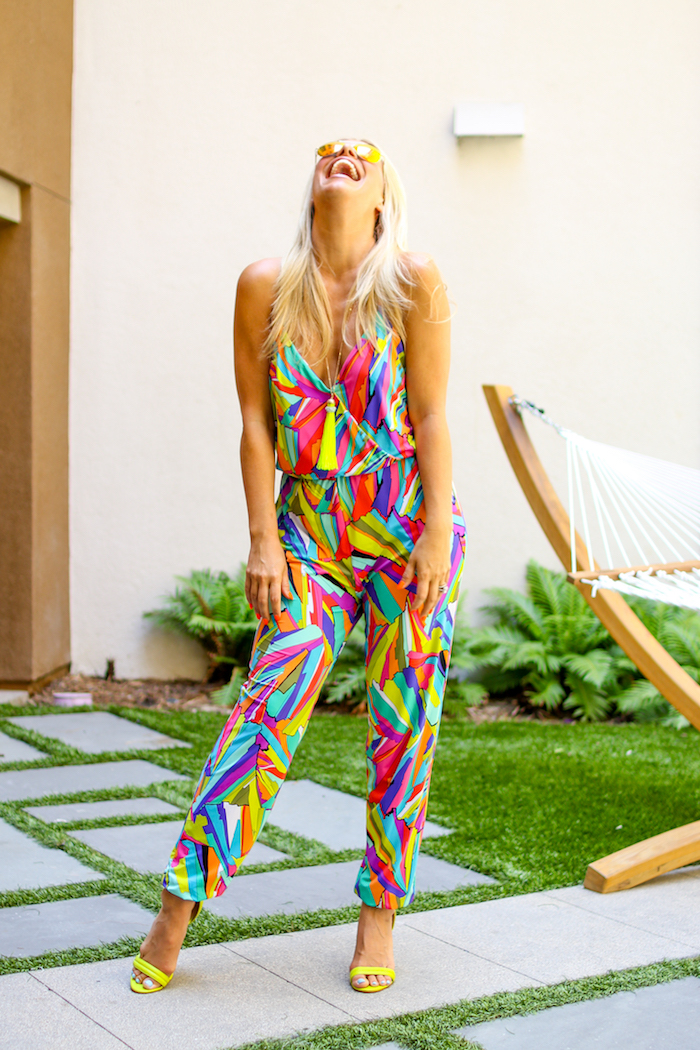 4. BODY LANGUAGE
I can smell when someone is not sure of themselves by their posture. Probably because I trained my whole life to be a dancer I always look at a women's body. Think of five ladies you admire that are kick ass, strong women. Do they hunch their shoulders? Do they look meek? Do they wear kitten heels because they are afraid of being taller than the men around them? Exactly.
Roll those shoulders back and walk that sassy walk, ladies. Think about not crossing your arms but having your body (and heart) open for conversation and new experiences. It'a a game changer.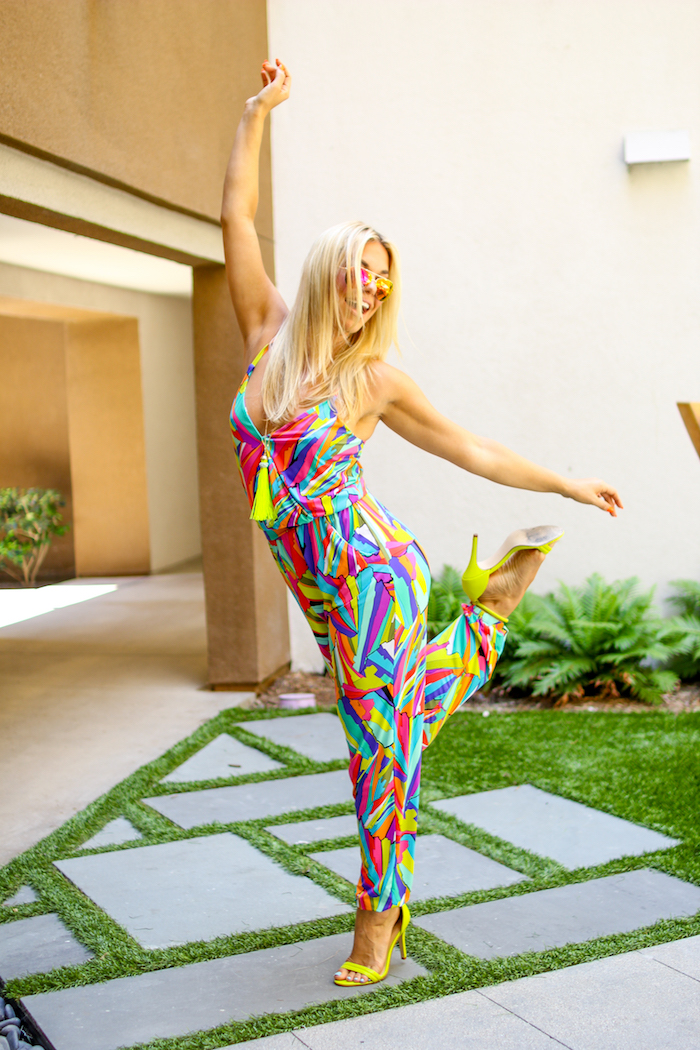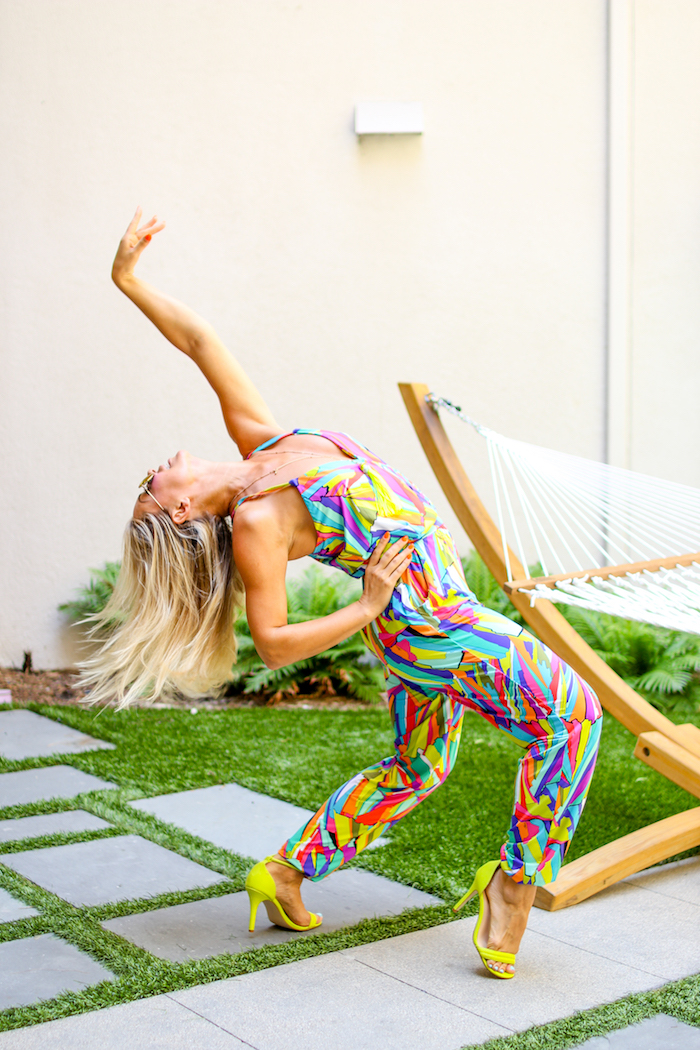 5. FIGURE OUT YOUR GLAM
I get asked all the time if I do my own hair and makeup for events. 95% yes. I have always loved beauty and learning about new products. I'm always inquisitive and love learning new tricks to make myself look (and feel) better. If you do not know how to do you own hair and makeup well…. get some help. I feel the easiest way to feel fabulous is to KNOW you look fabulous.
Instead of spending all your money at DryBar- ask your hair technician to teach you. If you need help with what eyeshadows look best on you- hit Ulta and ask for help. This takes time but I promise it's doable and will bring a whole new level of fierceness to yourself.
Thank you Kathleen for featuring me on CBL. And to all the girls reading this who don't know her – she is as cool as you think she is. Honestly a gem in this world of wannabes. You picked a good one to follow. xxx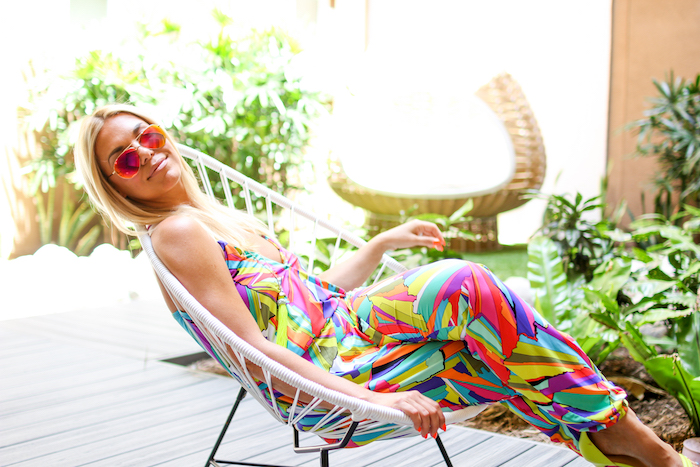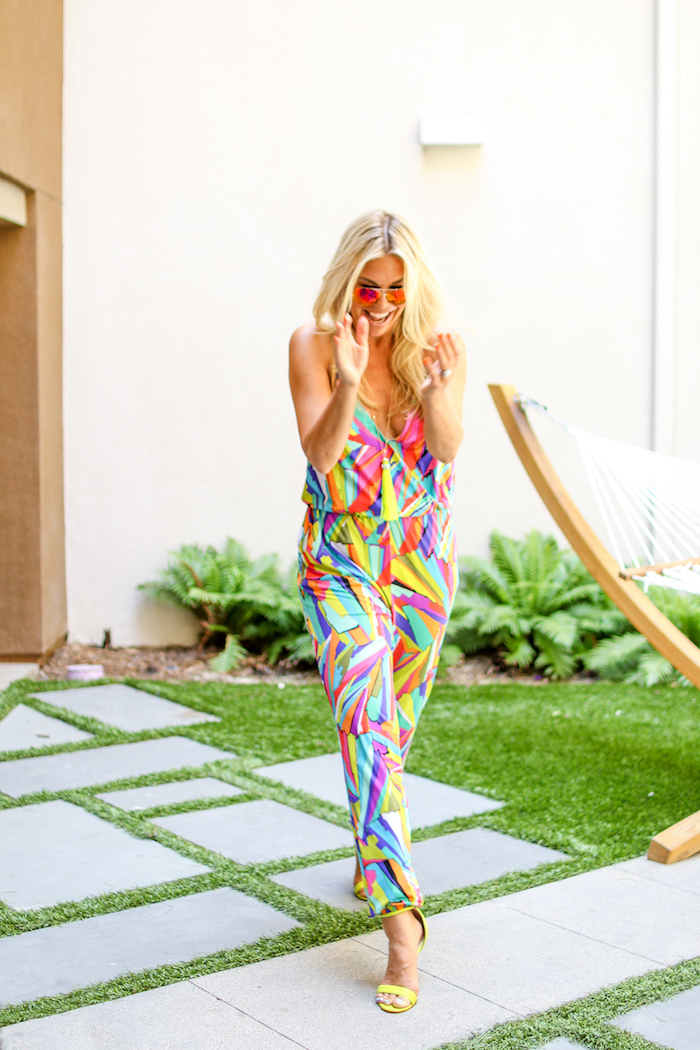 jumpsuit – Trina Turk, love this one and this one | heels – Prabal Gurung for Target, similar here | sunglasses – ZeroUV | tassel necklace  – Vici, also love this one
***
I mean – is it not obvious why I love this girl!?  She is cool and confident – yet warm, genuine and heartfelt. Emily is the opposite of a wallflower, and she's infectious and brightens up any room she walks in. I adore her and learn so much from her all the time — and I'm about to live by these tips! Be sure to check out Emily's website + blog, and follow her on Instagram and Snapchat (@emilyloftiss) for all kinds of beauty tips, hacks and all around glam on a real girl's dime.
Hope you guys loved this as much as I did. I'm hoping to share more interviews and content of the sort in the future, so if you have any topic you'd like to see, I'd love to hear! Thanks so much for reading – XO –