– waking up on my birthday to breakfast in bed –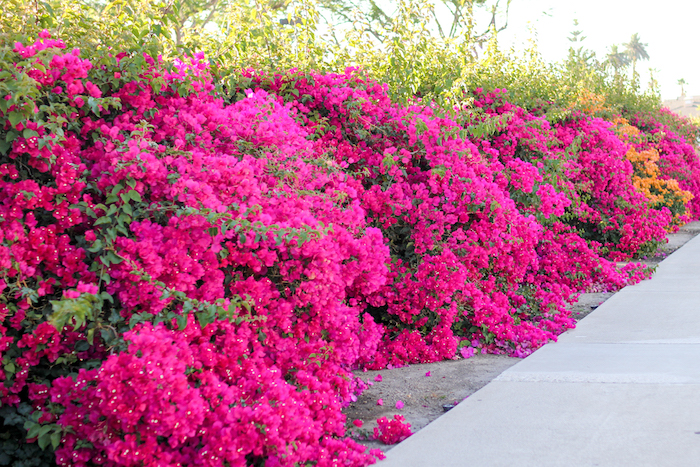 – trying to figure out how I could smuggle all of this bougainvillea to my patio –
– a mid-week pool day –
– the sweetest water mister from my friend Miriam, perfect for me because I've become the plant lady! –
– this year's birthday cake, a cookies 'n cream cake from C (and seriously y'all, it's soooo good!) –
You guys… am I a brat if I am so sad this week is over? Maybe I'm wrong, but I feel like I soaked up the birthday love extra this year.  This is the first year that I had a birthday when I worked from home… so it meant that I could do whatever I wanted to. All day. What!? That alone is the best gift I could have asked for! I woke up early to work in the morning so I could read by the pool all afternoon.  Last year (while I loved my job and coworkers, no doubt about it) I was sitting at a desk with a bunch of spreadsheets.
Chase your dreams, y'all. Chase 'em hard.
BUT one of the highlights of the week hands down was the delicious cake made by my sweet.  He bakes me a cake every year and this year it was just as delicious as last year's!  And there are leftover Oreos that have to be eaten. Everyone wins.
Christian is working this weekend so I'll be working as well and trying to get ahead.  I realized this week that for the month of August I'll have guests in town or be traveling all but 8 days… so I should really appreciate this downtime in July while I have it.
Also, I was featured in this Q&A for BLND PR which is an interesting peek behind-the-scenes of CBL if you're interested in checking it out!
Last but not least, The Real Housewives of OC is back on so I mean – Monday's are great again. I'm really digging the new gal, Kelly.  She's funny, blunt and a little crass. Honestly I like the whole cast right now – although Shannon probably makes me laugh the most. "Bring it, sista!" Do you guys watch the show? Who's your favorite? Oh! And RHONJ too! I literally shed tears when Theresa first came home. You know Andy Cohen watched that and was level 10 excited to record that moment. So emotional.
I hope y'all have a beautiful weekend – thank you so much for all of the birthday love. I love you guys!! XO –