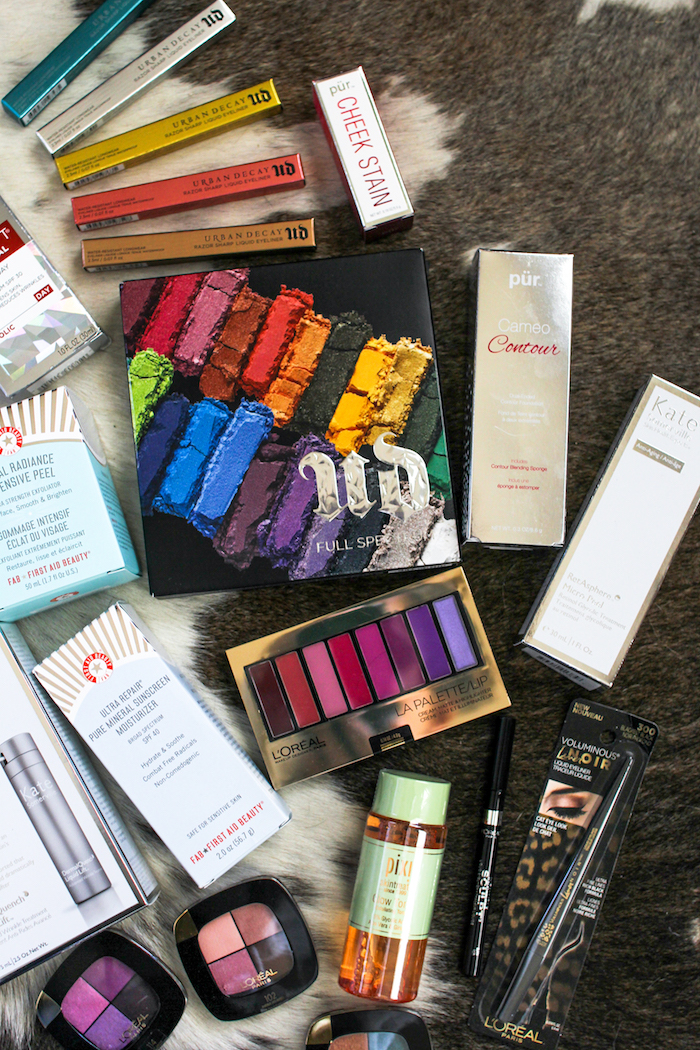 I am fortunate to receive lots of beauty swag to try, but one's face is only so large and I think it's time to share the wealth. I have set aside a few goodie bags to host some beauty giveaways for you guys, so I'm excited to get started today!
I'm including the brands of products that I use regularly (and that you've seen on this blog if you've checked out any of my beauty posts!). I wanted to include a combination of beauty and skincare, and in follow-up giveaways I'll be putting together similar groupings of products.

What you'll win: 
L'Oreal Colour Riche Pocket Palette – $40 ($9.99 each)
L'Oreal Lip Palette – $16.99
L'Oreal Voluminous Noir Liquid Eyeliner – $9.99
L'Oreal Infallible Sculpt Liquid Eyeliner – $9.99
L'Oreal Revitalift Bright Reveal Moisturizer – $17.99
Pixi Glow Toni Toner – $15
Pixi Multi Balm in Watermelon Veil – $12
Urban Decay Liquid Moondust – $88 ($22 each)
Urban Decay Razor Sharp Liquid Eyeliner – $110 ($22 each)
Urban Decay Full Spectrum Palette – $55
Kate Somerville RetAsphere Micro Peel – $90
Kate Somerville DermalQuench Liquid Lift – $95
Pur Cosmetics Cheek Stain in Peach – $26
Pur Cosmetics Cameo Contour Foundation – $39.50
First Aid Beauty Facial Radiance Intensive Peel – $40
First Aid Beauty Sunscreen Moisturizer – $30
How to Enter: 
1.  Follow me on Instagram (if you aren't currently) here! IF you're not on Instagram, "like" the CBL Facebook page.
2. Comment on this blog post with which beauty product you would be most excited to try! AND include your insta-handle (or name on Facebook) so I can be sure you followed!
I hope you guys are excited about these goodies and stay tuned – more fun giveaways to come! Thanks so much for reading and following along – XO –
11/11/16: And the winner is… Emily Dixon!! Thank you so much to everyone who entered, more beauty/skincare giveaways to come!