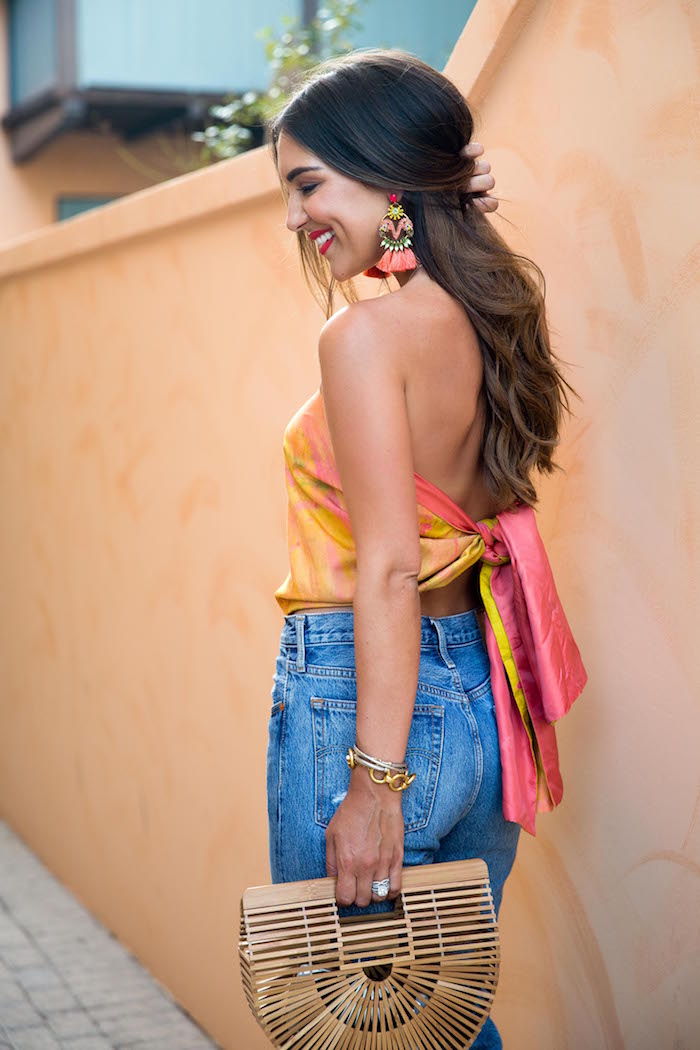 I am so late in posting this look but I had to share it because it's one of my favorite summer DIY tips… turning scarves into tops! I've been doing this for years and it works either way you tie it – front or back.
If you have something like this vintage scarf (similar styles linked below, this one is several years old), I think tying it in the back works best.  I've also used scarves like this and knotted them in the front. If worn with high waisted jeans or a skirt, the extra fabric covers your stomach. Trust me – the end result is fabulous!
I'm going to challenge myself to style a scarf knotted in front for you guys on Instagram so you can see what I'm talking about. I think this is one of the easiest ways to put together a unique and one-of-a-kind casual summer look. Perfect for a beach trip or backyard cookout!
photos by Jacqueline Ward
similar vintage scarf here, here and here also love this one (40% off) and this one (40% off) | denim, also available here | heels, similar style for less here | bag, similar style for less here | earrings, also love these | lipstick in Tilt | cable bracelet 1, 2, 3, 4 | gold chainlink bracelet | "3" necklace
Is this something you could see yourself wearing?  I have fun trying to make the most of my wardrobe, and it's a great way to maximize that summer scarf you haven't worn in a while.
Thanks so much for reading! XO –