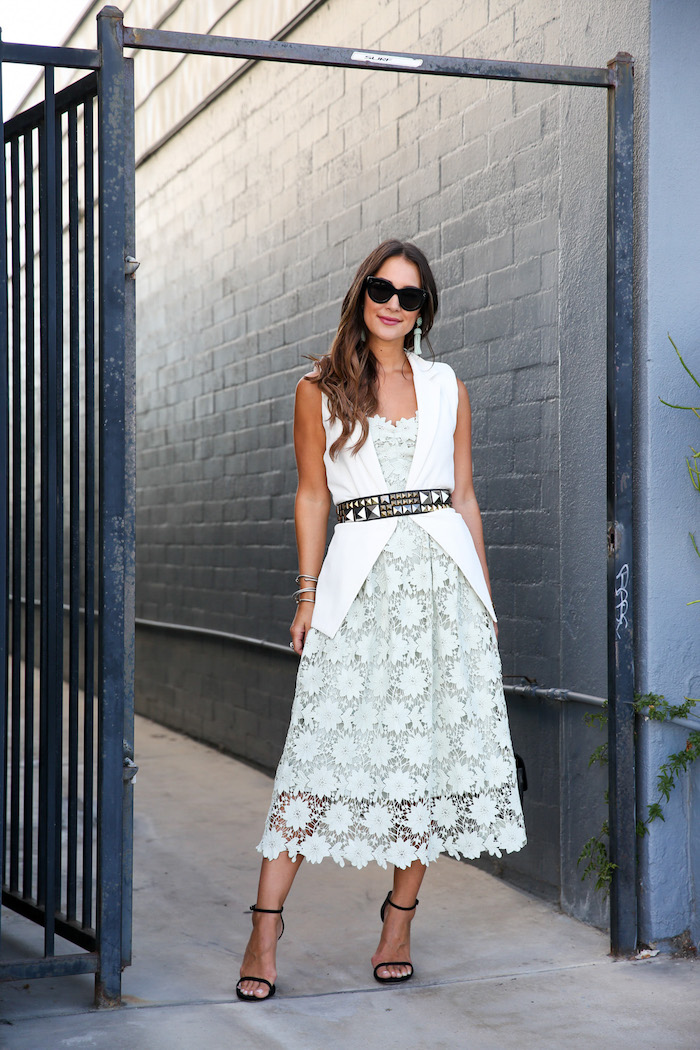 First thing's first, I have to break the bad news that this dress isn't actually apart of the #NSale, BUT the good news is that it's under $68… and comes in white and pastel pink.
This year I'm sharing my sale posts a little differently and theming each post. You can see all of them thus far if you click on the #NSale page at the top right of this site!  I had a reader suggest more work-friendly pieces, so I thought I would share one of my favorite strategies when I worked in a corporate office.
I worked at an office job for five years after college (I know, I know… that's not that long!), but while I was working those gigs, I had a few tricks I would use.  It helped keep me from spending my cashflow on "work clothes" that I didn't necessarily love. The biggest one?  I would belt a vest or blazer over a strapless or spaghetti strap dress. It's that easy!
Just because an item isn't work-appropriate at first glance doesn't mean you can't rearrange some things as long as the piece is knee-length or longer. And you guys know I love a midi dress!
Below are some of my favorite work-pieces that are in the Nordstrom Anniversary Sale, and of course, this outfit is fully linked at the bottom of this post.  You can shop all of Nordstrom's work-wear picks here!

photos by Vincent Elejorde
dress, also love the white and pink version – all under $70 | similar vest here and here | belt – eBay, love this one and this one (under $13) | heels, similar look for less here | similar bag for less here and here | sunglasses, similar look for less here | earrings, also available here

Don't forget you can catch all my #NSale posts by clicking on the #NSale page at the top left of this site, including all the items I've actually bought and am loving!  Thanks so much for reading! XO –