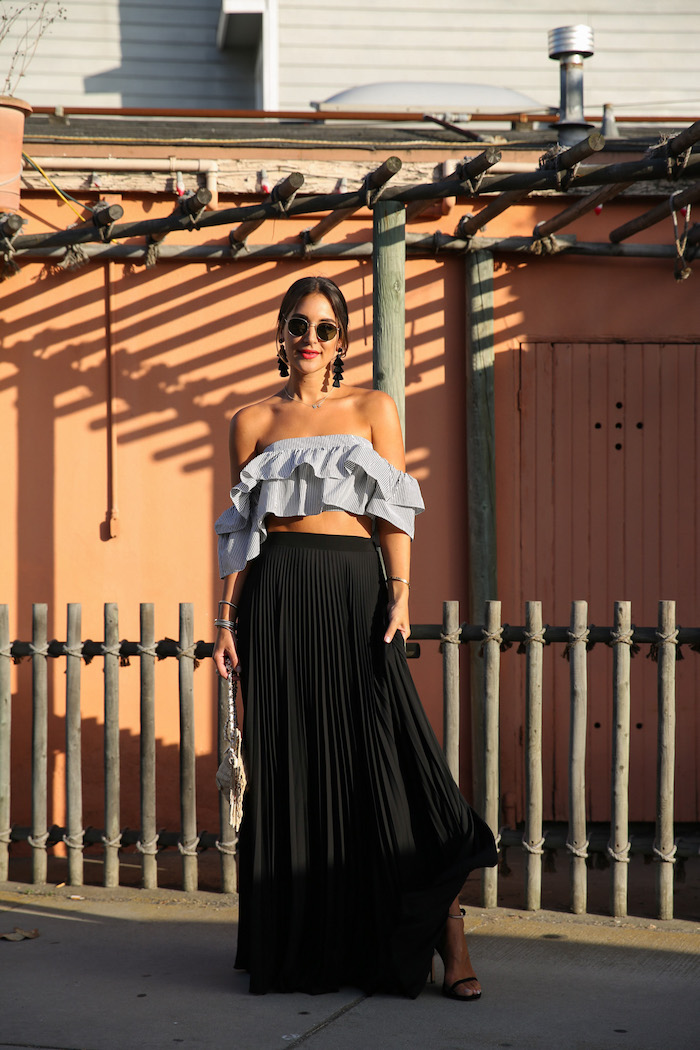 I mean… I felt like I took a quick trip to Cuba with this post. Never been to Cuba, but now I feel like I have for like, 10 minutes!
You guys know I'm maxi dress obsessed. In fact, if you search "maxi dress" on this blog, around 15 pages of posts come up. CAUSE I CHECKED. And while I admit that is completely ridiculous, it's because I am always trying to know my body and find what flatters my shape most.
If you haven't begun this journey with your own body… I encourage you to really try to take note of what you feel most confident in. What silhouette do you reach for if you know you're going to be photographed at a party or reunited with friends? Once you know what you think flatters your shape most, shopping becomes so much easier – and fun!
All of this to say, I consider myself a little curvier on the bottom (aka pear-shaped), so anything midi or maxi that highlights my upper body, I'm down with. I styled this same maxi skirt a few years ago here, but today I wanted to edge it up a little bit for a summer date night look.
photos by Vincent Elejorde

crop top – also love this one and this one | similar skirt here and here, love this one and this one | heels, similar look for less here | bag (on sale!) – also available here (on sale!) | sunglasses | earrings | lip in Tilt | cable bracelet 1, 2, 3, 4 | gold cuff
Thanks so much for reading! And tell me if you guys know to dress for your body or if you would like another post on this with some more detail? If it interests you guys I'd love to dig deeper! XO –