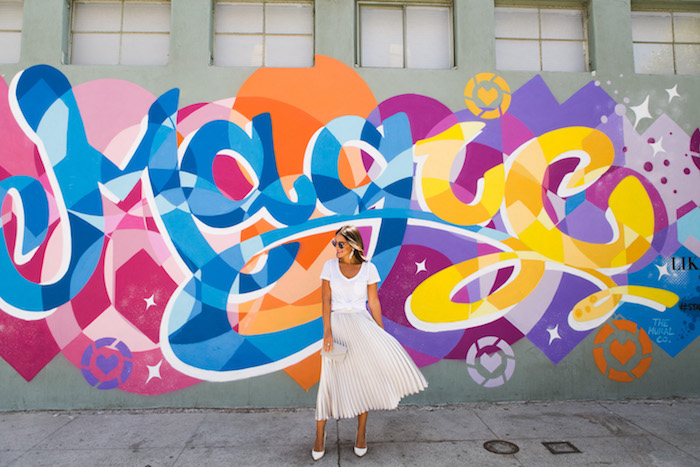 Last week I had a lot of meetings that took me to Los Angeles… three times, BUT I am a blogger so you know I can't resist an invitation to get a photo at a wall mural.
rewardStyle's @LiketoKnow.it unveiled their newest street art in Venice Beach (228 Main Street to be exact if you want to visit!), marking their fourth creating along their city tour. There's Dallas, Austin, London… and now LA! I love how each mural is different to reflect the vibe of its city, and this one is so Venice. I can just envision some West Coast skater mid-air with his skateboard in the middle of this wall, can't you see it?
But about this outfit, I get a lot of questions about my ever-growing pleated midi skirt collection, and while this was a boutique find, I found two nearly identical versions so I wanted to share the scoop with you!
This tee is also still marked down to $16 in the Nordstrom Anniversary Sale and I think I've already worn it like… 10x, so I wanted to share some of my favorite marked down tees with you guys. See my picks below!

photos by Kathy DeNinno

similar skirt here, here and here, this one is in the #NSale! | tee, also love this one | earrings | bag, similar look for less here | albion ring | sunglasses | similar heels here and here
What do you guys think of all this street art popping up!? Are you guys suckers for a wall mural too?
Thanks so much for reading and sharing – for more #NSale posts to help you navigate the last week of the sale (ends this Sunday 8/6!) just click the #NSale page at the top left of this site. XO –