When Christian and I were snapping these photos a few weeks ago, I knew exactly what I planned on sharing when I posted them.
I consider myself pretty tough (I asked Christian this to verify I'm straight-shooting).  I am not much of a crier, and I am fairly good at knowing how to "stay in my lane."  I can put on blinders and just do me, blocking out negativity or outside influence. I think when I was 17 and in Miss Teen USA, I learned not to compare myself to others and rather focus on my own strengths and weaknesses. I am a competitive person, but only against myself. I'm always trying to out-do my own personal best.
But I have my moments where I'm anything but confident.
Five minutes before we took these photos, I had tears rolling down my cheeks.  In terms of my career (which is currently this blog), this summer hasn't been my favorite. Every week it feels like I'm tackling a new problem and it's felt like two steps forward and one step back since May.  This blog was my passion project since 2010 and over the years, it has morphed from an online journal of sorts into a lifestyle website.  I left my corporate career to pursue it full-time.  My husband is still in school, and he greatly helps me with CBL as it's kind of become our own little family business.
With that comes a feeling of pressure, expectation to meet certain goals, milestones, etc.  Some days I feel completely fulfilled and embrace myself, flaws and all.  Other days I feel like I'll never be good enough and that I might even be happier if I dialed back the blog, ultimately putting less pressure on myself.
I'm not a size 0, and I'm fine with that. I have a 10 lb. fluctuation range that always ebbs and flows depending on how much I've been traveling. I'm not a model, never have been and never have pretended to be one. I'm not a tech guru or analytical expert. I'm not a web designer or professional stylist.  I don't have perfect hair or glam makeup skills.  I don't have professional photography training. I hustle, I work as hard as I can, I do my best and most importantly, I always try to have fun with it. After all, when I started this blog I had no idea it would make a dollar. I blogged for years without making a penny, and had so much fun with it!
When style bloggers hit the scene 8+ years ago, it was about seeing real girls wearing outfits and thinking, "oh I can style a dress that way or look like that in those jeans." As this industry has continued to evolve, now many bloggers look like they just marched out of the magazines.  And hey, hats off to them for being so gorgeous.  I love to see it! But those of us that are more on the relatable spectrum can be left thinking… real girls, where you at!?
But that attitude isn't fair either. The girls lookin' magazine-ready are real girls and they are just #blessed. The issue isn't other people, it's my mind. Learning to be content, to love myself, to stop reaching for unrealistic goals thinking that a new handbag, losing 5 pounds or getting 50,000 more followers will make me feel more confident. That is absurd! Learning to be happy with myself, to think of all of the reasons I am so fortunate rather to count all of the ways I could improve… this can sometimes be a day-by-day challenge.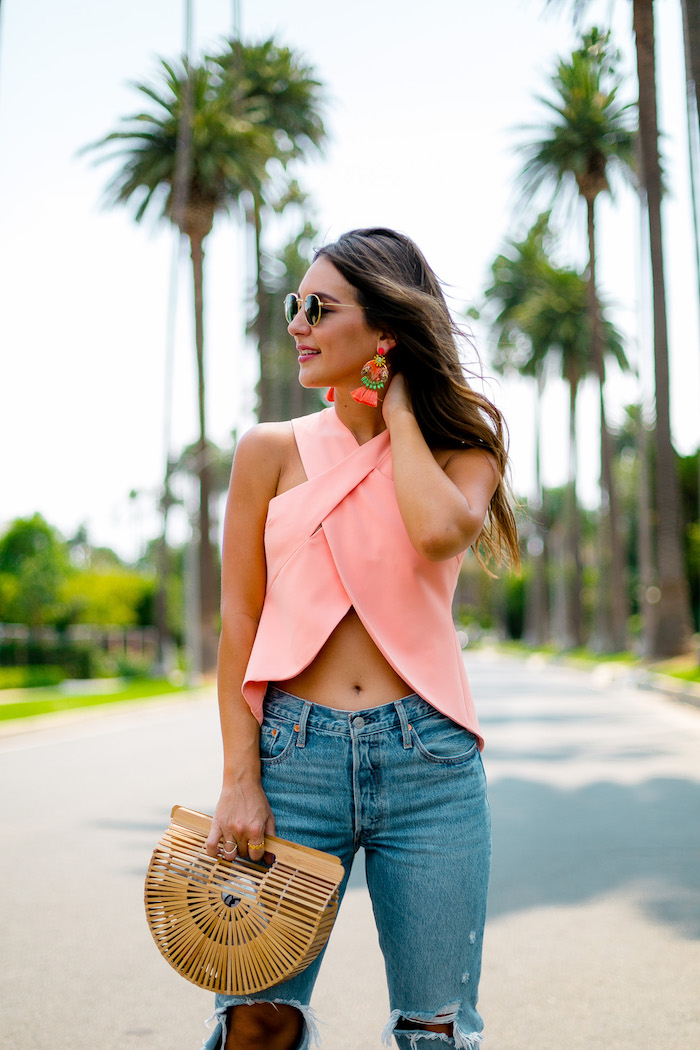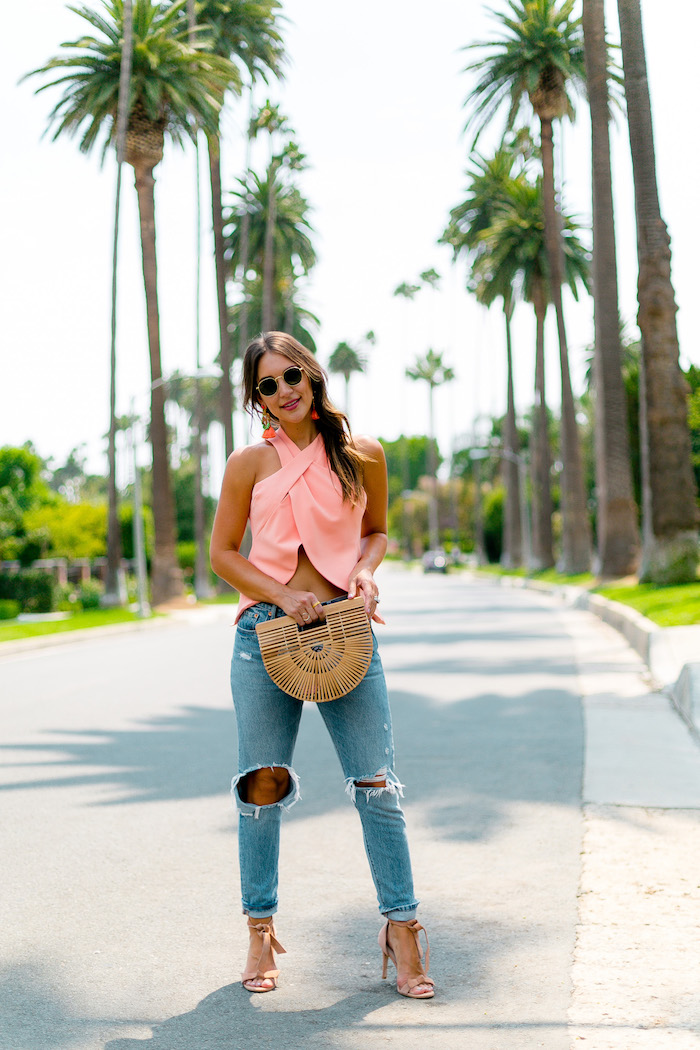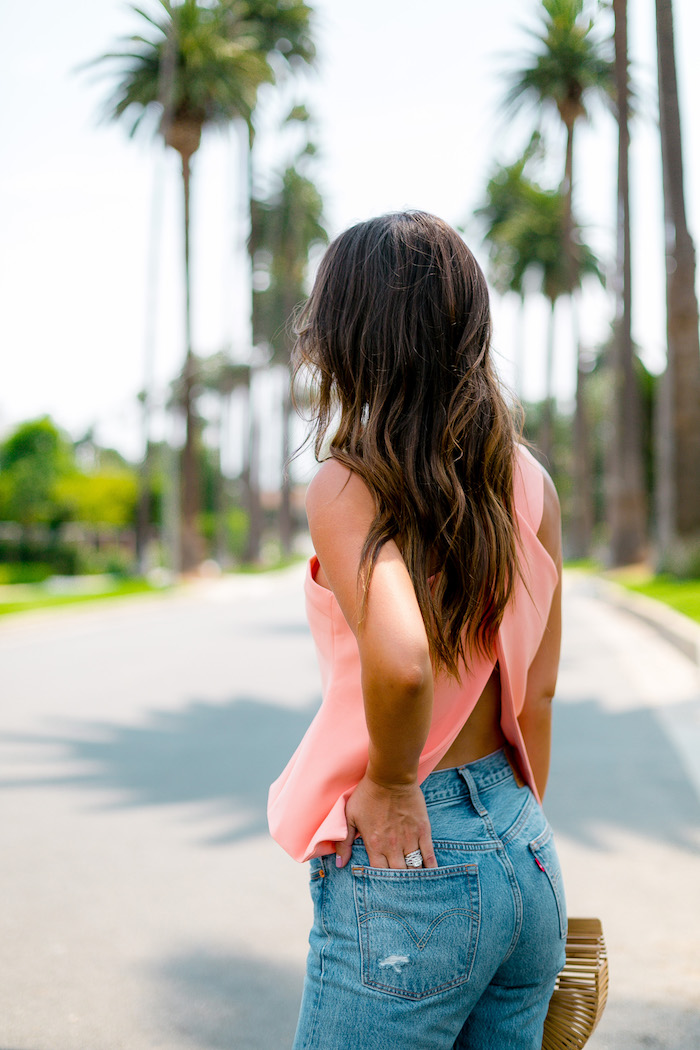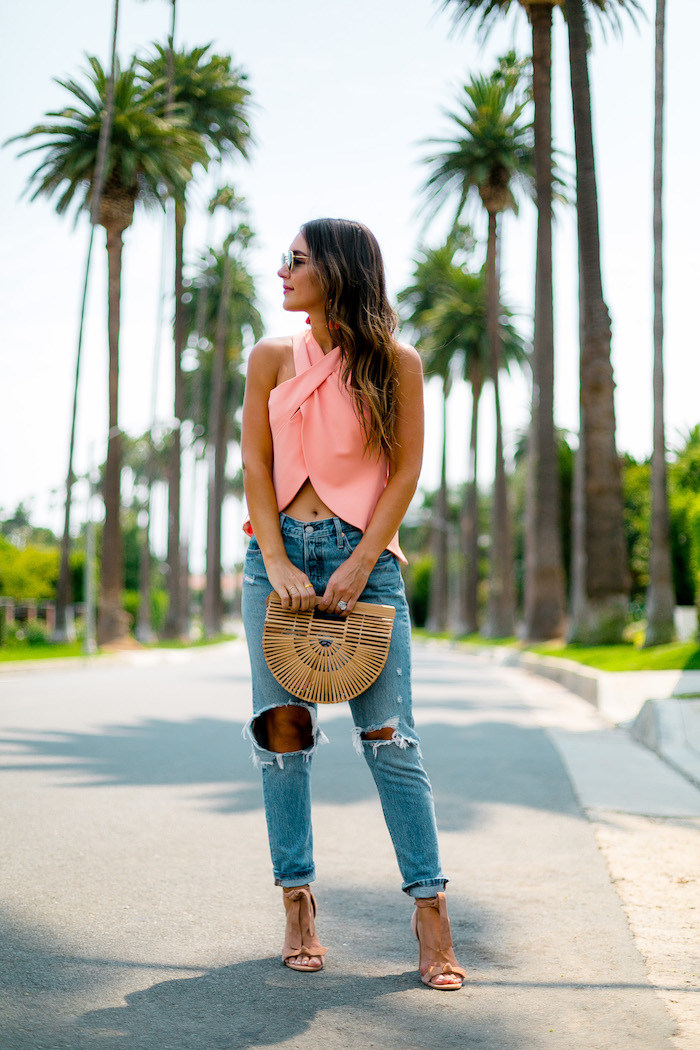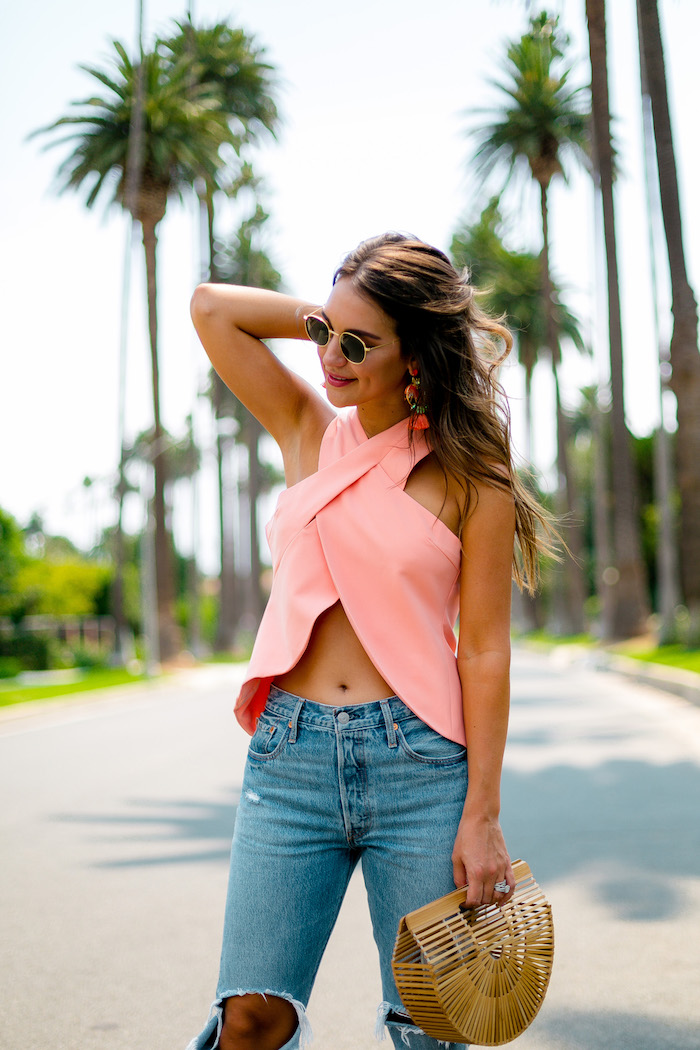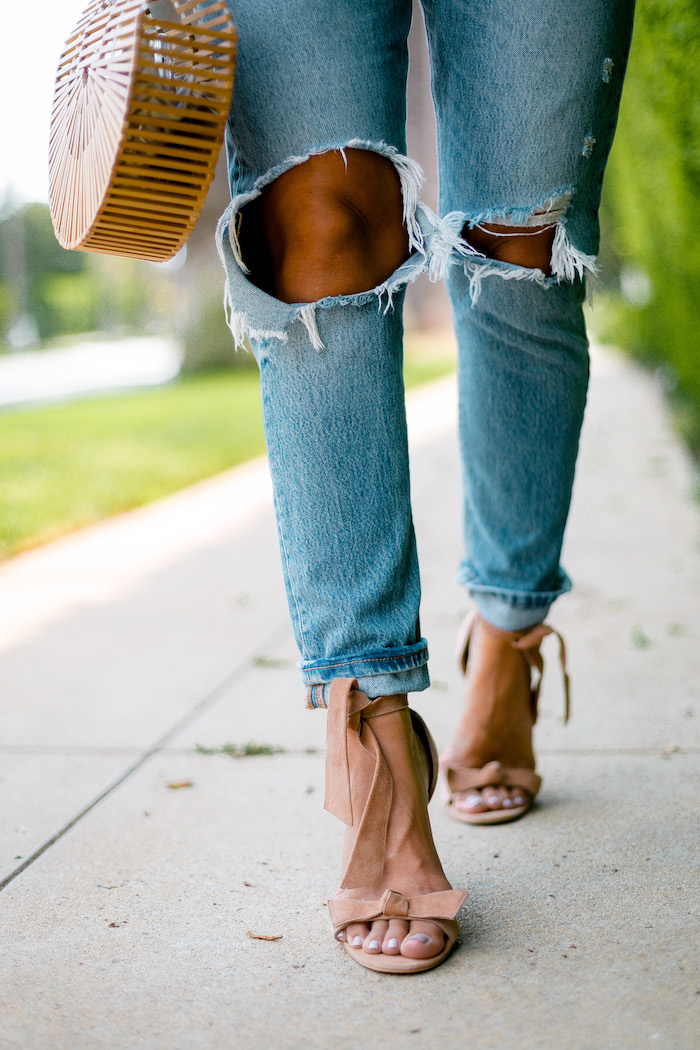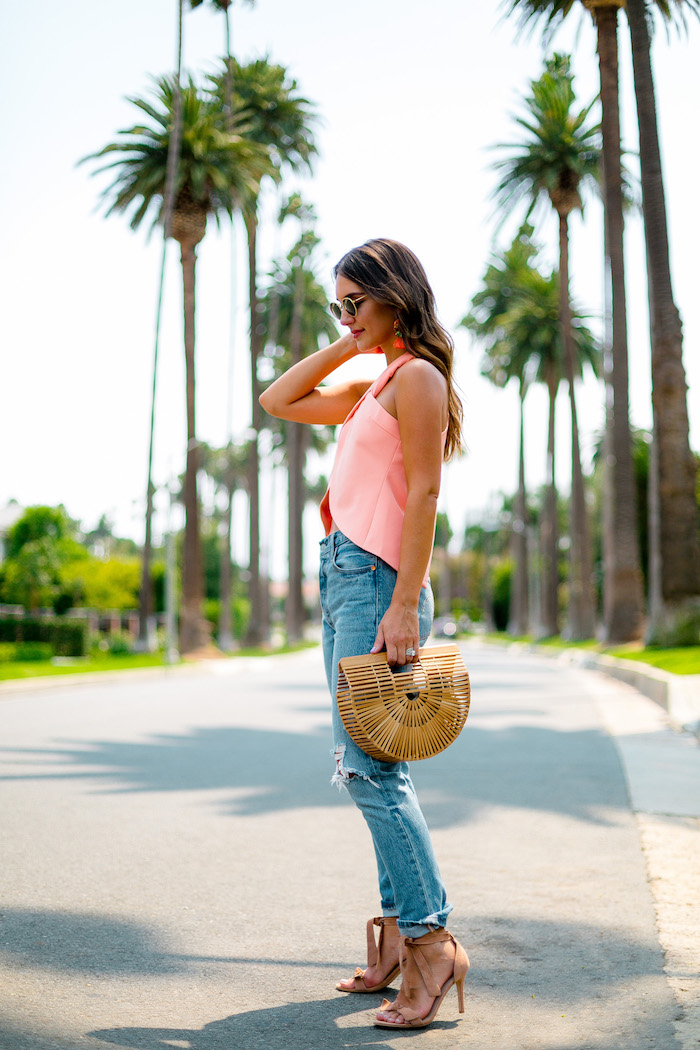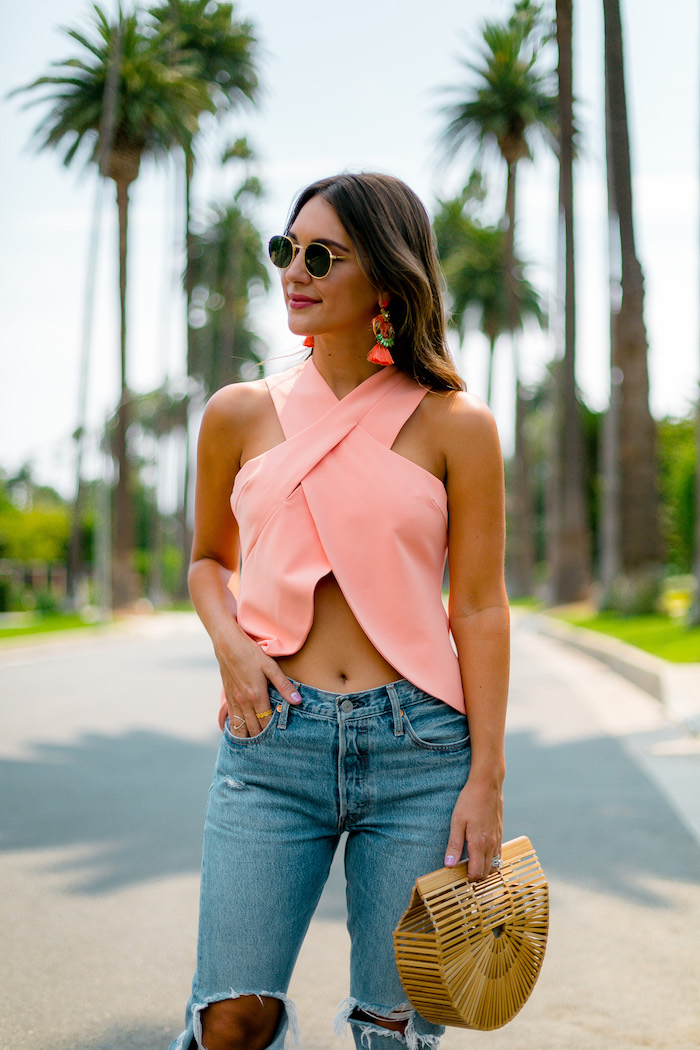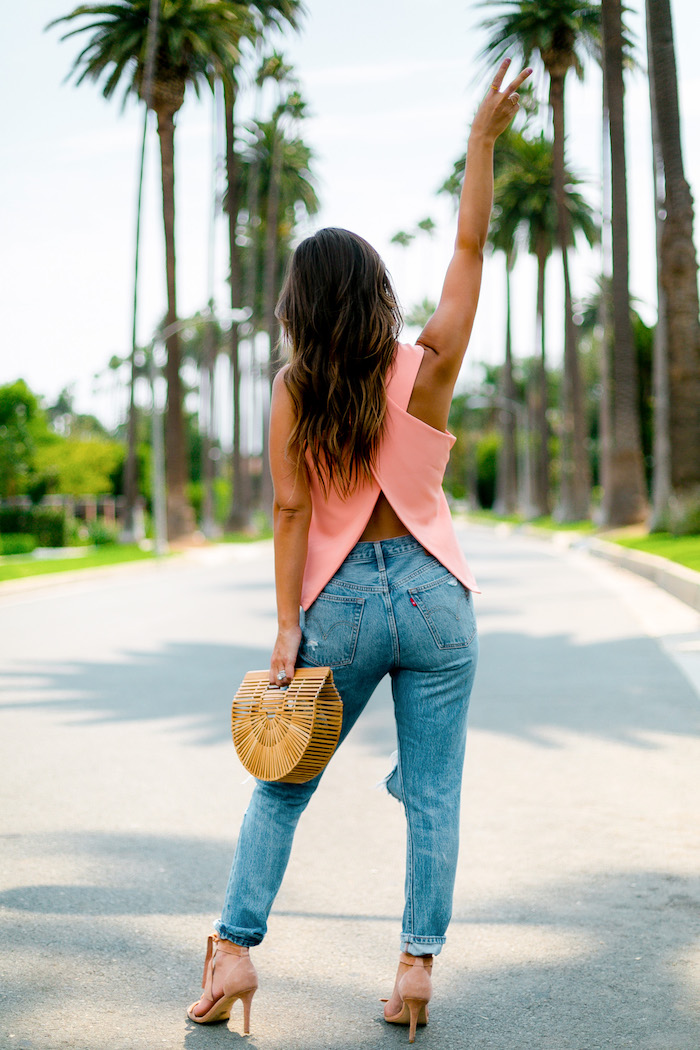 photos by Christian Barnes
denim – also available here (size up because they have no stretch!) | crop top, love this one (on sale) and this one | heels – custom design from Shoes of Prey, splurge version here | bag, dupe available here | sunglasses | earrings (40% off!)
And of course I have this amazing life partner who is both a sounding board and truth-teller.  I was so embarrassed that he saw me shed tears out of lack of confidence. I usually keep those moments private because I want him to only see me as a strong and secure wife he married. But he knows exactly what to do. I don't need someone buttering me up, I need a truth-teller who can hold up a mirror and say, "girl – you're never going to be satisfied unless you learn to CHILL!"
So there's my spiel on self-esteem and a little bit more about the days that I definitely don't have it. I just want to humanize those feelings and self-doubts we can all have, no matter how confident we appear to be.
I've never claimed to be the authority on all things style, but I share my life because it started out as fun and has become my job. There are websites out there dedicated to bashing bloggers for literally anything. You can't please everyone, and the fact that anyone would choose to spend their free time writing crazy mean and usually incorrect things about complete strangers is both appalling, sad and bizarre, but it exists.
Perfecting my ability to put on blinders is always a work in progress, and I'm challenging myself this fall to focus on my attitude and perspective.  Do you guys relate to this?  Just to be transparent, this isn't a cry for compliments, rather I'm hoping to start a little conversation about learning to love yourself.
I'd love to hear your insights on self-esteem and how you tackle those moments when you're feeling anything but confident. And if you need a little music motivation, this and this are two of my favorite songs when I need a little self love.
Thanks so much for reading and sharing – XO –