Ah, football season. The first game is always fun and then the second, third, fourth, etc. are a little less exciting (thank you fantasy leagues)!  Whether you're cozying up at home for a weekend or having friends over for the big game, a cocktail recipe is a great way to get a party started, #amIright!?
I wanted to share a really easy fall sangria recipe I put together using Seven Daughters Moscato. So easy, so delicious and before you know it, even the dudes will be sippin' sangria with their pinkies out.
1.  Pick your alcohol of choice.
You know me, I'm always going to pick wine. I've shared the Seven Daughters rosé here and I extra love their Red Blend, Pinot Noir and Crisp White. I tend to drink more dry wines but there are still some great ways to enjoy sweeter wines.  Their Moscato is great for cocktails because it balances a touch of sweetness with a hint of bubbles.  I also love some of the recipes Seven Daughters shares for their Moscato here!
2.  Bring in a fall element.
I mean, no elaboration needed.  I chose apple cider – yum!
3.  Garnish it up.
For this recipe I chose  apples, but I also think a cinnamon stick and cranberries would be a fabulous addition.
4.  Ditch boring ice cubes.
I froze some Moscato in ice cubes before hand for this recipe, but you can use anything! Why use regular ice cubes when there are circle, jumbo square and diamond trays? And yes, I own all three. I am who I am (in my defense- the diamond shaped ones were a gift from Christian!).
5.  Find a pretty glass.
Ok this is a pretty basic step but still – it makes a big difference. Who doesn't love a gorgeous glass? For this cocktail my options were this one, this one or this one.
6.  Have a backup plan if like me, your home team sucks.
I mean, not to be a downer but it is what it is. Hotty Toddy!
7.  Light a candle (I've been loving Trader Joe's Pumpkin Vanilla!), grab a blanket and settle on in.
Pinkies out, my friends! Scroll down for the recipe –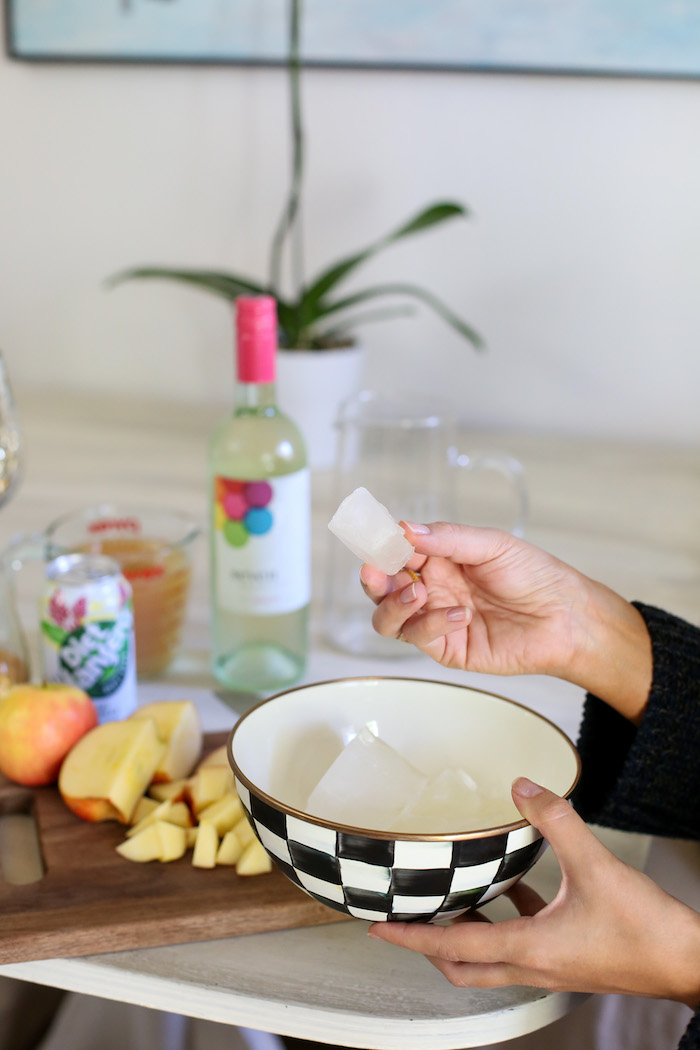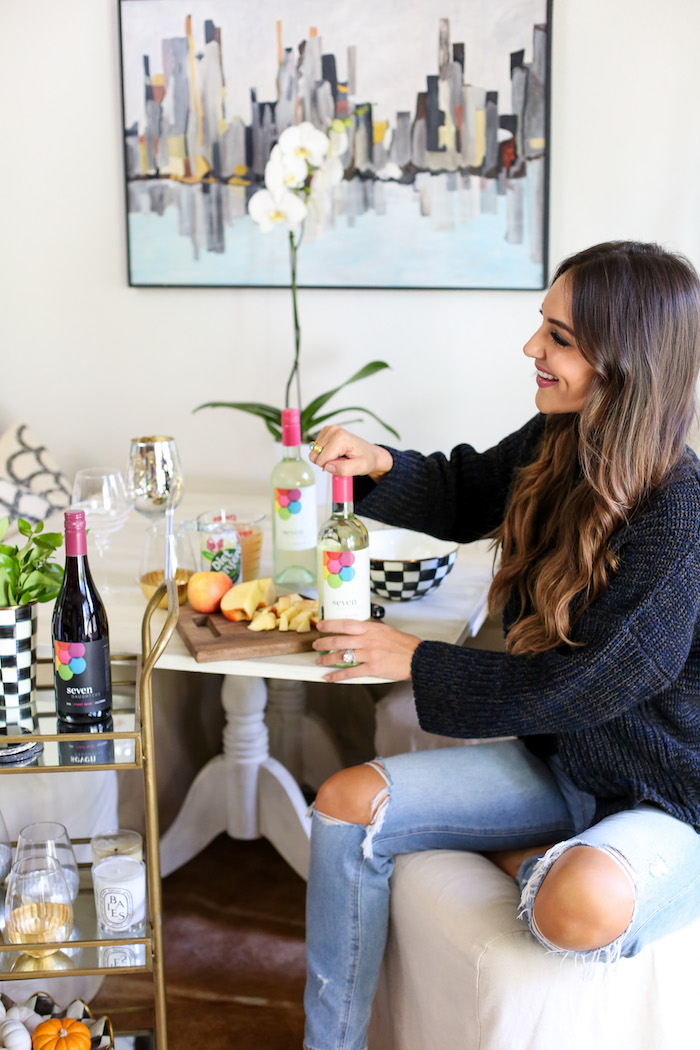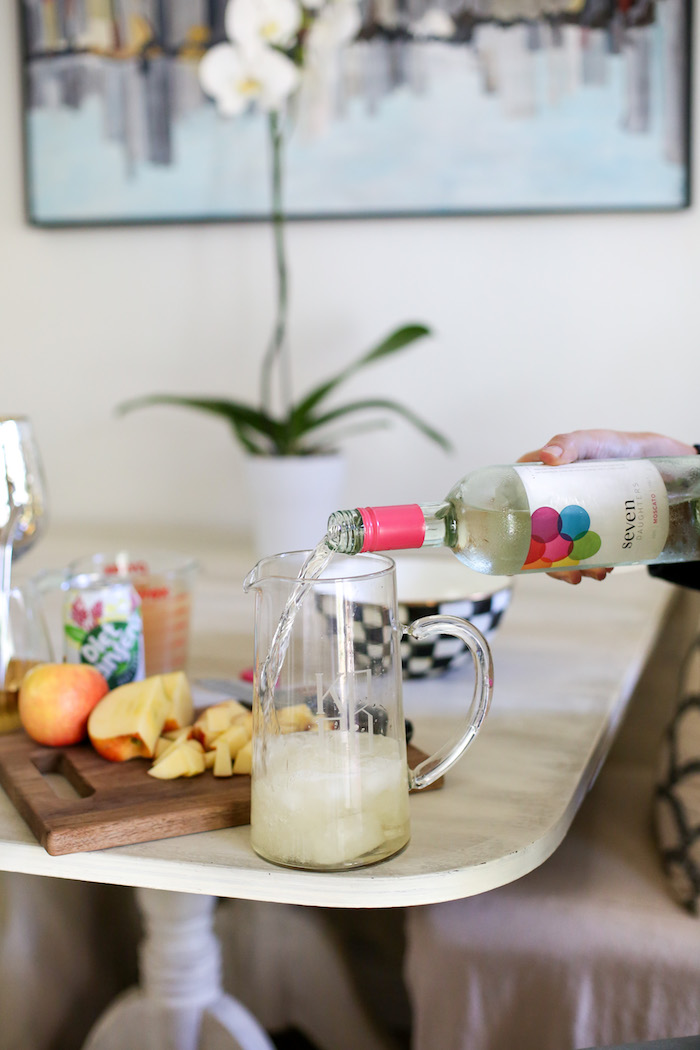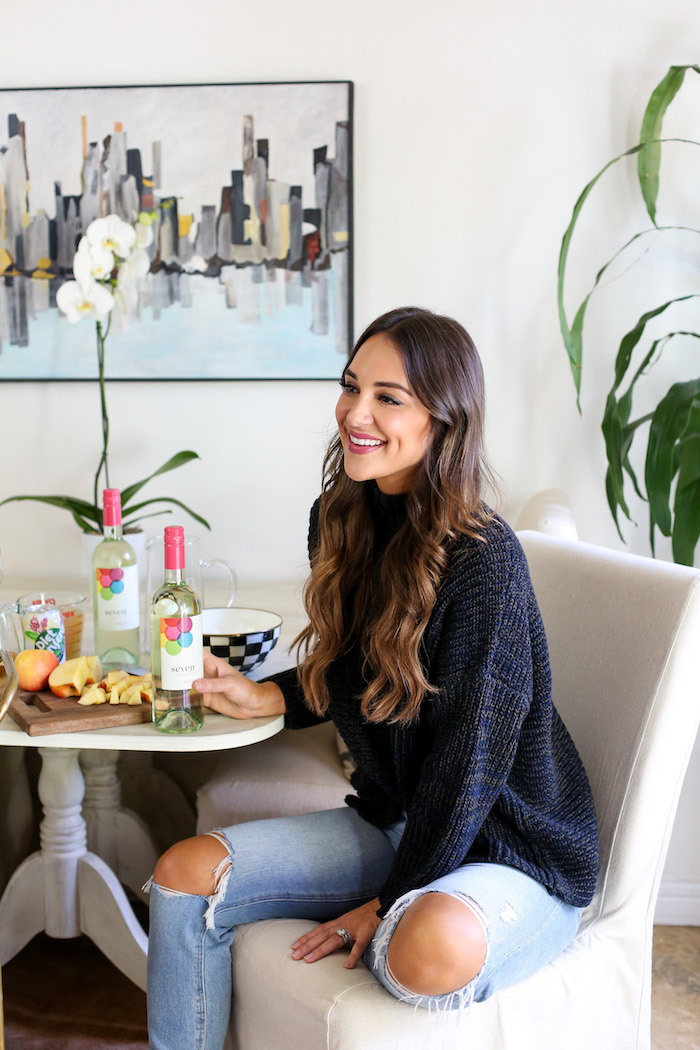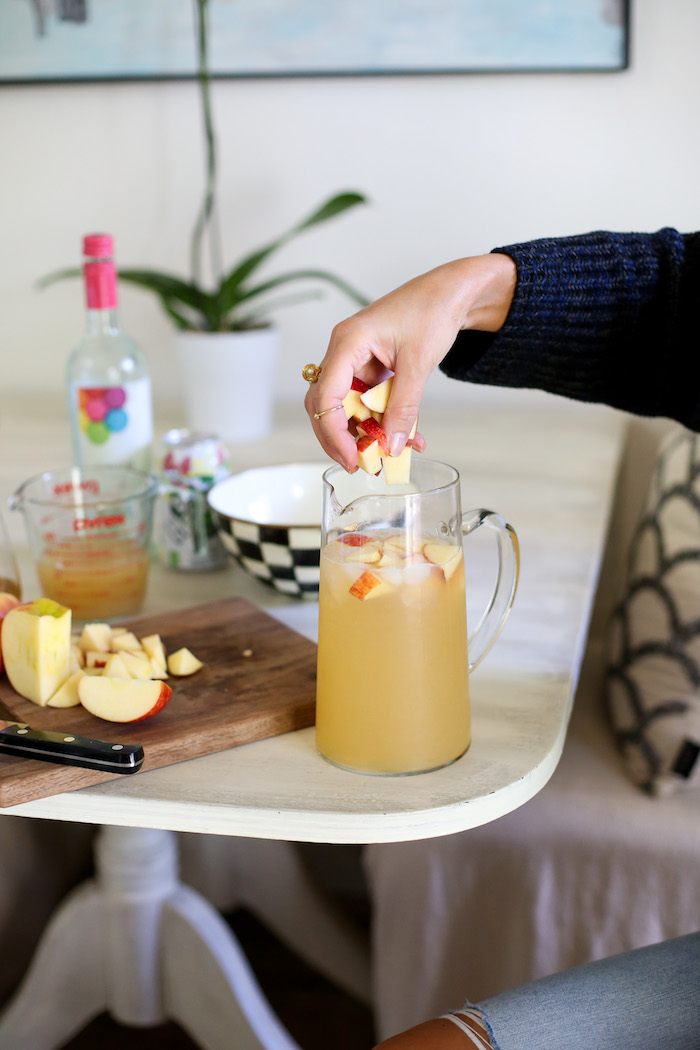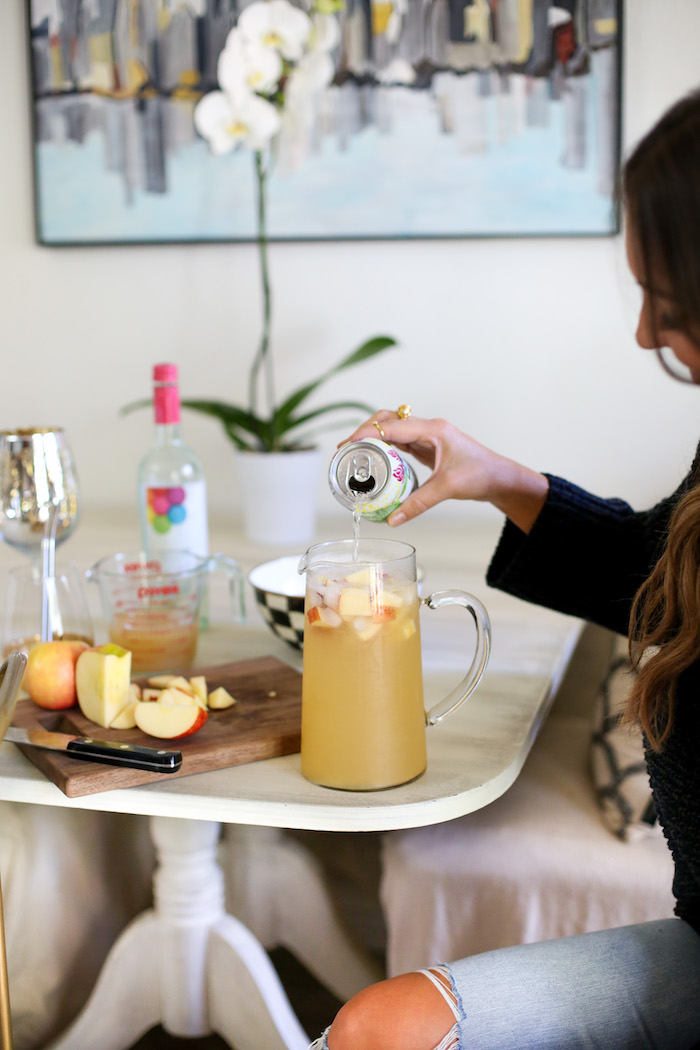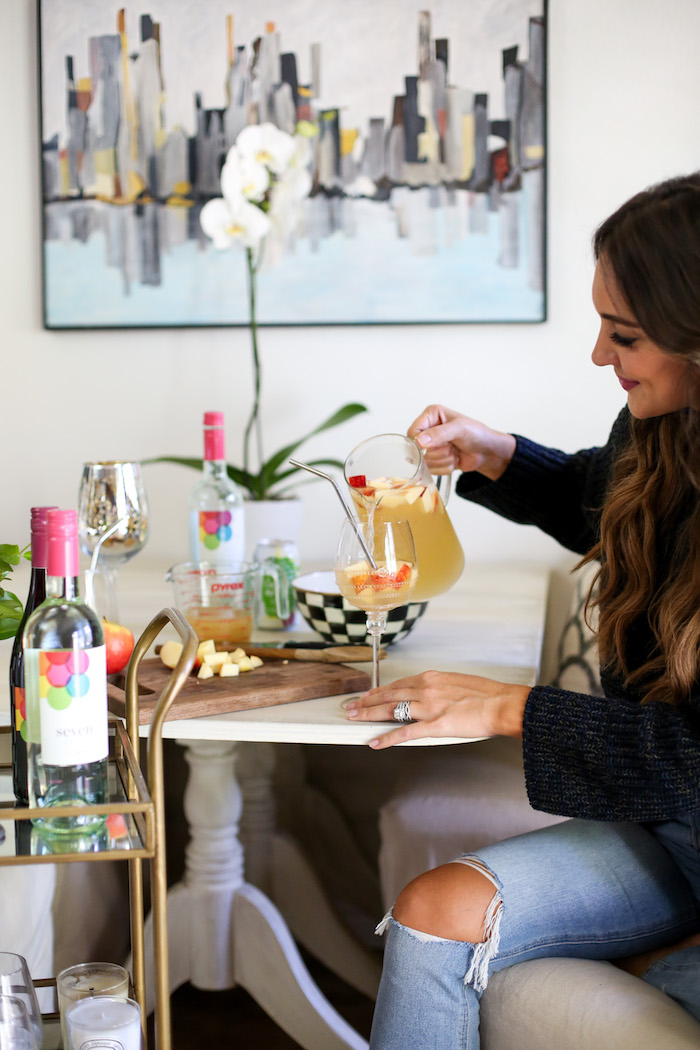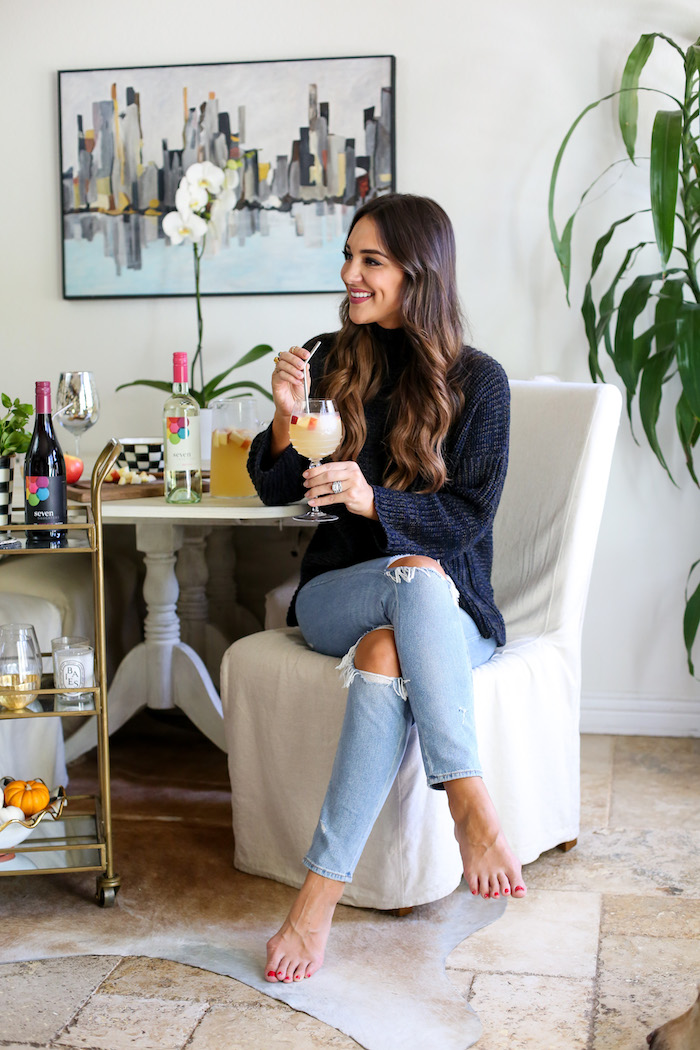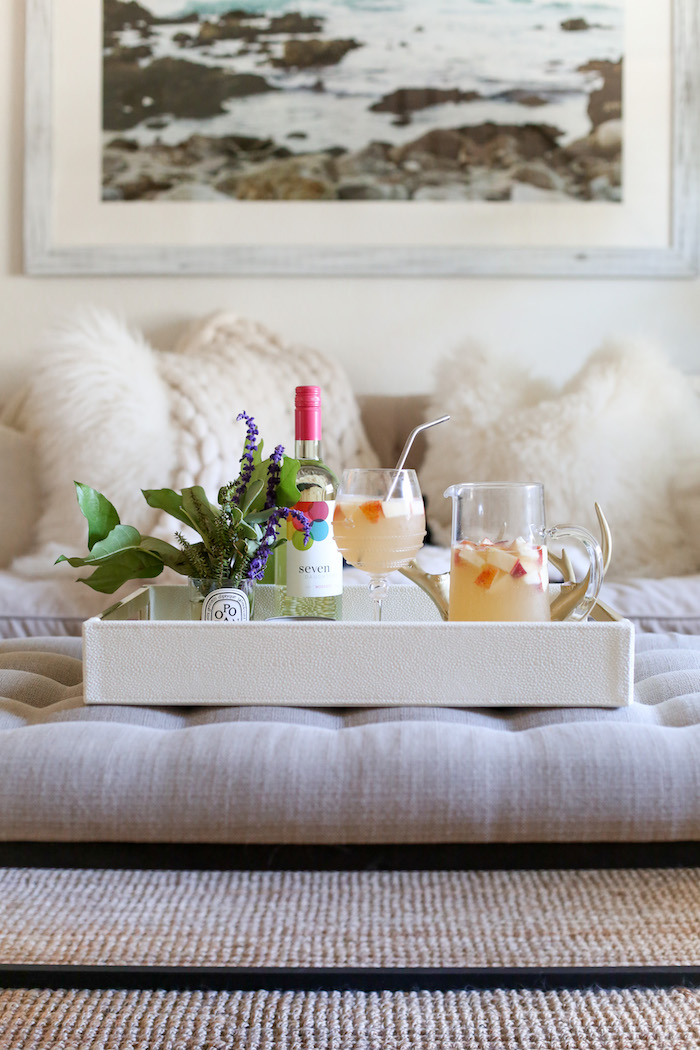 photos by Christian Barnes
sweater – also love this one and this one | denim | chairs | slipcovers | courtly check bowl | similar pitcher | bar cart | table – antique | wine glass 1, 2, 3 | metal display cabinet | coffee table | similar hide rug | | jute rug | white tray | art | Seven Daughters Moscato available at Uncorked.com, Target, BevMo, Whole Foods and Sprouts
Recipe:
1 bottle Seven Daughters Moscato
1 cup apple cider (I used Trader Joe's 100% Honey Crisp Apple Cider Unfiltered)
1 cup ginger ale
apple slices for garnish (cinnamon sticks and cranberries would be great too!)
Optional: Moscato ice cubes 
Are you a cocktail person!? I tend to grab a glass of wine but I love the idea of taking the time and effort to make something unique and delicious.
You can check out Seven Daughters on Facebook and Instagram and find their wine in your area here.  AND the code CBL7D is good for 20% off any Seven Daughters purchase on Uncorked.com! XO –
Brought to you by Seven Daughters Wine